Author: Su Qin
On the evening of June 8th, Jidu Motors, which was established in March last year, held its first brand launch event on the meta-universe soil, presenting its first intelligent car robot concept car – ROBO-01, to its users on the last day of the college entrance examination.
Jidu ROBO-01 combines the three major concepts of "futurism," "robotization," and "empathy" and represents Jidu's ambition to innovate the automotive market with AI as the driving force.
Jidu's CEO, Xia Yiping, said, "The era of intelligent cars 3.0 is the era of car robots… Jidu car robots meet users' ultimate experience needs for smart travel, intelligent assistants, and intelligent spaces in the era of intelligent cars 3.0. We will showcase our core competitiveness with the best product experience."
Although it took 513 days to prepare, Jidu Motors' launch has caused controversies in the industry. For example, Gaohe Auto Market's Director of Public Communications, Guo Tiefu, criticized Jidu Motors, saying "Thoroughly subverting the three views" and "Realizing the culmination! Call it 'Jealous'".
For a new player in the industry, the existence of controversy can be both advantageous and disadvantageous. The advantage is that it can maintain the brand's activity, while the disadvantage is that the system's strength may be under pressure. To develop the controversy in a positive direction, Jidu Motors must provide good quality products and services to its customers.
Regarding Jidu's first intelligent car robot concept car ROBO-01, it can be described as "three hands" – "original," "skilled," and "conventional."
Original
ROBO-01 sets the standard for intelligent car robots, so the first thing to emphasize is "mechanical aesthetics"!
ROBO-01 adheres to the concept of "less is more" and strives to make the vehicle's appearance more concise and not simple. By canceling the door handles, the car's side has a stronger overall appearance. The butterfly doors of the main and co-driver, the rear-opening doors, and the seamless side windows all make ROBO-01 look cooler and more futuristic.
ROBO-01 not only needs to be mechanically cool but also needs to have human warmth. ROBO-01 can recognize user emotions and automatically express its own thoughts based on changes in the driving environment through an interactive AI pixel headlight's light language, achieving natural communication and emotional interaction between humans, cars, and the environment.# ROBO-01 with Strong Learning Ability
ROBO-01 also has a super strong learning ability. The intelligent architecture JET is the nerve center of ROBO-01, which utilizes high-bandwidth gigabit Ethernet loop to link the vehicle sensors and high-performance computing platform. With 30TOPS of ultra-high computing power, it achieves seamless communication between the interior and exterior of the car, continuously sensing environmental information, familiarizing with user commands, and achieving natural learning and growth.
In addition, as the pioneer of Baidu's car manufacturing, Jidu naturally integrates Baidu Apollo's autonomous driving accomplishment. Baidu Apollo has already achieved 27 million kilometers of autonomous driving mileage with zero accidents, and is familiar with real road conditions in more than 30 cities across the country.
So Jidu has a natural advantage in autonomous driving with 31 external vehicle sensors, including 2 LiDAR, 5 mmWave radar, 12 ultrasonic radar, and 12 cameras, especially the 2 LiDARs located on the front hood, with an FOV of up to 180°, wider than the human's field of view, which can effectively prevent the occurrence of "ghost probes".
Moreover, Jidu's autonomous driving can freely access and exit expressways, avoid obstacles, and make unprotected left turns, achieving integration of "three domains": high-speed, urban, and parking.
Ingenious Design
As the pioneer of Jidu, ROBO-01 has many eye-catching and ingenious designs.
First, a prominent feature of ROBO-01 is its active lift rear wing. Active lift rear wings are not commonly found on conventional cars, let alone active lift rear wings. ROBO-01's active lift rear wing can automatically adjust its opening and closing according to the vehicle's speed, thereby reducing air resistance and stabilizing the car's center of gravity, which has great implications for handling and cruising. It is believed that ROBO-01's active lift rear wing will be a big temptation for users who are pursuing driving pleasure.
Second, it's the intelligent cockpit. ROBO-01's intelligent cockpit is very much in line with traditional expectations of users' imagination of the future. The central control is concise and clear, giving a sense of power. The seats are inspired by spacecraft and are zero-gravity seats with good air permeability, suitable for long-term sitting. Moreover, the "Swan Neck" headrest equipped with adaptive adjustment function is more in line with user needs.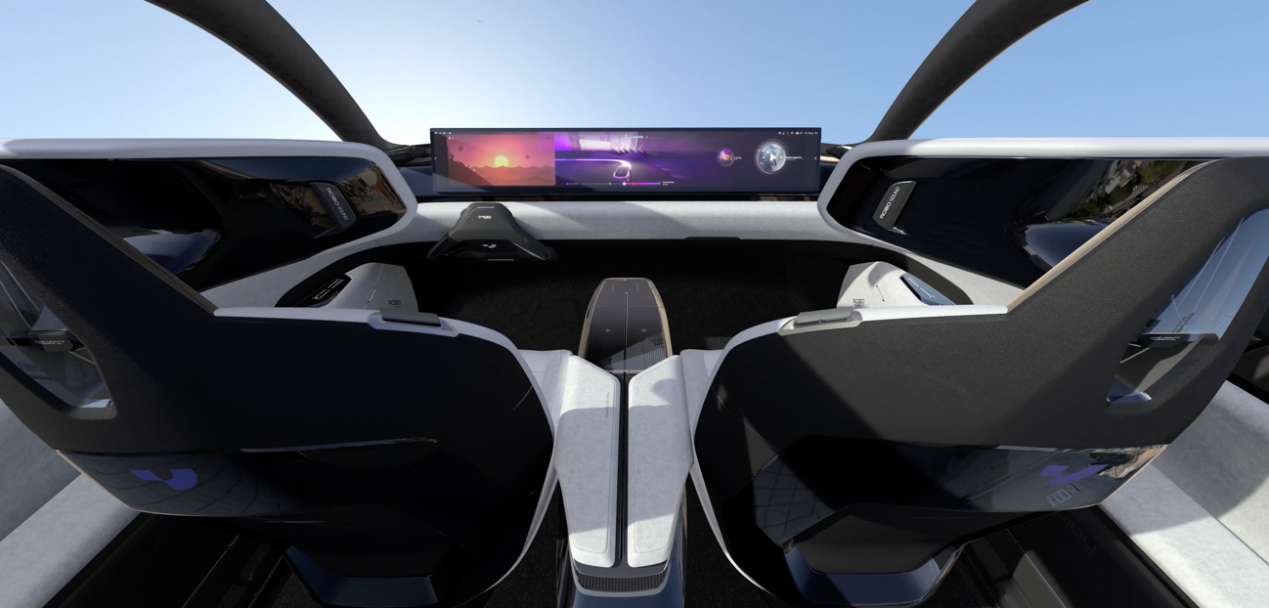 ROBO-01 is loaded with the fourth-generation Snapdragon automotive digital cockpit platform-8295 chipset from Qualcomm, which can meet the multi-scenario and multi-use needs of users on the seamless integrated ultra-clear large screen across the central console. Moreover, it can switch to the "3D human-machine co-driving map" mode to create an immersive driving experience.
As almost all physical buttons are removed and the integrated large screen extending from the main driving position to the co-pilot's position horizontally is situated on the central console, it is inconvenient for users leaning on the seat to operate. Consequently, smooth human-machine communication becomes particularly important.
ROBO-01 can achieve "millisecond" intelligent voice response and can be independent of network signal interference to achieve offline intelligent voice interaction. Meanwhile, it can also perceive users' vision, voiceprint, and even lip-reading.
Additionally, ROBO-01's steering wheel, different from the suspended type steering wheel commonly promoted by other brands, uses a U-shaped foldable steering wheel. It not only does not block users' sight when folded but also appears to be more futuristic. However, how to make users confident in folding it during driving is a big challenge for the manufacturer.
Pros and Cons
ROBO-01 is undoubtedly very powerful. However, its shortcomings are also very obvious.
Although the appearance of ROBO-01 looks like a robot's shell, the design element still gives a sense of overlap with other brands, which may make some users feel uncomfortable.
ROBO-01's appearance is also the largest controversial factor.
Intelligent electric vehicle veteran media "Intelligent Electric AUTO" directly gave criticism to Jidu Auto on Weibo: "Take advantage of the time of mass production and make the front face more sci-fi and exaggerated."
In addition, despite its claim to be an intelligent automotive robot, ROBO-01 is still a more simplistically designed and intelligent vehicle and has not reached the level of a "robot."
The Voice of Electric Power
As for Jidu Auto's performance in the "college entrance examination," the attitude of users is still unknown. However, from the numerous feedbacks in the industry, there are mixed reviews.At this year's Guangzhou Auto Show, a mass-produced vehicle with a 90% similarity to the Jidu ROBO-01 will be officially unveiled. Jidu's answer sheet will be handed over to the market for official scoring!

In the past year, Jidu's new team has overcome numerous obstacles, and it can be said that it has not been easy. However, to achieve greater success, they must continue to work hard.
In the future, Jidu not only needs to further optimize its products to fully demonstrate Baidu's software and hardware capabilities, but also needs to consolidate its team, unify its efforts, and bring the team together.
Recently, media reports indicated that Jidu's vice president Zhu Jiang, who had been with the company for less than half a year, had resigned in April. Although Jidu has not responded directly to the media, Baidu's Baike (the Chinese version of Wikipedia) has already described Zhu Jiang as "former vice president and responsible for user development and operations at Jidu Automobile," effectively confirming his departure.
Overall, the results of this conference were not ideal, indicating that the team's combat effectiveness still has room for improvement.
This article is a translation by ChatGPT of a Chinese report from 42HOW. If you have any questions about it, please email bd@42how.com.