Financial Overview
Q3 revenue was $8.09 billion, up 39% YoY; net profit was $331 million, up 131% YoY, mainly due to:
significant increase in vehicle deliveries and other businesses;

slight decrease in the average selling price of vehicles compared to the same period last year, which was approximately $45,000;

achieved a business profit margin of over 9%, even with share-based compensation (SBC) costs. "SBC (share-based compensation) is an option incentive plan";

Cash and equivalents at the end of the quarter increased by $5.9 billion, mainly due to a targeted increase in financing of $5 billion, with an average price of $449 per share.
My analysis
In Q3, Elon has already received the first 1.7 million shares of stock options, exercise price: $70, lock-up period: Q3 2025;

As of Q3, the company's total revenue in 2020 is approximately $21 billion. To move up to the next SBC level, the company needs to achieve a milestone of $35 billion in revenue or $1.5 billion in profit. Of course, achieving revenue milestones is more reliable. Based on a month-on-month growth rate of 20%, the company's total revenue in 2021 is expected to exceed $68 billion. Therefore, in 2021, Elon is expected to receive another two batches of stock options directly, with 8.5 million shares in total (3.4 million + 5.1 million)!

Regarding the $5 billion financing deal at an average price of $449 per share, I would like to make two points: First, this will not be Tesla's last financing in the capital market. I believe that in order to complete the product roadmap, Tesla is likely to conduct another financing in the second half of next year. Second, for those small partners who hold positions at a cost of $450-500 and are standing by at a high level,I believe the announcement of the average price of the new issuance will give some relief.
Operational Overview
Total Production: 145,000; Total Delivery: 139,600;

New opening of sales or after-sales service centers: 466;

Addition of supercharger stations: 2181, addition of supercharger piles: 19,400, an average of 9 charging piles per supercharger station.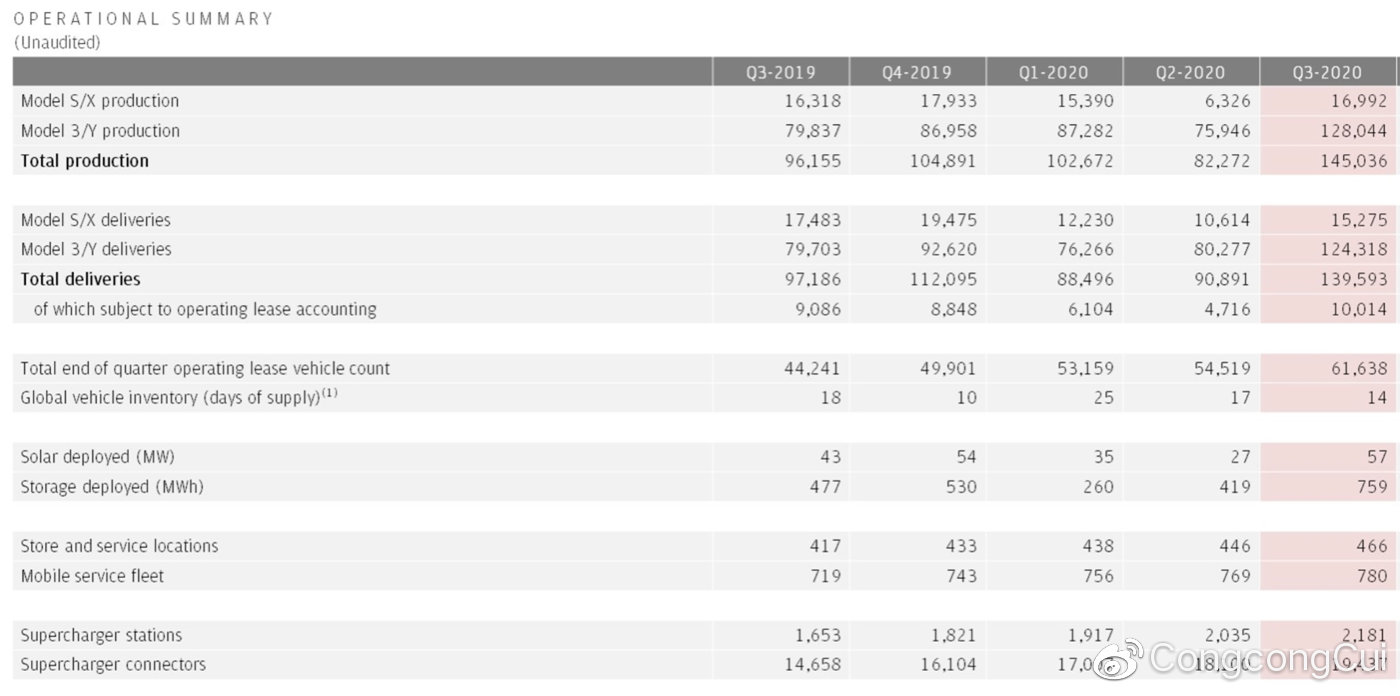 My analysis- The annual guidance remains at 500,000 vehicles. Let's analyze the likelihood of achieving this: firstly, in terms of delivery data, 320,000 have already been delivered in the first three quarters, with only 180,000 vehicles left to reach 500,000. Secondly, in terms of production capacity, the Fremont factory in the US has an annual production capacity of 590,000 and Shanghai factory has 250,000. The total capacity is 840,000 per year, which is equivalent to 210,000 per quarter. The production capacity is not an issue, but rather the challenges lie in market demand and logistics efficiency. If there are no major changes in the market, I believe delivering more than 180,000 vehicles in Q4 is a sure thing.
Q4 deliveries are expected to increase by 30% compared to the previous quarter, which is a huge challenge for Tesla in production, sales, and deliveries. If you want to join Tesla and be a part of the change, this is an opportunity. Send in your resume, young man!

As of Q3, there were 6,133 new superchargers added this year. What was the target for the number of new superchargers again?
Vehicle factories
The Fremont factory has an annual production capacity of 590,000 and the Shanghai factory has 250,000.

It is worth mentioning the Shanghai factory has lower prices starting from RMB 249,900 thanks to the use of local batteries and parts.

Equipment for the Berlin factory will start to arrive in the next few weeks and production is set to begin in 2021.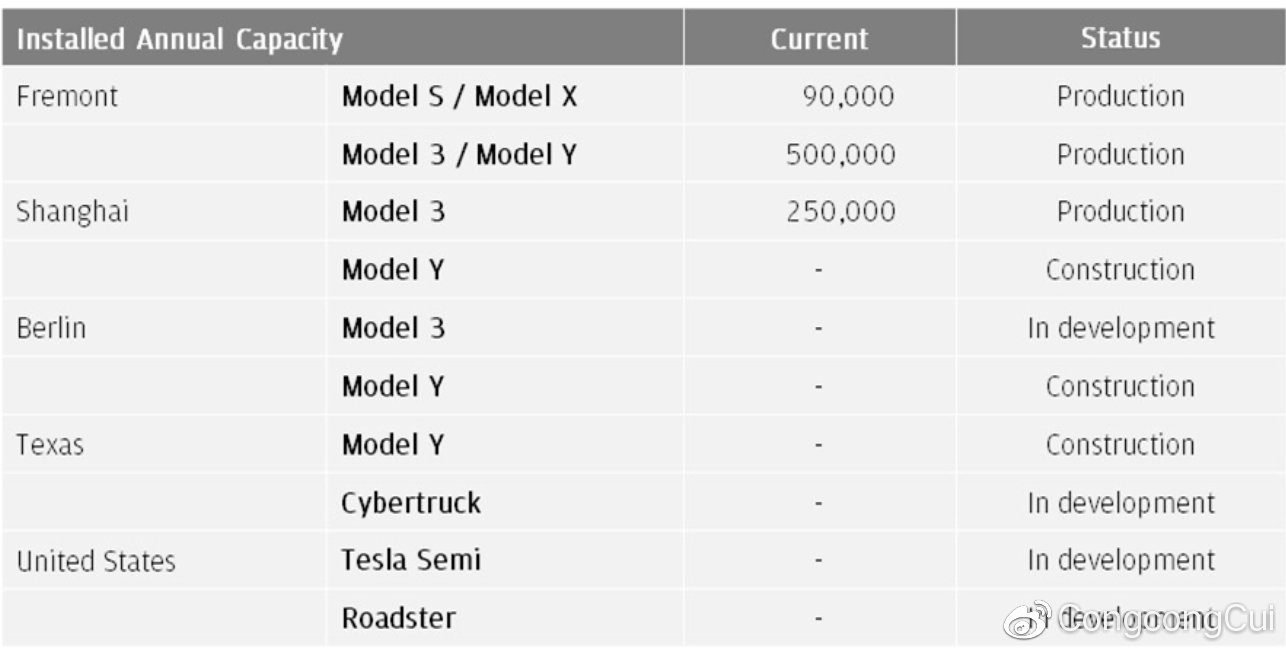 My Analysis
The current daily production at Fremont is around 1600 vehicles and around 700 vehicles at Shanghai. Shanghai's current production capacity is just the beginning, as the second phase of mass production will begin in 2021, resulting in a direct increase in production capacity of 50-100%.

The financial report specifically mentions that the price of the China Model 3 is as low as RMB 249,900, and the Shanghai factory has implemented a three-shift rotation. It seems that the board of directors is really satisfied with the Chinese market, Chinese factory, and Chinese team.

Lowering prices is not an original sin, but rather a sign of maturity. (Quoting a famous saying holding my nose and inhaling deeply: "You may not understand it, but you need to tolerate its existence." – Guo Jingming) We will explain why we need to lower prices in the following content. Keep reading.
Core Technology
FSD: The autonomous driving system has been rewritten, and this version is rewritten for the purpose of unlocking all autonomous driving functions.

Vehicle software: double verification has been added, the comfort type of the active suspension has been improved, the coordination of POWERWALL charging for the vehicle has been updated, automatic window closing and glove box password functions have been added, and Model Y all-wheel-drive users can purchase a $2000 software update to improve acceleration per 100 kilometers.- Batteries and Powertrains: A new battery technology released by Tesla makes mass production of $25,000 cars possible.
My analysis
Rewritten FSD: Simply put, abandoning the previous code architecture and rewriting the code from the ground up. Our competitors may feel powerless and desolate as they realize that Tesla easily abandoned the weakness they struggled with, dreamed of, and focused resources on, and simply decided to rewrite it.

Rewritten Ace: On March 31, 2016, Elon set a $35,000 goal, which seemed impossible at the time. Four and a half years later, this goal has been achieved and rewritten: $25,000! Thanks to the new battery technology, the production cost of batteries will further decrease, making this the final straw that will break the back of the conventional vehicles!

Rewritten Demand: For a young person who believes in science, loves life, and embraces change, a car can be charged quickly without refueling, but it cannot be without AP; it can reduce range in winter, but it cannot be without pre-starting the air conditioner. The car can have poor workmanship, but it cannot be without OTA. As you can see, more and more people care about the improvement of driving attributes as an inherent feature of a car. With the gradual penetration of autonomous driving and intelligent mobility into the awareness of more and more people, the market has gone from being nurtured to being flooded. BBA, you're not wrong, you're good at everything, but…you just…never mind, sorry, we're not a good match.
Key Points in the Earnings Conference Call (Very Important! Must Read!)
Regarding product design
Elon Musk: When you think about a product, you think about what kind of future do you want to have? What part of that future do you find is going to be satisfying and inspiring? What's going to get you out of bed the next morning?
My understanding
Elon is a person who constantly thinks about the future, and a great product manager determines what you will use in five years. Steve Jobs said: "In the next five years, you will use touch screens." We replied: "Okay, we've been using them for 10 years." Now Elon says: "In the next five years, your car won't need to be driven by yourself." We reply: "You can say that, but…"- There is no denying that in short and narrow time spaces, our thinking methods are often not high-dimensional enough and our behaviors are often too shortsighted. Most of us set our goals at 100 meters away, while few wise men set them at 1000 meters, and then run towards them without falling behind at the starting line. But Elon makes me feel that he's someone who sets his goals at 10,000 meters away and then turns around to find a bicycle.

Whether it's life or work, only by using more efficient and high-dimensional production tools can you surpass most people.
About "Price Reduction and Sales Volume"
Elon Musk: "We need to differentiate between affordability and value for money, and this is very important. If our cars, or any product, are too expensive and people don't have that much money in their bank accounts, then they won't buy it regardless of its value proposition. Therefore, it is necessary to lower the price to a level that people can afford. I don't think people don't have a desire for our products, but what they lack is affordability. Therefore, we need to improve the affordability of our products so that people have the opportunity to acquire them."
My Understanding
Price reduction has become Tesla's slogan in China. Even my father, who only watches the news every day, called me to ask if the price of my Tesla has dropped significantly.

In fact, Tesla hasn't changed. Tesla has always been moving towards that grand plan, "using the money from selling cars to produce more and cheaper cars and sell them to more people." It's just that Elon doesn't let me tell you this secret.

If you still have grievances and misunderstandings about price reduction, maybe I can secretly share this article with you, hoping that this secret will only be known to us. The Secret just between you and me.
About Manufacturing Machines that Make Machines
Elon Musk: "The more you adhere to classic components, the more you adhere to the limitations and cost structures of classic technology."

Elon Musk: Other traditional car manufacturers, as procurement-intensive companies, will pick a machine from their suppliers' handbook and call it done. But if you are at Tesla, there is no such handbook for you to choose from. Tesla is highly vertically integrated. We have a lot of self-developed manufacturing technologies. If we want to make progress in one area and there is no suitable machine on the market, then we will create one ourselves. We must invent it because it does not exist.

Elon Musk: So comparing a complete car manufacturer with Tesla is like comparing a very small part of Tesla's business with the entire Tesla company. Our similarities with other complete car manufacturers might only account for 10%.
My Understanding
The saying I loved and remembered when I was a child was, to what extent you liberate yourself is to what extent you shape yourself.

Except for physics, everything else is a reference. Tesla is a company without a guidebook. When there is a problem, we think of solutions. When we are out of solutions, we make them. But only such companies can make you feel that everything is worth it before you are overwhelmed by work and move on to the next problem. Such a company has a simple work environment and tremendous work pressure, but this is the state that investors like the most. We can choose not to be aggressive or to walk unsteadily, but someone will always carry the weight for us and change the world.

Elon believes that the similarities between traditional car manufacturers and Tesla only account for 10%. This 10% may explain why Tesla's market value is the sum of traditional vehicle company market values.
In conclusion
This is the strongest financial report in history and the only conference call I've ever attended without falling asleep. This is a report where maturity is greater than revenue, and confidence is greater than profit. It tells us that this company's vision and expectations are never compromised. It tells us that this company is innovation-intensive, not procurement-intensive. It tells us what part of the future life and products should have, and, more importantly, as Tesla's CEO, Elon's way of thinking and behavior is worthy of reference for all of us. Whether you are a Tesla owner or not, you can understand Tesla and the future world through his words.
I hope this article can help more people understand Tesla and Elon. Some misunderstandings and grievances are worth letting go, even though it is difficult to accept them for a while, there are still many beautiful things waiting for you to discover and strive for. We all need to move forward, move forward, and move forward again.
This article is a translation by ChatGPT of a Chinese report from 42HOW. If you have any questions about it, please email bd@42how.com.