Introduction
After several accidents occurred today, WM Motor issued a recall notice as shown below. This is a relatively large-scale handling after NIO recalled and replaced batteries, and it is aimed at the ZNP 3914895 A-75 A cells. This situation is delicate – let's briefly discuss our thoughts.
WM's VDA-based battery replacement strategy
Among new car manufacturers, NIO adopts a single supplier strategy, while Xpeng has both cylindrical and prismatic cells, fully oriented toward prismatic cells since 2020. WM Motors' standard battery module selection strategy has adopted B-point purchasing since 2020, as shown in the figure below. WM builds the battery pack factory at its self-built Wenzhou production base, purchases battery modules from different suppliers externally, and then conducts battery pack assembly, production, and testing.
In terms of cell selection strategy, WM actually includes 5 series and 8 series cells. Ningde Times is the main supplier, while B-point involves Tafel, ZTE and Ripu, and the recalled cell can be identified by model number.
In September 2020, WM produced a total of 15,700 vehicles, with Ningde Times accounting for 61% and the remaining 39% divided between Tafel 21%, ZTE 14%, and Ripu 4%. In other words, in these 2,257 vehicles, WM had multiple accidents. This is a sad story because of the problems caused and the value it brought – the losses were enormous.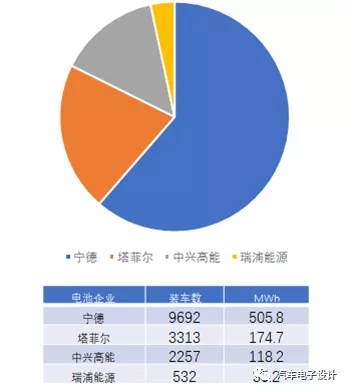 Battery issues
In WM's announcement this time, the analysis process was positioned as: "After technical analysis and repeated verification, this event was caused by impurities being mixed into the production process by the cell supplier, leading to abnormal lithium segregation in the power battery, and under extreme circumstances, may cause a cell short circuit, leading to thermal runaway and fire risk in the power battery, which presents a hidden danger to the safety."We objectively look at it. If all four cases this year are concentrated, meaning the probability is 4/1282, which corresponds to 0.3%, or 30 in ten thousand. The recall rate is 56.8%. The characteristic of this year is that NIO, Xpeng, and Li Auto are performing relatively well in the stock market, directly bringing in a lot of supplementary funds. After the ammunition is filled up, the overall volume can still be maintained. For WM Motor, which has received 10 billion yuan in financing and is moving towards the Science and Technology Innovation Board next, the overall strategy is to solve the problem as quickly as possible.
We can compare the recent production situation of new car companies, and the leading companies are still working hard to increase production capacity (NIO's production capacity in September was only 2200, which is particularly strange), because they cannot push forward due to battery safety issues, especially fatal when demand in Shanghai is high. WM Motor has been adding inventory before, which was originally a good opportunity.

Conclusion
I think what we see may not be that simple. From this incident, we can also see that the handling of continuous electric vehicle fires in the future may gradually be in line with foreign countries and will not tolerate the mode of ignoring multiple fires without handling them like before. This kind of management strategy will be implemented in the relevant car and battery companies, and it is also something that companies rushing to produce in Q4 should pay attention to.
This article is a translation by ChatGPT of a Chinese report from 42HOW. If you have any questions about it, please email bd@42how.com.