Tesla released its production and delivery numbers for Q3:
In Q3 2020, a total of 145,036 vehicles were produced, including 16,992 Model S/X and 128,044 Model 3/Y.

In Q3 2020, a total of 139,300 vehicles were delivered, including 15,200 Model S/X and 124,100 Model 3/Y.
Delivery volume surpassed Tesla's previous record of 112,000 vehicles in Q4 2019.
The US market remains the main force, but with the further reduction in price of domestically produced Model 3, domestic sales are sure to rise.
Although Model Y began production early in the year, it has not yet gained momentum, and Model 3 remains the main sales model.
After production was resumed in the second quarter, delivery volume returned to normal. Looking back, delivery volumes were 88,400 vehicles in Q1 and 90,650 vehicles in Q2.
So far in 2020, Tesla has delivered a total of 318,350 vehicles, with a gap of 181,650 vehicles from the delivery guidance set at the beginning of the year.
It will take some miracles for Tesla to deliver 181,650 vehicles in Q4, but Tesla has been creating miracles.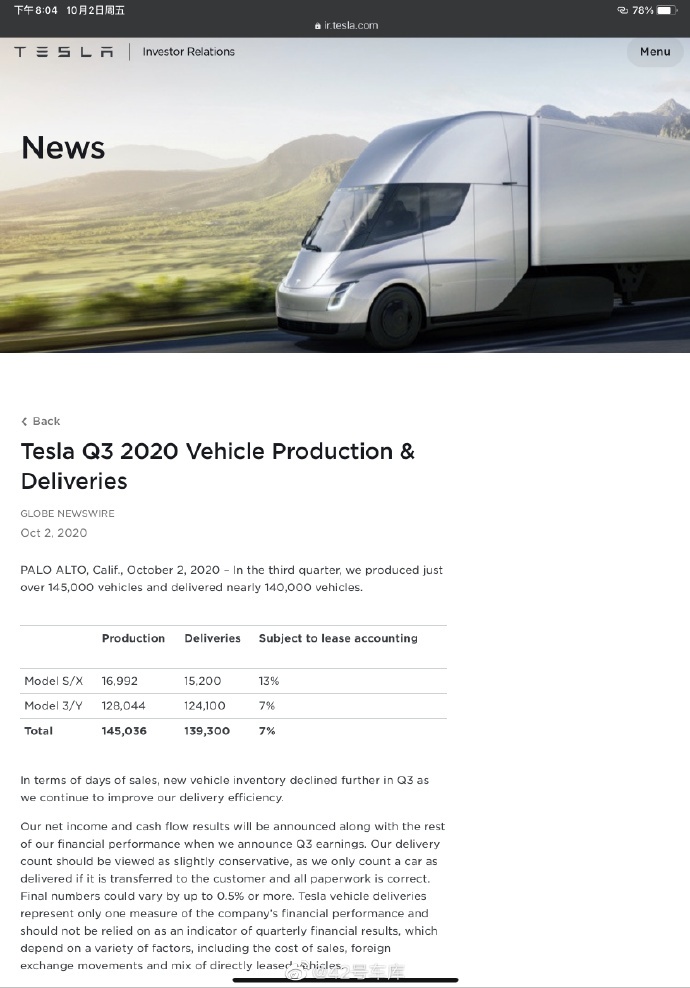 This article is a translation by ChatGPT of a Chinese report from 42HOW. If you have any questions about it, please email bd@42how.com.