After experiencing exponential growth in the previous years, it seems that Tesla's pace of development has slowed down this year, especially as reflected in its financial reports.
On October 19, Tesla officially released its third quarter financial reports for the year.
Before the release of the financial statement, Morgan Stanley analysts predicted that Tesla's third quarter gross profit could continue to fall to 17.5%. Meanwhile, there seems to be a generally pessimistic projection about Tesla's third quarter financial data in the public sphere.
Now let's take a look at the reality of Tesla's third quarter financial report.
Disappointing, yet Admirable
Several figures in Tesla's third quarter financial report showed decreases. This may not bode well for Tesla, but when placed in the larger context of the new energy automotive industry, it remains quite enviable.
Here are the key financial data in a nutshell:
Total Revenue: 23.35 billion USD, a year-on-year increase of 9%, and a quarter-on-quarter decrease of 6%;
Gross Profit: 4.18 billion USD, a YoY decrease of 22%, QoQ decrease of 3.6%;
Gross Margin: 17.9%, as opposed to 18.2% in the previous quarter;
Total Automotive Revenue: 19.625 billion USD, a YoY increase of 5%, QoQ decrease of 7.8%;
Operational Expenditure: 2.41 billion USD, YoY increase of 43%, QoQ increase of 13.1%;
Free Cash Flow: 850 million USD, YoY decrease of 74%, QoQ decrease of 15.6%;
Cash, Cash equivalents, and investments amount to 26.08 billion USD, a YoY growth of 24%.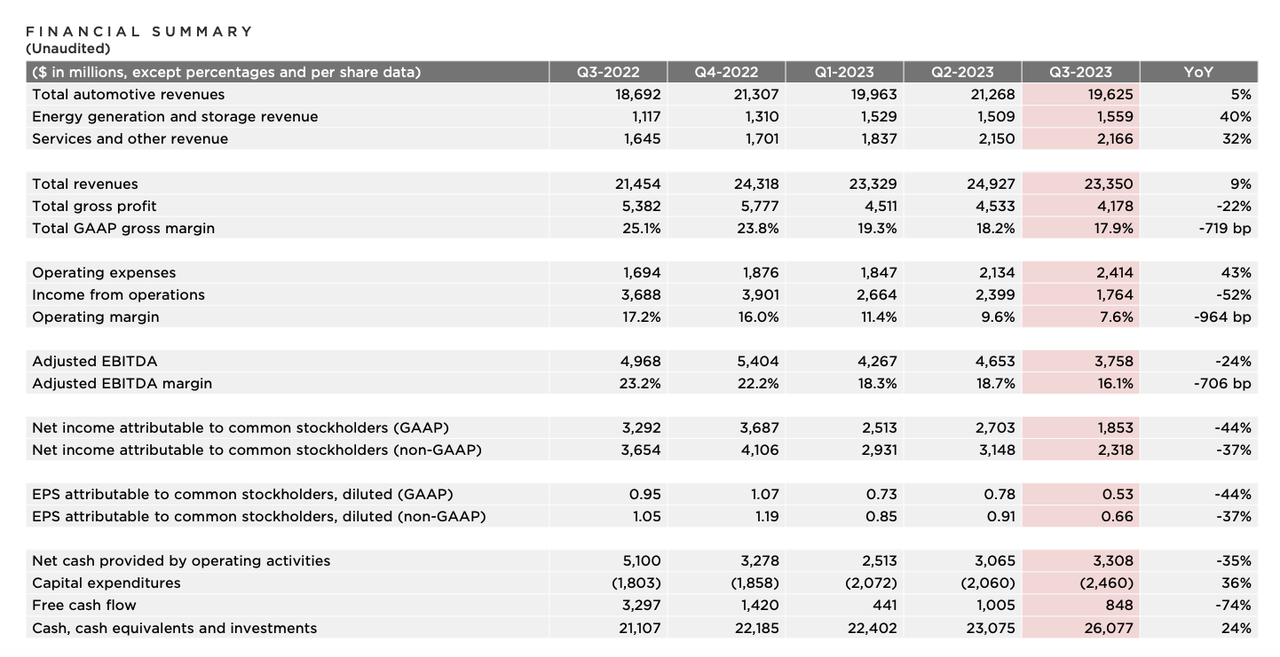 From this data, it can be seen that while Tesla's revenue figures for the third quarter still show YoY growth, a downward trend is largely seen in the QoQ figures. Furthermore, a general upward trend in expenditure and cash flow can also be noticed.
The report explains the QoQ decrease in revenue as a result of the lowered average sale price of Tesla models due to price cuts.
Regarding the increase in expenditure and cash flow, the report indicates that these were due to increased R&D costs for projects like Cybertruck and AI in the third quarter, and increased production costs due to factory upgrades.
Indeed, looking at Tesla's actions in the third quarter, no new vehicles were delivered, production of Dojo commenced in July, and the factory was closed down for upgrades. As revenues stagnated, expenditure continued to increase.
However, this does paint a picture of the third quarter as a phase where Tesla slowed down a bit to conserve energy, hence the decline in financial indicators is not surprising.
This suggests that by the fourth quarter, Tesla needs to release the energy conserved in the third quarter to continue improving financial indicators.
After all, gross profit has already hit a near three-year low, and it's time for Tesla to meet the market expectations.
Furthermore, it's worth noting that the growth of Tesla's other businesses is steadily progressing.- Energy production and storage revenue stood at $1.56 billion, up 40% year-on-year and 3.3% quarter-on-quarter.
Service and other revenue was $2.17 billion, a 32% increase year-on-year and a 0.7% increase quarter-on-quarter.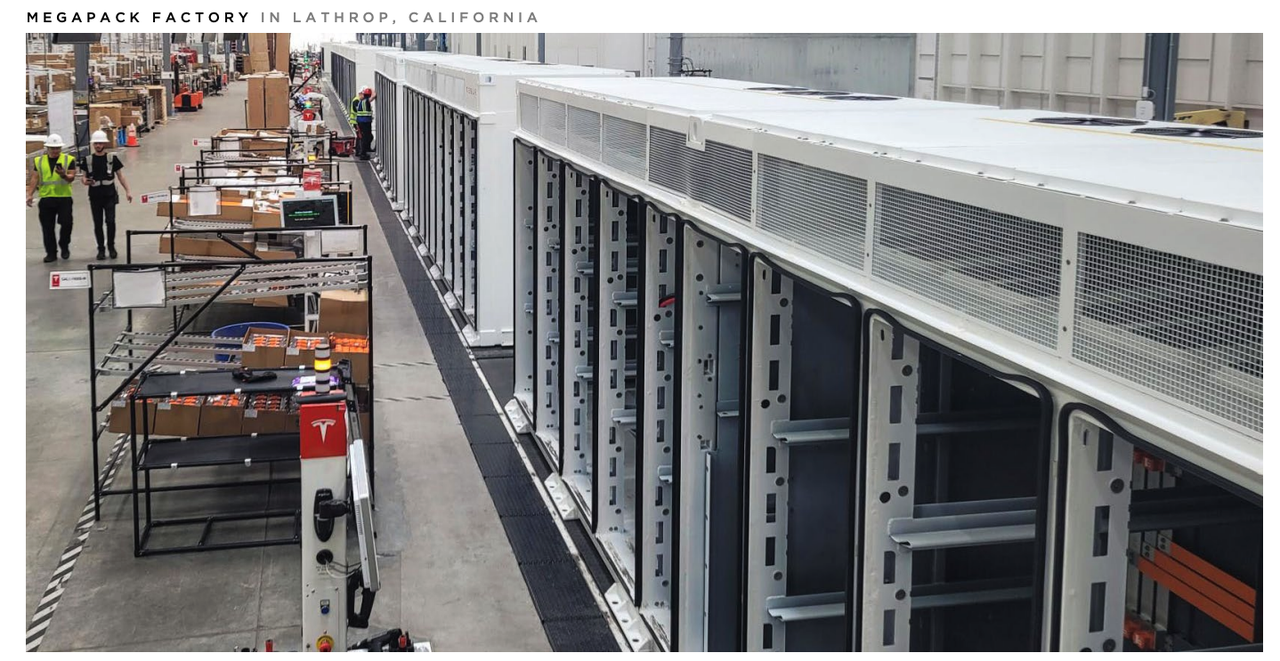 With the growth of its energy storage business and more car manufacturers adopting Tesla's NACS charging standard, Tesla's energy ecosystem is expanding and becoming a significant contributor to its profitability.
Overall, while the third-quarter financial report may not seem up to Tesla's traditional caliber, it remains robust and healthy. Tesla claims:
We possess ample liquidity to support our product planning, long-term capacity expansion and other expenditures.
Aim For Record High Sales
For Tesla, the production and deliveries in the third quarter were less than ideal.
In Q3, Tesla saw its first quarter-on-quarter decline in production and deliveries since Q2 of last year, totaling 430,500 and 435,100 vehicles respectively.
To break it down:
Model S / Y production stood at 13,688 units, with 15,985 units delivered;
Model 3 / Y produced a total of 416,800 units and delivered 419,074 units.
Tesla attributed the decrease in production and deliveries primarily to factory shutdowns for upgrades.
Despite the decline in both production and deliveries, Tesla maintains its target of delivering 1.8 million vehicles this year, a 50% compound annual growth rate.
This implies that in the fourth quarter, Tesla needs to deliver at least 475,900 units. Setting a new quarterly sales record, even for Tesla, would be a significant challenge.
To meet the delivery goal of 1.8 million units for the year, two main factors are supporting Tesla.
First and foremost, Tesla factories have finished upgrading.
Actually, during the Q2 earnings release, Musk mentioned that because the factories needed to shut down for upgrades, the Q3 production would slightly decline. Therefore, it was expected, despite the decrease in capacity.
With the factory upgrades complete, Tesla ensures that its record-breaking delivery target will not be hindered by its capacity.
Secondly, the refreshed Model 3 will begin deliveries domestically in Q4.
The new Model 3 is a significant product innovation for Tesla in the mainstream consumer market since the launch of Model Y in 2019, with major changes in design and configuration.Accompanied by the start of the delivery of the refreshed Model 3 in the fourth quarter and the clearance of the old Model 3, Tesla's sales growth has a new imagination space.
In addition, according to Tesla's plan, Cybertruck is expected to start delivery on November 30 this year.
Starting from November 2019, Cybertruck has experienced several delays, and Musk sketches a picture of the users time and time again like he sets impossible deadlines for his employees. Now, the cyberpunk flavor pie is finally going to be fed to the users. And according to the latest data, Cybertruck's current order volume has exceeded 2 million units.
However, even though Cybertruck has a great potential to contribute to Tesla's delivery volume, it is not expected to contribute significantly in the fourth quarter. In the earnings call, Musk said:
The delivery volume of Cybertruck is still hard to predict, perhaps by 2025 it will reach an annual production scale of 250,000 units, because Tesla not only needs to invent a new car, but also needs to invent a way to manufacture this new car.
So in the fourth quarter, Tesla's sales force is still Model 3/Y. To achieve the new high of 475,900 units, it poses a new challenge to Tesla's production capacity, sales strategy, etc.
The situation does look bleak, but don't forget, relying on the unmatched cost control ability in the world, Tesla still has the trump card of price reduction. Tesla stated:
In the third quarter, our cost of sales per vehicle was reduced to about $37,500. Although the production cost of the new factory is still higher than the existing factory, we upgraded the factory in the third quarter, thereby further reducing the production cost. We still believe that the industry leader needs to be the cost leader.
Full Self-Driving Capability is Here
Tesla's Q3 has taken a big step in full self-driving.
Firstly, in July, Tesla started mass-producing Dojo. Dojo is a supercomputer independently developed by Tesla, it manifests as a super computing cluster named ExaPOD, its main features are:
Integrates 3,000 7 nm D1 chips, including 120 training tiles;
BF16/CFP8 peak computing power reaches 1.1 EFops (one hundred billion billion floating point operations);
1.3 TB high-speed SRAM;
13 TB high-bandwidth DRAM.
Based on the powerful computing capacity, Dojo can handle massive road video data captured by Tesla cars for cloud training, creating a visual neural network without any code.
According to the latest data from the financial report, Tesla FSD Beta has accumulated over 500 million miles, and it is still growing exponentially. This means that the training data of Tesla's visual neural network is also growing exponentially.According to Tesla's plan, by the first quarter of next year, Dojo will be the fifth-ranked computing power facility globally, and by October, Dojo's computing power will reach 100 EFlops.
By bolstering its computing power and data, Tesla is expediting the completion of its goal of "Full Self-Driving" (FSD).
Moreover, in August, Musk took an old Model S equipped with HW 3.0 on the road for a live test of FSD Beta V12. During the approximately 45 minutes of driving, human intervention was needed once, attracting 12 million spectators in total.
Throughout the live stream, Musk repeatedly emphasized that FSD Beta V12 did not rely on any line of code, but solely on a visual neural network trained via video.
Despite the need for developing actual FSD, Tesla continues training visual neural networks extensively. Through the live stream, Tesla flexed its muscles to the outside world while demonstrating confidence in achieving FSD.
Finally, in September, the U.S. Tesla's official website indicated support for optional "Full Self-Driving Capability" priced at 12,000 USD.
Tesla officially stated that "Full Self-Driving Capability" could:
Incorporate all features of basic and enhanced autopilot;
Enable automatic driving on city streets;
Identify traffic lights and stop signs and respond accordingly.
Meanwhile, China's Tesla official website also updated to show "Full Self-Driving Capability", priced at 64,000 RMB, but due to "administrative approval," the feature is "temporarily unavailable, to be released later" (Musk stated the price of "Full Self-Driving Capability" would continue to decrease).
As Tesla steadily advances in FSD, users perceive tangible reality rather than indulging in rocketing imagination about Tesla's previous investment in the area.
Patently, Tesla's business closed loop of preparing hardware on a massive scale and profiting via software becomes further consolidated.
However, from the perspective of the Chinese market, new energy vehicle companies in China are vigorously pushing intelligent driving in cities, and when Tesla's "Full Self-Driving Capability" can be used in China is yet unclear. Therefore, Tesla might lose some product appeal in urban intelligent driving, impacting its software profitability in the Chinese market.
Apart from autonomous driving, concerning intelligence, the Optimus humanoid robot is also training via a visual neural network. Tesla is upgrading its hardware, enabling it to perform more complex tasks in the future. Musk even suggested that it may be able to execute ballet movements in a few years.In the future, Tesla continues to intensify its investment in intelligence, and believes that it will garner profits in return. Tesla states:
We keep innovating in order to reduce manufacturing and operating costs, but over time, we anticipate accelerated growth in hardware profits as artificial intelligence, software, and vehicle scale improve.
This article is a translation by AI of a Chinese report from 42HOW. If you have any questions about it, please email bd@42how.com.