In order to gain market share, IM has finally gone all out.
On October 12, the IM LS6 officially went on market, including 4 versions:
Max Ultimate Performance Edition, with a range of 702 km, at an introductory price of CNY 276,900;
Max Extended Range Edition, with a range of 760 km, at an introductory price of CNY 258,900;
Max Long Range Edition, with a range of 680 km, at an introductory price of CNY 234,900;
Max Standard Edition, with a range of 560 km, at an introductory price of CNY 214,900.
Interestingly, "Max" is highlighted in the naming of all versions by IM.
The LS6 lineup all comes standard with Orin-X chips and lidar, possessing the capability of high-speed elevated roads and urban NOA, arguably IM LS6's trump card. Just like IM proclaimed in their launch, they aspire to break into the market to become a 'super hit product', showing the ambition of IM LS6.
The Story Behind the 305 km/h Top Speed
Control has always been a priority for IM to excel at. This time, on the LS6, IM has elevated it to a new level – with a calibrated top speed of up to 252 km/h.
However, according to official tests, although the calibrated top speed is 252 km/h, the LS6 can accelerate to a top speed of 305 km/h in maximal conditions.
Some people may think that, let alone 305 km/h, even 252 km/h, there aren't scenarios in daily life where one can drive at such speeds. Therefore, having such high speed is a waste of resources and serves no purpose.
In fact, a high top speed is indeed useful.
Firstly, a high top speed demands high capability from triple electric systems.
According to official statements, the LS6 is equipped with a 'nearly 900 V Dual SiC Super Performance Platform' (Max Ultimate Performance Edition, Max Extended Range Edition), capable of reaching a maximum operating voltage of 875 V, laying the foundation for high performance.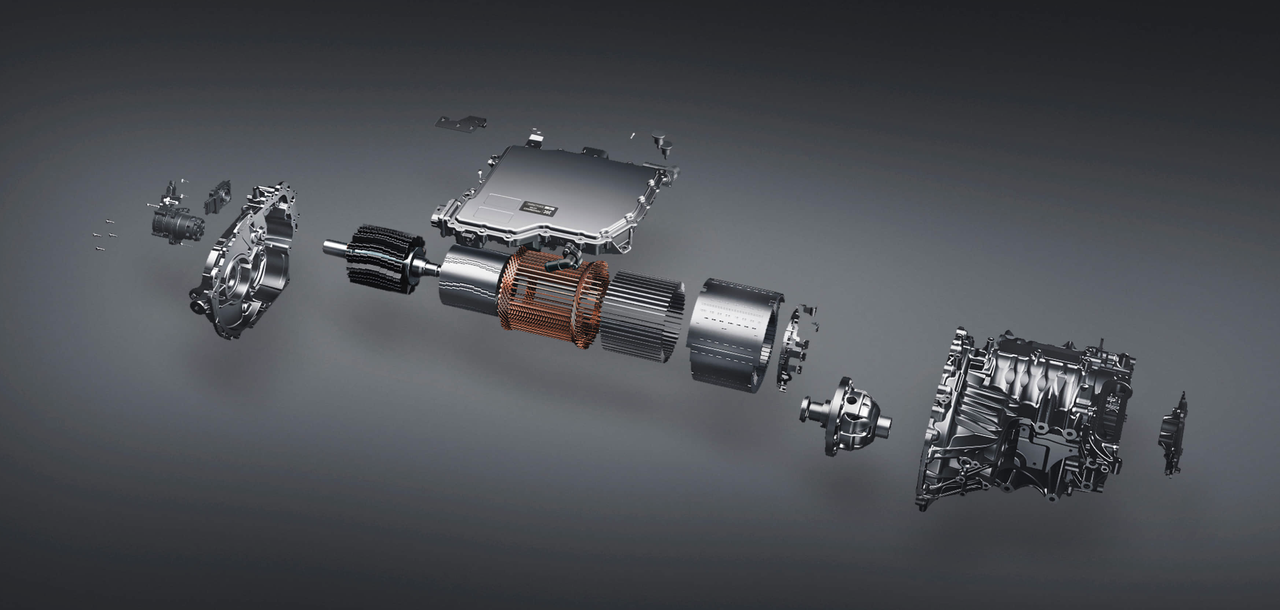 Meanwhile, in terms of the battery, the LS6 uses high-nickel, high-voltage, high-ratio power cells with energy density as high as 235.7 Wh/kg. This not only facilitates high vehicle performance but also helps maintain that performance for longer.In terms of the motor, the IM LS6, equipped with an approximate 900V platform version, features a Magnesium-Aluminium Hurricane Motor, which can peak at 21,000 rpm. It has a dual-engine configuration capable of reaching a maximum of 787 horsepower, a peak torque of 800 N・m, and a primary drive density of 4.41 kW/kg.
Second, high speed imposes demanding requirements on the chassis.
The IM LS6 comes standard with a lightweight all-aluminium chassis and a combination of dual-ball joint front double wishbone + rear multi-link independent suspension.
Moreover, the IM LS6 boasts top-grade driving control hardware, such as German Continental's front four-piston monoblock calipers, Danfoss import silicon carbide power module, and Tenneco's Monroe high-end shock absorbers, forming an 'all-star line-up'.
Third, high speed holds the vehicle design to exacting standards.
Imagine a vehicle reaching 252 km/h or even 305 km/h. Even at 80 km/h, approximately 60% of the power is consumed due to wind resistance.
Achieving a top speed of 305 km/h requires overcoming significant wind resistance, thoroughly testing the aerodynamic design of the IM LS6.
Visually, the IM LS6 adopts a plunging nose, lowered hood, fastback styling, and a small ducktail design. The overall body shape is quite rounded, with two additional wind tunnels on either side of the front.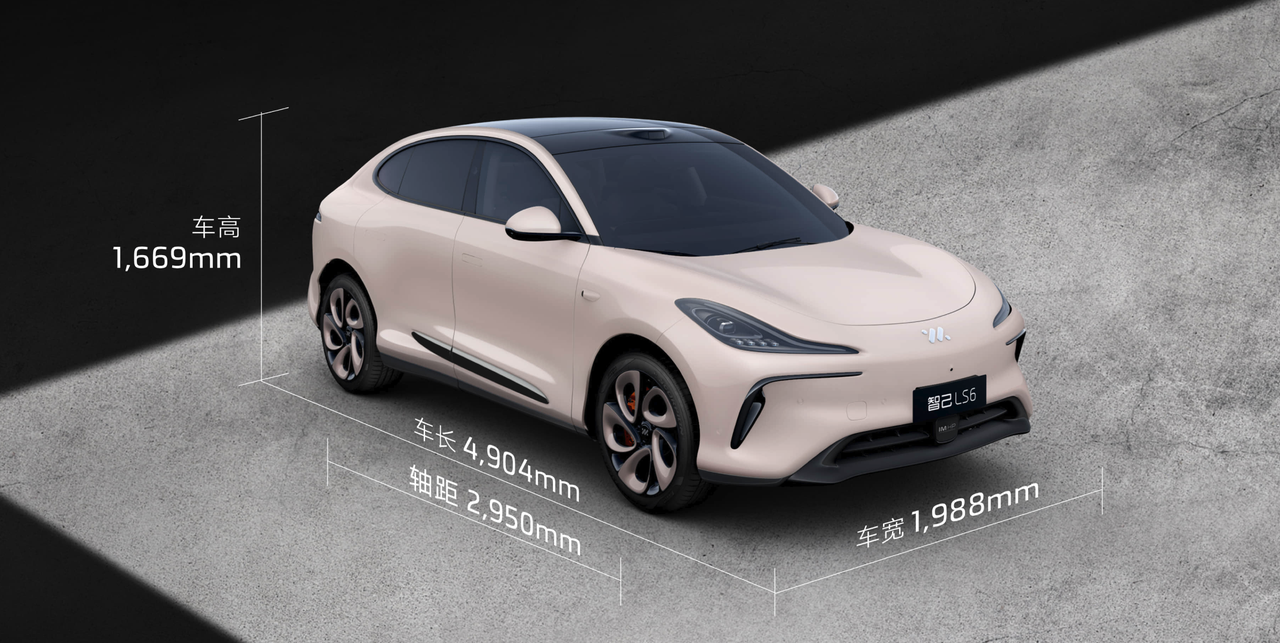 Through optimized exterior design, the IM LS6 achieves a drag coefficient of just 0.237, significantly reducing wind resistance at top speed.
Moreover, when driving at top speed, in addition to wind resistance, wind noise is also an issue. To handle this, the IM LS6 utilizes a double-layer noise reduction glass and sealing system on all four doors, significantly improving the vehicle's NVH.
In summary, higher speeds require higher overall quality from the IM LS6. Therefore, its daily driving performance in safety, stability, control, and endurance also tends to be stronger.
Worth mentioning is that the approx 900V version of the IM LS6 not only lays a solid foundation for high performance but also ensures a high charging rate – 200 km can be added in just 5 minutes of charging.
Regarding the IM LS6's three-power technology, IM official said:
Three years ahead of the competition.
Lowering The Entry Threshold For Advanced Smart DrivingIn terms of intelligence, IM LS6 has executed a significant change that can be described as "disruptive".
This change is not based on how advanced IM is demonstrating in intelligent technology, but lays on how it has further lowered the admission standards of advanced driving assistance systems hardware – starting from the lowest-spec model, the IM LS6 comes standard with Orin-X processor and lidar, and with applied market rights, the price even surpasses the Xpeng G6 580 Max version.
A "disruptive" change in specifications and a notable manifestation of intelligent technology are made.
Regarding the intelligent driving system, aside from the Orin-X chip and lidar, IM LS6 also equips three millimeter-wave radar sensors, eleven high-definition cameras, and twelve ultrasonic radars.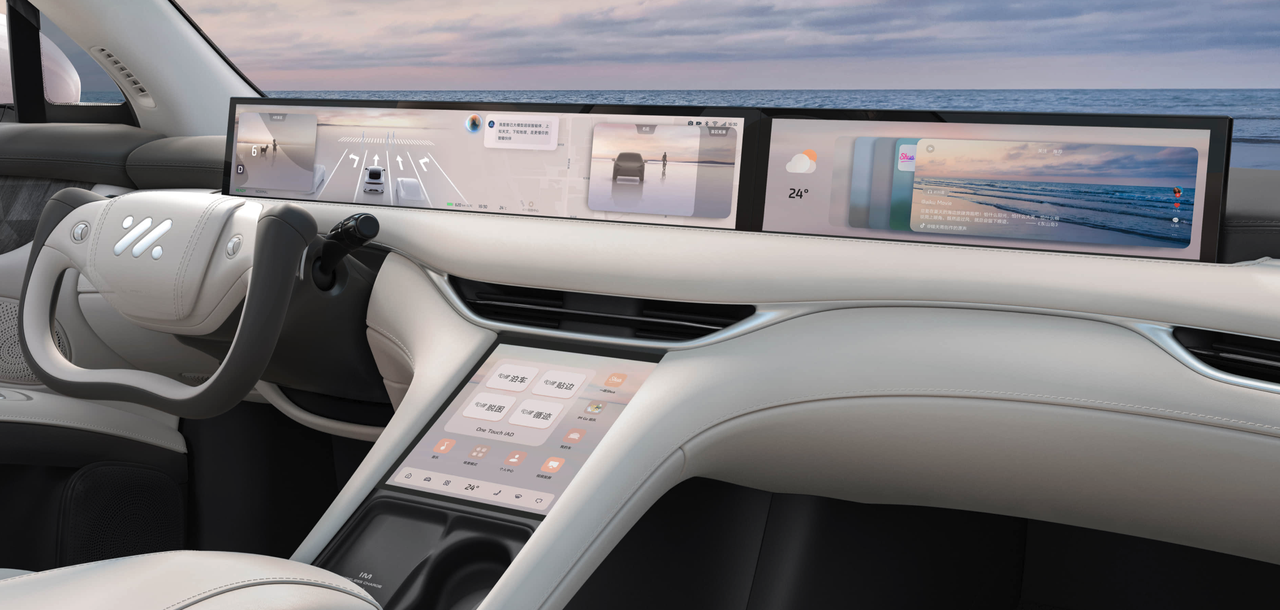 Backed by the computation capability and perception base from its hardware, the IM LS6 can fill in visual blind spots and prevent hazards caused by driving blind spots.
Simultaneously, IM LS6 has created a new driving mode – Rain Night Mode. Under this mode, IM LS6 can present pedestrians, vehicles, lane lines, and other external information on the screen, assisting users to resolve visibility problems due to heavy rain and reduce driving risks.
Moreover, the IM LS6 features a "One-Click AI Chauffeur" function that aids users in autonomous driving and disposes of driving pain points in congestion and narrow roads in urban areas.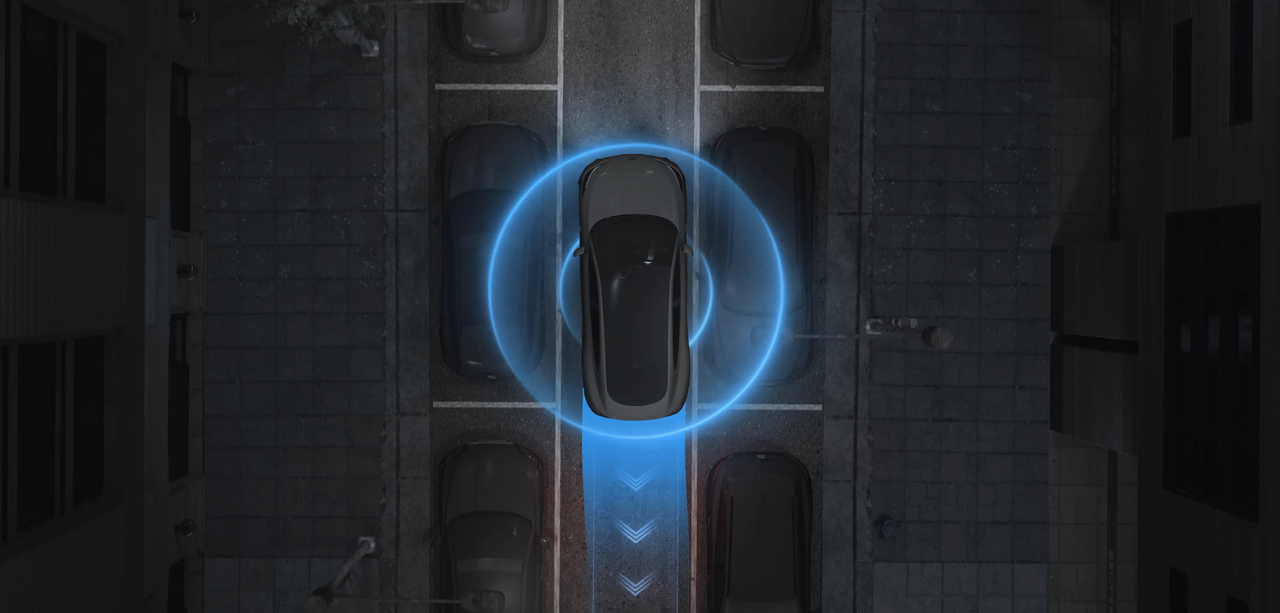 Subsequently, IM LS6 will commence NOA city tests at the end of this year, with continuous updates before the Spring Festival. By mid-next year, IM plans to officially step into the "Mapless Era", and within that year, the commuting mode of IM will cover the top 100 cities nation-wide.
Indeed, expectations for IM's performance in intelligent driving run high.
On the intelligent cockpit front, IM LS6 is overflowing with features, boasting a 26.3-inch main driver's screen, a 15.5-inch co-driver's screen, and a 10.5-inch central screen.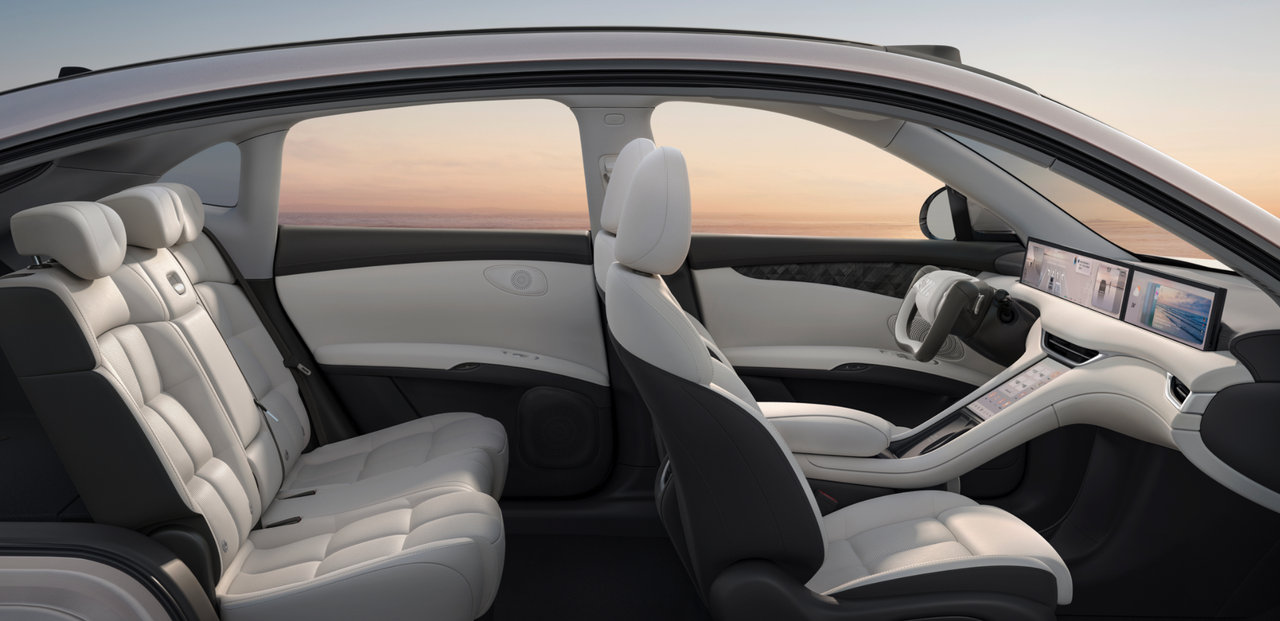 As a noteworthy point, in addition to the commonplace voice interaction and customized interactive modes, IM LS6 is also the first to adopt the new large-scale model – IM Generative Max-model that enables casual conversation, multi-intent understanding, and intelligent image generation.Of course, how well IM's generative big model performs ultimately hinges on actual feedbacks from users after delivery.
Did IM 'Crash'?
After the release of IM LS6 last night, the IM app "crashed", its popularity reaching such a fevered pitch.
Indeed, the IM LS6, from specifications to price, as well as actual space, driving experience, and smart performance makes it very competitive in the 200,000 – 300,000 RMB market.
In reality, it was inevitable that IM would launch a highly competitive product to drive sales and scale expansion.
After all, since its establishment three years ago, whether it's the L7 or LS7, IM's market sales and buzz have been far from ideal.
With an ongoing price war showing no signs of end, car manufacturers are pricing without considering costs, stacking configurations, and focusing on product strength, causing one explosive model after another to emerge. More and more competitors are gaining momentum; even though they continuously fall, new opponents continuously arise…
Under such circumstances, IM cannot afford to sit still.
Backed by SAIC Motor Corporation, Zhangjiang Hi-Tech, and Alibaba, IM continually invests in electrification and intelligentization R&D. This year, IM's Joint CEO Liu Tao has emphasized IM's strong driving intelligence in numerous live broadcasts.
Judging by the IM LS6, IM's resource advantages are starting to show. It seems as though IM has reached a stage of reaping the fruits of accumulation.
According to the latest data, more than 8,000 units of the IM LS6 were ordered on the day of its launch.
At the press conference, IM's Joint CEO announced that the pre-order number for the IM LS6 has exceeded 32,000 units. Judging from the current situation, the full order quantity for the IM LS6 will also be significant.
The question remains as to whether IM can stand up in the new energy car market that is 'compete or die'. The answer might hinge on the success of the IM LS6 – given that the IM LS6 is, after all, IM's key battle facing the current elusive market competition.
This article is a translation by AI of a Chinese report from 42HOW. If you have any questions about it, please email bd@42how.com.