In the increasingly competitive automobile market today, what does safety really mean?
Clearly, from the consumer's perspective of buying a car, safety is not enough to constitute a significant selling point for a new energy vehicle to attract attention and win sales. But this doesn't mean it's unimportant – on the contrary, in today's new energy automobile industry, safety is always the primary product element, an essential base configuration for other experiences of electrification and intelligence.
Against this backdrop, ZEEKR hopes to become the synonym for safety in the new energy era.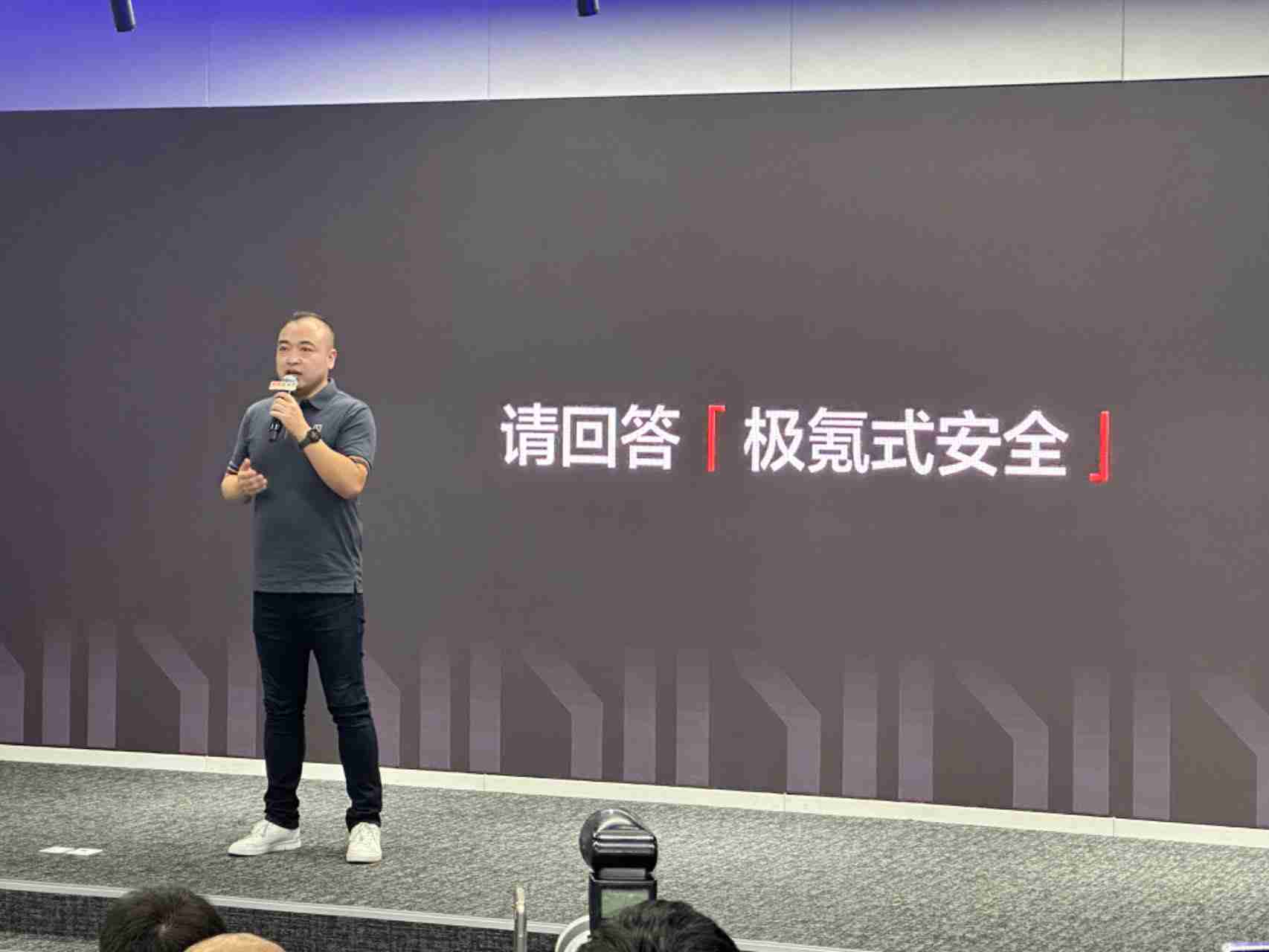 On September 15, at the ZEEKR factory in Ningbo Hangzhou Bay, ZEEKR held an event called "Safety Camp", and for the first time publicly demonstrated its multi-dimensional safety system ranging from structural safety, three-electrical safety to manufacturing safety.
Through this event, we gained a deeper understanding of ZEEKR-style safety.
Behind "Delivered 150,000 with zero spontaneous combustion"
At the event, Zhao Yuhui, the Vice President of ZEEKR Intelligent Technology, announced that ZEEKR had delivered over 150,000 units in total, becoming the only automobile brand in the world that had delivered over 150,000 with zero spontaneous combustion.
It should be clarified that the "zero spontaneous combustion" mentioned here mainly refers to the situation where there are no human causes and no external fire sources, and the vehicle's three-electrical system itself causes zero fire incidents. The data is as of September 15, 2023.
Behind all this is largely due to ZEEKR's layout in three-electrical safety.
At the scene, Xie Shimin, Vice President of ZEEKR Intelligent Technology, told us that in terms of three-electrical safety, all ZEEKR brand's cars come standard with NTP non-thermal propagation non-combustion technology, which reduces the risk of battery pack thermal runaway to nearly zero through multi-layer insulation, active cooling, automatic warning, real-time prevention and control, millisecond power off, and barrier-free heat dissipation.
This also includes a series of safety tests, including 218 system-level tests, 675 component tests, covering six extreme conditions, and 10 battery safety tests far beyond the industry standard.
At the same time, in some key battery safety tests, ZEEKR has set higher requirements for itself than the industry's.
For example, external fire exposure, the national standard requirement is no explosion for 130 seconds, and ZEEKR's corporate standard is no fire, no explosion, no thermal runaway, normal cell voltage, and integrity of the whole pack insulation for 130 seconds under external fire. For water immersion test, the international standard requires 30 minutes, while ZEEKR's standard is at least 48 hours…
It's worth noting that, even though the national standard no longer mandates single battery cell puncture tests, ZEEKR's NTP technology (Non-Thermal Propagation no fire) still warrants the battery pack's capability to withstand repeated thermal runaway incidents of various battery cells.
A classic case is in August this year when a marble slab punctured the battery pack of a ZEEKR 001 on the road. Despite repeated thermal runaway of multiple individual battery cells, it still managed to prevent thermal propagation and fire, thereby providing the industry with globally the first successful emergency case to reference in relation to multi-battery cell thermal runaway.
During the on-site communication session, when asked about battery safety, Xie Shibin, Vice President of ZEEKR Intelligent Technology, expressed that compared to a single battery cell, LiFePO4 (Lithium Iron Phosphate) is indeed safer than ternary lithium, but at the system level, there is no difference between the two. He also revealed that ZEEKR will consider incorporating LiFePO4 batteries at the appropriate time.
Moreover, Xie stated that ZEEKR is consistently investigating and researching on the technology of semi-solid or solid-state batteries, and is prepared to introduce the most advanced high-end technology and high-quality battery products as soon as possible.
How to improve safety at Design and Manufacturing Levels?
ZEEKR's triple electric safety is, in fact, an essential component of the overall safety of ZEEKR's vast SEA architecture, but ZEEKR believes architectural security surpasses this.
More specifically, in the SEA architecture, ZEEKR passed over 40 test standards covering all angles from the front, both sides, rear, bottom, and top of the vehicle, with a 720-degree full coverage. They also adopted a vehicle wheel bearing force and wheel-off unloading force method for the first time in new energy vehicle models, ensuring rigid safety for passengers.
Notably, ZEEKR was the first to implement a battery drag bottom protection system through their aluminum alloy composite layered bottom protection plate structure, preventing the battery from damage caused by ground protrusions. The thickness of the bottom protection plate is 18 millimeters.
As it relates to collision testing, ZEEKR far exceeds industry's highest safety standards across seven dimensions: 40% offset collision ODB, roof crush safety, side collision (pillar collision), high-speed rear-end collision, oblique angle offset collision and head-on center pillar collision.
In addition to vehicle safety, ZEEKR carried out structural safety at the parts level creating the world's largest integrated die-cast rear vehicle body. While decreasing weight by 16%, it increases structural rigidity of the rear body by 9.5%, increases bending stiffness by 11% and reduces deformation by 16% during impact, therefore efficiently protecting the vehicle body. The results of multi-modal and multi-scenario topology optimization and the implementation of their unique Quad-Zone collision strategies effectively lower collision repair costs.
At the event, ZEEKR unveiled the latest technological evolutionary achievement of their one-piece die-casting: the world's first integrated die-casting middle dragonfly structure. It reduces 16 parts, 66 connecting points, achieves 7% weight reduction, the stiffness of the seat mounting point increases on average by 18%; thus making the car lighter, stronger and more comfortable to ride in.It has been understood that the integrated mid-segment die-casting dragonfly structure released this time will be first mass-produced on ZEEKR 001 FR. It will also be used in other car models due to its variable and extendable design, making it flexible to adapt to a variety of models.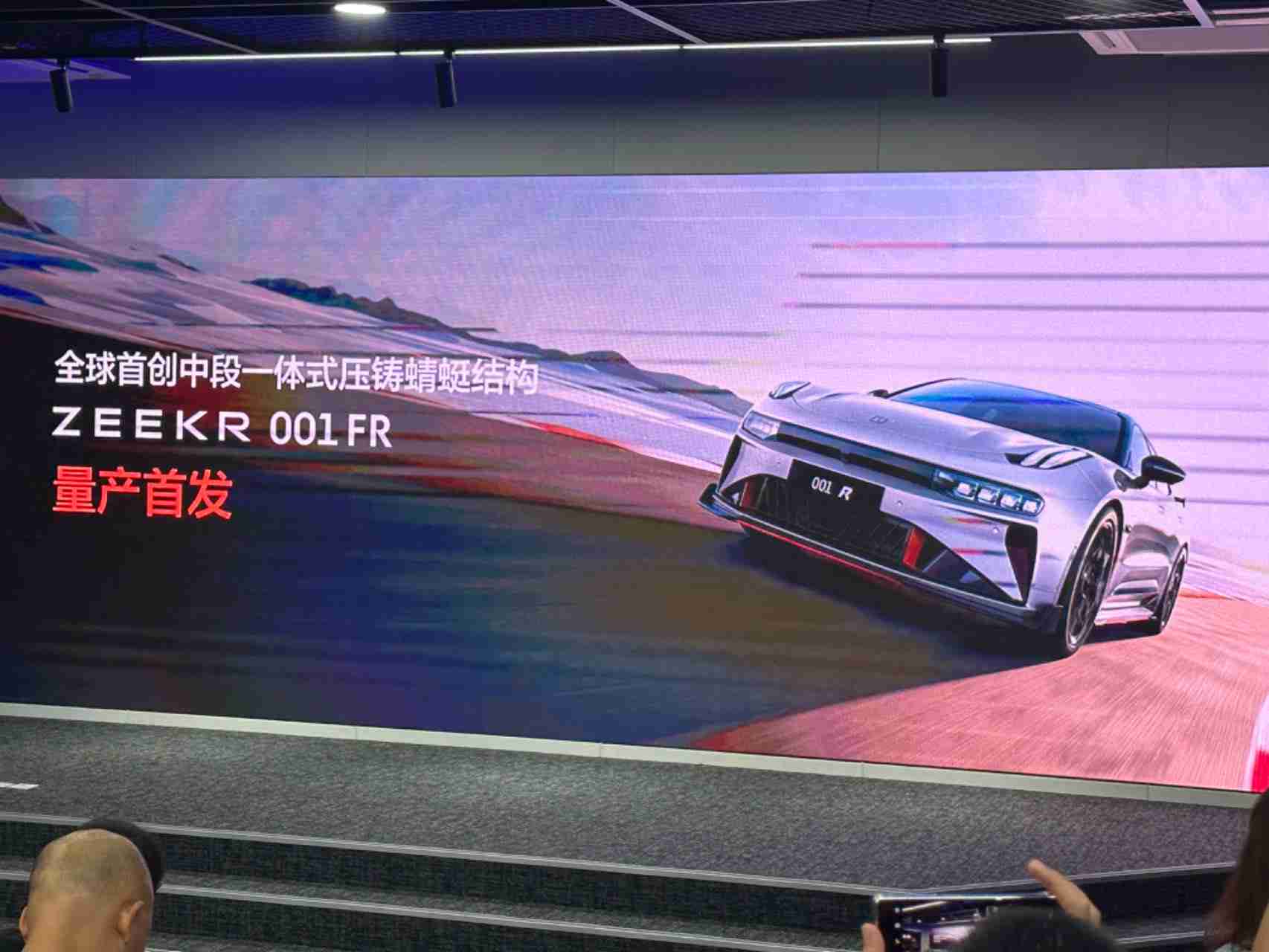 Worth mentioning, at the event, we toured ZEEKR's world's first large-scale integrated die-casting L4 intelligent production line, which includes the largest casting machine producing domestically — a 7200T die casting machine capable of creating the world's largest one-piece die-casting rear aluminum body.
ZEEKR informed us that the ZEEKR-style safety manufacturing process is continuously iterating and evolving, with the ZEEKR integrated die-casting technology realizing process innovation in five major dimensions – material, design, flexibility, green, and mold. For instance, the world's first large-scale application of self-owned patent 'nano-crystal' aluminum alloy; breaking foreign technology barriers, achieving the domestication of core components with dual-shaft high-speed gantry machining center, improving machining accuracy by 8-9 times compared to the welding process.
Some other key information about ZEEKR
At the event, ZEEKR proactively responded to the call for the establishment of a user safety dedicated platform, officially establishing the world's first new energy car safety owner's club — the 'ZEEKR Dawn Guardians Club'. This move echoes the 'VOLVO Lifesaver Club', which was established during the era of gasoline cars.
Of course, this action can also be considered a part of ZEEKR's endeavor to build a 'safety' brand image in the new energy era.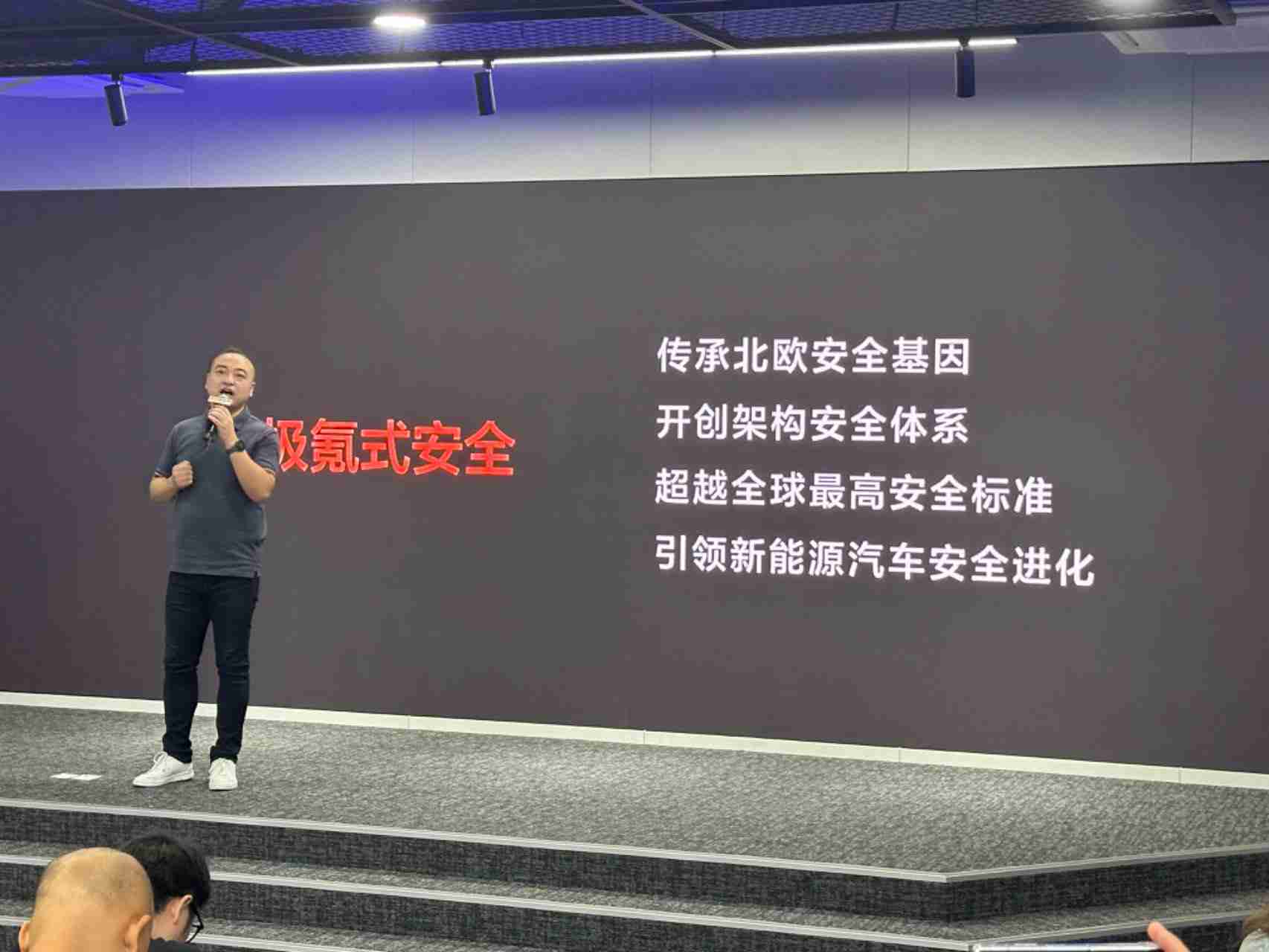 At the event, in addition to addressing and emphasizing safety-related issues, ZEEKR representatives also answered some key concerns. For example, concerning the mass production of ZEEKR 001 FR, it was revealed that it will use the same production line as ZEEKR 001 and ZEEKR 009 in the ZEEKR factory, with the first batch of deliveries expected to begin in October.
The hardware of the new vehicle is virtually ready, with final testing and calibration ongoing. Meanwhile, work on adapting software development is in full swing.
Speaking about the 'Broad and Vast' architecture, ZEEKR explained that in order to meet the high standards of ZEEKR-style safety, vehicles based on this architecture will weigh approximately 50kg more, increasing costs. However, all resources under the 'Broad and Vast' architecture are shared, which includes procurement from the same supplier, and cost control through supply chain integration.
Talking about ZEEKR's model layout, they mentioned that every ZEEKR product is based on the 'Broad and Vast' architecture. It can carry from A to E category, significantly reducing research and development cost and time. ZEEKR 001, ZEEKR 009, and ZEEKR X have all been launched into niche markets, consistent with ZEEKR's development philosophy and goals: to rewrite the rules of these niche markets. However, next, ZEEKR will definitely tap into the mainstream niche markets.
In regards to the ZEEKR OS 5.0 issue, ZEEKR stated that the company's internal goal this year is to rid the ZEEKR brand of its undesirable reputation for vehicle systems. The OS 5.0 for ZEEKR 001 has already been released, and the ZEEKR X's OS 5.0 is due to launch this month. The ZEEKR 009 model is slightly more complex, involving more systems, and is currently in intensive development and testing. The aim is to allow ZEEKR 009 users to use the new vehicle system as soon as possible by the end of this year.
Concerning ZEEKR's European market strategy, ZEEKR stated that its products have already begun to penetrate the European market. The first batch of European ZEEKR 001 cars shipped on August 25th, and ZEEKR X left the Port of Shanghai bound for Europe on September 15th. To enter the market in developed countries, the products must first comply with local laws and regulations. Smart electric cars, which are connected to the internet, must strictly follow EU standards on data compliance.
ZEEKR stated that smart electric vehicles are paramount to the rise of Chinese vehicle manufacturers. From this year's Shanghai Auto Show to the Munich Auto Show, we've seen remarkable progress from Chinese car companies in this area, leading noticeably in the global market.
Of note is ZEEKR's safety camp activity focusing on their passive safety measures. At the event, ZEEKR also discussed issues concerning active safety, and stated that with the launch of ZEEKR OS 5.0, ZEEKR's intelligent driving team, in collaboration with Mobileye, will continually refine NZP to increase its active safety awareness capabilities.
Furthermore, following the ZEEKR safety camp activities, ZEEKR will also hold an intelligent driving themed event, which we will closely monitor.
This article is a translation by ChatGPT of a Chinese report from 42HOW. If you have any questions about it, please email bd@42how.com.