Polestar (NASDAQ: PSNY), a global luxury electric high-performance car brand, formally showcased its all-new electric SUV, the Polestar 4, at the 26th Chengdu International Auto Show on August 25, 2023.
Inspired by the design concept of the Vorab Glacier skiing haven in Switzerland, the rear windshield design of the Polestar 4 reinvents conventional methods, allowing airflow to naturally skim over the roof and reduce drag. Balancing sporty and elegant style, consideration is given to vast space and comfort. By combining design elements such as pre-position windshield base and reduced hood height, a spacious and comfortable driving environment is created.
In terms of performance, the Polestar 4 powers up with dual motors and 400-kilowatt power, achieving a hundred kilometers acceleration time of merely 3.8 seconds. The rear electric motor employs silicon carbide technology, enabling continuous max power start-up, with no loss in strength. After thousands of hours of tuning, the Polestar 4's chassis enhances the driving flexibility and responsiveness, reaching a test limit of 1G in lateral acceleration on bends and a 20% increase in steering response speed compared to the Polestar 2.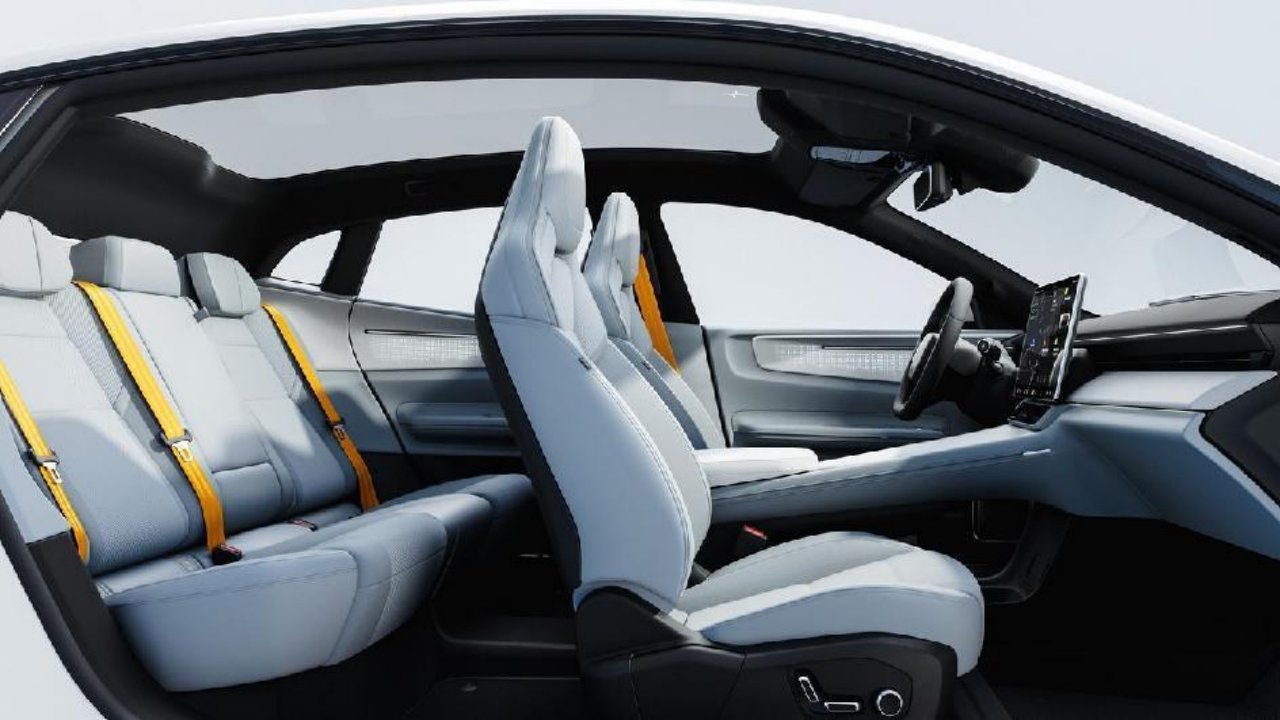 To augment the cockpit experience, the Polestar OS smart cockpit system integrates Polestar's signature orange color, icons, and car body textures based on the Flyme Auto foundation, being referred to as the "Stargazing Platform". Seamless interconnection between the phone and automobile is ensured through the Flyme Link Super Desktop, enabling interior light color adjustment as per consumer preferences.
Concerning safety, the Polestar 4 inherits the Volvo's human-centric safety genes and health concept, strictly following global mainstream market safety standards and forming a comprehensive active and passive safety protection system. It is further equipped with Mobileye's intelligent driving assistance system, featuring 12 cameras, one super long perception millimeter-wave radar, and 12 ultrasonic radars, which can monitor the driver's eye and head movements in real-time and mitigate risks associated with fatigue driving or capability loss.
The Polestar 4 making its global debut at the Shanghai Auto Show has not only rapidly iterated in smart cockpit and intelligent driving but also completed all verification tests, including 30,000 kilometers of high cold and high-temperature tests, 100,000 kilometers endurance test, and over 70 times collision tests. Furthermore, the Polestar 4 initial exhibition car has arrived in major cities nationwide at Polestar Spaces, and Polestar has started opening purchase for the first group of Polestar 4 owners.
This article is a translation by ChatGPT of a Chinese report from 42HOW. If you have any questions about it, please email bd@42how.com.