Rising, broadening its horizons through battery swapping.
On August 13th, the first battery swap station of Rising in Beijing is officially launched.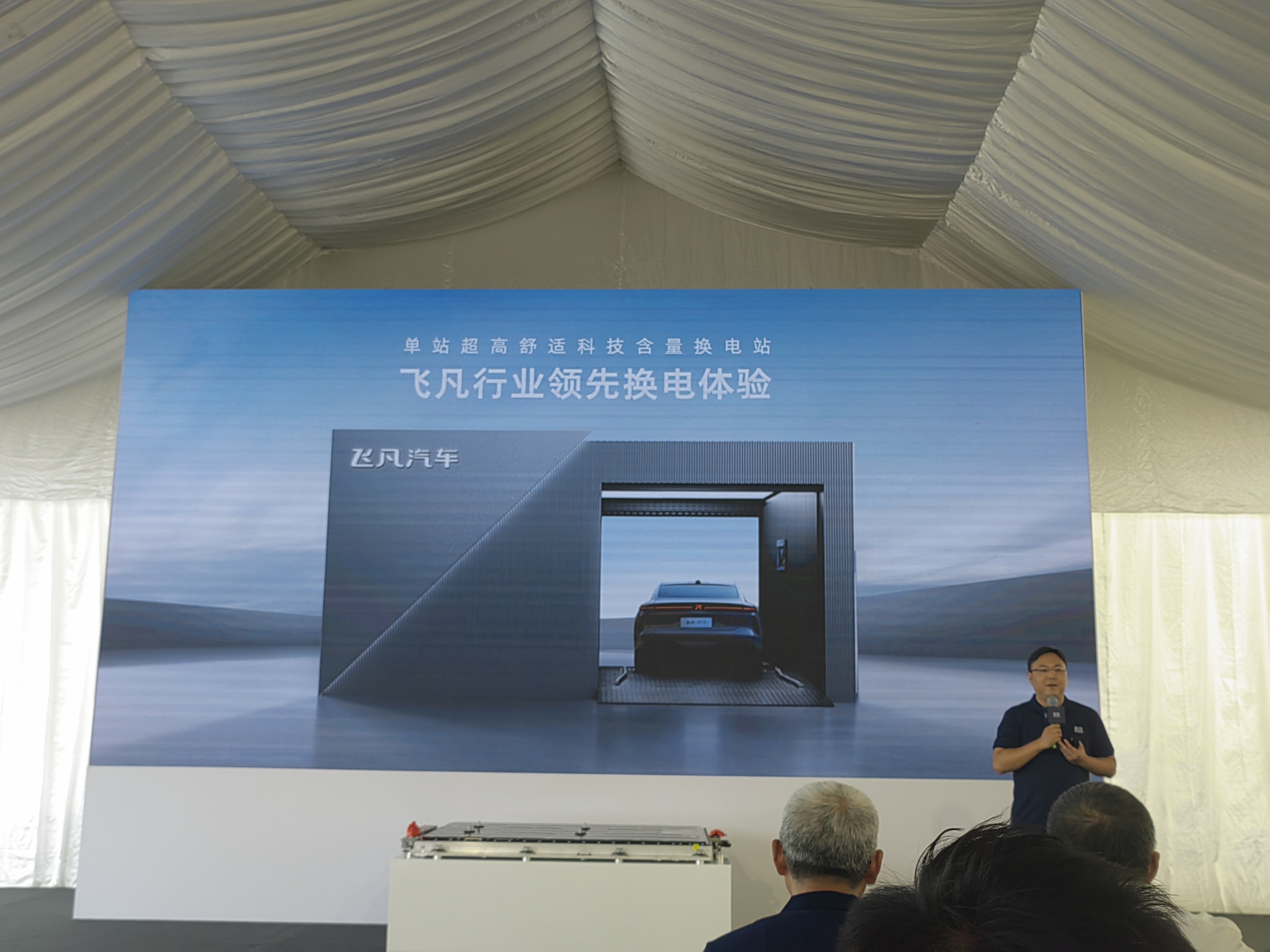 Officially speaking, Rising fully considered user experience in the battery swapping procedure, made various innovations, which are specifically reflected in the following five aspects:
Firstly, battery swapping is uninterrupted.
Rising's battery swapping station is the only station in the industry that can keep the air conditioner running, the massaging function uninterrupted, entertainment screen supporting continuous video and music play during the battery swap.
In fact, the uninterrupted user comfort experience comes from Rising's design where a 12V battery can serve as the auxiliary power for a short time after the base power battery is detached.
Secondly, industry-leading battery swap speed.
According to the test Result of Rising's Beijing swap station, from the moment you click on the screen to start swapping the battery, to the moment the screen prompts that the battery swap is completed, the whole process only takes 2 minutes and 30 seconds, while a prominent rival in the battery swap field takes 3 minutes or more.
This is actually due to Rising's self-developed Quick Click reinforced battery quick swap technology. It has a dedicated compound bolt-style quick swap structure. The bolts and nuts on the lock body are integrated. 16 bolts can be loosened and tightened within 5 seconds, achieving a quick swap in two and a half minutes.
Thirdly, safety comes first.
Firstly regarding hardware facilities, the swap station is equipped with a built-in fire water tank and gaseous fire extinguishers, arranged in different grades all over the area with compound detectors for monitoring.
Secondly, in terms of software facilities, Rising has connected the vehicle and station data, achieved round-the-clock monitoring of the battery pack. Meanwhile, the liquid cooling constant temperature system inside the battery compartment can keep the battery within a certain temperature range, and it will also intelligently adjust and control the charging speed while charging.
Fourth, large reserve batteries in a single station.
At present, Rising's small battery swapping station can reserve 10 batteries, with a service capacity of 200 times/day; Medium-sized battery change station can store 20 batteries, with a service capacity of 360 times/day.
According to Rising official information, by its next-generation battery changing station, it can store up to 40 reserve batteries, and have a service capacity of 560 times/day, which can also speed up the battery changing time to 90 seconds.
Fifth, smoother battery change process.
Rising's battery changing station adopted a through-type structural design, providing a Drive-Thru-style smooth battery changing experience. Vehicles can freely in and out without the need to "back into the garage", hence new drivers need not worry when changing batteries.
Behind the above battery change experience, in fact, is Rising's constant innovation in battery change technology.
Revolution in Battery Technology
Starting from continuous technological innovation, Rising not only unleashes its technical prowess at the battery swapping stations but also, by relying on SAIC, demonstrates profound technical capabilities in terms of batteries.
Rising adopts the industry's first CTP two-layered horizontal battery cell configuration from SAIC. This is the only cell configuration referred to as "horizontal placement" in mass-produced vehicles. According to official reports, it has the following three advantages:
When it comes to safety, it virtually eliminates thermal runaway through thermal conductivity, insulation and dissipation.
As for battery life, the horizontal cell design guarantees smooth electrolyte circulation throughout the battery's lifespan, doubling the battery's life.
In terms of battery replacement efficiency, it supports rapid replacement through its unique composite bolt-based structure which only takes 5 seconds from loosening to tightening, significantly improving battery swapping efficiency.
Considering the above advantages of zero thermal runaway, increased lifespan and quick-replacement, the Magic Cube Battery could effectively tackle industry pain points concerning safety, energy replenishment, and residual value of batteries.
Partnering with National Team to Complete Battery Swapping Network with Gas Stations
In addition to technological innovation, Rising has also accelerated the pace in layout of battery swapping stations, forming the "Rising Battery Swapping Alliance".
Rising has chosen to partner with JetSure for the layout of battery swapping stations, with JetSure backed by titans such as Sinopec, PetroChina, SAIC Group, CATL, and Shanghai International Auto City.
If CATL supplies innovative cells, providing substantial hardware support to Rising, then the increased investments from Sinopec and PetroChina aid in utilizing their dense nationwide gas station network and customer data to accelerate Rising's battery swapping station deployment and rationalize point distribution.
In summary, by partnering with JetSure, which has the backing of industry giants, Rising can gain substantial hardware and software support in battery swapping, breaking through the national battery-swapping market.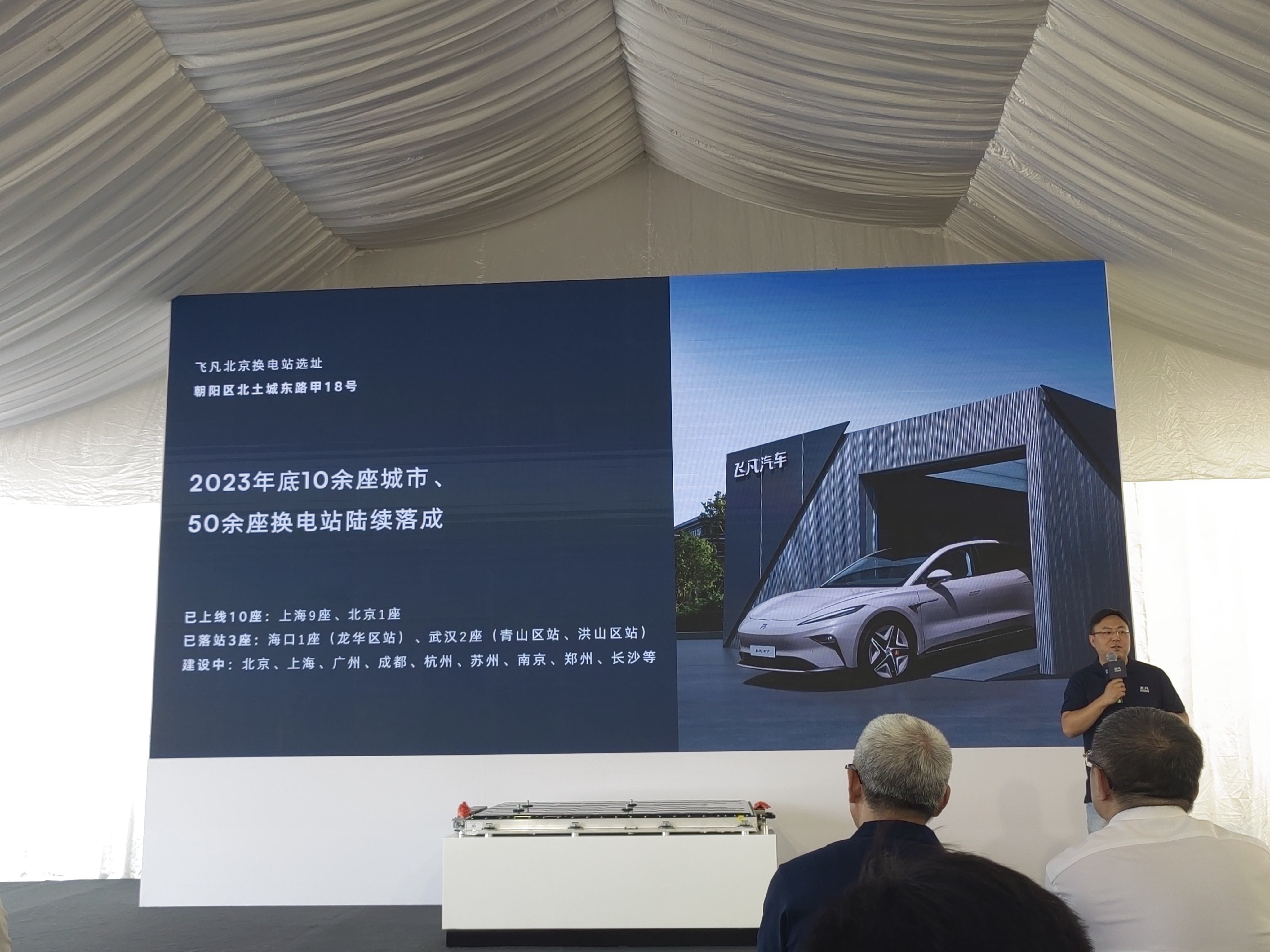 However, a stern challenge is that currently, only 10 of Rising's battery-swapping stations are operational, and the first station in Beijing is just up and running. To meet the goal of 300 stations by the end of 2023 and 3,000 stations by 2025, the pressure on Rising is clear.
Plan Before Act, Secure the Establishment of Battery Swapping Standards
Top executives from Rising stated:
Our goal is often to start from a higher point, look ahead from a higher ground, and pay attention to detail. Once the country further motivates the charging and swapping system, our actions will start more quickly. Because essentially we're not just targeting a single branded product, but a multi-branded social system.
In other words, Rising is not merely implementing battery swaps on its own, but also aims to provide a unified battery swapping standard for the industry.
In fact, anchored in technology, the upgraded battery swap experience and accelerated deployment of swap stations all testify to Rising's efforts to establish a uniform battery swapping standard.
Regarding this, senior executives of Rising have indicated:
The business model of electric vehicle separation by Rising actually operates on a social level with multiple brands. That means different manufacturers and brands of cars will use the battery swap service in this system. The Mosaic battery and battery swapping system support, including all brands under SAIC Motor and non-SAIC brands to join in.
Of course, battery swap is a matter for the entire new energy vehicle industry, and without the assistance of national policies, it would be difficult to complete the swapping with only one or two companies.
As it stands, there is still a long way for Rising to promote the standardization of battery swaps in the industry.
In Conclusion
Rising is serious about battery swap. Liu Chen, the General Manager of Rising Car User Development Centre, commented:
Rising's battery swapping replenishment system has a prerequisite for sustainability. We absolutely focus on the user experience aspect… the user's pain and pleasure points, their comfort experience, and what they need in every detail can all be covered accordingly.
Rising, with battery swapping as its core, has put tremendous effort into technology and layout. In addition, Rising faces the problem of battery property rights confusion caused by battery swapping. Regarding this, officials of Rising stated that they will strive to run the 'buyback to lease' business channel as soon as possible.
Battery swapping is an enterprise that requires a long-term perspective, and there will be many issues blocking its progress.
However, it is evident that Rising is charging ahead towards the direction they believe in for battery swapping, using technology as the basis of their efforts and experience as the focal point.
At present, Rising has made some progress in battery swapping, but there are still more significant challenges awaiting Rising in the future.
This article is a translation by ChatGPT of a Chinese report from 42HOW. If you have any questions about it, please email bd@42how.com.