Many so-called SUVs on the market can only be termed as pseudo-SUVs, focusing only on some family needs and thus reducing the versatile properties of an SUV.
This was stated by Zhao Changjiang, the general manager of the DENZA Auto Sales Division.
On August 6th, in order to maintain the multi-functional attributes of SUVs, catering to both family and off-road needs, DENZA officially launched the new DENZA N8 with this goal in mind.
The DENZA N8 comes in two versions:
Four-wheel drive flagship hybrid six-seater version for 326,800 Yuan;
Four-wheel drive flagship hybrid seven-seater version for 319,800 Yuan.
Additionally, the DENZA N8 comes standard with over 200 configurations, such as the Yun Chen – C intelligent damping body control system, CCT comfort control system, and Nappa leather seats throughout the car.
Furthermore, DENZA has launched a range of benefits including a 2,000 Yuan voucher against a 10,000 Yuan deposit, and exclusive owner exchange privileges.
Now, let's take a look at what differentiates the 'genuine' DENZA N8 from the 'pseudo' SUVs that flood the market.
Urban and Wild
DENZA believes that a fully versatile, urban and wilderness-ready SUV is what today's consumers need.
As a result, all product configurations for the DENZA N8 revolved around this 'Urban and Wild' theme.
Rugged Exterior, Luxurious Interior
The DENZA N8 is the successor to the DENZA X. Hence, certain features of the DENZA X, such as the front headlights, are inherited by the N8. However, the overall designs differ significantly.
Firstly, the dimensions of the DENZA N8 are 4,989 x 1,950 x 1,725 mm, and the wheelbase is 2,830 mm. It is 59 mm longer than the DENZA X, with the width and height remaining the same while the wheelbase is 10 mm longer. This implies an upgrade in the N8's interior space.
Secondly, the DENZA N8 bears a resemblance to the DENZA N7. Incorporating the brand's latest π-MOTION design language, the N8 is easily identifiable as part of the DENZA family. Moreover, the presence of the front grille and a body that elevates towards the rear accentuates the vehicle's rugged and sporty character.
While the exterior emphasises the rugged and sporty nature, the interior of the DENZA N8 concentrates on creating a luxurious environment.
The interior decor of the DENZA N8 consists of broad swaths of soft wrapping materials. The roof features a suede finish, and crystal kits have been used to decorate the gear shifter and air vents, offering an enhanced tactile experience and a more welcoming atmosphere.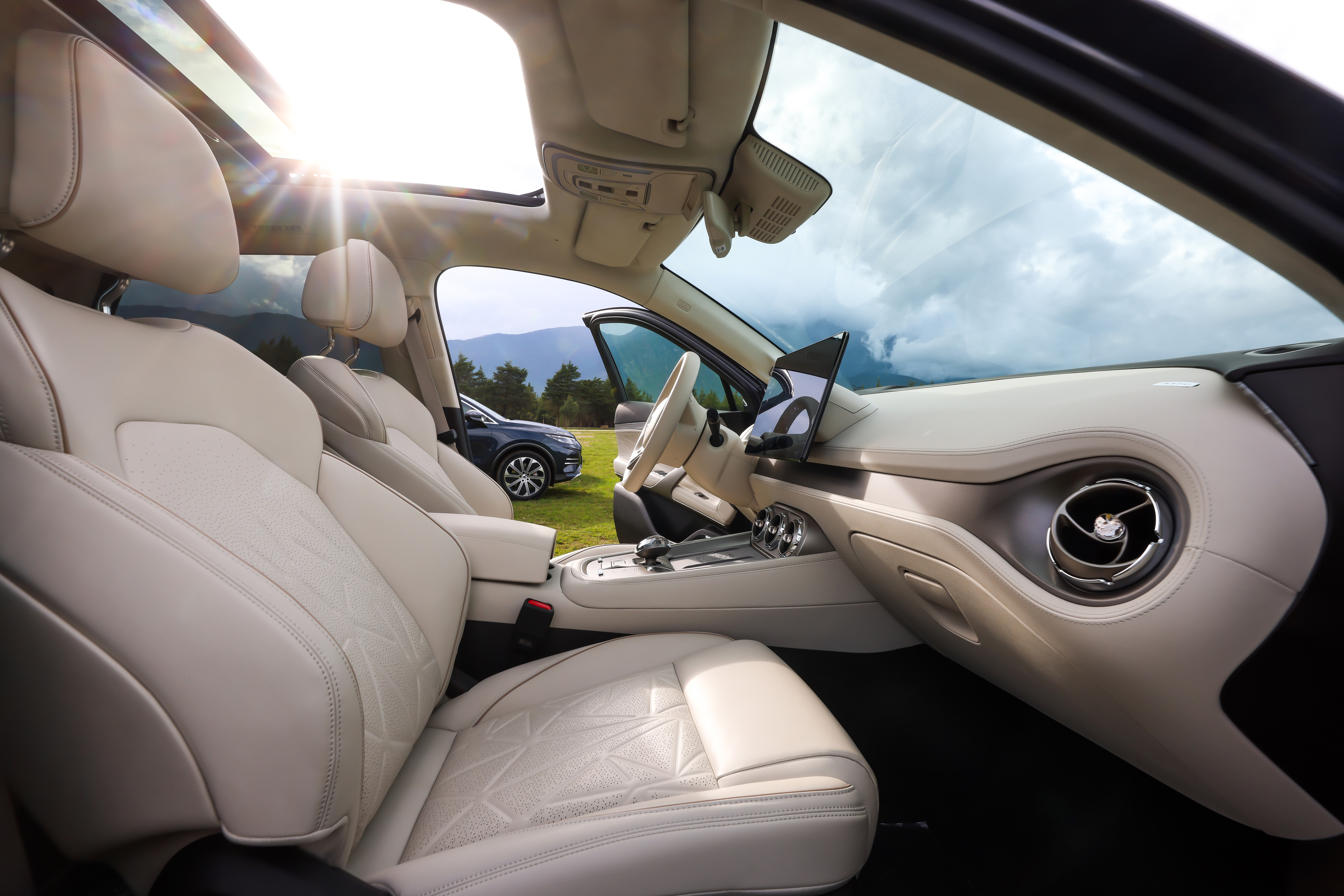 It's worth mentioning that, compared to other cars in its category, the DENZA N8 doesn't just use Nappa leather in the areas of the seat in contact with the passenger, but the entire seat is covered in Nappa leather, giving the interior a more luxurious feel.
Additionally, the DENZA N8 also supports arcade and gaming modes. In its gaming mode, the DENZA N8 is the first car worldwide to have a removable steering wheel and it also supports an external joystick, creating a more gamer-friendly experience.
This removable steering wheel got rave reviews from our garage buddies who tested it out in person.
"Remarkably Superior" Off-road Capabilities
Referred to as a "home off the road" by DENZA, the N8 has certainly pulled out all the stops in terms of off-road performance.
The DENZA N8 is equipped with DM-p super hybrid system, and matches EHS hybrid system + 1.5T engine with a high thermal efficiency of 40.12%. It has a total power output of 360 kW and goes from 0 to 100 km/h in just 4.3 s.
Also, the DENZA N8 continues and upgrades the Benz chassis tuning of the DENZA X. It has the Yunche-C Intelligent Damping Body Control System and CCT Comfort Control Technology and supports OTA Upgrades.
In regard to four-wheel performance, compared to the traditional mechanical four-wheel, the DENZA N8 has an electric four-wheel which is able to make the transfer path become shorter and more accurate. It also has a mechanical differential lock in the rear axle, enabling a significant improvement in off-road capabilities.
Of course, powerful off-road performance must be followed by efficient energy supplementation and economy.
DENZA N8 comes with a 45.8 kWh hybrid-dedicated blade battery and quick charging power is 90 kW for PHEV models. The EV can travel 216 km on a single charge in the NEDC cycle, with a combined range of 1,030 km, and a Power-fed Fuel Consumption of 6.45 L /100 km.
When introducing the off-road performance of DENZA N8, the word "remarkably superior" was even used by Zhao Changjiang.
Smart Enough for Its Purpose
In terms of smart space, DENZA N8 is equipped with DENZA Link Super Smart Interactive Cabin which can support 12.3-inch dashboard, W-HUD and 15.6-inch central control screen tri-screen linkage. It also has voice control that covers 1,000 vehicle control functions and supports instant dialogue in four sound zones.
For smart driving, DENZA N8 comes standard with DENZA Pilot Intelligent Driving Assistance System, armed with 12 ultrasonic radars, 5 high-precision millimeter-wave radars, 4 smart driving surround cameras and 1 smart driving high-perception camera, and it can realize L2+ level driver assistance.
However, due to the product definition of DENZA N8, which balances both urban and off-road aspects, it does not come with advanced driver-assistance systems like that of DENZA N7.
For the consumer group of DENZA N8, even if loaded with advanced driver-assistance systems, it may not hold much practical significance, and may instead increase the initial cost.
In general, DENZA N8 has made substantial efforts around its "Urban and Off-road" concept.
Regardless of whether many SUVs are pseudo as per Zhao Changjiang, with respect to DENZA N8 itself, the field tests by garage buddies have shown that it can handle some moderately unpaved surfaces without any difficulties; indeed, it does provide the SUV with certain multifunctional properties.
However, during heavy off-roading, it is necessary to be mindful of the battery located under the car body, as any serious bottoming out accident could lead to significant damage to the vehicle.
DENZA Hits the Fast Lane of Development:
Since the launching of DENZA N7 on July 3, within a month, DENZA has also released the N8.
Although the price of DENZA N8 overlaps with that of DENZA N7, which ranges from 301800 to 379800, they will not conflict with each other given their different target audiences and product definitions.
DENZA N8 is a PHEV model that balances family and off-road needs, possessing stronger "multifunctional properties". DENZA N7, on the other hand, set the tone for DENZA's efforts towards electrification and intelligence. While both are SUVs, they are two completely different products.
DENZA N8 and N9 are not likely to overlap either. On the contrary, DENZA N8, N7, and even D9, all being priced within a range of 300,000 – 500,000, will help DENZA concentrate its efforts on this price segment for better penetration, as well as cater to different demands and preferences within the same price range.
It highlights two things: firstly, DENZA is deliberately creating and strengthening its brand image within the 300,000 – 500,000 price range, and secondly, launching the D9, N7, and N8 within a year, each covering different consumer groups, shows that DENZA's response ability and speed are constantly improving in the highly competitive market environment.
Moreover, the SKU setting of DENZA N8 also reflects DENZA's some "careful thinking".
There are only two versions available for DENZA N8, namely Four-wheel Drive Super Hybrid Flagship Six-seater and Four-wheel Drive Super Hybrid Flagship Seven-seater, with the main difference lying in the number of seats and the configuration of the middle row seats. For other configurations such as driver-assistance and intelligent cockpit, these are mostly standard in DENZA N8.
For users, this greatly reduces the cost of selection and assists them in making purchasing decisions more rapidly. Concurrently, quicker decisions on the part of users also facilitate the acceleration of DENZA's sales rhythm for the DENZA N8.
Viewed from this perspective, the DENZA N8 not only possesses a certain competitive product power but has also done as much preparatory work as possible for the promotion of sales.
In practice, DENZA, as a new energy brand with a thirteen-year history, of which almost 10 years have been more or less dormant, has no choice but to put forth its best efforts in dealing with the current market's insane competition and harsh environment from all possible angles.
Since the beginning of DENZA's revitalization last year with the launch of the DENZA D9, DENZA rapidly rose in the MPV sales rankings, shaking off its previous dormant state and entering into the consumers' line of sight. As of now, the DENZA D9 has been selected by over 100,000 users and aims to achieve a monthly sales volume of 15,000 units by year's end.
In July, the DENZA N7 was launched, aided by BYD. DENZA released its "Eye of the Sky God" advanced intelligent driving assistance, entering the intelligent field. Within 24 hours of its launch, it had already received more than 10,000 orders, with a selection rate for advanced intelligent driving assistance of 35%.
Presently, with the launch of the DENZA N8, DENZA has entered a fast lane for brand development, and brand renewal has also ascended to a new level.
In the new energy field, DENZA is unleashing the energies it has accumulated over many years.
Nevertheless, we need to acknowledge that in the current market, price warfare is ongoing and will last for a certain period. At the same time, in the market range of 300,000 to 500,000 where DENZA operates, heavyweight competitors such as NIO, LI, ZEEKR and avatr are all actively laying out their strategies in this market, and it will be tough to deal with.
In the face of the pressures of price warfare and the ceaseless tough competition from fellow businesses, although the energy that DENZA has accumulated over many years has already been unleashed, how to continue to amplify and maintain this energy, DENZA still needs a longer-term, more comprehensive strategy for support.
This article is a translation by ChatGPT of a Chinese report from 42HOW. If you have any questions about it, please email bd@42how.com.