The trailblazer of BYD's smart era — DENZA N7 has finally arrived.
On July 3, the global launch of DENZA N7 was held in Beijing; at the launch event, the full price range of DENZA N7 was revealed: starting from ¥301,800, up to ¥379,800.
As DENZA N7 is the first pure electric SUV model launched by DENZA after the D9 MPV, it has attracted considerable attention; not only does it help the DENZA brand to increase sales in the price range of ¥300,000 to ¥400,000, but also sets the pricing tone for the future product system of DENZA.
What's more, with the launch of DENZA N7, BYD has taken a crucial step in terms of intelligentization, especially in intelligent driving.
Priced above ¥300,000, but "Mandatory features are mandatory"
The price structure of DENZA N7 covers most of the space from ¥300,000 to ¥400,000, specifically:
N-Sport Version, priced at ¥379,800;
Long-range MAX version, priced at ¥349,800;
Long-range performance version, priced at ¥339,800;
Ultra-long-range version, priced at ¥319,800.
Furthermore, to lower the barrier for customers, DENZA has also launched an Air version without Yun Che A system, reducing the price by ¥18,000 from the standard version, namely:
Long-range performance version (Air version), priced at ¥321,800;
Ultra-long-range version (Air version), priced at ¥301,800.
Clearly, DENZA's pricing system is a result of learning from new energy brand experiences, particularly the differentiation between Air and Max versions.
To justify these prices, DENZA also offers differentiated product features.
For example, in terms of vehicle control, the DENZA N7 is built on e-platform 3.0 DENZA upgrade edition, and the standard version is equipped with an intelligent air vehicle control system Yun Che-A, with CCT comfort control technology and iCVC-intelligent vectoring control system, intelligent chassis and iADC intelligent drift control system among others.
The e-platform 3.0 DENZA upgrade edition adopts a highly integrated complete vehicle platform architecture, including CTB battery vehicle body integration technology, iTAC intelligent torque control, SUV exclusive four-wheel drive performance architecture, intelligent domain control architecture, etc., and evolves from the original "battery sandwich" structure to a complete vehicle "sandwich" structure, offering more interior vehicle space to users and greatly enhancing the vehicle's off-road capability and safety performance.
In terms of vehicle interiors, the DENZA N7 series base model comes equipped with over 200 luxury features. These include France's Devialet sound system, six-connected screens, whole-vehicle high-grade NAPPA leather, electric sunshades, and more. In addition, it also offers the DENZA pioneering 5D comfort ergonomic seats – equipped with seat adjustment, seat massage, seat ventilation, and seat heating functions as standard equipment.
According to Zhao Changjiang, the General Manager of DENZA's sales division, "If it should be standard, then it should be.
On the topic of smart cabins, the DENZA N7 offers customized functions for different seating positions and features a central control screen, co-driver screen, instrument screen, AR-HUD, and the dual-side intelligent air vent screen for the six-linked screens, supporting multi-screen information sharing.
It is worth mentioning that in order to resolve any charging anxiety for the DENZA N7 as a pure-electric SUV, it uses an all-scenario charging system. It incorporates intelligent pulse self-heating technology, a world-first double-gun supercharging technology, and a V2V mobile charging station. This allows users to conveniently benefit from a surpassing 230 kW high power flash charging experience, attaining all-weather, all-scenario climate control and efficient energy replenishment.
Of note, the first-of-its-kind double-gun high power supercharging technology can achieve a maximum charging power of 230 kW from both guns and 150 kW from a single gun. Compatible with mainstream public Direct Current (DC) stations nationwide, it can achieve a range of 350 km with a charge of 15 minutes and 100 km with a 4-minute charge. It also supports a maximum of 60 kW vehicle charging, solving the charging pain points of pure electric vehicles effectively.
Overall, concerning product power, the DENZA N7 embodies Zhao Changjiang's assertion that "other's top-configuration is our base equipment." By opting for this kind of market differentiation, it aims to penetrate the highly competitive 300,000 to 400,000 pure-electric SUV market.
Too Many Ns and As, This Time it's Called "The Eye of Heaven"
One of the key highlights of the DENZA N7 launch event was the official release of BYD's advanced intelligent driving assistance system called "The Eye of Heaven."
According to official statements, "The Eye of Heaven" is based on BYD's first central computing platform + regional controller collaborative system structure. This innovative whole-vehicle system solution can achieve the direct sensing of the physical vehicle and integrative stacking with indirect sensing of software algorithms.So, what are the advantages of BYD's "Eye of God"? According to the official statement:
First to propose a vehicle-level integrated perception platform, integrating direct physical sensing of the vehicle and indirect software algorithm sensing;
Innovatively proposing distributed layout of control algorithms, scientifically distributing algorithms, making optimal decisions, and precise control;
In-house millisecond-level control of drive, steering, braking, etc., ensuring efficient execution;
Identify as early as possible, correct as quickly as possible, and control accurately.
Notably, BYD also announced that the "Eye of God" is based on the world's first vehicle-mounted computing platform completely designed, developed and produced in-house by a car manufacturer. At the software level, BYD has independently developed the BOS operating system; at the level of its own algorithms, BYD is accomplished through BEV + large models, and can make good use of the vast amount of data accumulated from mass-produced cars.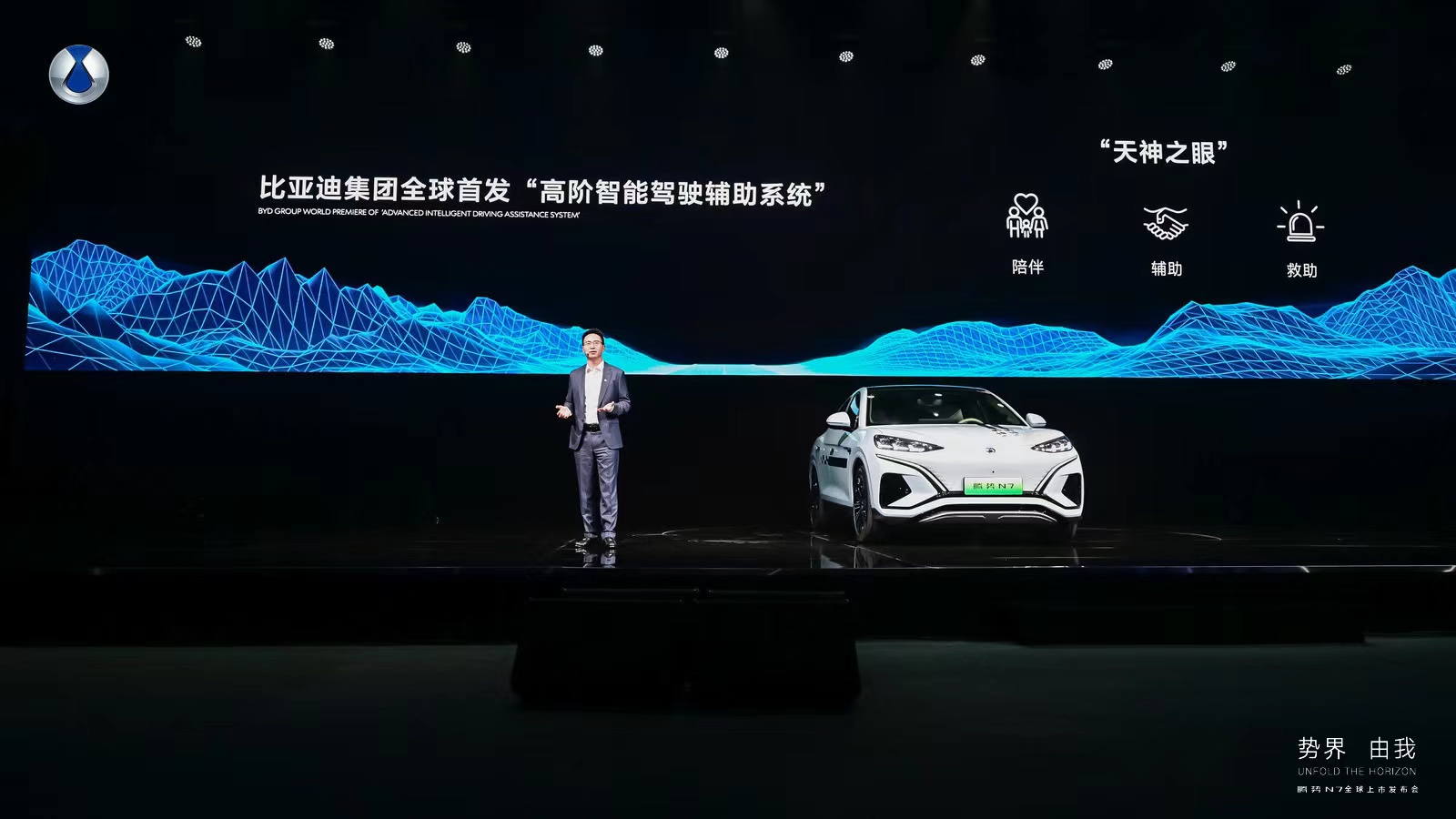 BYD states, under the blessing of BYD's full-stack self-developed BOS operating system and onboard computing platform, coupled with the massive data accumulated from mass-produced vehicles, precise control of decision-making is achieved. In addition, to build the "Eye of God," BYD claims to have invested a research and development team of over 2,000 people in autonomous driving, established its own whole-vehicle intelligent driving laboratory, and insist on continuous self-research and innovation.
Specifically for DENZA, the DENZA N7 is the first to carry BYD's global premiere of the "Eye of God" advanced intelligent driving assistance system – based on the "Eye of God," DENZA Pilot offers two intelligent driving assistance platform solutions: standard intelligent driving assistance system and advanced intelligent driving assistance system.
The DENZA Pilot's advanced intelligent driving assistance system includes a Nvidia Orin-X intelligent driving chip with a computational power of 254 Tops in hardware; perception hardware includes 33 sensors and 1 domain controller: 2 laser radars + 5 millimeter-wave radars + 2 front cameras + 4 side high-definition cameras + 4 panoramic cameras + 1 rear camera + 12 ultrasonic radars + 1 OMS camera + 1 DVR camera + 1 DMS camera.
At the press conference, Zhao Changjiang also revealed the implementation rhythm of the DENZA Pilot's advanced intelligent driving assistance system at the software level.
The DENZA N7 comes with some basic driving assistance features such as ICC intelligent cruise control (stop when encountering obstacles at 100 km/h) with the delivery of mass-produced vehicles. It is expected that by the fourth quarter of this year, the DENZA Pilot's advanced intelligent driving assistance system will open up high-speed NOA and city NOA functions in the first quarter of next year – according to the official statement, even the most difficult signal light turn function can be realized.It's worth mentioning that when purchasing the DENZA N7, a 'Advanced Intelligent Driving All-Inclusive Package', which integrates hardware and software, can be opted for. With a listed price of 28,000 yuan, it is currently sold at a discounted price of 23,000 yuan – this is, in fact, the software and hardware price for DENZA Pilot advanced intelligent driving assistance system.
BYD's advanced intelligence, already a red sea at the start
In terms of DENZA's brand positioning, the DENZA N7 is a vehicle that requires volume sales.
Zhao Changjiang claimed a monthly sales target of 5,000 to 10,000 units after the N7's launch, with the only limit to even higher sales being production capacity, which is capped at 10,000 units this year.
With the delivery of new N7 vehicles, total sales of the DENZA D9 and N7 models are expected to hit 25,000 units by October.
To achieve such a goal, the DENZA N7 did not overly pursue profitability in its product and pricing strategies.
Specifically, in terms of product and pricing, Zhao Changjiang stressed the philosophy of 'others' top-level is our standard'. Moreover, the gross margin of the DENZA N7 vehicle is set to be under 10% and will be adjusted to 15% in the long run. Given the external market environment, such a move seems highly rational.
The game plan in the high-end SUV market above 300,000 yuan is completely different from the tactics for joint-venture vehicles priced under 200,000 yuan.
Within the new energy SUV market, where the DENZA N7 competes, and which spans from pricing between 300,000 and 400,000 yuan, comparable competitors include the NIO ES6, LI L7, XPeng G9, AVATR 11, and other core models from new forces, all of which have commendable performances in intelligence.
All above mentioned models have released high-speed autopilot, XPeng and AVATR have already had city autopilot, and the remaining two are expected to release theirs within the year.
As a latecomer in this market, the N7 faces a high-intensity, hard-fought battle.
BYD's chairman, Wang Chuanfu, has repeatedly claimed in public that the first half of the game in new energy vehicles is electrification, the second half is about intelligence. The 'Sky God's Eye', an advanced intelligent driving assistance system of DENZA N7, is BYD's first heavy hitter in the start of the second half.
Specifically to the delivery schedules of these features, DENZA N7 equipped with the advanced intelligent driving feature is expected to officially deliver high-speed NOA by the end of 2023 and will deliver city NOA, traffic light U-turn, and valet parking functionalities within the first quarter of 2024.In the next half year, as more new vehicles equipped with urban pilot features are delivered, the attention of users to city-level assisted driving will rise step by step. Therefore, the second half of BYD's high-level intelligentization is undoubtedly a red sea from the beginning.
With the landing of N7 high-level intelligent driving functions, domestic new energy top players will also officially kick off the comprehensive intelligent driving competition.
As for the actual performance of this system, we will also bring you detailed evaluation through 42Mark's assisted driving tests.
In the end
Compared with the current red-hot battlefield of intelligence, the good news for DENZA N7 is that the current order situation is relatively optimistic, and there is still a large share in the existing market in the hands of stock fuel cars.
Zhao Changjiang revealed that DENZA N7 had received 25,000 orders during the pre-sale period, and the proportion of replacement users was as high as 68%, more than 55% of the replacement users were BBA car owners. For this data, Zhao Changjiang's view is very direct: "The DENZA brand is here to replace traditional BBA fuel cars."
In this media communication, DENZA official also revealed DENZA's product planning for the next three years:
By 2025, the DENZA brand will launch a total of seven models, including one MPV, three SUVs, and three sedans, with a product line covering the range of 300,000 to 800,000. DENZA N7 is the first of these three SUVs, and the subsequent N8 and N9 are higher than the N7, N8 is a 6-seat medium-to-large SUV, and will also offer a plug-in hybrid version.
Before this, the market performance of the N7 will be crucial for DENZA to complete the tuning.
This article is a translation by ChatGPT of a Chinese report from 42HOW. If you have any questions about it, please email bd@42how.com.