Musk, full of faith in AI, is digging deeper into the potential value space for Tesla.
At 3 PM Central Time, May 16, 2023, or 4 AM Beijing time, May 17, the 2023 Tesla Annual Shareholder Meeting is officially held at Tesla's Texas Gigafactory — worth mentioning that, in comparison, last year's Tesla Annual Shareholder Meeting took place in August 2022, when Tesla's Q2 earnings had been released.
At this year's Tesla Annual Shareholder Meeting, Musk discussed key topics such as Tesla's latest achievements, Cybertruck's progress, the humanoid robot Optimus, FSD, Gigafactory, new products, as well as publicly refuting rumors concerning a possible resignation from his CEO position.
More importantly, through this shareholder meeting, Musk aimed to illustrate a broader "value vision" for Tesla.
"The World's Largest Electric Vehicle Manufacturer"
Upon taking the stage, Musk's first topic was Master Plan Part 3.
In early March this year, Tesla unveiled the seemingly grand and distant Master Plan Part 3 (themed on accelerating the global transition to sustainable energy, with targets including 240 TWh energy storage capacity + 30TW renewable energy power + $10 trillion investment in construction + 0.2% of global land area for renewable energy infrastructure) at the Investor Day event; judging from the subsequent stock performance, the capital market seems reluctant to buy into Tesla's Master Plan Part 3.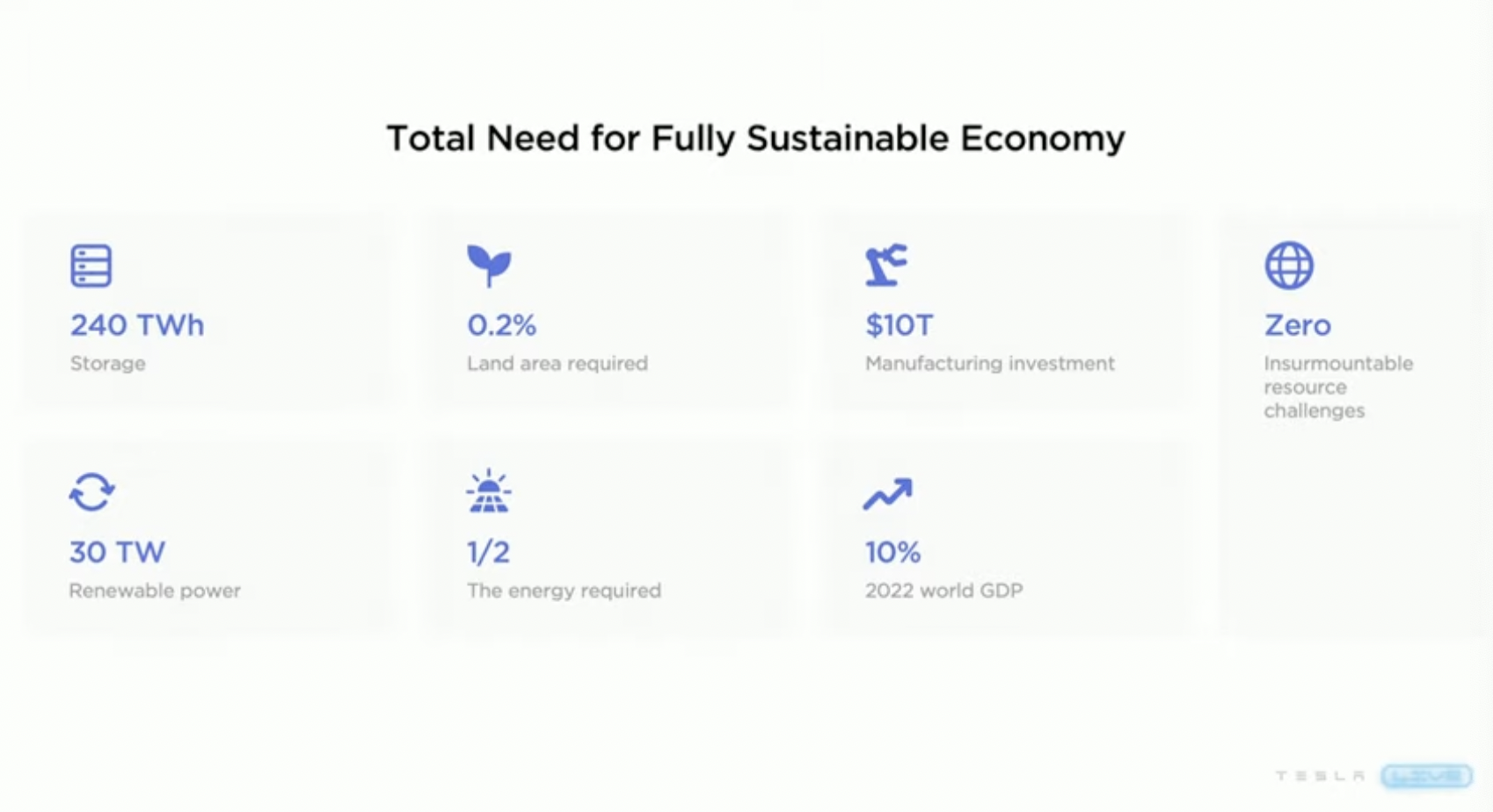 However, at the shareholder meeting, Musk stressed his strong confidence in implementing Master Plan Part 3—and he added that, out of all the feedback collected on Master Plan Part 3, the majority is positive. He also mentioned that the industry is approaching the inflection point where "electric vehicles become cheaper than gasoline-powered ones."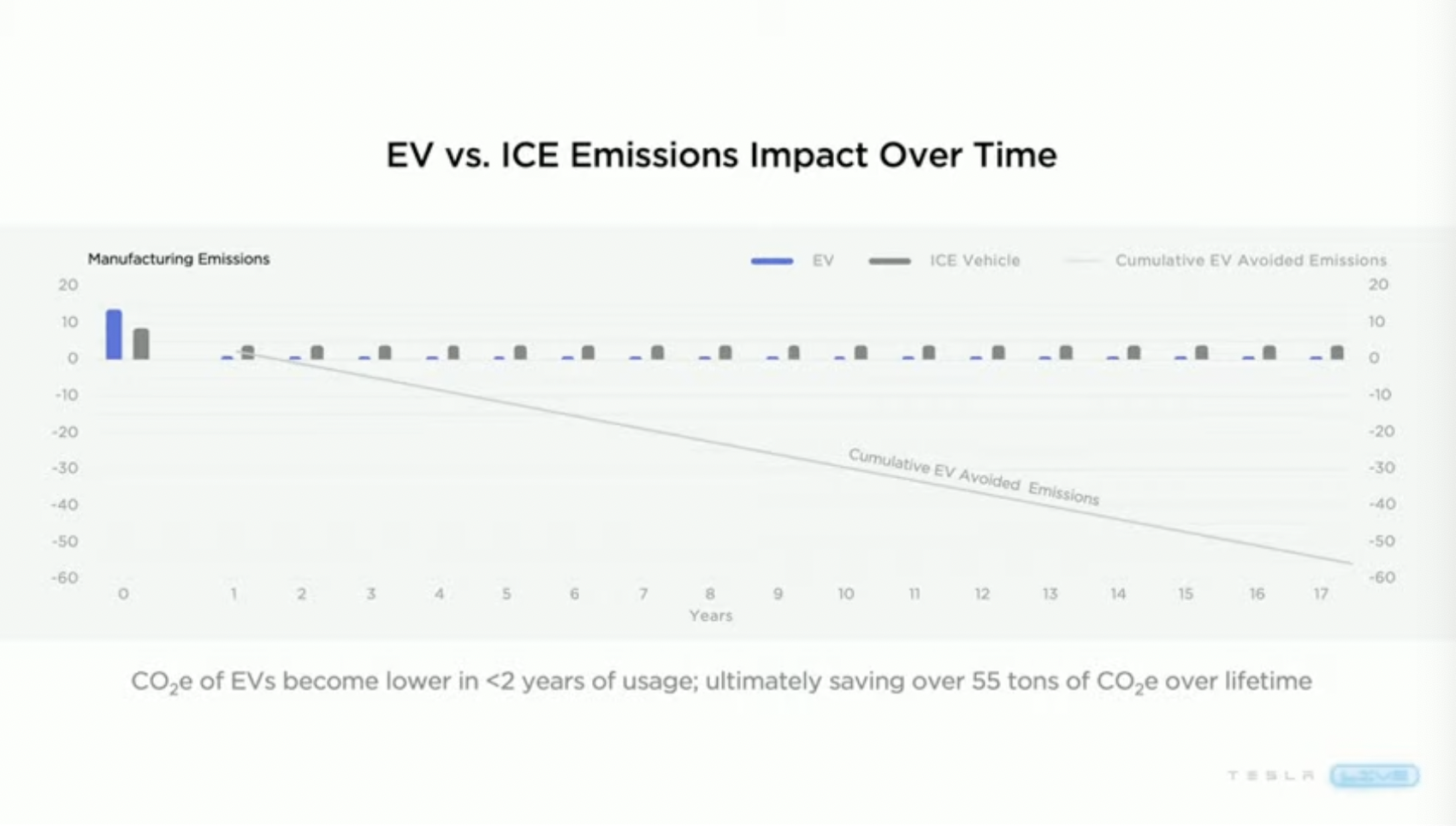 Next, Musk went on to a series of "showing off" segments, mainly highlighting Tesla's accomplishments in terms of company, products, and more.
For instance, he emphasized that Tesla's factory ranks among the safest in the industry, and Tesla is the most popular workplace; at the same time, Tesla has created over 125,000 jobs in the past decade — in 2022, Tesla's total employee count reached 127,855.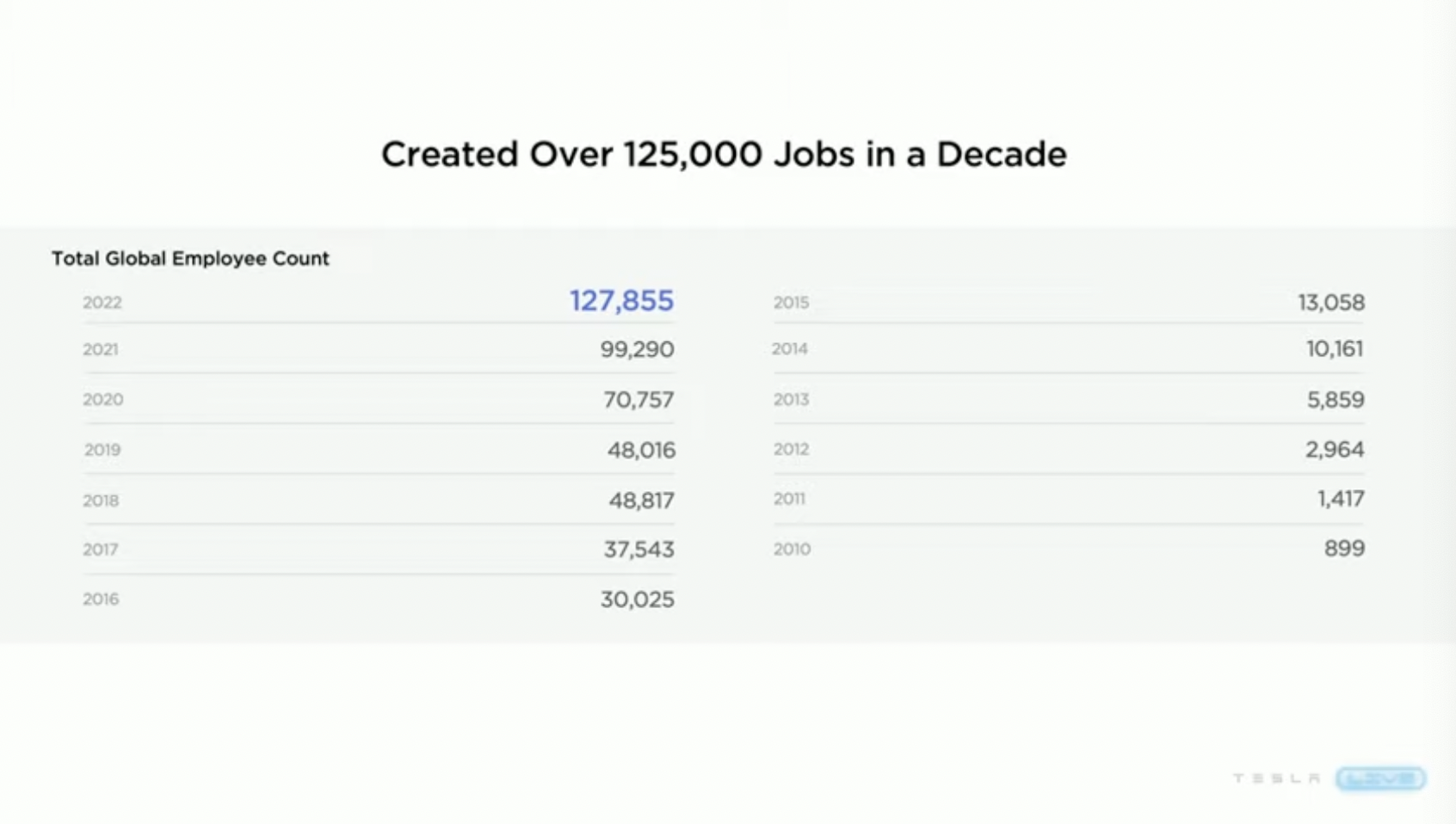 On a company scale, Musk stated that Tesla is currently the world's largest electric vehicle manufacturer — with BYD, Volkswagen, and Hyundai ranked respectively behind Tesla.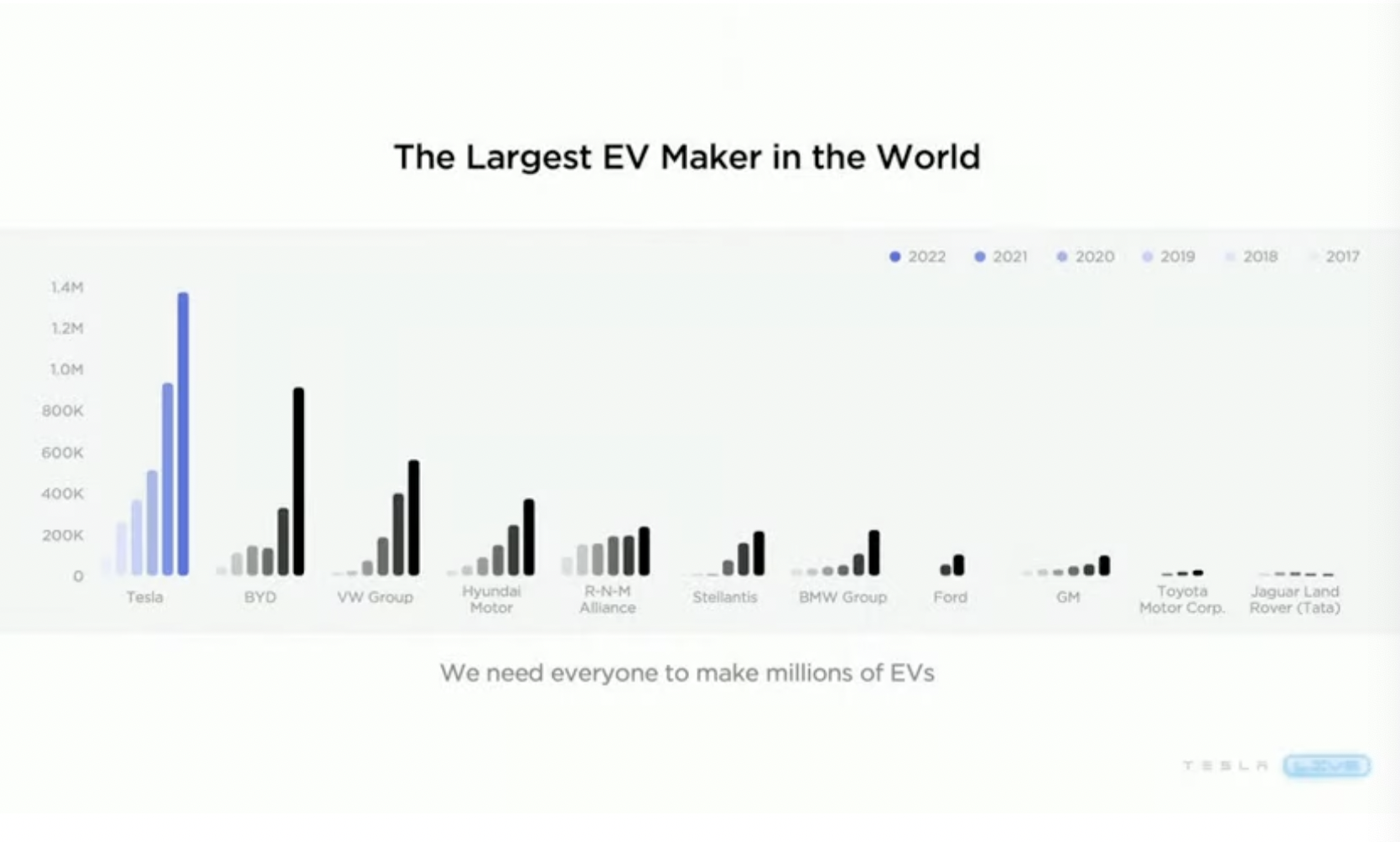 Moreover, Musk also pointed out that in 2022, among global car manufacturers, Tesla had the highest operating profit margin (16.8%), surpassing giants like Mercedes, Stellantis, and BMW.
Interestingly, Musk also emphasized at the event that making profits from manufacturing electric vehicles is challenging — a chart he presented shows that besides Tesla and BYD, electric vehicle brands like NIO, XPeng, and Polestar are all in a loss-making state.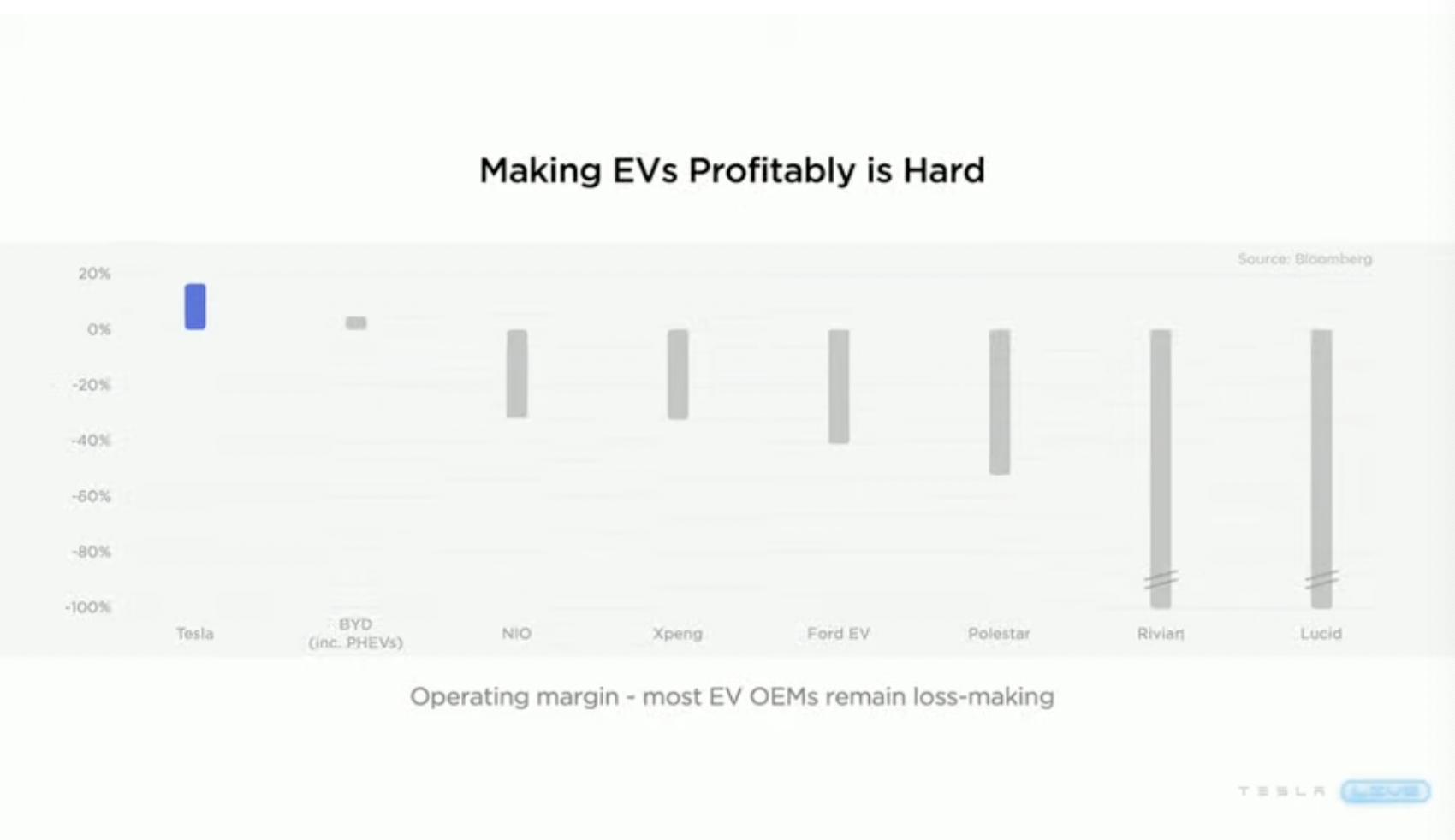 At the event, Musk demonstrated Tesla Operating System, comprising 12 sections including Supply Chain & Logistics, Health & Safety, IT Security, Service & Support, Analytics & Insights, and more. Here, Musk stressed the crucial role its in-house software played in operations, simplifying the architecture and seamlessly integrating with Tesla's vertically integrated business model.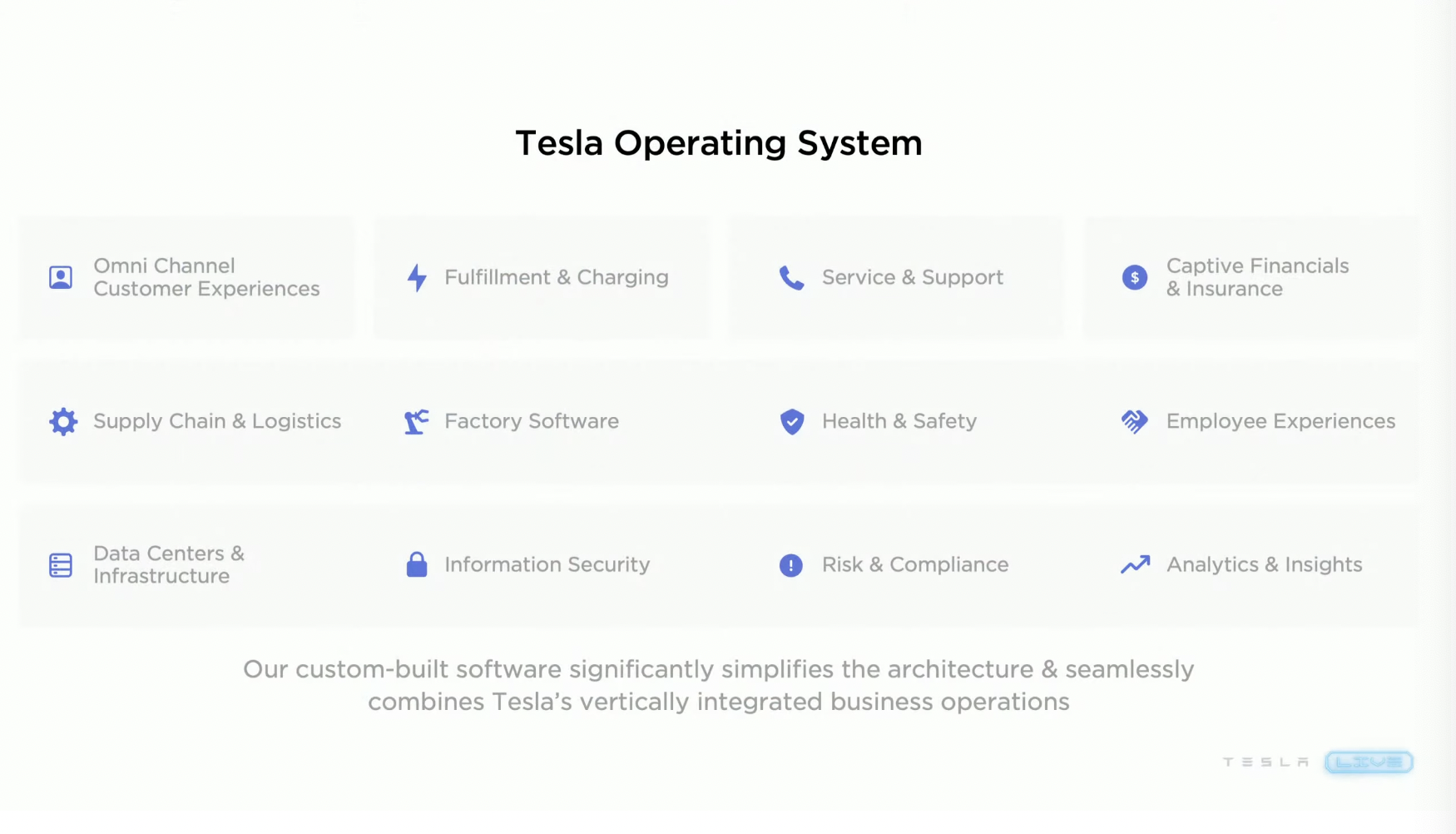 Focusing on products, Musk highlighted the Model Y.
Based on its performance in the first quarter, the Model Y became the best-selling non-pickup vehicle in the U.S., the best-selling model among all vehicles in Europe, and the best-selling SUV in China. Given these Q1 results, Musk emphasized that the Model Y has the potential to become the best-selling vehicle globally by 2023.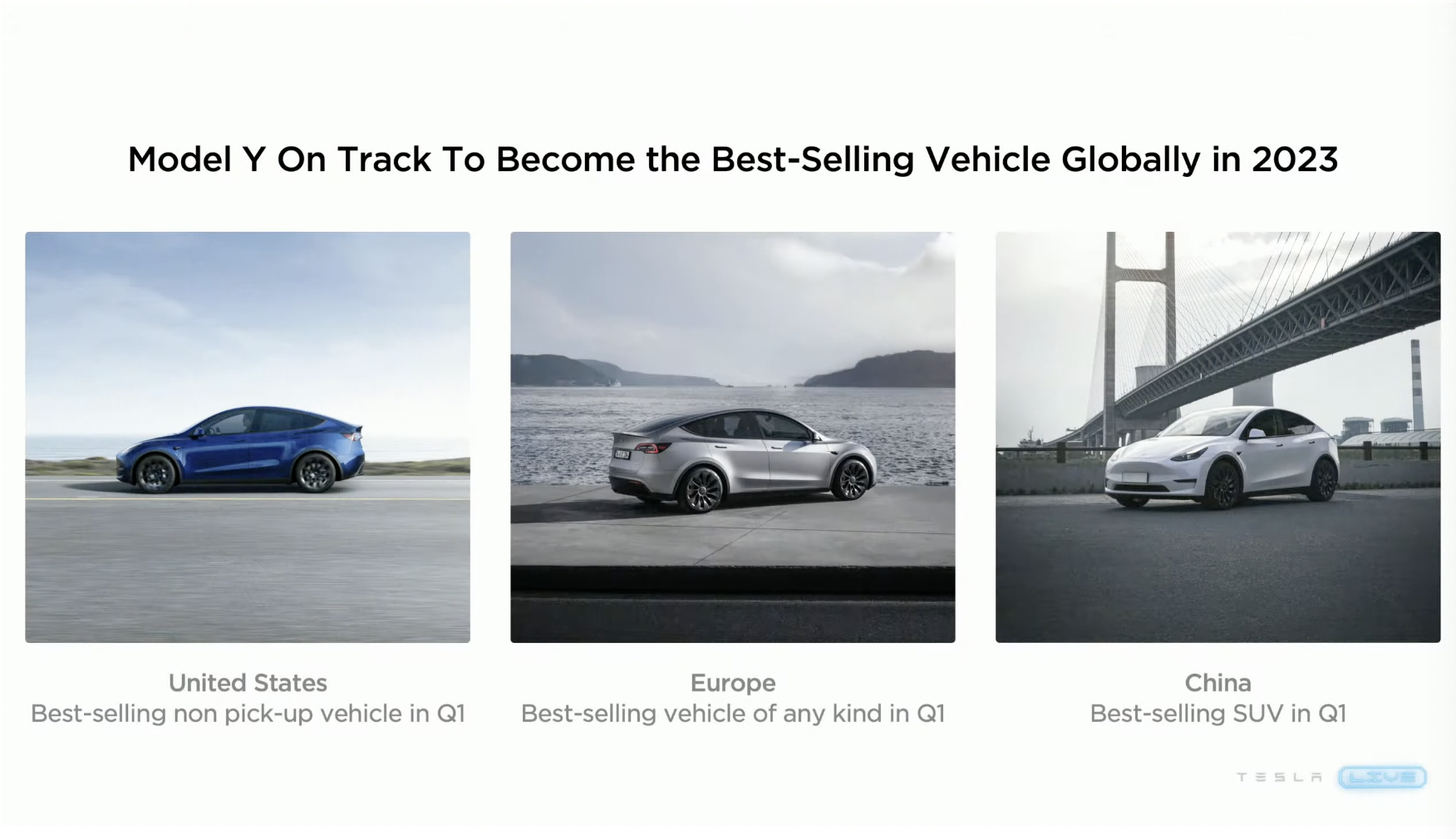 In his speech, Musk also emphasized Tesla's commitment to safety.
According to the chart displayed on stage, on the active safety front, Tesla Model Y and Model S scored 98% in the European NCAP Safety Assist Rating 2022 test, followed by NIO's ET7 (95%) and WEY Coffee 01 (94%).
Musk stressed that Tesla's cabin overheat protection feature is quite underestimated. However, in reality, thanks to this feature, there have been no cases of children or pets dying inside the car in Tesla's history.
On the Megapack business, Musk said Tesla sees a lot of demand for Megapacks; Tesla's energy storage business is highly competitive, and its growth rate is faster than that of electric vehicles.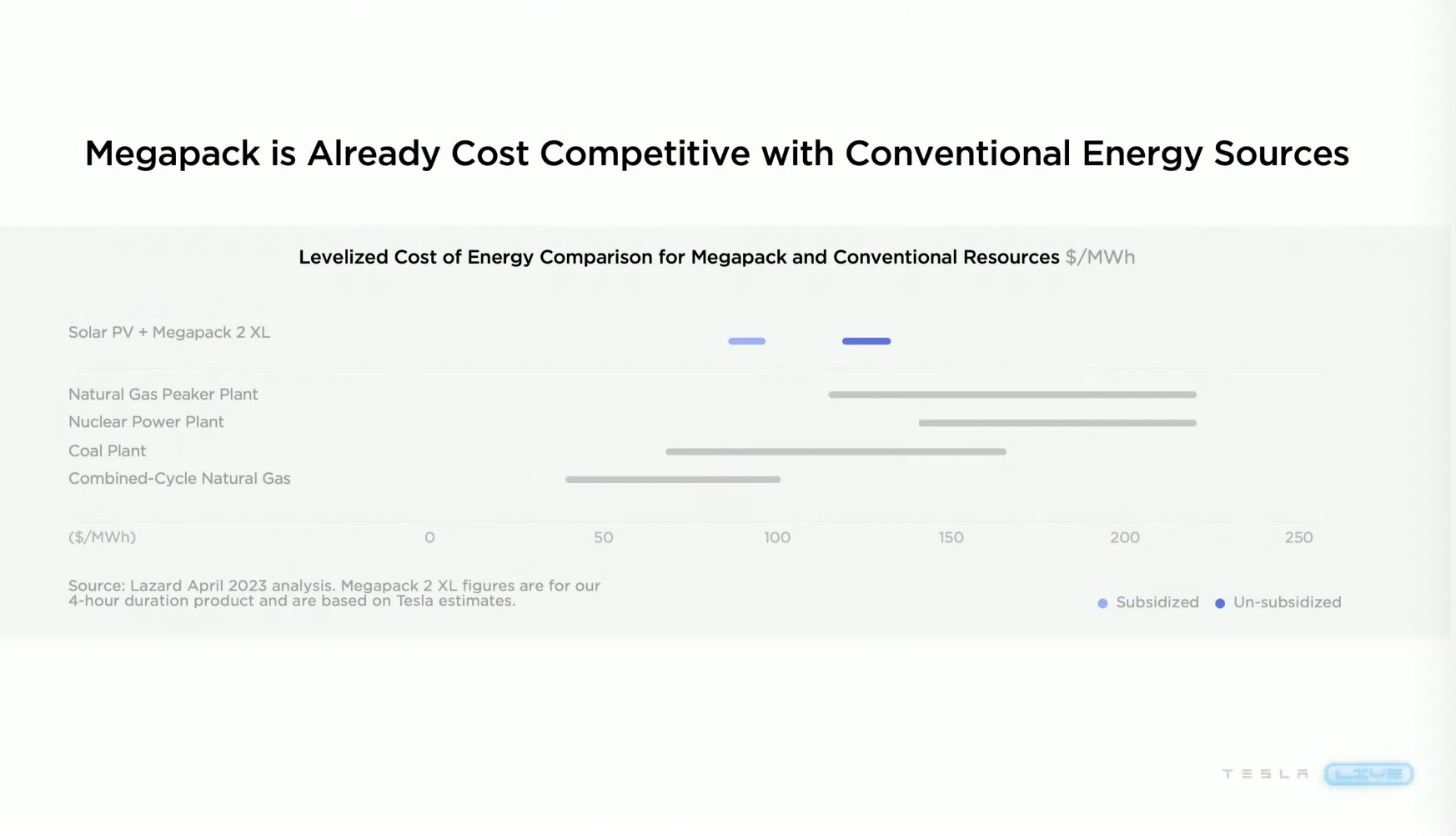 In addition, regarding the next-generation electric drive, Musk emphasized that it will not use rare earth materials and will be more cost-effective. Musk also said Tesla is building a new lithium refinery; he said the world is not lacking in lithium resources, but refining lithium to the purity required for batteries is very challenging. The focus of lithium resources is not mining, but refining.
Two New Products with Annual Sales Potentially Over 5 Million
During this shareholders' meeting, Musk talked about several pieces of information about the Cybertruck.
The Cybertruck was introduced in 2019 and has been highly anticipated by the public. However, its mass production and delivery timeline have been repeatedly delayed, earning it the nickname "King of Delays."
On this subject, Musk stressed at the meeting that producing the Cybertruck is incredibly challenging; it will still use exoskeleton materials and is expected to start deliveries this year—its product should be even better than expected.Musk also mentioned that the Cybertruck is a vehicle he would be willing to drive in his daily life.
Regarding Cybertruck's production capacity, Musk said that once production ramps up successfully, the annual capacity for Cybertruck could reach between 250,000 and 500,000 units.
Of course, to achieve higher sales volumes, Tesla needs the support of other products, such as refreshed existing models or new product lines.
At the shareholders' meeting, Musk did not specifically mention the rumored new Model 3 but emphasized that Tesla's Mexico Gigafactory is producing a new generation of cheaper electric vehicles, which may go into mass production next year.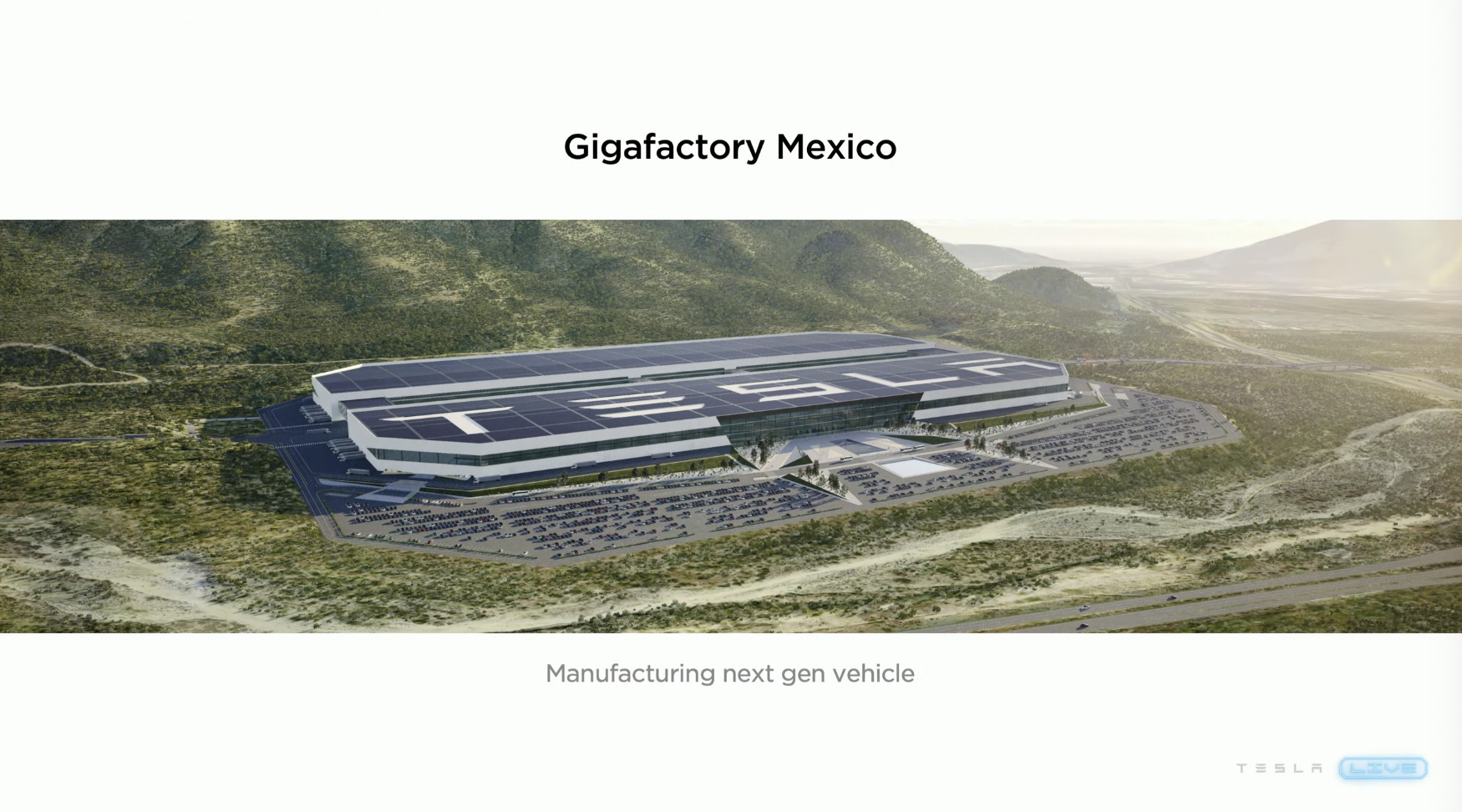 Additionally, Musk revealed at the meeting that Tesla is currently working on two new products that will gain a competitive edge in the market – he also emphasized that just these two products combined could exceed 5 million units annually.
It is worth noting that Musk once again stressed at the meeting that Tesla is committed to achieving an annual production target of 20 million vehicles.
However, besides meeting production capacity, vehicle sales are also a significant concern for Musk.
At the event, Musk discussed the potential impact of the macroeconomic environment on Tesla. He said:
Tesla is not immune to the global economic environment, and the next twelve months will be very challenging economically, with many other companies on a downward trajectory. This is not good news, but it is not a permanent darkness either.
Musk's statement is consistent with his previous view in the Q1 earnings report.
He had previously mentioned that when faced with economic uncertainty, people usually postpone purchasing new cars and other large expenses. This is a natural human response, especially when people read about layoffs in the media; they may worry about being fired, and naturally, hesitate more than others about buying a new vehicle. This is the essence of the automotive industry – so, during times of economic uncertainty, many people's demand for cars would be suppressed.
However, Musk emphasized that after this period, Tesla would be in an exceptionally advantageous position.
It's worth mentioning that when discussing the impact of the economic environment, Musk also stated that Tesla will try running some advertisements to see their effectiveness – a quite unusual move. Previously, Tesla has never advertised.
Moreover, another noteworthy point was raised at the shareholders' meeting regarding Tesla's price fluctuations between early 2023 and May (a significant price drop at the beginning of the year followed by a slight increase in May). A shareholder asked Musk what Tesla's specific pricing strategy was.
In response, Musk said:
The main factor behind Tesla's price adjustments is demand, and prices are adjusted to meet that demand.
Tesla's long-term value lies in Optimus
Generally speaking, Musk did not spend much time discussing AI at the shareholders' meeting. However, AI is an omnipresent topic for both him and Tesla.
For instance, at the meeting, Musk mentioned that the number of users adopting FSD Beta was growing, and the total miles driven with FSD Beta had reached nearly 200 million since its release. Also, FSD Beta is expected to bring significant value enhancements to Tesla vehicles.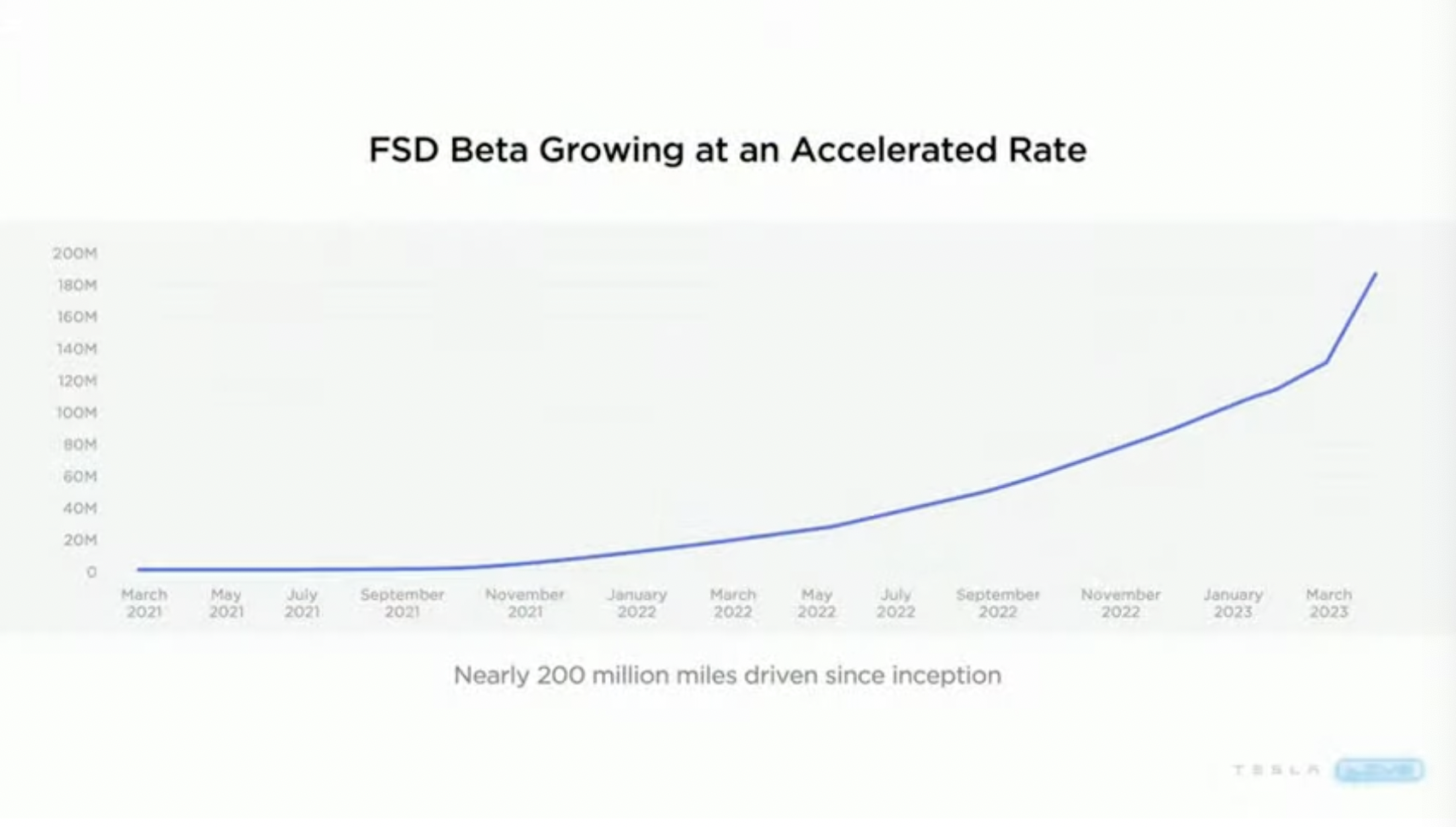 Regarding the value enhancements FSD can bring to Tesla vehicles, Musk previously stated:
The value of autonomous driving is immense. To some extent, the current pricing of FSD represents the option value of autonomous vehicles. Those using the FSD Beta can feel its significant improvements in autonomous driving – the trend is very clear, moving towards complete autonomy.
He emphasized that FSD is not just safer than human driving, but much safer.
Besides FSD, Musk also showcased another AI-related product at the shareholders' meeting: the humanoid robot Optimus. Compared to previous versions, Optimus has made significant progress. Currently, it can handle relatively complex tasks (such as cracking an egg without shattering it) and mimic human movements through specified devices.
Regarding the future product development of Optimus, Musk repeatedly stressed that it would be equipped with the same FSD system as Tesla electric vehicles.
However, Musk spoke in greater detail about Optimus' application scenarios and commercial value. He said that due to human demand for humanoid robots, the future production of Optimus would surpass even the number of Tesla vehicles.Musk even claimed that Tesla's long-term value, or a significant part of it, will be Optimus.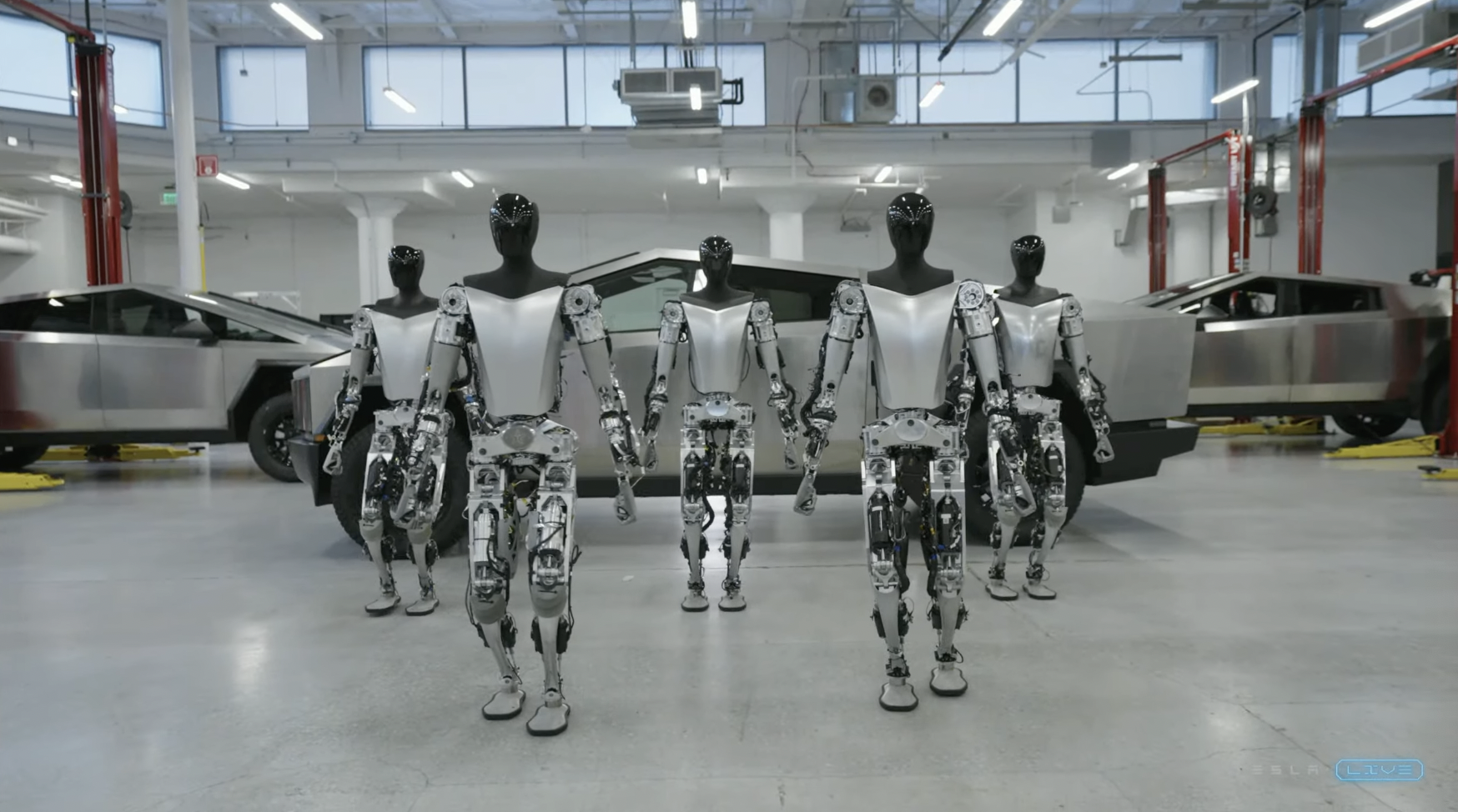 It sounds like Musk is "painting a bigger picture" – however, according to reports previously released by multiple institutions, the market size of humanoid robots in the next 10 to 15 years is vast, possibly even reaching trillions of dollars. Therefore, Musk's prediction of Optimus' market potential is worth noting.
During the Q&A session, a shareholder asked if Optimus would be taken to Mars, and Musk said that Optimus currently can only do basic things and does not have the intelligence needed to solve problems on Mars – maybe one day it will.
It is worth mentioning that during the shareholder meeting's Q&A session, a shareholder brought up the rumor about Musk potentially stepping down as CEO. Musk promptly denied the rumor – however, the reason he provided was still AI.
Musk said:
I believe Tesla will play a very important role in artificial intelligence and general artificial intelligence, so I think I need to take responsibility for it to ensure things are going well… So far, in the field of real-world AI, Tesla is the most advanced among all tech companies.
This article is a translation by ChatGPT of a Chinese report from 42HOW. If you have any questions about it, please email bd@42how.com.