On the afternoon of April 26th, the radar RD6 entrepreneurial version was officially launched in Hangzhou. As an entry-level version, the new car has launched only one model with a price of 145,800 yuan, equipped with a 63 kWh lithium iron phosphate battery pack and a CLTC range of 410 km.
In addition, the official announcement stated that from now until 24:00 on May 4th, users who have placed orders but not delivered, as well as new users who place orders for radar RD6, can enjoy a limited-time discount of up to 8,000 yuan with a 3,000 yuan subsidy for the car purchase. For old users who have delivered the car before 24:00 on April 23, Geely Radar will also subsidize each user with 50,000 points.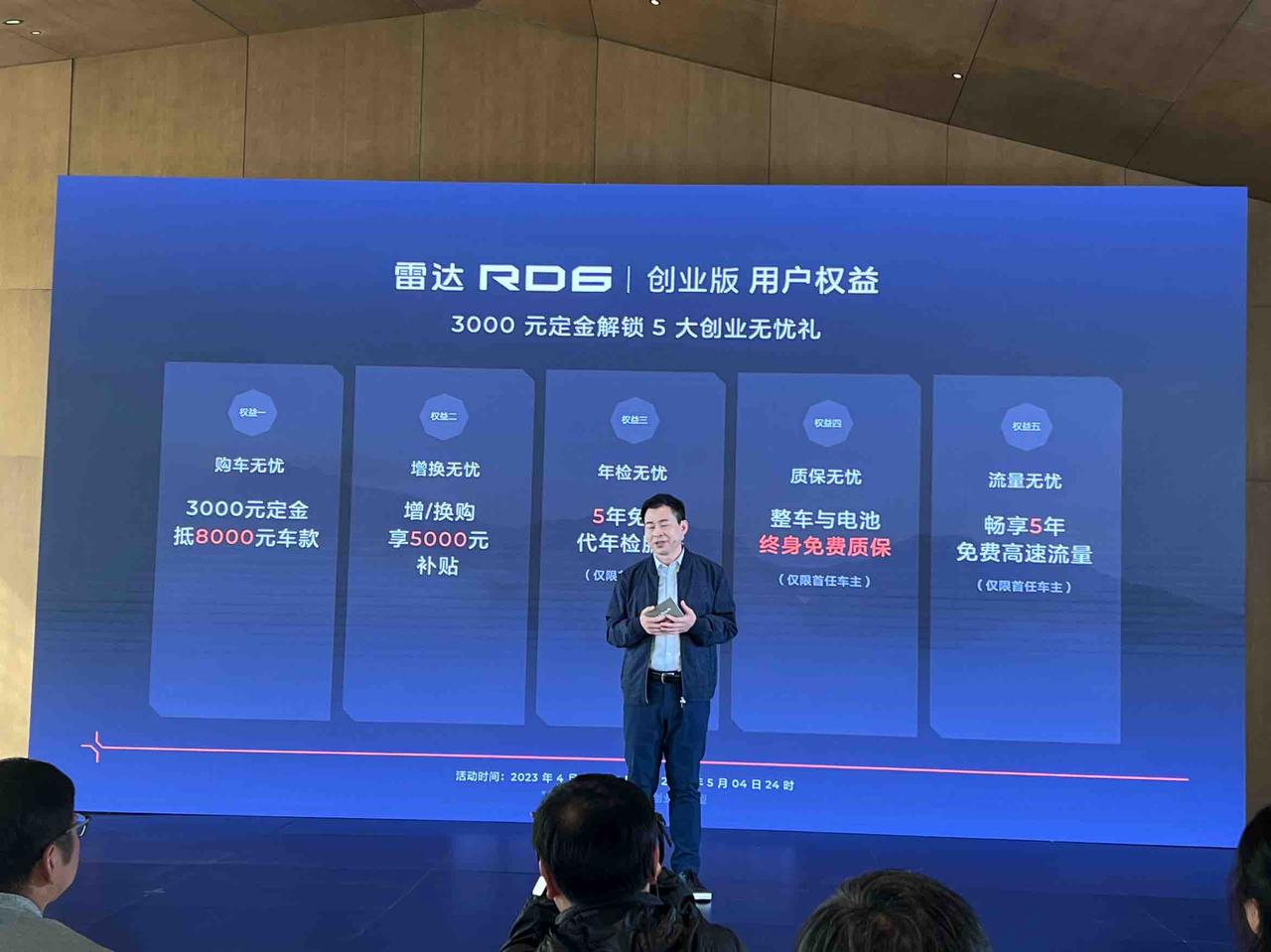 What are the changes in the configuration?
Compared with the previously launched Maker version, the radar RD6 entrepreneurial version has made 70L front trunk and external discharge functions optional, canceled the iBooster electronic brake system, reduced the number of smart keys from 2 to 1, and deleted the leather steering wheel and one-touch lifting of four windows.
But practical configurations, such as three driving mode adjustments, automatic parking, a 12.3-inch floating central control screen, intelligent voice control, remote control via phone APP, 6-speaker audio, driver's seat 6-way electric adjustment, reverse radar, and reversing image, have been retained. Therefore, the entrepreneurial version canceled some additional features, which do not affect the overall driving experience.
Are the appearance and interior different for the entry-level version?
Compared with the high-end models, such as the Hailing version and the Maker version previously released, there are no significant changes in the appearance of the radar RD6 entrepreneurial version. The overall design style is more inclined to Geely's early family language elements, with sharp lines that well depict a young and fashionable product image, breaking away from the traditional tough style common in pickups and allowing us to see the difference at a glance. The front-end through-style light bar also highlights its identity as a pure electric car.
Although the radar RD6 is a pickup truck with a cargo compartment, it feels more like an urban SUV in front of the C-pillar. However, this is not only due to its design, but also to its vehicle structure. The RD6 is a pickup truck that uses a load-bearing vehicle structure, which means it is not designed for off-road use. So, compared to off-road capabilities, it needs to have more comfortable driving and riding quality, so the adoption of a load-bearing body is also reasonable.
In addition to configuration changes, the design and function distribution of the radar RD6 entrepreneurship version have not changed. Equipped with dual 12.3-inch technology screens, and the car uses the Galaxy OS intelligent networking system, which is very good in terms of functionality richness and smoothness of use. It also supports OTA online upgrades and multiple intelligent function settings. Equipped with multiple practical APP attributes, the vehicle's windows, air conditioning, etc. can be remotely controlled through the mobile APP.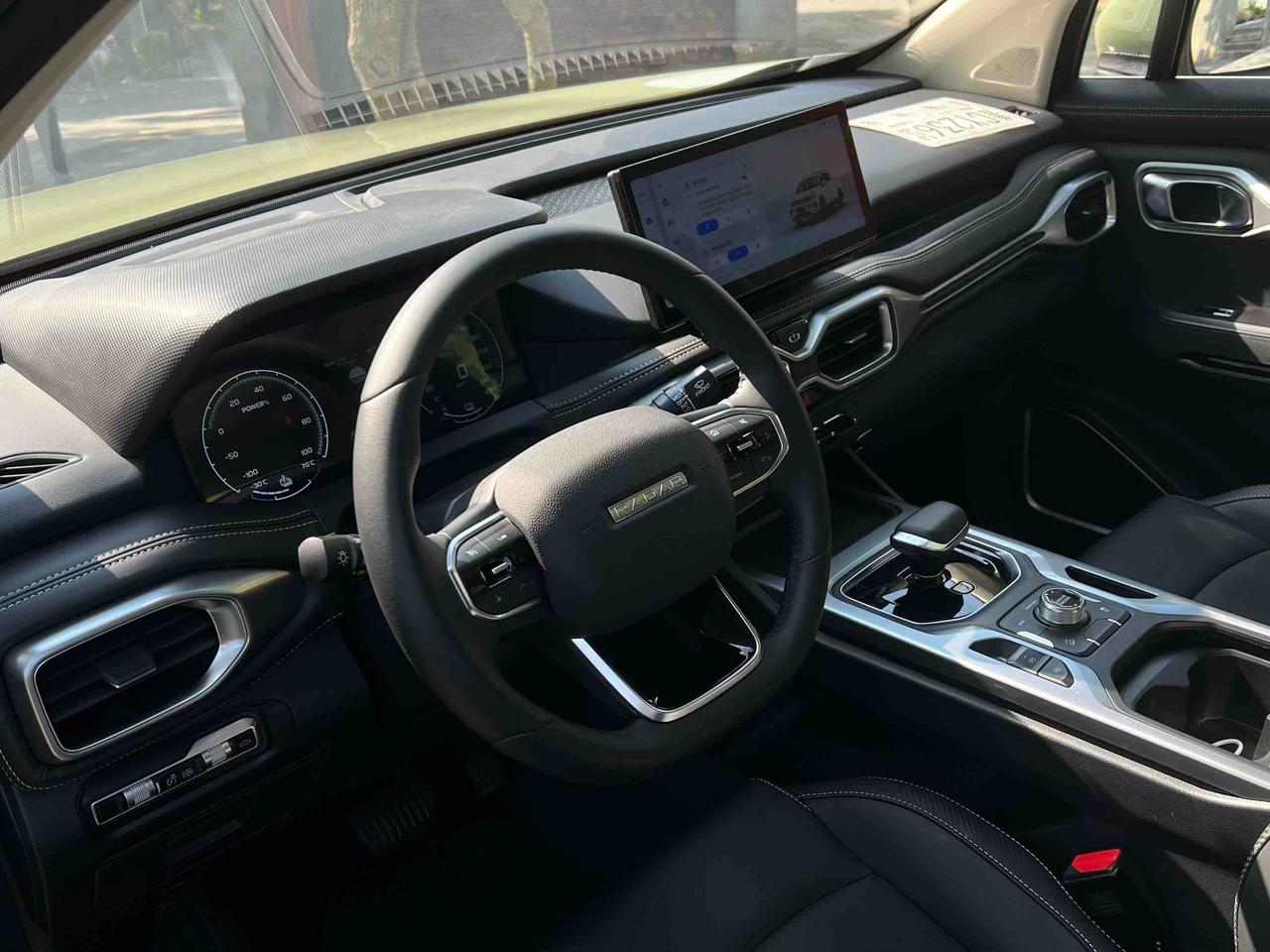 The size of the RD6 body is 5,260 x 1,900 x 1,830 mm, and the wheelbase reaches 3,120 mm. Whether it is the length, width or wheelbase of the body, it is larger than many medium and large SUVs, which means it has more powerful loading capacity and can also ensure a spacious riding space inside the car. Moreover, we can also see from the side that the cockpit of the RD6 occupies a larger proportion, especially the rear space, so we can see that RD6 has more consideration for the comfort of rear passengers.
The power system of this vehicle still adopts the layout of the rear-mounted single electric motor, equipped with a 200 kW permanent magnet synchronous motor and a peak torque of 384 N·m. The battery used is a 63 kWh lithium iron phosphate battery, which has a slightly shorter range of 410 km compared to the high-end models equipped with 86 to 100 kWh ternary lithium batteries, but it is still suitable for daily urban use.
Finally, I would like to offer a suggestion for optional equipment, which is the external power output function with a maximum power of 6 kW. It supports six discharge modes including discharging while stationary, discharging while moving, discharging while the car is locked, and 220V/10A household appliance interface, 220V/16A industrial power interface, and 12V weak electricity interface. As for why it is worth considering, here are the benefits:
First of all, from a practical perspective, if RD6 is used as a daily work vehicle with an external power output function, it can transport some goods that need refrigeration and meet the outdoor power needs of tools such as electric saws.
Secondly, if you plan to use RD6 for holiday outings, the 6 kW external power output can also meet most of your power needs, such as barbecuing and stewing, making camping easier and more enjoyable.
Therefore, if the price is not your main concern, it is recommended to choose this configuration.
As a more affordable version, Radar RD6 Entrepreneurship Edition adjusts the configuration to further lower the price threshold, after all, pickup trucks in the Chinese market are mostly used as tools. So compared with those models with rich configurations, a lower price may make it more competitive. Of course, even as an entry-level model, RD6 Entrepreneurship Edition can still break the limitations of traditional pickup truck models, upgrade its tool functionality, and bring more diverse scene experiences.
This article is a translation by ChatGPT of a Chinese report from 42HOW. If you have any questions about it, please email bd@42how.com.