The 2023 Shanghai International Auto Show officially opened yesterday, with the Lotus brand showcasing its global fastest production electric hypercar Evija, the "Dream Car" Emira that car enthusiasts around the world have been waiting for, and the first pure electric SUV Lotus Eletre.
At this auto show, Lotus also introduced the "flash charging robot", providing a worry-free and safe replenishment experience with its features of fast, contactless, intelligent and safe charging to drivers, without worrying about "dirty charging guns", "complicated operations", and "slow charging".
Lotus plans to equip more than 200 flash charging stations with "flash charging robots" across the country, waiting to top up the Lotus Eletre, and also released the "Lotus Family Green Energy Replenishment Solution" which includes zero-carbon systems for villas.
The world's first mass-produced "flash charging robot" realizes "F1 garage-level" convenient replenishment
As the world's first mass-produced "flash charging robot", it will provide professional energy replenishment comparable to the "F1 garage-level". Its intelligent control system includes a 10-degree-of-freedom intelligent collaborative system and a 14-sensor intelligent perception system.
The 10-degree-of-freedom intelligent collaborative system includes "6-degree-of-freedom robotic arms + 1 longitudinal slide rail + 1 horizontal telescopic table + cabin door + outlet mechanism" structure, enabling the charging gun to cover any parking posture and any charging socket cover position on any side of the vehicle. When recharging, passengers in the car can also get in and out easily.
The 14-sensor intelligent perception system includes "1 depth camera + 2 binocular cameras + 2 monocular cameras + 9 ultrasonic radars", which can quickly and accurately identify charging ports, vehicle models, license plates, and various obstacles, ensuring a 99.99\% plug-in success rate. With the help of the intelligent control system, "flash charging robots" can complete the entire process from gun collection, gun insertion, charging, gun pulling, and gun return, replacing car owners entirely.
In addition, the "flash charging robot" can also interact with users through the dual-camera above the screen to perform "identity recognition, somatosensory interaction, and exclusive push" functions.
In the future, the "flash charging robot" can be combined with Lotus cars' autonomous driving capabilities, enabling parking and energy replenishment to enter the unmanned era, allowing users to enjoy a full-process, no-sense rapid charging experience without having to lift a finger.
The First Pragmatic Fully Automatic Liquid-cooled Supercharging System in the Industry – Efficient Power Enhancement
The Lotus "FastCharge Robot" features the industry's first pragmatic fully automatic liquid-cooled supercharging system, supporting a leading 1,000 V/700 A output. Compared to traditional air-cooled heat dissipation modules, the "FastCharge Robot's" fully liquid-cooled supercharging system exchanges heat with the outside world through internally circulated cooling liquid. Its heat dissipation efficiency and reliability are higher, its service life is longer, and it charges with less noise, making it more environmentally friendly.
In addition, the "FastCharge Robot" can also flexibly stack photovoltaic energy storage, achieving integration with photovoltaic energy storage charging piles. Currently, Lotus Eletre is equipped with the full 800 V pure electric high-performance architecture EPA, with capabilities such as supercharging, high energy efficiency and high-speed data transmission, and Lotus Eletre can achieve a maximum increase in battery capacity from 10\% to 80\% in just 20 minutes.
Three Security Gates and Fivefold Security Protection – Secure Power Enhancement
The "FastCharge Robot" provides "vehicle + charging station + cloud" three security gates during the power enhancement process, enabling users to obtain 24-hour power enhancement protection inside the cabin, at the fast charging station, and in the cloud. In the future, regardless of encountering special situations such as abnormal charging, abnormal vehicles, and abnormal environmental sensing, it can conduct real-time intelligent analysis and processing and provide reasonable execution strategies based on the severity of the anomaly through the cloud edge.
In addition, fivefold security protection is set up, including a 360° all-around obstacle avoidance system, double emergency stop mechanism to ensure a double layer of safety, and concurrent protection of charging and moving mechanisms in emergency situations.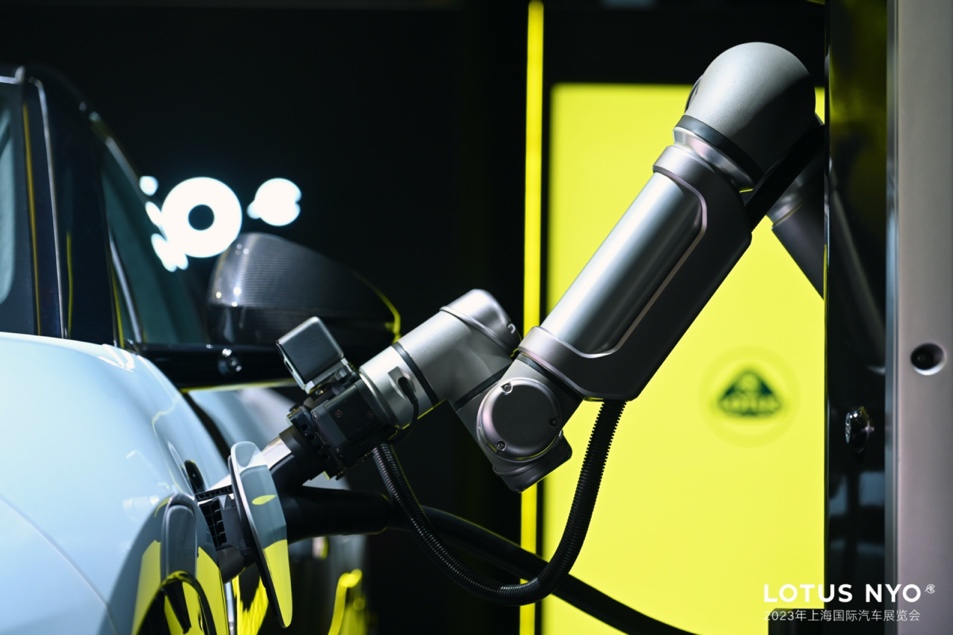 "Lotus Family Green Power Enhancement Plan": A New Ecological Model for Household Electricity
Lotus Energy has also launched the "Lotus Family Green Power Enhancement Plan" for users, deeply integrating a 22 kW intelligent household charging pile (Wallbox), green photovoltaic power generation, and household energy storage systems (MPG), creating a zero-carbon system for villas and providing a one-stop solution for household smart energy.
The Lotus-released 22 kW intelligent household charging pile (Wallbox) is compatible with different charging powers and provides customized installation services. The Wallbox product appearance is inspired by the Lotus Logo, with a simple and elegant design and a classic Lotus yellow main color, with high recognition. The front is covered with a shaped glass panel, with exquisite workmanship.Wallbox provides three convenient charging methods: card swipe, APP start, and plug-and-charge based on Bluetooth authentication. APP start supports remote start/stop and real-time view of charging status. Users can also use Wallbox to open the vehicle's charging port for more convenience.
Lotus will provide customized services to car owners, offering a choice between public charging scenes and home charging scenes. For example, with home charging service, car owners will receive a first-time on-site survey and free installation within the specified service range.
Lotus Energy has deeply integrated three independent subsystems: green photovoltaic power generation, home energy storage system (MPG), and intelligent charging (Wallbox), to create a villa zero-carbon system. Through the energy digital cloud platform's intelligent control, it finally forms a highly intelligent home light storage and charging micro-grid system.
The villa zero-carbon system supports a maximum of 16 kW photovoltaic access, which is sufficient for daily electricity needs; the home energy storage system contains 10 kWh of electricity, which can not only absorb excess photovoltaic power generation, but also provide emergency power supply to the home in case of power failure, to ensure the normal operation of important electrical equipment. The entire switching process is less than 10 ms and reaches the level of UPS.
While providing product solutions, Lotus Energy will also provide users with a full-process butler-style service that includes consulting, survey, design, project application, construction and installation, operation and maintenance, and after-sales services.
This article is a translation by ChatGPT of a Chinese report from 42HOW. If you have any questions about it, please email bd@42how.com.