On April 18th, 2023, the 20th Shanghai International Automobile Industry Exhibition officially kicked off at the National Exhibition and Convention Center (Shanghai), with the global debut of the four-seat D9 PREMIER Founder Edition and the N7 interior from Tengshi.
D9 PREMIER Founder Edition Four-Seat
Based on D9, the D9 PREMIER Founder Edition Four-Seat is positioned to be even more luxurious. The D9 PREMIER Founder Edition Four-Seat has an exclusive "Radiant Purple" body color, with a refined "Morning Light Gold" that showcases its high-end look.
The dual-tone design extends to the interior of the D9 PREMIER Founder Edition Four-Seat, with the mix of purple-red and beige-brown colors giving off an air of nobility and elegance.
The dual-tone interior is separated by the car's midline, which extends from the smart screen wall on the door panel to the rear side of the cabin, giving a sense of endless extension and embrace.
Tengshi N7
At the press conference, Zhao Changjiang showcased how the Tengshi N7 was designed for specific usage scenarios. When a person is driving, the brand's first AR-HUD instrument panel displays floating road condition information at all times, eliminating the need to look at the instrument panel or central control screen, making driving safer.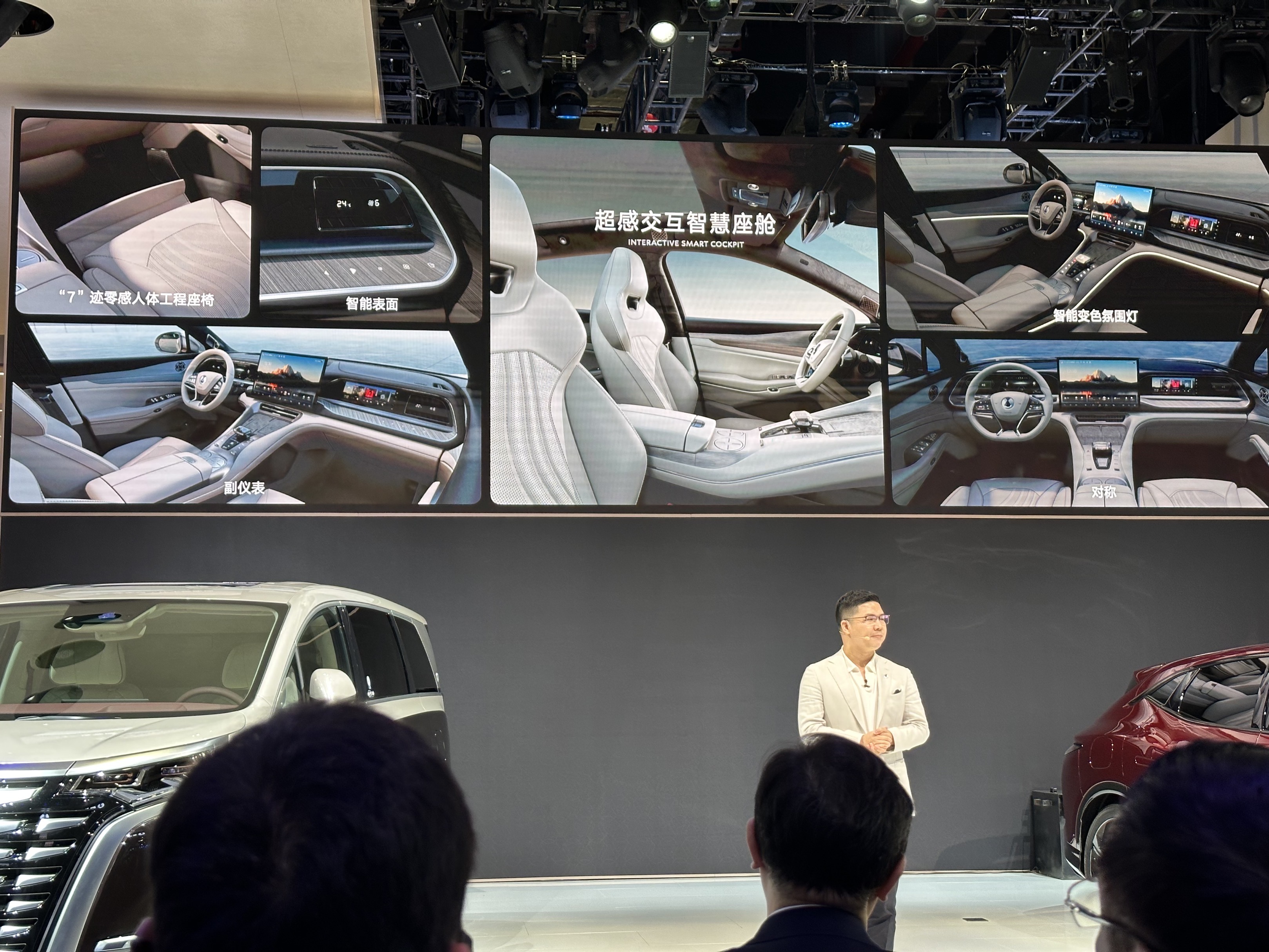 In addition, the Tengshi Link is equipped with a 6nm chip that integrates millions of application ecosystem along with 5G technology and the Diware speakers.
When four or five good friends are travelling together, the space required is very large. The Tengshi N7 provides superior horizontal, vertical, and headroom space.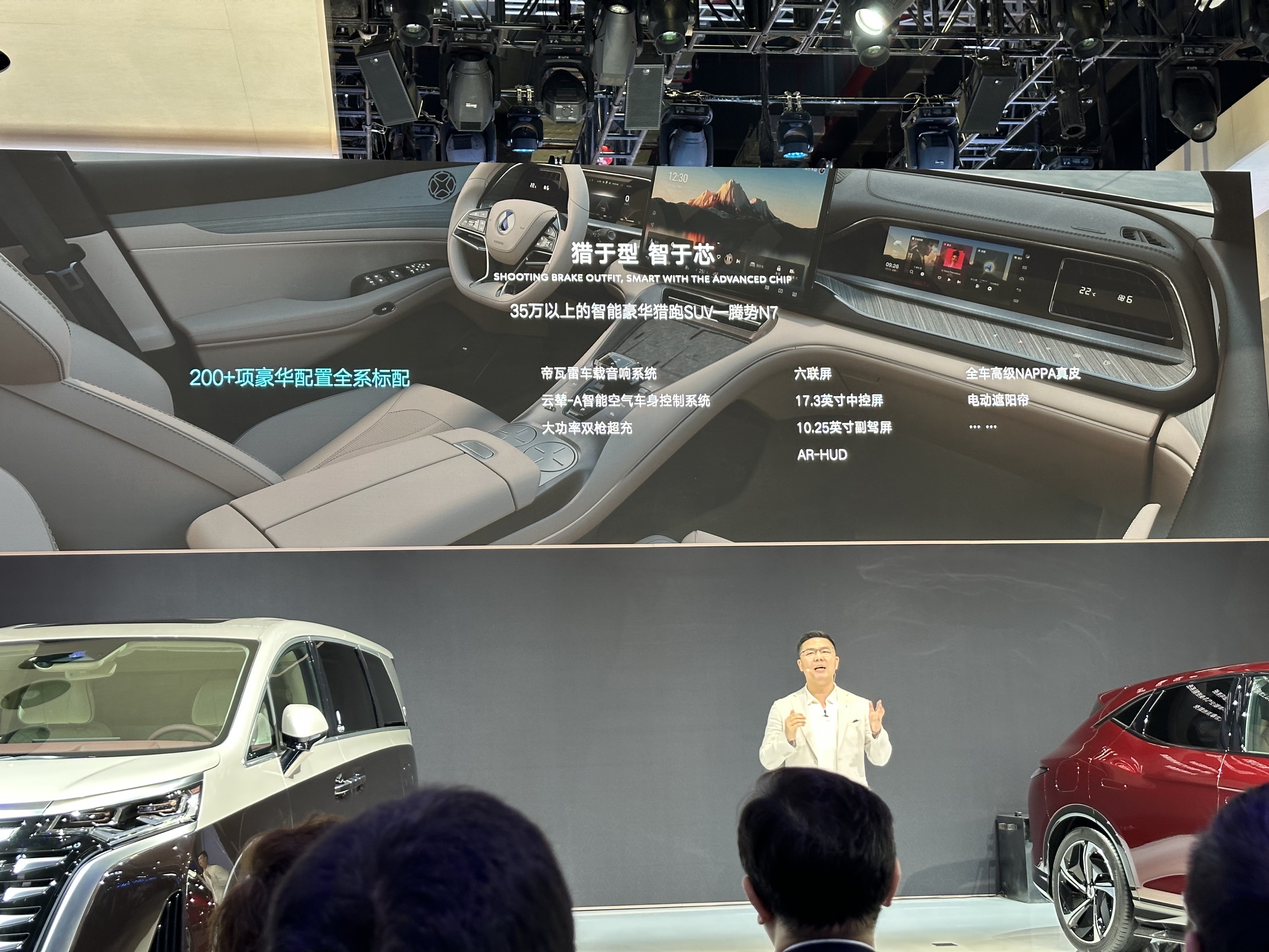 In addition to spaciousness, the seats need to be comfortable, with different density foaming materials used in different parts of the seats to ensure both support and softness.
After the press conference, Zhao Changjiang announced that the Tengshi N7 is now available for blind booking. From April 18 to Datong, users who book blindly can enjoy multiple exclusive benefits such as intention gold gifts, exclusive new purchase gifts, and inviting friends to share gifts.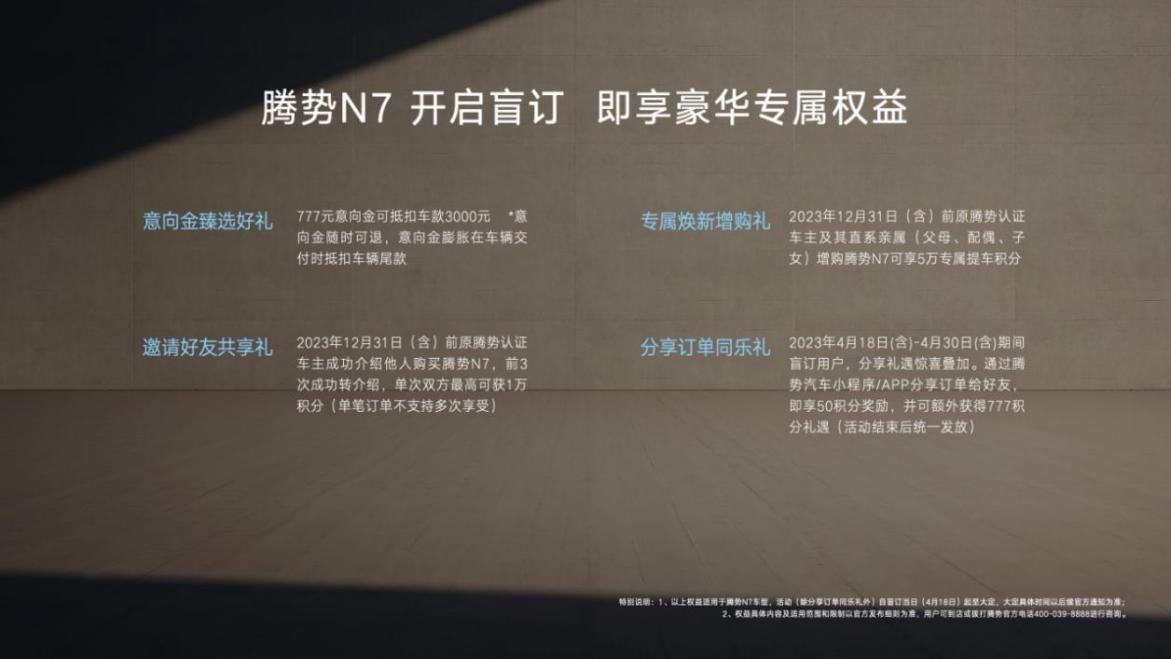 This article is a translation by ChatGPT of a Chinese report from 42HOW. If you have any questions about it, please email bd@42how.com.