Ideal Automotive is taking a big step forward.
On April 18th, the first day of the Shanghai Auto Show, Ideal Automotive officially announced its pure electric solution for the "dual-energy strategy" to the public. At the same time, with the release of Ideal AD Max 3.0, Ideal Automotive also announced that its intelligent driving has officially entered the era of 3.0.
It should be noted here that Ideal Automotive's "dual-energy" refers to "intelligent" and "electric energy".
Specifically:
"Intelligent strategy" refers to the creation of an AI intelligent driving and intelligent space technology platform based on software 2.0 ability, providing intelligent car user experience.
"Electric energy strategy" refers to the implementation of an "extended range electric" and "high-voltage pure electric" parallel energy strategy based on the latest high-voltage pure electric solution.
At the press conference, Ma Donghui, the president of Ideal Automotive, stated that with the release of the "dual-energy strategy", Ideal Automotive has entered a new stage of development.
Why is Ideal AD Max 3.0 "free"?
At the press conference, Ideal announced the beginning of the era of intelligent driving 3.0.
In fact, the reason why it is called intelligent driving 3.0 is that Ideal Automotive has gone through two major iterations in the field of intelligent driving. Specifically:
Intelligent Driving 1.0 Era: In 2021, Ideal Automotive's full-stack self-developed achievement in the field of intelligent driving made its debut on the Ideal ONE model, achieving high-speed NOA.
Intelligent Driving 2.0 Era: In August 2022, with the release of the Ideal L9, Ideal's intelligent driving was divided into two product lines – AD Max and AD Pro. AD Max 2.0 uses the NVIDIA OrinX chip and the lidar sensor from Hesai at the hardware level to achieve high-speed NOA. AD Pro 2.0 uses the Horizon Journey 5 chip to achieve high-speed NOA based on pure visual perception.# Ideal AD Max 3.0: The Latest Version of Intelligent Driving Technology
Currently, the emphasis on Intelligent Driving 3.0 lies in the extension of the NOA system from highways to cities. The latest product that implements this city NOA functionality is the recently released Ideal AD Max 3.0 version. According to the official statement, it can break away from reliance on high-precision maps and enable real-time perception, decision-making, and planning just like human drivers.
The following are key features of Ideal AD Max 3.0:
The use of three large-scale neural network algorithms, namely static BEV network, dynamic BEV network, and Occupancy network. Occupancy network is enhanced via NeRF technology to guarantee accuracy and detail in the complete restoration of the physical world.
Results of the three neural network algorithms are summarized in the predictive model. This model outputs real-time trajectory prediction of all traffic participants in the surrounding area for the next several seconds. The prediction result is dynamically adjusted to provide more accurate information for subsequent decision-making and planning.
Currently, Ideal Auto has completed more than 400 million kilometers of automatic driving training, with over 10.74 million hours. This enables better algorithm training.
As for specific deployment plans, Ideal Auto announced that the city NOA feature of Ideal AD Max 3.0 will begin internal testing for users this quarter and will be deployed to 100 domestic cities by the end of the year.
At the same time, the heavy news is that the software and service prices for Ideal AD Max 3.0 city NOA are free for life. This means that every AD Max user will be able to upgrade to the full-scenario NOA function of AD Max 3.0 without any subscription fees, including city NOA and highway NOA.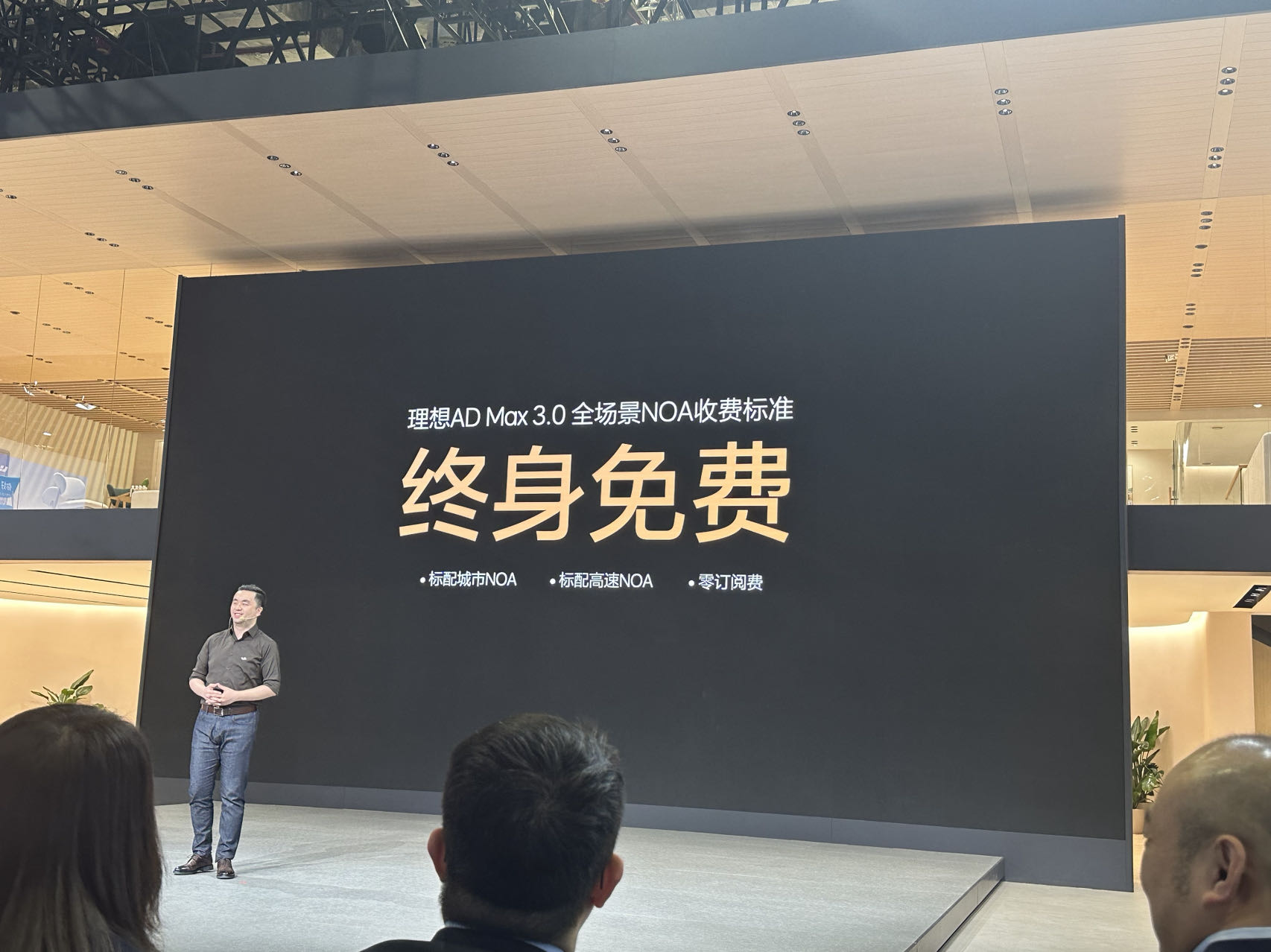 So, why is the Ideal AD Max 3.0 free? According to Lang Xianpeng, Vice President of Intelligent Driving at Ideal Automobile, "For intelligent driving, Ideal Automobile always adheres to the strategy of standard configuration, and there is no cost pressure… However, because the Ideal AD Max 3.0 is free, this means that all owners who purchase Max models will enjoy the urban NOA function. They are also more familiar with intelligent driving, which increases the difficulty and complexity of R&D – but the reason why Ideal has the confidence to do this is because of their confidence in technology."
Regarding the logic behind pushing City NOA to 100 cities before the end of the year, Lang Xianpeng stated, "The logic of Ideal Automobile in terms of intelligent driving is data-driven. When deploying City NOA, it is necessary to conduct some verification on the roads of each city; however, this verification process requires the joint implementation of the training platform capabilities accumulated over five years by Ideal Automobile and the actual driving process of owners. Therefore, the amount of test data and training mileage needs to be determined according to the corresponding city's ownership, number of owners, frequency of mileage driven in the city, and coverage, and Ideal will gradually promote these 100 cities based on the above situations."
In addition, it should be noted that users who purchase the Ideal AD Pro 2.0 model cannot use the City NOA. Regarding this, Lang Xianpeng also responded that, "In Ideal's product definition, the Pro model provides a good high-speed NOA product and experience for home users, while the Max provides intelligent driving in all scenarios, including the City NOA experience. Therefore, both the Pro and Max models are distinguished in terms of product design and software and hardware. Therefore, the Pro model will not be equipped with City NOA, but some of the Max model's abilities can be migrated to the Pro model."
What is the confidence of Ideal Automobile in entering the pure electric market? Compared to intelligent driving, Ideal Automobile's strategy to enter the pure electric market was more focused at this press conference.
After all, since its establishment, Ideal Automobile has always adhered to the extended-range route. Although it has achieved sales of over 320,000 units, it has never introduced a pure electric vehicle. After Ideal Automobile announced that it would enter the pure electric vehicle market, there were also discussions and some doubts online.So, what is the basis for Ideal's confidence in the pure electric market?
Based on the release conference, Ideal's pure electric strategy focuses on solving a core problem: energy replenishment efficiency.
Therefore, Ideal's layout and planning are:
To provide an 800V ultra-fast charging solution, achieving the effect of "10-minute charging, 400 km endurance," so that pure electric vehicle users can have a refueling-like energy replenishment experience.
To achieve this solution, Ideal Motor will adopt a series of core technologies, including a high-voltage electric drive system using third-generation power semiconductors, batteries with 4C charging capability, wide-temperature-range thermal management system, and 4C supercharging network.
In terms of the 4C supercharging network, Ideal Motors said it will continue to improve the construction of the supercharging network in the next three years — by the end of this year, it will build more than 300 high-speed supercharging stations, covering the Beijing-Tianjin-Hebei, Yangtze River Delta, Guangdong-Hong Kong-Macao Greater Bay Area and Chengdu-Chongqing economic belts; by 2025, 3,000 Ideal supercharging stations will be established, covering 90% of the national expressway mileage and major cities.
At the conference, Ideal Motor also announced their vehicle model plans for the next three years:
Through the strategy of mixing range and pure electricity, by 2025 Ideal Motors will form a product layout consisting of "1 super flagship + 5 range-extender electric models + 5 high-voltage pure electric models" targeting the market of over RMB 200,000, meeting the demand of family users comprehensively.
It is worth mentioning that at the end of the conference, Ideal Motor also announced that its first pure electric vehicle model will become the world's first model equipped with CATL's 4C Kirin battery – at the scene, Ideal Motor CEO Li Xiang also signed a comprehensive strategic cooperation agreement with CATL's chairman Zeng Yuqun.After the press conference, Li Xiang, the CEO of Ideal Cars, also said in the interview:
Ideal Cars has indeed faced some challenges in entering the pure electric market, one of which is the energy supplement problem, which is mainly achieved through 800V high-voltage charging, self-built charging networks, etc.; the other is the cost issue. Ideal's response strategy is to reduce costs through self-developed power modules, self-developed thermal management systems, and other methods.
Regarding Ideal Car's super charging stations, Li Xiang said that the maximum power of the super charging stations is expected to be upgraded from 480 kW to 600 kW, and the number of 4C super charging piles may also be increased to two, mainly depending on the total number of 4C electric vehicles in the market. In addition, the charging piles of these super stations will also be open to other brands.
When asked why Ideal started doing pure electric cars this year, Li Xiang said:
The main reason why Ideal chose to do pure electric cars this year is because we believe the timing is ripe. Therefore, our core starting point whether to do range extenders or pure electric vehicles is to make the user experience more convenient, especially in terms of energy supplement. We believe that there have been some pain points in energy supplement for electric cars in the past few years, and now that the technology has matured, some 4C or even 6C charging solutions have begun to be implemented on a large scale.

In addition to fast charging capabilities, we also need to consider battery cycle life, thermal safety, and other core components such as silicon carbide power chips, high-voltage electric drive systems, etc. Whether in terms of technology or cost, we have reached a very good timing. Therefore, we have chosen to release a pure electric high-voltage fast charging strategy, which is the most basic logical consideration.
Furthermore, in the Q&A session, Li Xiang also shared some information about Ideal's first pure electric car model, specifically:
It is not a traditional MPV and will have a very special design that is different from existing products in the market.
On the other hand, it will pursue the ultimate aerodynamic coefficient, which means reduced energy consumption and better battery life, while also ensuring a very large space.
In addition, this car will adopt a platform design and support Ideal AD Max 3.0, among others.
It is also worth emphasizing that Li Xiang clearly stated that Ideal Cars will not deliver pure electric car models to users within this year.This means that the ideal first pure electric vehicle model will not be delivered to consumers until at least next year. If the ideal car's ultra-fast charging network plan is successfully implemented this year, then when consumers receive the ideal pure electric vehicle model, they will be able to recharge at over 300 high-speed charging stations.
It is clear that the ideal strategy in the pure electric vehicle market is "charging first before selling vehicles"; this is obviously the result of considering user experience.
Ideal Car is welcoming its 3.0 version
The release of Ideal Car's "Dual-Energy Strategy" has a noteworthy background:
In the past year, Ideal Car has successively released three new models: Ideal L9, Ideal L8, and Ideal L7, which have improved the company's product line and made the overall product layout more systematic.
In terms of sales, during the first quarter of this year, Ideal Car delivered a total of 52,584 vehicles, an increase of 65.8% year-on-year from the first quarter of 2022, making it the leader in sales of new energy vehicles priced above 300,000 RMB, and also the leader in sales of SUVs priced between 300,000 and 500,000 RMB, including fuel vehicles.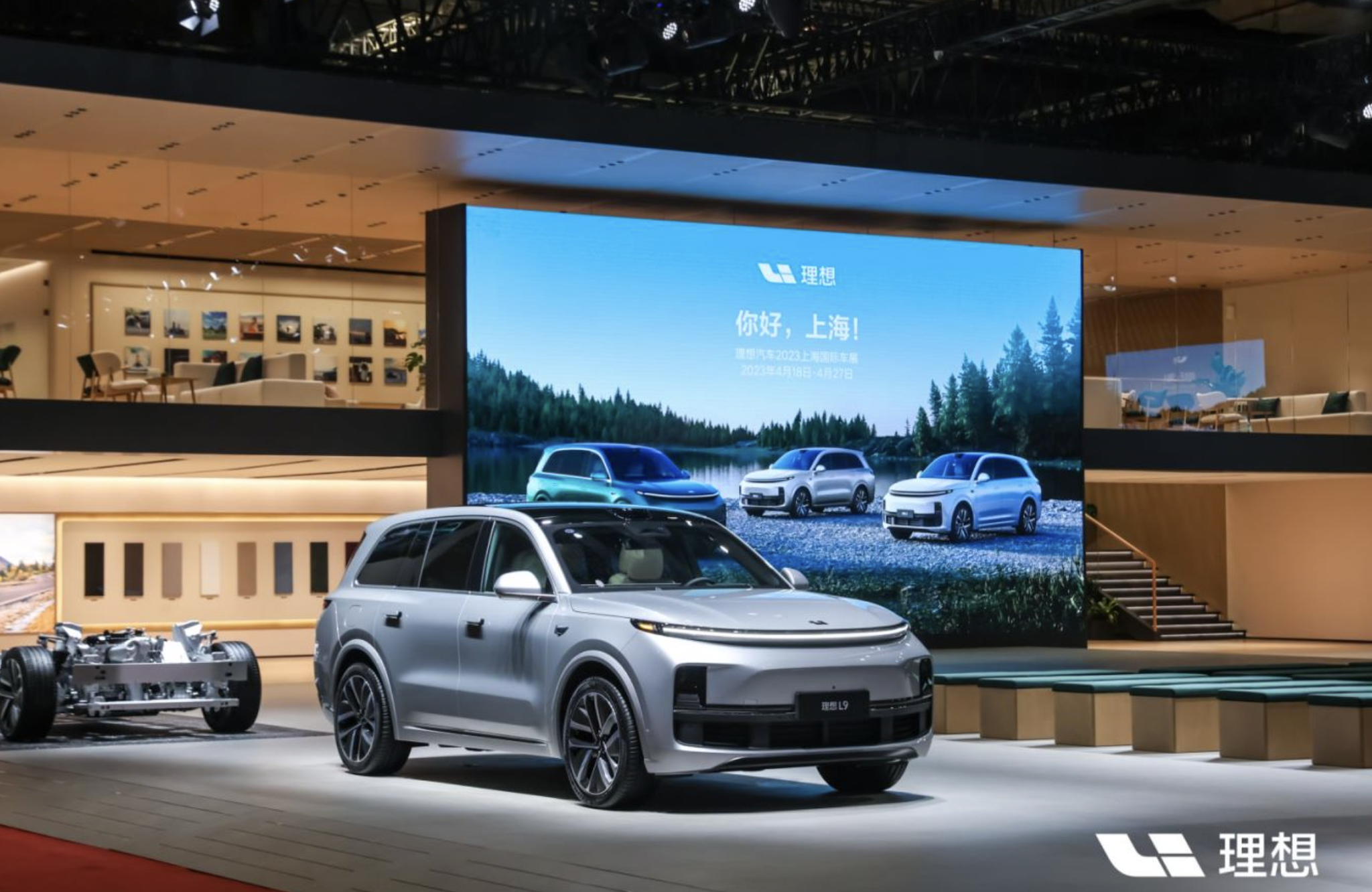 It can be seen that Ideal Car's product system has begun to prove itself.
Looking back at Ideal Car's development history in terms of products, we can see two distinct stages, which are actually Ideal Car's 1.0 and 2.0:
Stage 1: From the release of Ideal ONE in 2018 to its exit from the market in 2022, Ideal Car completed the development from scratch, which was relatively long and serves as the Ideal Car 1.0 version.

Stage 2: In the past year, Ideal Car released three Ideal L series models one after another, initially completing the systematization of products and supply chains, and receiving market recognition. This can be regarded as the completion of the transformation from 1 to 10 and the Ideal Car 2.0 version.
Meanwhile, standing at the node of Ideal Car's pure electric vehicle strategy release, we can see that the switch from Ideal ONE to the Ideal L series in 2022 is a quantitative change in its product system; but now Ideal Car is beginning to shift from a single-range extension route to a strategy of using "both legs": range extension and pure electric power. This is a qualitative change in its product system.This means that the changes to the product system of Ideal automotive at this time are more profound, and they will have a very profound impact on the entire supply chain system, organizational system and technological system of Ideal automotive.
Therefore, we believe that Ideal automotive at this node is switching to version 3.0.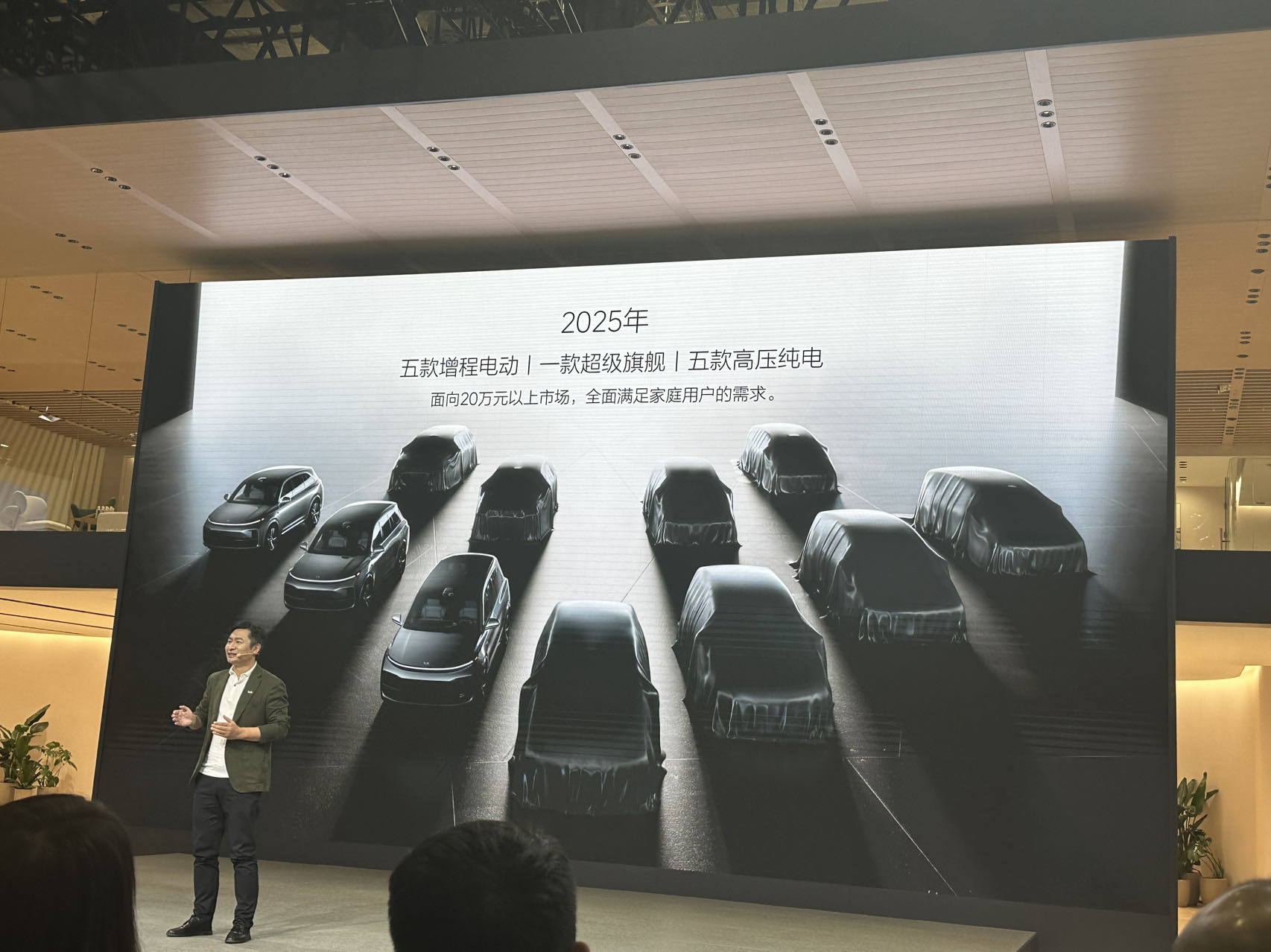 Interestingly, it seems to be a coincidence:
At the same time that Ideal automotive's product system is undergoing a major change to version 3.0, Ideal automotive's intelligent driving is also undergoing a qualitative change this year. From Ideal AD Max 1.0 to Ideal AD Max 2.0, they all belong to the category of high-speed NOA and are quantitative changes. But when it comes to Ideal AD Max 3.0, urban NOA is implemented, which is already a qualitative change.
In any case, facing Li Xiang's definition of the "three-year elimination race of intelligent electric cars" (from 2023 to 2025), Ideal automotive's "dual-energy strategy" seems more like an active or passive response to this elimination race.
At present, the product layout of Ideal automotive, which includes "1 super flagship + 5 extended range electric models + 5 high-voltage pure electric models", has also been locked in for 2025 — before this product layout is finally settled, Ideal automotive cannot stay still at the current version and can only continue to iterate and move forward.
This article is a translation by ChatGPT of a Chinese report from 42HOW. If you have any questions about it, please email bd@42how.com.