On April 13th, 2023, the new flagship of Wei brand – Blue Mountain DHT-PHEV (hereinafter referred to as "Blue Mountain") was officially launched in Beijing with the theme of "Sharing good times". The new car will be available in two models: a two-wheel drive long-range version and a four-wheel drive ultra-long-range version, with official prices of 273,800 yuan and 308,800 yuan, respectively, with advanced equity stacked. The Blue Mountain is positioned as a large six-seater comfortable electric SUV and has core technologies such as hybrid DHT and NOH.
As the brand new flagship, Blue Mountain inherits 32 years of leading technology and carmaking experience of Great Wall Motors, supplemented by hybrid DHT technology and Coffee Pilot 2.5 intelligent driving system, and enters the large six-seater SUV market. Based on the Great Wall Forest Ecosystem, the Blue Mountain also adds multiple configurations in terms of space, comfort, safety, intelligence, and power, suitable for family travel.
The body size of Blue Mountain is 5,156 × 1,980 × 1,805 mm, and the available space is nearly 5 square meters. At the same time, Blue Mountain can reverse the user's in-car passage path for the first time based on user needs, and adds handrails for getting on and off the car as well as children's hold handles, which is convenient for passengers to get on and off the car. The central aisle width of the second and third rows is 276 mm, and the height from the second-row aisle floor to the roof is 1,234 mm. Children who are 1.2 meters tall can pass through without bending over. The headroom of the third row reaches 851 mm, and passengers with a height of 180 cm can also sit straight in the third row without bumping their heads.
In addition, the first and second-row seats can be transformed into a 1.8-meter camping bed, which can be used together with an air mattress, a three-temperature zone air conditioner, and a large-size skylight. When the third row is fully loaded, the trunk can accommodate one 28-inch and two 20-inch suitcases. When the third-row seats are folded down, the volume can be expanded to 1,040 liters, which can carry camping, skiing equipment, and other related items.
Exclusive front-row design "Goddess co-driver" features zero-gravity seats that can achieve a golden 110° angle and offer a variety of functions like 12-way electric adjustment and 8-point massage. The open large storage space below the co-pilot dashboard can accommodate a variety of items. In addition, Luan Shan is also equipped with a 27-inch high-definition intelligent entertainment screen with 4K resolution.
"Self-pampering driver" is equipped with electric adjustment and massage functions that conform to the co-pilot's unified standard, and can effectively relieve fatigue in conjunction with the convenient and easy-to-control electronic gearshift and the 25-inch enhanced HUD.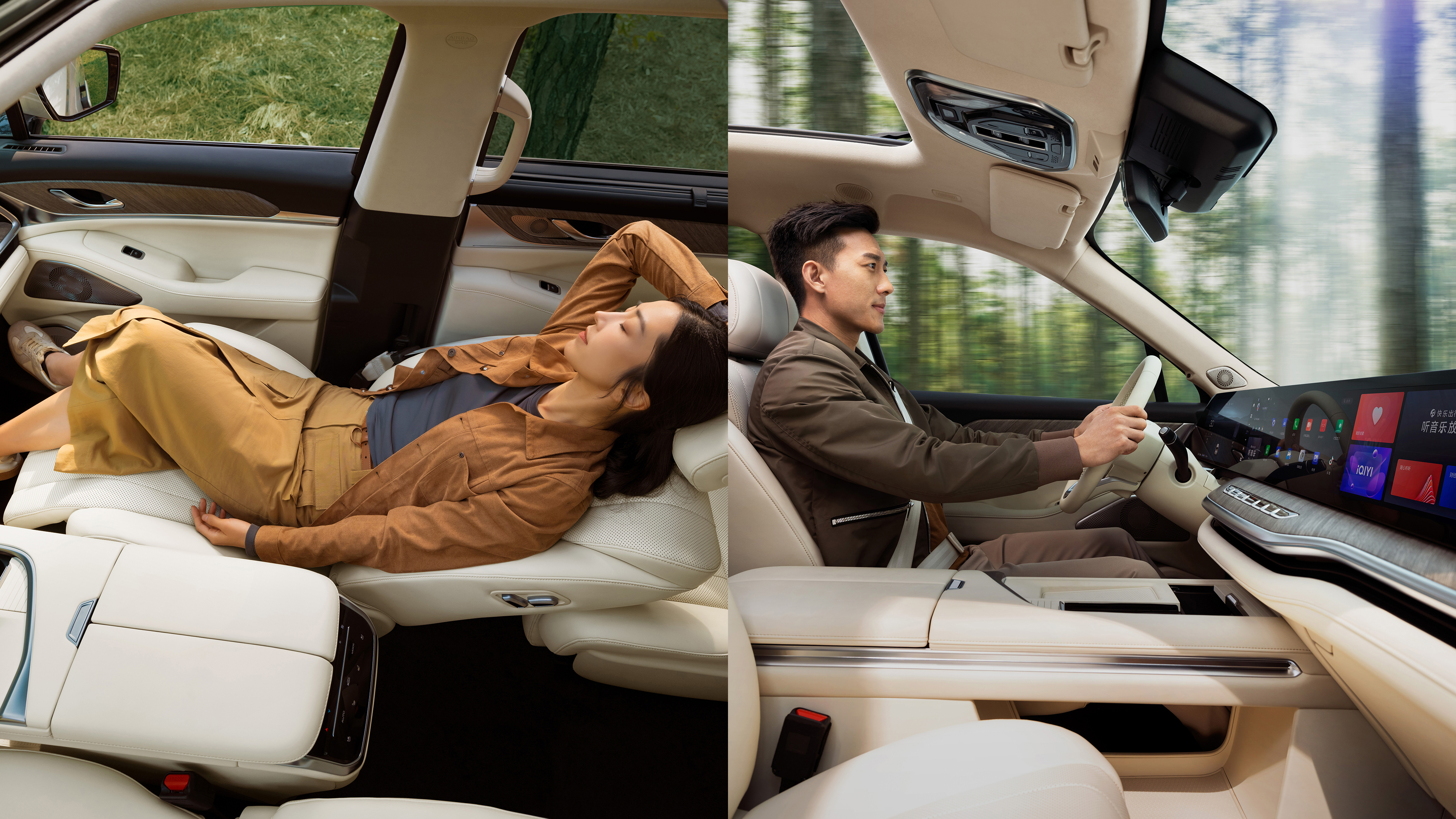 The second row uses NAPPA leather seats with 10-way electric adjustment and a maximum adjustable backrest reclining angle of 50 degrees. At the same time, the second-row seats are equipped with leading same-class 2-speed seat massage, 3-speed ventilation, and 3-speed heating. The multi-functional small table in the second row can accommodate toys and other items. The third row's seat cushion and backrest have a maximum width of up to 540 mm, can support multiple directions, and disperse the force.
At the same time, Luan Shan considers the safety of children riding in the car, and adopts antibacterial and antiviral interior fabrics for the body, seats, headrests, and other parts under the instrument panel, and innovate proposes the "baby room" concept for the car's interior environment safety. With design, material selection, inspection, and other links, it achieves the air quality control of VOC baby level.
In terms of power, Luan Shan is equipped with hybrid DHT technology, adopting a "1.5T+DHT 130+P4" power combination, with a maximum comprehensive power of 380 kW and a maximum torque of 933 N*m, and a zero-to-100 km/h acceleration of 4.9 seconds. The WLTC pure electric endurance is 180 km, and the comprehensive endurance reaches 1200+ km, with a fuel consumption of 6.7 L/100 km.
After adopting hybrid DHT technology, Luan Shan has one more parallel system than a series-connected plug-in hybrid, realizing "pure electric + pure electric priority + intelligent hybrid" three power modes, which can flexibly control power and plan distribution strategies reasonably. In daily commuting, pure electric mode can be selected; pure electric priority mode can be selected during surrounding outings; intelligent hybrid mode can be selected during long-distance traveling that prioritizes electricity at low speeds in the city and prioritizes fuel at medium and high speeds.
The LanShan also comes equipped with the Coffee Pilot 2.5 coffee intelligent driving system, providing multiple auxiliary functions. The LanShan uses 26 high-precision detection elements to accurately identify and perceive complex road environments and obstacles, and can achieve 30 L2+ intelligent driving assistance functions, such as NOH and HWA. Among them, the high-speed NOH solution can provide intelligent entrance and exit of expressway, intelligent avoidance of merging entrance, intelligent lane change protection, distracted driving fatigue monitoring, intelligent identification of confusing intersection, and other solutions.
The LanShan also features passive safety that meets global standards, with 81\% of the car body frame made of high-strength steel, making the car more able to withstand pressure. The distance between the third-row headrest and the rear windshield is about 3 fists, and the safety buffer space is better than that of the same level. At the same time, the LanShan also comes equipped with a 0.6mm tubular frame all-metal back panel, which can provide higher support and collision protection.
At the time of launch, the LanShan introduced nine fan privileges for the entire car purchase, use, and maintenance cycle. Users who pay a deposit of 5,000 yuan through the Weimar APP by May 31 and complete the invoicing and pickup by July 31 can enjoy three major comfort gifts (the booking exclusive gift is only available to users who place an order under 99 yuan). In addition, car buyers can also enjoy five worry-free gifts and a car purchase commitment, with an official price guarantee until December 31, 2023.
As mentioned earlier, Weimar also recently launched its first MPV, the GaoShan. It will form a new energy dual flagship with the LanShan and debut at the Shanghai Auto Show.
This article is a translation by ChatGPT of a Chinese report from 42HOW. If you have any questions about it, please email bd@42how.com.