Author: Tian Xi
Up to the last moment before the presentation, Yu Yinan was still watching video demonstrations of the Li Auto L8 Pro's assisted driving features on his phone.
Over a month ago, on February 17, the Li Auto L8 Pro, boasting the title of "first mass-produced vehicle with a domestic high-performance chip," received a significant OTA update—their standard Li Auto AD Pro now officially had the high-speed NOA feature.
This meant that the Li Auto L8 Pro was now equipped with autonomous overtaking, entry and exit ramps, flexible lane changing, and other intelligent driving capabilities. Upon receiving the OTA update notification, excited owners promptly tried the new features and shared their experiences online, praising them as "very useful."
Equally thrilled was the supplier of the Journey 5 chip—Horizon Robotics. Since April 2022, Horizon has been working with Li Auto to promote the global debut and mass production of the Journey 5 chip on the L8 Pro. After the successful completion of the SOP in November, the vehicle officially began shipment, ultimately becoming one of only two players worldwide to mass-produce 100 TOPS high-performance chips.
According to Horizon's latest data, the shipment volume of the Journey 5 chip has exceeded 100,000 units, which also indirectly reflects the popularity of Li Auto AD Pro models.
As the vice president of Horizon Robotics and president of the software platform product line, Yu Yinan, who is leading the Li Auto AD Pro collaboration, has been personally involved in the entire Journey 5 mass production process.
Naturally, he is highly invested in the latest developments of the Li Auto L8 Pro.
When the high-speed NOA feature was just released, Yu Yinan immediately set aside his work and spent several hours driving on the nearby fifth-ring highway around Horizon's office.
"As soon as he returned to the office, he enthusiastically told us all to give it a try, saying it was a great driving experience," recalled one employee. Yu Yinan animatedly gesticulated with his hands as he "enthusiastically" promoted the feature to nearly every person he encountered in the office.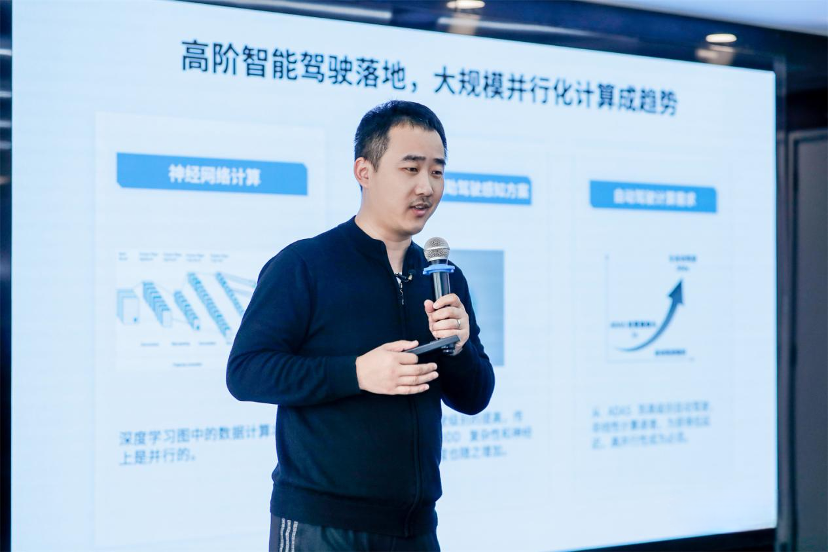 Translate the following Markdown Chinese text into English Markdown text, in a professional manner, retaining the HTML tags in Markdown, only output the result:
It was not until a month later, on March 17, that Horizon held a media communication meeting for "Voyage 5 First High-Speed NOA", and Yuyi Nan's excitement still lingered.
Since the feature push, he has been paying attention to the online reviews of the L8 Pro assisted driving from ideal car owners, so much so that when the host finished his speech and handed over the microphone, he was momentarily stunned, and then realized that it was his turn to speak. He stood up and laughed, "Alright, alright," and put down his phone to take the microphone.
Also present at the communication meeting was Zhao Zhelun, the Intelligent Driving Product Director of Ideal Automobile, who was in charge of docking the Ideal AD Pro mass production project with Horizon.
Zhao Zhelun sat in the audience, listening to Yuyi Nan recounting the process of close cooperation and coordination between the two teams, clapping constantly. When it was his turn to speak, he opened with the words, "Thank you, Horizon, for your great help on the Ideal AD Pro project."
"Based on Horizon and Voyage 5 chips, Ideal is able to create a top-level high-speed NOA experience," said Zhao Zhelun.
Ideal turns high-speed NOA into a "red sea"
How good is the high-speed NOA on the Ideal L8 Pro?
At this event, I spent an hour experiencing the Ideal L8 AD Pro, and my biggest feeling is that the system is already very close to the level of a human driver. Whether it is following and stopping, overtaking and changing lanes, entering and exiting ramps, or avoiding obstacles, it can achieve a rapid response, and smooth braking, ensuring both safety and driving comfort.
Two years ago, the ideal Highway NOA "arrived late", and now with the mass production of Ideal AD Pro's Highway NOA, it is highly likely for Ideal to turn the market into a "red ocean".
Notably, more and more users are considering intelligent driving functions when making car purchase decisions, with the Highway NOA market facing intense competition.
Pioneering forces like Tesla and Weilai have entrenched themselves in the market, constantly improving their capabilities through OTA updates.
Additionally, tech giants such as Baidu, Momenta, Haomo Zhixing, and Qingzhou Zhihang are entering the race, providing NOA solutions to various car manufacturers and heightening the competitive intensity. The latest news is that SAIC SIWISE will launch its Highway NOA in the first quarter of this year.
Consequently, the Highway NOA has become a "must-contest battleground" for automotive players.
What makes Ideal terrifying is its ability to achieve "standard configuration equals top configuration" concerning Highway NOA, creating an unparalleled intelligent driving experience at the same level of configuration.
When compared in performance tests, Ideal L8 Pro's NOA leads the pack in various indicators and overall ratings among different brands.
When comparing Ideal L8 Max with NVIDIA Orin X and Ideal L8 Pro's NOA, the results showed negligible differences in actual user experience.
What contributes to such an exceptional Highway NOA experience?
Zhao Zhelun's on-site sharing unveiled a mysterious aspect of Ideal L8 Pro.
Firstly, one can glimpse at the perception hardware. Ideal L8 Pro adds 5 2-million-pixel surround-view cameras to the existing Ideal ONE 2021 model with one 8-million-pixel front-view camera, significantly enhancing lateral detection and perception of ramps and sharp curves, laying a solid foundation for subsequent planning and control.
Secondly, Ideal AD Pro employs a more powerful algorithm based on a brand new BEV algorithm framework, with a network depth of 30,000 layers and 2.8 billion network parameters, substantially enhancing the overall perception capability of NOA.Finally, and most importantly, the Ideal AD Pro is equipped with a powerful chip— the Horizon Journey 5, which supports the wealth of sensors and robust algorithms that make the Ideal L8 Pro stand out.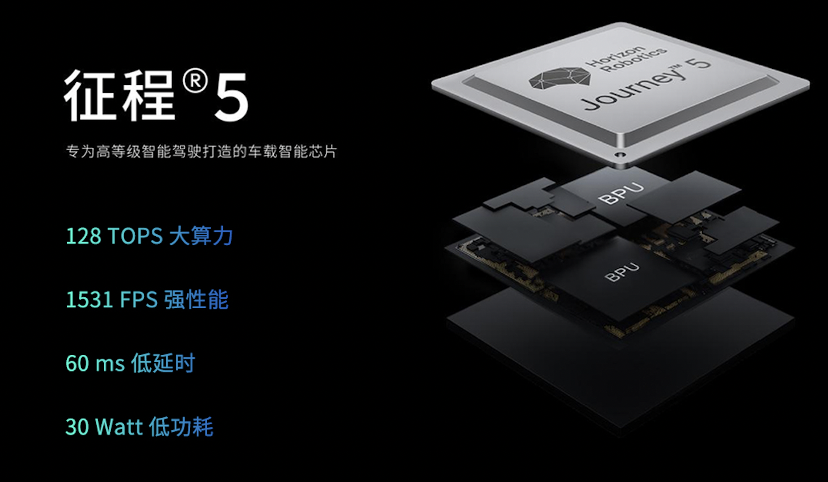 Journey 5 is Horizon's third-generation automotive-grade product, developed specifically for high-level autonomous driving. The single-chip computing power reaches up to 128 TOPS and supports perception computation with up to 16 cameras. Additionally, it enables the integration of various sensors such as millimeter-wave radar and lidar.
In algorithm model support, Journey 5 efficiently performs large-scale neural network calculations, broadly supporting various top-tier models and operators. It natively supports the Transformer model required for BEV perception, easily handling all types of BEV perception algorithm deployments.
In other words, although Ideal's in-house BEV algorithms are already complex and extensive, they still fall within the "range" of the Journey 5 chip.
The chip is equipped with an abundance of heterogeneous computing resources, such as dual ISPs, a CV engine, dual vision DSPs, and more. These configurations are sufficient to meet the computing power needs of Ideal's algorithm team for the foreseeable future.
However, these factors alone do not explain why the Ideal L8 Pro surpasses its competitors in high-speed NOA experiences and matches the Ideal L8 Max's capabilities.
The real answer lies in the product positioning of the Ideal L8 Pro's smart driving system: standard is top-tier.
Upon examining the chip configurations of high-level NOA players, you'll find that Journey 5's computing power isn't the highest. The Orin X chip, often showcased by automakers, reaches 254TOPS. Yet, Journey 5 competes at the same level and even contends for first place.
Compared to Orin X's general-purpose computing, the BUP Bayesian architecture of the Journey 5 chip is specifically designed for advanced intelligent driving.
From the data, we see that the real computational performance of the Horizon Journey 5 has reached 1531FPS (image rate of 1531 frames per second). In typical classification models, the computing performance of Journey 5 is on par with Orin X. However, when processing a single frame input of one million pixels, Journey 5 achieves a rate 3.3 times higher than Orin X.Translate the following Markdown Chinese text into English Markdown text in a professional manner, preserving the HTML tags within the Markdown and only outputting the result: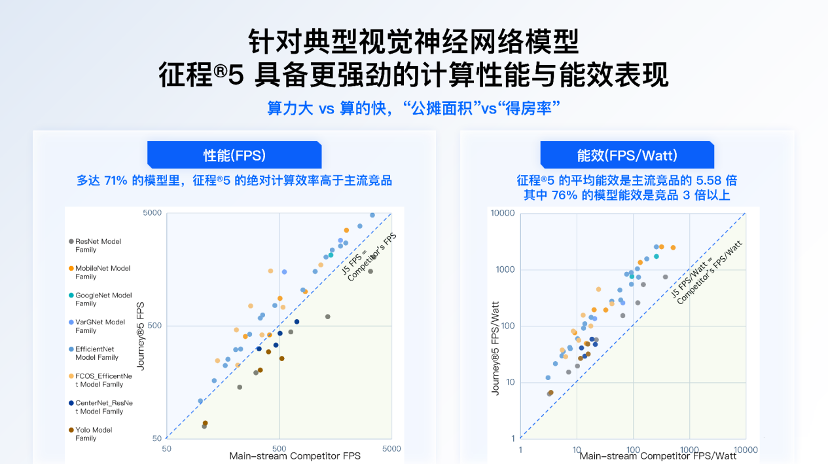 With such formidable performance, it delivers an ideal leapfrog function while significantly optimizing costs. The size of the Journey 5 chip is only half of that of the Orin X, meaning that the same high computing performance can be achieved at half the cost.
This is also the confidence behind Ideal Auto making the high-speed NOA a "standard feature."
A collaboration that set the record for the fastest delivery
To ensure an intelligent driving experience, a powerful chip is merely a prerequisite.
For automakers responsible for achieving this "experience," the usability of the chip is of paramount importance.
According to Zhang Lijun, General Manager of the North Region Business at Horizon Robotics, for high-speed NOA functions to be integrated into a vehicle, automakers need the chip suppliers to provide migration algorithm toolchains, underlying systems software supporting chip operations, and middleware connecting application layers and underlying software. The ease of use of these components directly affects the efficiency of intelligent driving system development.
With an algorithmic foundation from its inception, Horizon Robotics built an open, user-friendly intelligent computing platform centered around the Journey 5, including chip development kits, domain controller reference designs, chip toolchains, and software development platforms, providing full-process support for higher-level autonomous driving development and deployment.
Rewinding to April 2022, after multiple in-depth discussions with Horizon Robotics, Ideal officially decided to use the Journey 5 chip to create the Ideal AD Pro.
According to the plan, the Ideal AD Pro's positioning is to provide intelligent driving systems for the Ideal L Series' Pro and Air versions, mainly featuring high-speed NOA and autonomous parking.
The Max versions use another system—Ideal AD Max, based on the Orin chip, covering urban, high-speed, and parking scenarios.Upon receiving Ideal AD Pro project requirements, Horizon swiftly mobilized its resources internally. Led by Horizon's Vice President & Software Platform Product Line President, Yu Yinan, several teams were formed, totaling over a hundred people, covering chip platforms, system software, toolchains, software and vehicle testing, and supply chain management, to provide technical support for the mass production of Ideal AD Pro.
Clearing the path is the first step Horizon needs to take.
The Horizon team needs to connect signals from cameras, radar sensors, and GPS to the Journey 5 chip, providing hardware sensing capabilities for the intelligent driving system.
Building on this foundation, preliminary deployment results are achieved by migrating Ideal's perception model and algorithms to the Journey 5 chip using the toolchain.
To rapidly migrate Ideal's self-developed algorithms to the Journey 5 chip, Horizon assigned several senior toolchain engineers to work on-site with Ideal engineers responsible for algorithm development, solving various technical issues during the migration process and ensuring model performance consistency. After a month of relentless effort from both teams, algorithm migration was completed by the end of April and passed the open-loop perception acceptance test within Ideal.
The next task is to ensure the smooth operation of the algorithms.
Unlike lab demos, intelligent driving performance on actual vehicles is not always "usable" at first. Hardware anomalies or algorithm updates may cause the NOA feature to exit occasionally; behind this lies the challenge of adapting Ideal's algorithms to the Journey 5 system software as well as addressing the stability and performance issues of the whole system.
System software refers to the part between the hardware chip and the upper-layer algorithm application. It acts as a bridge, ensuring communication between the two. To achieve optimal operation of the upper-layer algorithms, the "bridge" must be strong and reliable.
In early April, when the project officially commenced, Horizon's system software team and Ideal Motors selected their respective system software representatives to ensure system software stability and align their requirements and solutions.The representative from Horizon Robotics is Zutao Min, head of the mass production team for the chip product line's system software department.
Min and his system software team are responsible for developing access to various sensors, ensuring network communication stability, and the completeness of information security and functional safety.
Take information security, for example. If the security of the system's information is not handled properly, it may lead to hackers cracking the smart driving system, posing a significant risk to users' driving safety.
As such, whenever the Horizon system software team identifies an issue, they must promptly report it to the entire team for evaluation, followed by prioritizing fixes according to urgency. In the case of particularly challenging bugs, the team even mobilizes internal experts to analyze and resolve them, then undergoes testing to quickly converge on solutions.
Once a cycle's system software features and quality meet the anticipated target, Horizon will synchronize this version of the system software to Ideal for the next iteration cycle.
This process of rapid, small-scale iteration continues until the road test system software quality standards are met.
To quickly reach a consensus and make communication more efficient, Horizon and Ideal Automotive aligned their OKRs at the beginning of the project. They discuss development progress daily through daily meetings and iteratively update the software version through weekly meetings.
Thanks to this close collaboration, the system software's quality met road test requirements within just four months.
Since September, the Ideal AD Pro project has officially entered the road test phase.
In Min's view, the process of road testing for millions of kilometers allows for the reveal of low-probability system software stability and performance issues, facilitating rapid iteration and resolution of long-tail problems to ensure post-SOP system reliability.
One memorable issue occurred at the end of September last year when the Ideal car's navigation system frequently drifted during road tests.
Having long dealt with system software, Min quickly noticed that the issue might be related to the stability of GPS positioning module signal access.It is well known that the continuity of high-speed NOA experience is closely related to high-precision positioning. NOA stands for Navigation-assisted Driving, where "navigation" refers to the role of maps with high-precision positioning.
If this signal is lost, it is equivalent to a smart car losing its guidance, and the high-speed NOA function will automatically exit.
After thousands of power-on and power-off tests on the system, he led the team to verify this hypothesis:
GPS signals do occasionally fail to be received, with a rough frequency of 5-10 failures in every 1,000 tests.
For NOA, this failure probability is already very high, greatly affecting the function's usage.
Ming Zutao quickly reported the issue to Yu Yinan, the project manager, and Horizon Robotics immediately sent engineers to support Ideal Auto's R&D headquarters, continuously optimizing the system software that integrated GPS signal.
Meanwhile, Ideal's team was on standby, not only providing vehicles but also conducting extensive validation tests after each update to the system software by Horizon.
After intensive real-vehicle testing, code analysis, and debugging, the Horizon system software team managed to fix the issue, achieving only occasional GPS signal loss in 100,000 power-on and power-off tests.
At this point, the failure probability had been reduced to a very low level.
"You guys at Horizon are really striving." An Ideal engineer working alongside the Horizon team praised the system software team behind Ming Zutao.
Under such collaboration, Horizon successfully completed the release review at the end of October. In mid-November, the Ideal AD Pro project entered the SOP phase on schedule, and Horizon ultimately set a record of delivering production within seven months.
Two Collaborations, a Connection Forged in Minor Details
In fact, the Ideal AD Pro project is not the first time Horizon Robotics and Ideal Auto have collaborated on production. Their early intersection can be traced back to the cooperation on the 2021 Ideal ONE AD project.In Journey 3, our collaboration was already very smooth. Based on this successful experience, both parties were able to launch and develop the Journey 5 Ideal AD Pro project swiftly and efficiently. Zhang Lijun has deep feelings for this past experience.
Ideal Motors' Chairman and CEO, Li Xiang, has also expressed his deep emotions about the partnership.
Time rewinds back to 2020, one year after Tesla first introduced NOA in China, NIO and XPeng quickly followed up, delivering NOP and NGP with similar functions in 2020, garnering tremendous market enthusiasm.
At the same time, Ideal Motors, another new automaker, seemed to be slow in making a move.
Later, people learned that it wasn't that Ideal Motors didn't want to launch NOA, but that they couldn't.
When the first Ideal ONE was launched in April 2019, Ideal Motors was facing a financing crisis and didn't have enough funds to support the company's independent R&D of intelligent driving technology.
Li Xiang recalled:
"It wasn't that the team didn't want to do independent R&D, but the money raised barely met the needs for product development, building our own factory, supply chain construction, service system establishment, and team salary distribution."
As a result, the first Ideal ONE adopted Mobileye's technology, which is relatively mature and widely used across various car models, making it easy to deploy.
However, there were obvious drawbacks, as the perception data wasn't open to external entities, forming a "black box", which meant that automakers couldn't master the technology initiative or quickly iterate and upgrade based on user needs.
As Tesla and XPeng garnered endless attention for their cool NOA performances, Ideal Motors faded because it couldn't upgrade to NOA capabilities via OTA.
This situation deeply stung Li Xiang, who subsequently began planning an "intelligent driving counterattack" internally.
Li Xiang's first plan was to launch an updated Ideal ONE in 2021, abandoning Mobileye's solution and implementing self-developed algorithms for NOA.
Since Mobileye sold its chips and algorithms as a bundled package, Li Xiang had to find a new chip supplier as a replacement. There weren't many options on the market at that time, and the solutions available didn't have much difference. But then, in September 2020, Horizon Robotics released the Journey 3 chip, and Li Xiang suddenly saw the light.Zhao Zhelun revealed that after comprehensively considering factors such as chip performance, price, openness, communication efficiency, and mass production time, LI finally chose Horizon Robotics and its Journey 3 chip, stating, "This chip was the best choice under the circumstances at that time."
Upon securing the Journey 3 chip mass production partnership, Horizon Robotics seized this golden opportunity to showcase their prowess.
Horizon Robotics' founder, Yu Kai, personally mobilized a team of over a hundred people to ensure the smooth production of LI's 2021 model.
To support LI in achieving NOA (Navigation on Autopilot) assisted driving through full-stack, self-developed technology, Horizon Robotics' service team provided a fully open collaboration model. This partnership went beyond merely supplying chips; they also opened up their software algorithm technologies, support tools (compilers, training platforms, simulation software), and leveraged their algorithmic strengths to help LI quickly complete algorithm migration.
During this process, Horizon Robotics engineers were stationed at LI's Beijing headquarters and Changzhou factory to respond quickly and resolve issues encountered in the project.
All-nighters were a common occurrence for both teams.
"For instance, if we discovered a problem with the system at 10 p.m. and had an acceptance test the next day, the two teams would work together on troubleshooting until the issue was resolved," recounted Zhao Zhelun.
Under such close collaboration, Horizon Robotics completed the mass production handover of the project within eight months.
On May 25, 2021, the 2021 LI ONE was officially released.
At that moment, LI had successfully navigated the difficult path of "transitioning from supplier to self-development," while Horizon Robotics demonstrated its capabilities with the first mass-produced intelligent driving project using the Journey 3 chip.
The release event that day was bound to be unforgettable for both teams.
Standing on stage, Li Xiang rarely delved into the details of the collaboration with Horizon Robotics, mentioning how engineers from both companies worked tirelessly day and night together to solve pressing issues. Finally, Li Xiang added:
"Horizon Robotics is the most cooperative and professional chip supplier team I've ever seen."
Almost every Horizon project member watched the launch event simultaneously. Li Xiang's unexpected endorsement brought tears to the eyes of Horizon employees, "The recognition from an automaker proves that our efforts have not been in vain."
After the new release, Lixiang ONE's intelligent driving performance quickly gained market recognition, ranking first in the 2021 Car Understanding Emperor's Annual AEB evaluation and achieving over 10,000 deliveries in November 2021. This is also the first time a Chinese luxury vehicle with a starting price over 300,000 yuan has achieved more than 10,000 deliveries in a single month, becoming the preferred choice for Chinese mid-to-large SUVs and family users.
Both Lixiang, a new-energy vehicle company, and Horizon Robotics, an emerging chip manufacturer, were established in July 2015. Instead of clinging to respective "giants" in their fields, they supported each other's growth through two "mutual commitments."
Childhood friends, setting off on a new journey together
Following the 2021 Lixiang ONE project, the relationship between Horizon Robotics and Lixiang Automobile quickly evolved from an ordinary supplier-automaker relationship into a deeply trusted and collaborative partnership.
On the Lixiang AD Pro project, the two sides deepened this relationship even further, successfully creating a "production-on-board sample" for a domestically produced high-performance chip, achieving exceptional delivery efficiency.
Horizon Robotics and Lixiang Automobile appear to have assigned employees from each company, but in reality, they acted more like a single team, with both parties working together through In-House collaboration.
"From HR departments and finance departments to sales and strategy departments, both companies know each other well. You can imagine to what extent our organizational relationships have penetrated," said Yu Yinan.
If Horizon Robotics and Lixiang Automobile's collaboration in 2020 can be considered as the beginning of each other's growth, they are now embarking on an even more significant journey together.On March 24, 2023, Lixiang Automotive reached a historic milestone. Since December 2019, it has delivered over 300,000 vehicles in just 39 months, setting the fastest sales record for a luxury brand among domestic new energy vehicle makers. Its current models are priced within the range of 300,000-500,000 yuan, achieving a market share of nearly 20%.
Li Xiang predicts that in 2023, the company will officially enter the "from 1 to 10 stage," marking a new growth phase for Lixiang Automotive as it sets its sights on achieving a 100 billion yuan revenue scale and climbing the ranks of world-class automakers.
On the other hand, Horizon Robotics has also reached a new milestone. Since the start of mass-production in 2020, the total shipment volume of Journey processors has exceeded 2.8 million units.
Third-party data reveals that in China's L2+NOA smart drive domain controller chip market in 2022, Horizon Robotics ranked first with a 49.05% market share, surpassing NVIDIA.
Horizon Robotics has established partnerships with over 20 mainstream automakers, and achieved a landmark breakthrough in 2022, setting up a joint venture with Volkswagen Group. Thus, Horizon Robotics has successfully entered the international arena.
In 2020, in the offices of Horizon Robotics and Lixiang Automotive working together on the 2021 Lixiang ONE project, a banner hung with the words "Racing towards new horizons, achieving everyone's ideals."
In 2022, at the launch event of Lixiang AD Pro project, a new banner was posted, reading: "Recreate Lixiang's glory and head towards new horizons."
These slogans, initially meant to inspire the teams, have now quietly become a reality.
There is a type of friendship called "childhood sweethearts, innocent of heart." Looking back on the journey of cooperation between Ideal Auto and Horizon, it is just like that – mutual support, fighting side by side, growing together, and finally stepping into a broader world.
Such "mass production vehicle samples" bring many insights to the industry.
Firstly, the intelligent transformation of the automotive industry has brought new changes to the mode of industrial cooperation:
Traditional chain-based division of labor in the industry is shifting towards a network structure. The future competitive advantage in the field of intelligent vehicles will be reflected in the collaborative innovation and rapid iteration of the industrial chain. Only in this way can the greatest potential of both parties be realized.
The collaboration between Ideal Auto and Horizon demonstrates that, in the era of intelligent electric vehicles, the entire automotive industry ecosystem is being comprehensively restructured, gradually moving towards a diverse, networked, and cross-functional structure. The relationship between suppliers and automakers will no longer be strictly hierarchical and clearly defined. Instead, various participants will form interdependent, interwoven, and complex relationships.
In the future, only flexible, open, and deep collaborative business relationships can adapt to the demands under the trend of automotive industry transformation.
"Each automaker or partner's needs differ. Horizon is willing to constantly explore everyone's needs, adhering to an open cooperation, full dimension altruism, and win-win path… with 'chip + algorithm + toolchain' as the cornerstone, Horizon firmly embraces the ecosystem, positioning itself at the foundation of China's intelligent automotive industry and becoming the industry's greatest common denominator," said Yu Kai.
Secondly, a similar mission, vision, and set of values are the foundation for a lasting partnership.
During the project execution process, various challenges and difficult situations will arise. At these moments, both parties can only overcome difficulties and achieve victories by reaching a consensus at a higher dimension.
When Yu Kai founded Horizon, there was internal disagreement. Should Horizon be a company guided by technological innovation or by customer value?
The reason for such debate was that Yu Kai himself has a scientific background. Logically, his stance should be centered around innovation. However, when he ventured into entrepreneurship and became a business leader, he realized that creating value for customers was what the market truly needed.
In the end, Yu Kai leaned towards the latter. To this day, within Horizon's headquarters located in Beijing's Zhongguancun Yongfeng Industrial Park, one can see the eight characters "customer success, enduring loneliness" on their corporate culture wall.Translate the following Chinese Markdown text into English Markdown text in a professional manner, preserving the HTML tags in Markdown, and only outputting the result.
"`
"For businesses, 'achieving customer success' is more important than 'customer first.' With a 'customer first' approach, you can satisfy customers temporarily and please them in the moment, but you can't ensure their long-term and sustained success. 'Achieving customer success' is more focused on long-term values than 'customer first,'" Yu Kai once explained.
Ideal Motors closely aligns with Horizon Robotics in this regard, except that the former uses the term 'user' instead of 'customer.' Li Xiang has mentioned 'creating user value' multiple times, and since the company registration in 2015 under the name 'Beijing Chehejia' (later renamed to Ideal Motors), Li Xiang was determined to create a moving home for users and build a happy home.

In the 2023 New Year's internal letter of Ideal Motors, Li Xiang emphasized the importance of always putting user value first. Companies need to fully understand users and delve into various fields – such as technology, industry, culture, and sociology – to gain insights and explore deeper values, thinking further ahead than users and constantly create valuable products and services.
Under the same corporate culture, Horizon Robotics and Ideal Motors have been hand in hand on this journey.
Finally, high-quality collaboration must involve deep mutual learning and exchange. Companies across the industry chain need to dynamically observe the external environment, minimize their blind spots, and adjust their development trajectories.
This has been the case between Horizon Robotics and Ideal Motors. As Zhao Zhelun mentioned, making Ideal AD Pro a standard feature resulted from both parties' consensus on maximizing 'user value' after discussions.
Zhao mentioned that assisted driving has become the most basic application in the era of intelligent electric vehicles, noting, "Today, not using NOA function while driving on highways is like a high-rise building without an elevator." (Lang Xianpeng, Vice President of Intelligent Driving at Ideal Motors, recently shared this view.) Thus, Ideal Motors is determined to let every user enjoy the 'intelligent driving' elevator.
As for choosing not to charge for this feature, it is because intelligent driving technology is still in the developmental phase, and users have no anchored psychological price for it. Charging for it prematurely would only deter them from trying out this new feature, leaving them to 'climb the stairs' instead.Thus, making Ideal AD Pro a standard feature is the optimal choice for maximizing user benefits.
Yuyi Nan strongly agreed, suggesting that Horizon Robotics aims to create products that serve not only a few people but are accessible to the majority. "The ultimate goal of a company should be to create the greatest possible user value, which can be expressed as the value per customer multiplied by the total number of customers. Therefore, only by making intelligent driving a standard feature can this total be maximized."
Since they do not directly face the users, from the supplier's perspective, Horizon Robotics' approach of promoting "standard features" is to provide customers with products that have excellent cost-performance ratio, ensuring the best experience at the same configuration and the lowest cost for the same experience.
"This is an optimal balance between price and performance, as well as a transition of the intelligent driving system from being "usable" to "enjoyable," and ultimately making users "love using it.""
Looking at the result, Horizon Robotics has undoubtedly accomplished this.
From Horizon Robotics to Ideal, the mutual appreciation and trust between the senior management of both parties have facilitated project cooperation between their respective execution teams. In the process of project implementation, the teams have learned from each other through practice, enriching the highest level of strategic development understanding from the bottom up.
Some time ago, Li Xiang, at a spring media briefing, referred to Horizon's BPU as the vehicle smart chip and mentioned the Software 2.0 concept, which is similar to the notion propagated by Horizon Robotics.
Returning to Horizon Robotics' media briefing, someone asked, "Will there be new cooperation and possibilities between Ideal and Horizon Robotics in the future?" Zhao Zhelun and Yuyi Nan looked at each other and smiled, saying in unison: "Stay tuned."
It is not difficult to guess that this youthful duo, who have been together all the way, is about to embark on a new journey.
This article is a translation by ChatGPT of a Chinese report from 42HOW. If you have any questions about it, please email bd@42how.com.