Author | Zhang Ruichen
Editor | Pan Tan
On the morning of April 10th, NIO founder, chairman, and CEO Li Bin and NIO co-founder and president Qin Lihong jointly held a media communication meeting about NOP+ and battery swap rights. At the event, NIO announced the subscription price for the enhanced NOP+ Pilot Assist and stated that it is expected to launch officially and accept subscriptions on July 1st. The subscription method supports monthly subscriptions with a price of 380 yuan per month.
All NIO second-generation technology platform vehicles come standard with the Aquila Supersensing system and the Adam Supercomputing platform, allowing all users to enjoy 23 safety and driving assistance features, including Lane Centering Control (LCC), Automatic Emergency Braking (AEB), and Near-range Summon (NBS). The enhanced NOP+ Pilot Assist will bring users an industry-leading intelligent driving experience on highways and urban expressways. In addition, the Highway NOP Battery Swap function, which intelligently navigates to battery swap stations on highways, autonomously completes battery swaps and automatically exits service areas to return to the highway, will also be provided and gradually cover nationwide highway battery swap stations.
NOP+ User Feedback Plan:
Moreover, NIO announced adjustments to the battery swap rights for new vehicle buyers at today's meeting.
Starting from June 1, 2023, for first-time owners who pay deposits to purchase NIO ET7, ES7, EC7, and ET5 models, charging piles will be adjusted to purchase and installation fees, and the number of free battery swaps per month will be uniformly adjusted to 4 times.
For customers who paid deposits before May 31, 2023 (inclusive), to purchase the aforementioned models and for new ES8 model customers who paid deposits before July 31, 2023 (inclusive), the first-owner rights remain unchanged. They will still enjoy 4 or 6 free battery swaps per month based on whether the free charging pile is installed.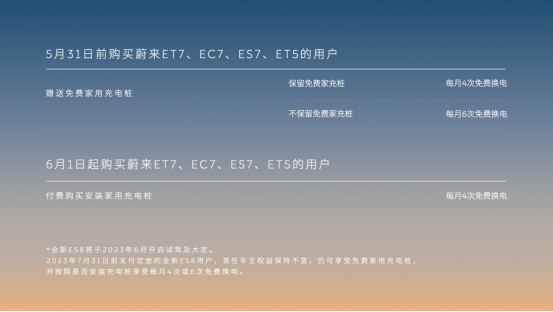 Finally, Li Bin briefly outlined his vision for charging and battery swap infrastructure development in 2023.
Li Bin stated that NIO previously announced it would add 1,000 battery swap stations and 10,000 public charging piles this year, with a cumulative total of more than 2,300 battery swap stations and over 24,000 public charging piles by 2023. This will bring NIO's vision of "making charging more convenient than refueling" closer to reality.
Long-time NIO users may be aware that NIO has always adopted an early-bird policy, with those who purchase earlier enjoying more benefits. This is evident from the recent changes in entitlements. The best time to buy a NIO was before October 12, 2020, when everyone could enjoy unlimited free battery swaps for life. This entitlement follows the owner, not the car, allowing users to continue enjoying these benefits even after changing to a different NIO vehicle. With an increasing user base and the company's focus on cost-effectiveness and efficiency, it is expected that NIO's free benefits for users will progressively decrease. For example, previously there were six free battery swaps per month, but now starting from June, there are only four.
Thus, it will be optimal to buy a NIO in April and May of this year as the related perks will save you around RMB 30,000. Anyone who purchases a NIO after that will need to spend an additional RMB 30,000.
Now onto the highlight of the event – the classic Q&A session for NIO cars. Below are a few selected questions and answers:
Question: Can you share any progress on the development of your mobile phones?
Li Bin: NIO focuses on creating the best car-matching, in-vehicle smartphone as an excellent user experience, rather than selling to all consumers. Non-NIO users are not the target audience. Many people are exploring this field, so we believe that it is necessary to engage in such innovation, which is undoubtedly easier than making cars.
Question: As automakers are competing on price, do NIO's reduced entitlements equate to a disguised price increase? For NT2.0 users who do not subscribe to NOP+, what significance does the standard hardware have?Qin Lihong**: Indeed, this equity adjustment seems to be a bit of a contrarian price increase, but ultimately the price reflects the value. We hope that NIO's product prices remain stable, returning to the value of the product itself. In fact, NIO's energy replenishment system is continuously improving, and the four battery swaps have already met the needs of nearly 90% of users. Even if a few more swaps are needed, it's just the cost of a few cups of milk tea.
Li Bin: The intelligent driving-related hardware equipped on the vehicles actually plays a role in our standard 20+ assisted driving features, not going unused. Of course, simpler hardware can also accomplish these tasks, but high-performance hardware has stronger capabilities. Even in some of the standard features of assisted driving or basic functions like AEB, it can perform better. So from our perspective, users have already benefited.
Question: Does this adjustment mean that the company is starting to pay more attention to efficiency? Can the staff of the second-generation station be reduced to improve efficiency? What actions will be taken in 2023 to enhance efficiency?
Li Bin: We've always attached great importance to efficiency, but our understanding of efficiency as a systematic concept may be different from others'.
Currently, NIO's overall automatic battery swap success rate is getting higher and higher, and many operational challenges must be overcome. With the arrival of the third-generation stations, the interaction experience between the car and the station will be even better. In the long run, fully automatic battery swaps will be implemented, which can increase the operating hours of charging stations and reduce the company's operating costs. It will focus on station maintenance, rather than investing a lot of manpower resources like the first-generation stations.
For 2023, in terms of efficiency improvements, for R&D, user service management, and internal management, efficiency enhancement and pace are two keywords for 2023. We place more emphasis on systematic efficiency, and enhancing efficiency doesn't mean reducing staff, but rather we hope our current team can develop more products. Some outcomes may be visible this year, while others may not be seen until next year or the year after. In any case, our goals will become clearer, and target setting will be more focused.
Question: Currently, automakers mainly focus on battery swaps, but the voices at the Hundred People Club suggest that ultra-fast charging is more feasible?
Li Bin: NIO is the most resolute brand in terms of charging deployment; it offers charging, swapping, and upgrading capabilities, giving the choice to the user. There is no energy replenishment method faster than battery swaps currently, so from this perspective, battery swaps are the ultimate solution for large-capacity recharging. For NIO, charging and swapping are integrated, without abandoning charging. Although the long-awaited 150kWh battery pack capacity version of the vehicle has been delayed, we hope that it will be officially released in the first half of this year.Question: What is NIO's VAU like? How is the focus divided between software and hardware development, Alps, mobile business, and other fields in a week?
Li Bin: For NIO, increasing vehicle sales is the VAU focus in Q2, while the annual VAU target is launching five new models, along with the development of NT3.0 and European business expansion, and of course, enhancing internal organizational efficiency.
Most of the time is dedicated to R&D as the scope and depth of it is quite extensive. Certainly, a significant amount of time is spent on the Alps, with roughly a day per week on related matters, while the focus on mobile business is minimal.
Question: Can you reveal any information about the Shanghai Auto Show?
Qin Lihong: In short, our second-generation platform will be fully presented at the Shanghai Auto Show (except for one model debuting in July), including the brand new ES6. Within the next three months, we will launch five new models and deliver two of the released models.
This article is a translation by ChatGPT of a Chinese report from 42HOW. If you have any questions about it, please email bd@42how.com.