Author: Bai Zhengming
With winter coming to an end, the occasional pleasant weather stirs one's longing for spring.
A similar seasonal shift seems to be reflected among new energy vehicle manufacturers, as the freshly released March 2023 delivery figures bring a breath of hope. With the phase-out of national subsidies and fluctuations in battery prices becoming a thing of the past, good products that meet market demand rightfully enjoy good fortune, and even companies that don't always have smooth sailing seem to be able to leave their darkest moments behind.
Perhaps Ideal is the most relaxed emerging brand after the announcement of March's delivery results.
In March 2023, Ideal delivered a total of 20,823 vehicles, forming a growth curve since January, and the cumulative delivery figure for Ideal Automobile exceeded 300,000 units this month. Li Xiang said that Ideal already holds nearly 20% of the SUV market share in China within the price range of 300,000 – 500,000 yuan.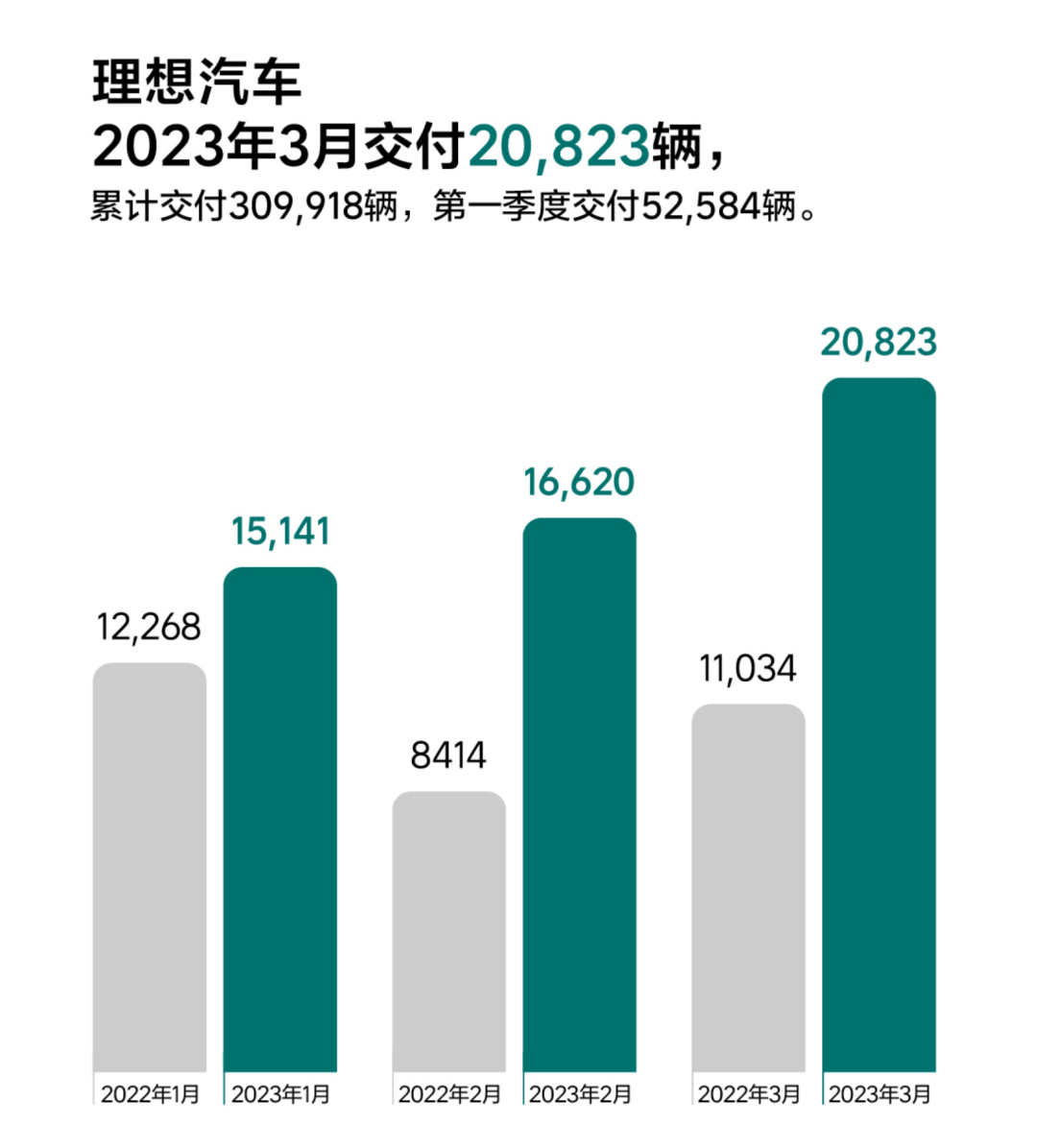 After exceeding 20,000 units for the first time in December last year, but then declining in early 2023, Ideal had faced doubts about "overdrafting the market," but the newly announced results provide the best response. Adhering to their long-standing commitment to family-use car products, coupled with the delivery of the Ideal L7 in March, the brand ultimately achieved excellent performance.
According to Li Xiang's statement at the Ideal Automobile Spring Media Communication Conference in early March, by 2024, Ideal's monthly delivery volume will reach 30,000 – 40,000 units. At that time, Ideal plans to launch a new car priced between 200,000 and 300,000 yuan, which will continue the core technology and platform advantages of existing models, only reducing its size without lowering its product capabilities.
Ideal's press conferences are appealing, and so are their report cards.
With organizational restructuring and steady advancement of new products, XPeng finally feels the warmth in the flourishing season.
XPeng Motors delivered 7,002 vehicles in March, although not reprising the five-figure delivery number from last December, it still constitutes a continued growth performance for the first three months of this year. The P7, once the "fixed point" in XPeng's advancement, still plays a key role after the launch of new models P5 and G9, as well as the revamped P7i aimed at different markets, delivering 3,030 units in March.
Since the end of 2022, XPeng Motors has not only revised its configuration naming but also made noticeable changes in its management team. Wang Fengying, with 30 years of industry experience and formerly Great Wall Motors' General Manager, has served as XPeng Motors' President since the end of January. Rumors of co-founders Xia Heng and He Tao undergoing career move changes and reshuffling of several top positions are evident. How much vitality this will inject into XPeng will soon be revealed.
Even in the lingering cold, XPeng's intelligent cockpit and autonomous driving continue to gain reputation and provide superior experiences. Starting from March 31, the first stage of XPeng's XNGP capabilities has been rolled out for G9 and P7i users, inaugurating China's all-scenario assisted driving era – emancipating from the strong reliance on highly-accurate maps and covering urban, highway, and parking lot autonomous driving needs altogether.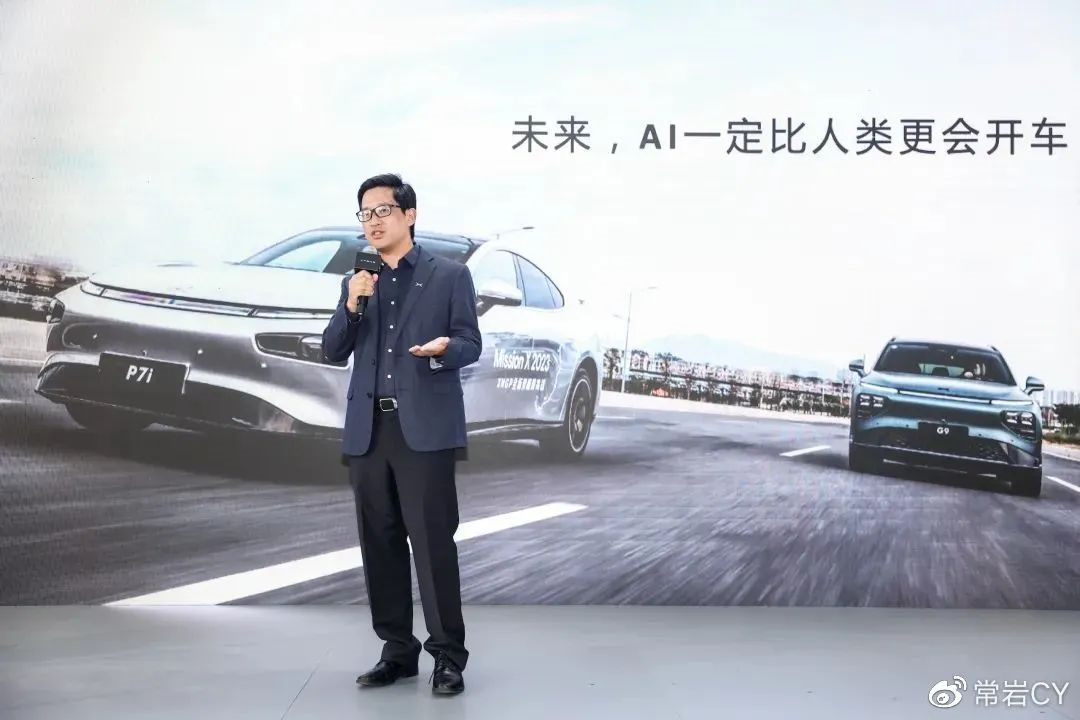 With positive feedback on XNGP and the promotion of XPeng G6, XPeng Motors seems to be heading towards a promising 2023.
Months after the debut of new platforms and vehicles, NIO has yet to seize a brighter future.
NIO delivered 10,378 vehicles in March, with 3,203 SUVs and 7,175 sedans. Li Bin once mentioned in the third quarter of 2022 earnings call that NIO aims to reach a peak monthly delivery of 20,000 units by December that year. However, due to a series of factors, we have not yet seen NIO achieve this goal.
NIO has also released a series of figures, hoping to prove that the service system it has built is being used frequently by its customers: NIO users have completed a total of 20 million battery swaps, with a daily average of over 45,000 swaps. By the end of this year, the number of NIO battery swap stations will exceed 2,300, while the scale of newly-added charging piles will also exceed 10,000.
NIO seems to have entered a plateau phase, with the commencement of deliveries for the "775" new vehicles, the third-generation charging stations, new products on the NT 2.0 platform, and active promotion of the European market construction. However, no direct change in delivery figures has been seen. During NIO's 2022 earnings call on March 1, Li Bin stated that the sales target for 2023 is to double that of 2022, reaching over 240,000 units.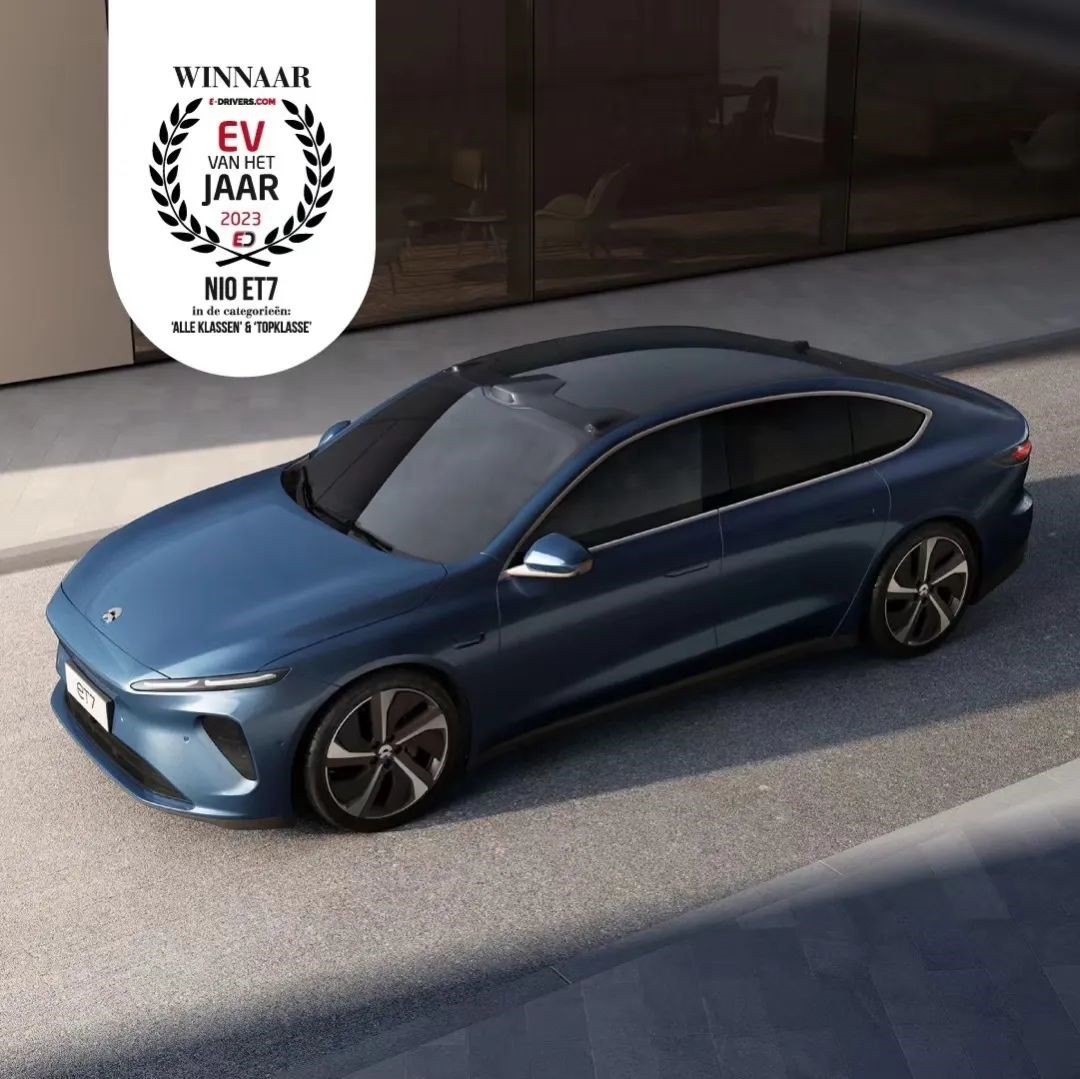 At the 2023 China EV100 forum, Li Bin refuted the speculation that NIO would lower prices to boost sales: "Your value must justify the price, rather than blindly pursuing low prices, which may not necessarily be good for the industry."
According to data from the China Passenger Car Association (CPCA), Tesla China delivered 88,869 new vehicles in March 2023, with domestic deliveries likely around 75,000 units.
Tesla's global production also set a new historical high, producing 440,808 units and delivering 422,875 units. However, even more attention should be paid to Tesla's moves in China. The new Model S/X has begun deliveries domestically, introducing the locally-demand-driven accessory CyberVault, and news of FSD finally being implemented in China is emerging one after another, suggesting that this market may receive more focus.
Since the second half of last year, Tesla has launched a new round of price reduction promotions for the Model 3/Y in China, with steadily increasing delivery figures as the most potent evidence. However, the delivery volume also proves that despite a considerable number of negatives, Tesla remains highly competitive in China's automobile market within 300,000 yuan.
With production costs likely half of Model 3, the all-new entry-level Tesla model is confirmed to be equipped with a 53kWh battery and HW 4.0. The eagerly anticipated Full Self-Driving (FSD) without the beta suffix is also on its way. All that seems to be left for Tesla to surpass is itself.
BYD remains the same, selling 207,080 vehicles in March, including 13,312 passenger cars sold overseas.
It's worth noting that 103,419 DM hybrid models and 102,670 EV pure electric models were sold. Consumers may not care much about the specific powertrain composition of the vehicle; cabin space, terminal sales price, and attractive usage costs are more significant concerns for the general public.
Dynasty series and Ocean series models sold a total of 195,691 units, an increase of 87.6% compared to the same period last year, reflecting the changing market trends. The Qin series sold 40,850 units, Dolphin model sold 30,077 units, Hans-Tang series sold 25,683 units, and Song Plus series sold 31,510 units. These numbers provide the answer to what people's cars are all about.
It seems that Tengshi has found a more optimal solution for domestically-produced new-energy luxury MPVs, with Tengshi D9 delivering a sales volume of 1,039,800 in March, retaining its position as the best-selling new-energy luxury MPV priced above 350,000 yuan for three consecutive months. The increasingly frequent presence of Tengshi D9 on the road demonstrates the positive progress of BYD Group's product strength and brand value towards the higher-end market.
In March, Jikra delivered 6,663 units, an increase of 271% compared to March last year, with cumulative deliveries exceeding 93,000 units.
However, we still remember that from October to December 2022, Jikra achieved a monthly peak delivery of over 10,000 with just the Jikra 001 model. Backed by the Geely Group and Jikra's unique appeal, returning to over 10,000 deliveries should simply be a matter of time.
In March, Jikra offered a limited-time free upgrade package to new Jikra 001 users, including Polar Blue exterior, high-performance air suspension kit, Z-Sport Advanced Sports kit, CNY 20,000 worth of optional equipment fund, and lifetime free charging benefits, with a maximum value of up to CNY 80,000. In the coming months, we may see the changes in deliveries brought about by the revised model and promotional actions.
The Jikra 009 rear-end collision incident verified the safety of this luxury MPV, and the new car, Jikra X, continues the brand's signature aesthetic pursuit. There are still many opportunities for this high-end new-energy brand under the Geely umbrella. Jikra's CEO, An Conghui, revealed that Jikra 001, 009, and Jikra X are expected to deliver 70,000, 30,000, and over 40,000 units respectively this year, with the brand's total annual deliveries possibly reaching 140,000 units.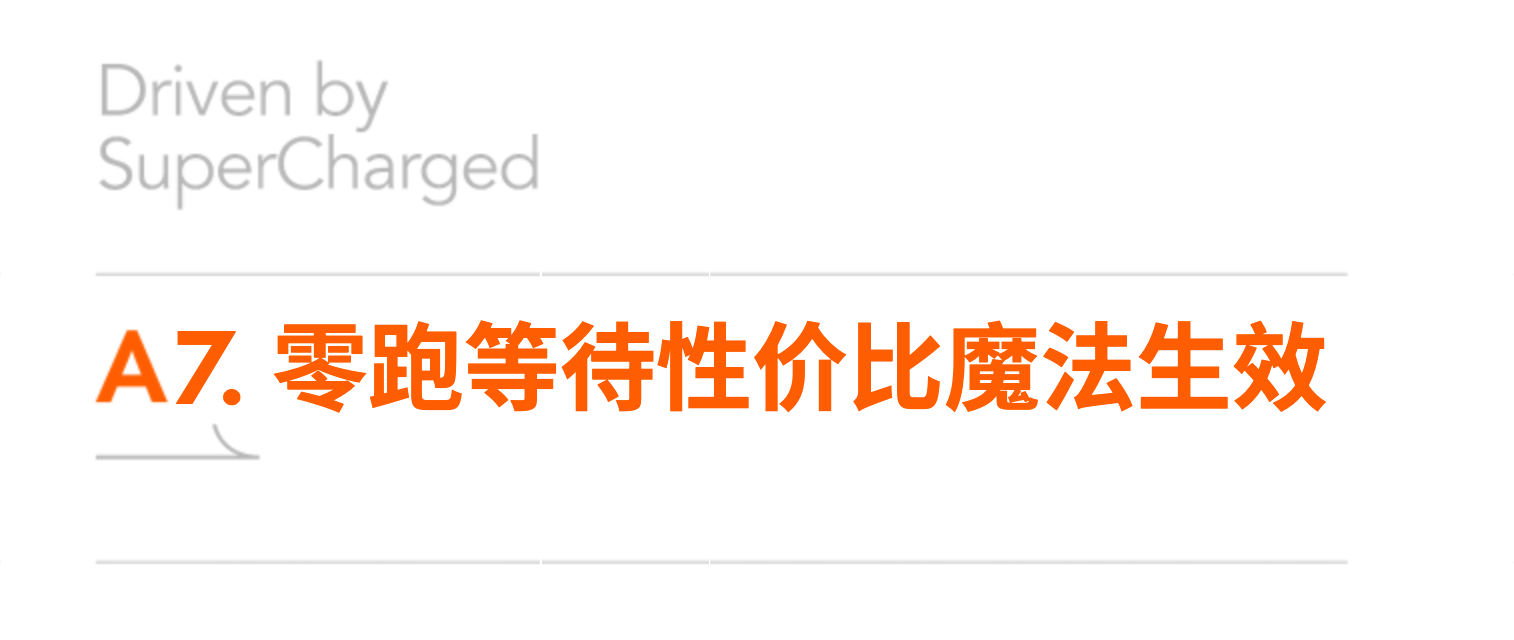 Leap Motor delivered 6,172 units in March, a notable decline compared to 1,139 units in January and 3,198 units in February.
For Lixiang, cost-effectiveness is a crucial term. The Lixiang T03, with its larger space and lower price in the A00 class of pure electric subcompacts, drew an impressive growth curve before its launch. At the 2023 model launch event on March 1st, Lixiang attempted to replicate its success with a lower-priced, similarly configured approach, but the results remain to be seen.
The increase in March delivery numbers has raised expectations for Lixiang. However, the effect of the reduced specifications and pricing in the 2023 models on consumer sentiment will become a major factor influencing subsequent delivery changes.
In March, NEZZA Auto delivered 10,087 vehicles. At first glance, it may seem less remarkable than the 12,026 units in February 2022, but when compared to NEZZA Auto's delivery performance in recent months and the challenges faced by other emerging brands during the same period, these results have their own highlights.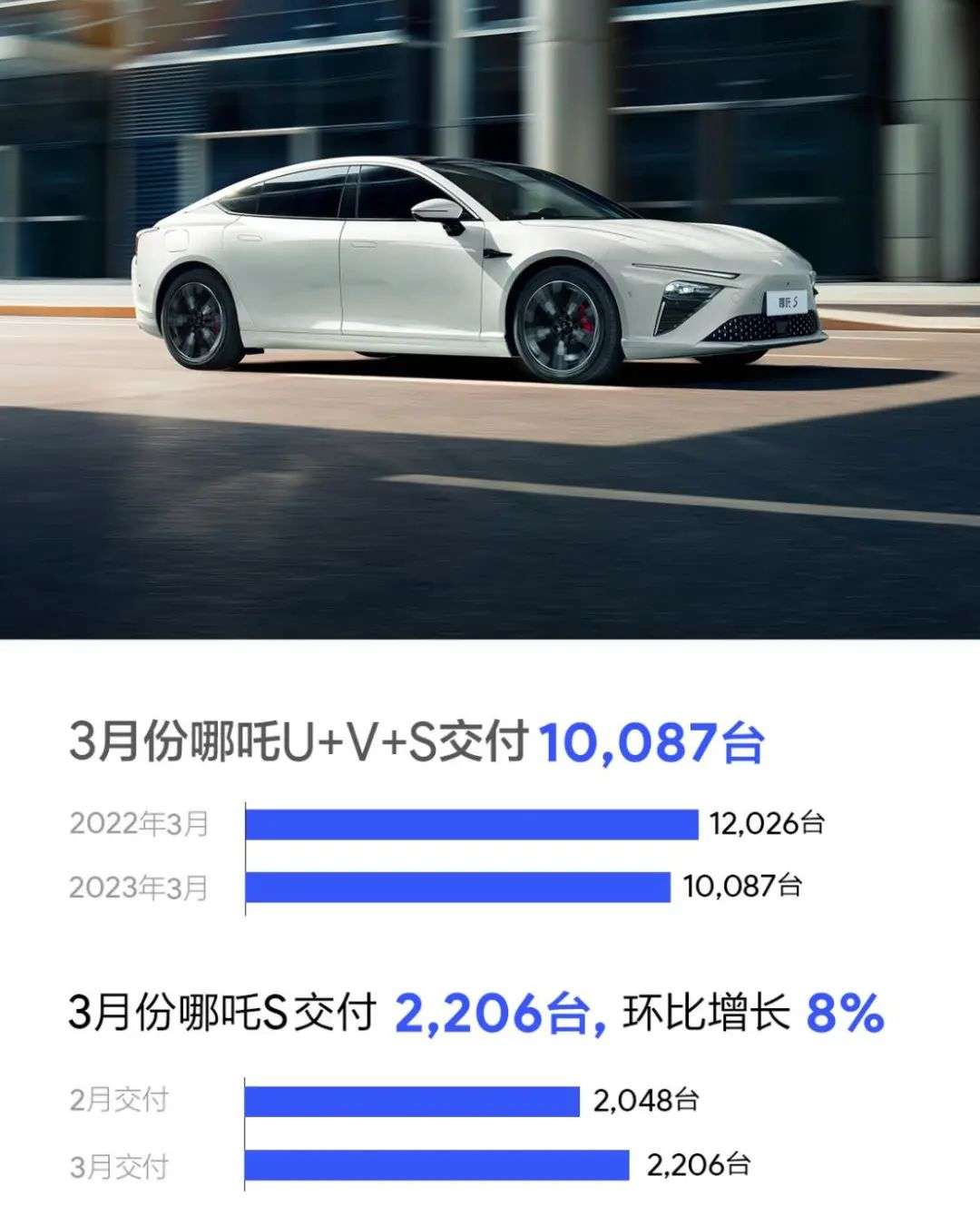 Currently, NEZZA offers SUV models in the U and V series and the sedan-styled NEZZA S for consumers. As a brand that achieved significant volume with cost-effective models priced around 100,000 yuan, the upscale exploration of the NEZZA S, which delivered more than 2,000 units in both February and March, may suggest that the higher-end sports car NEZZA GT will bring further diversification.
Changes in national subsidies and battery raw materials have impacted the delivery volumes of many brands, particularly those following a cost-effective strategy. Lixiang and NEZZA, with one focusing on cost-effectiveness and the other on pursuing higher-end exploration, will determine in 2023 which path leads to a true "Exodus" story in new energy.
By the time of publication, the delivery figures for the Wanjie brand have not been disclosed, but the CPCA's statistics of 3,779 wholesale sales for the Cyrus might serve as a reference.
In the gaming world, there is always the saying "each generation has its own legend," and with the changing market environment, the competitiveness of car models in reality will also change. The delivery figures of the Wanjie brand may be related to this, and the lifecycle of the platform itself, coupled with the arrival ofan upcoming model with enhanced autonomous driving, have all had some impact on performance, but no one can deny the positive influence brought by Huawei.
The "HUAWEI Wanjie" will not reappear, but both the industry and consumers have realized the amount of energy that the leading players in the consumer electronics field can radiate to smart cars. The updated M5 and the "Huawei-rich" M9 are both on the way, and by then, a more accurate evaluation of the Wanjie brand may be possible.
(END)
This article is a translation by ChatGPT of a Chinese report from 42HOW. If you have any questions about it, please email bd@42how.com.