Author | Zhang Ruichen
Editor | Pan Tan
On the evening of April 7, Chery Automobile held a press conference with the theme of "Technology Evolution – Chery Automobile New Energy Night 2023", showcasing its achievements and strategic planning in the new energy field from multiple angles with new strategies, technologies, brands, and models.
The press conference mainly focused on the launch of Chery's new energy strategy, new energy technology, third-generation hybrid technology and new hybrid models, the global debut of Exeed's new pure electric series, and the launch of Chery's first new energy pure electric brand.
Below, let's take a look at the main content of the press conference:
Chery New Energy Strategy
In 2022, Chery Group achieved four historical firsts: first, sales volume surpassed one million for the first time, reaching 1,232,700 units; second, revenue surpassed 200 billion for the first time, reaching 208.6 billion yuan; third, exports surpassed 450,000 for the first time, reaching 4.51 million units; finally, new energy vehicle sales surpassed 200,000 for the first time, achieving 233,000 units.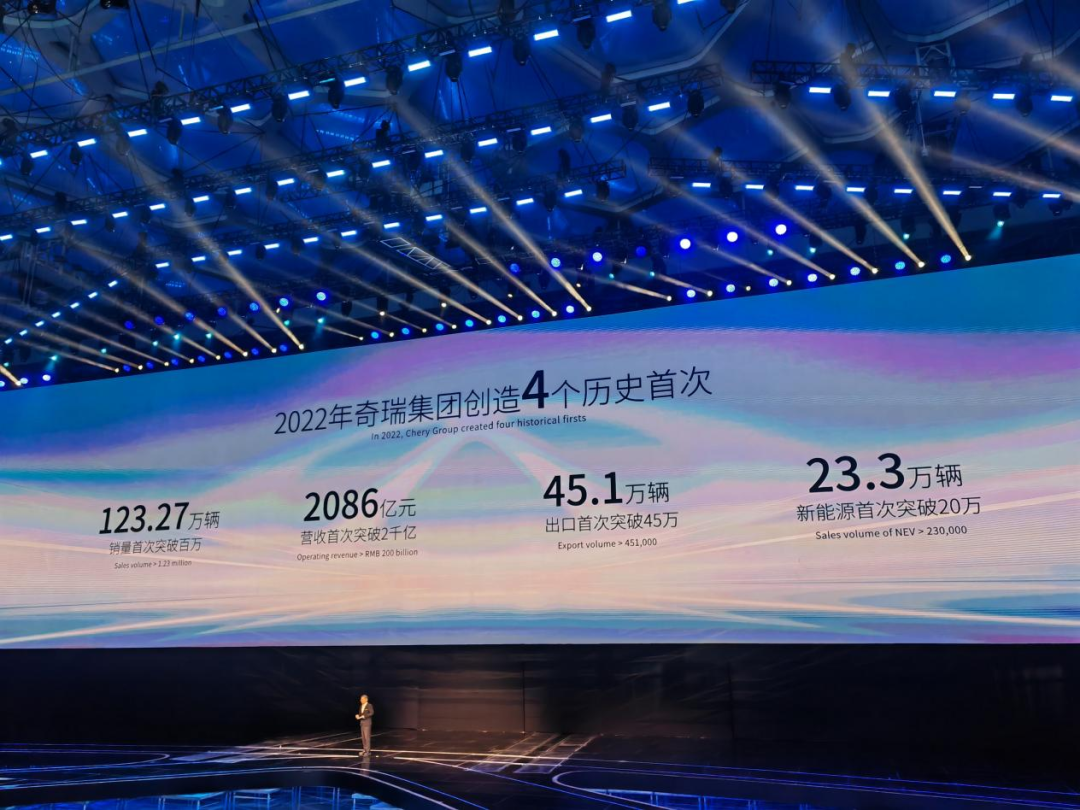 Next, Chery plans a comprehensive transition to new energy. Chery will target millions of families, Exeed will target the high-end market, Jetour will focus on the "Travel +" niche market, and ICAR and Xingjiyuan will satisfy diverse user needs.
In the field of new energy, Chery's advantages include: years of dedication to the automotive field (engineering spirit), adopting user suggestions (user co-creation), expanding new industrial ecology and developing new business model eco-technology, OEM technical foundation, new force technological innovation, and user operations advantages.
In terms of new energy technology investment: Chery has more than 300 Yao-Guang laboratories, over 100 billion yuan in R&D investment, and over 20,000 R&D personnel.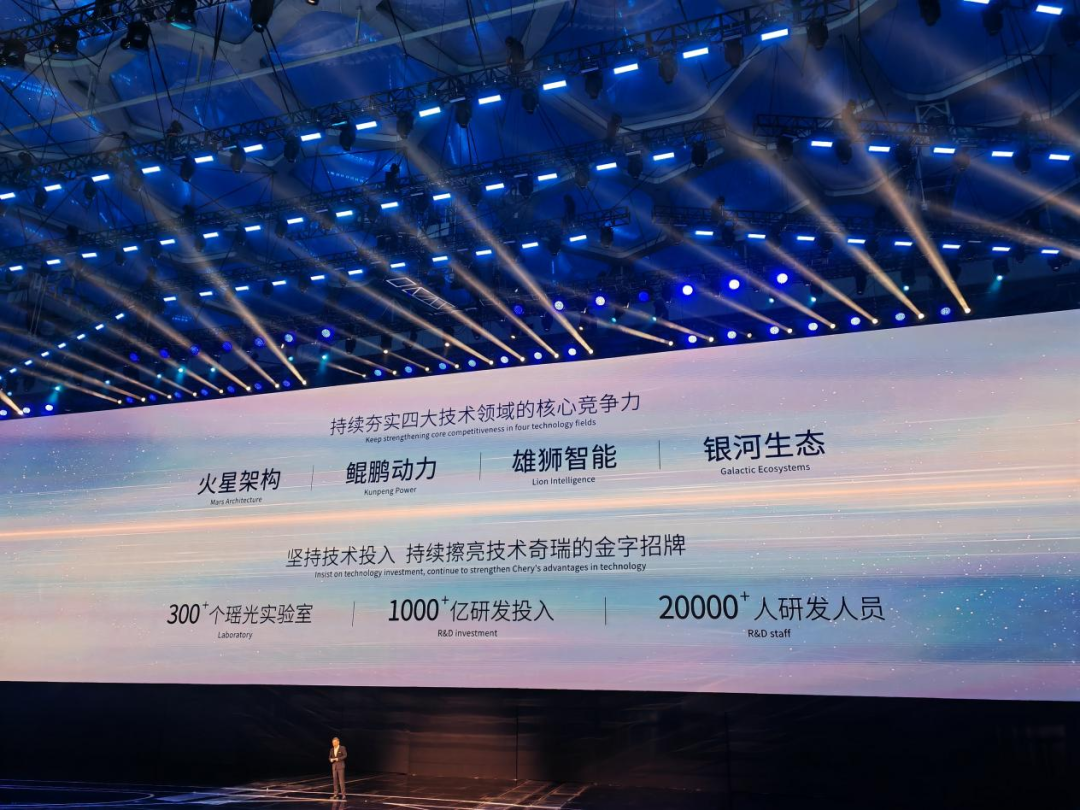 Technically, Chery Auto currently possesses 15 core technologies in 4 major technical fields: Mars Architecture, Hounpeng Power, Xiongshi Intelligence, and Galaxy Ecosystem. This year, Chery Auto is expected to launch over 135 technological innovations for users, including a super hybrid platform, a high-performance electric platform, and intelligence and ecology, aiming to achieve over 1000 technological innovations by 2025.
As a Chery Auto developing towards electrification and intelligence, it has eight core technologies: hybrid-specific engines with a maximum thermal efficiency of over 44.5%, three-step and stepless electric hybrid DHT gearbox, full-cycle full-temperature full-scenario battery, 800V high-voltage platform electric drive, CHERY-OS operating system, Xiongshi Zhiyun 6.0 with Qualcomm 8155/8295, multi-scenario point-to-point intelligent driving, and a 1+3+N galaxy ecosystem.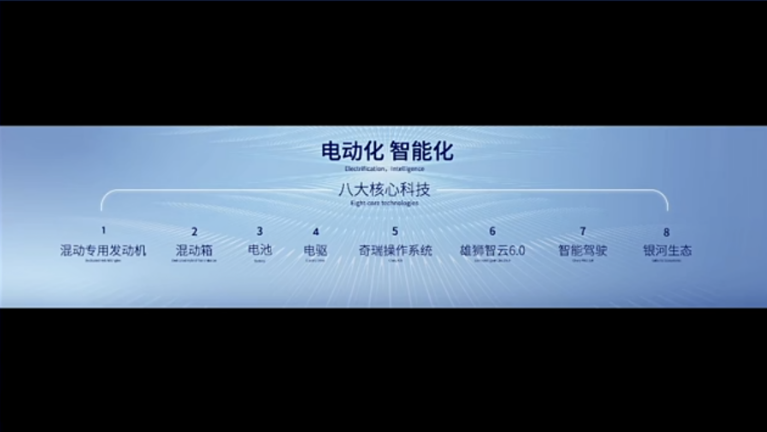 Chery launches a new pure electric vehicle brand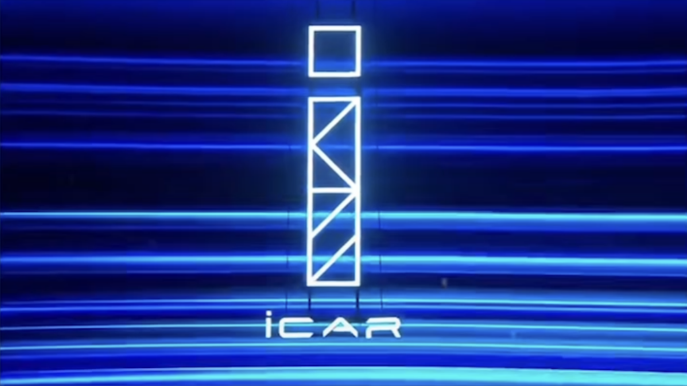 The new ICAR brand is introduced through a promotional video, with the opening line, "Looking up at the stars, exploring with all our might…" Similar lines have been heard from BYD's "looking up" and Geely's "galaxy." Why do traditional domestic automakers associate with the sky when transitioning to new energy vehicles?
ICAR is Chery Auto's fourth brand, and its all-new GT and S56 models will make their global debut at the brand night in Shanghai on April 16. The brand, with its focus on independence, creativity, and freedom, will guide new energy vehicles towards a larger degree of latitude in the competition, covering models such as sedans and SUVs. It will also provide system-scenario intelligent solutions, achieving a transformation from "people seeking functions" to "services seeking people."
Star Epoch: The all-new pure electric series by Xingtu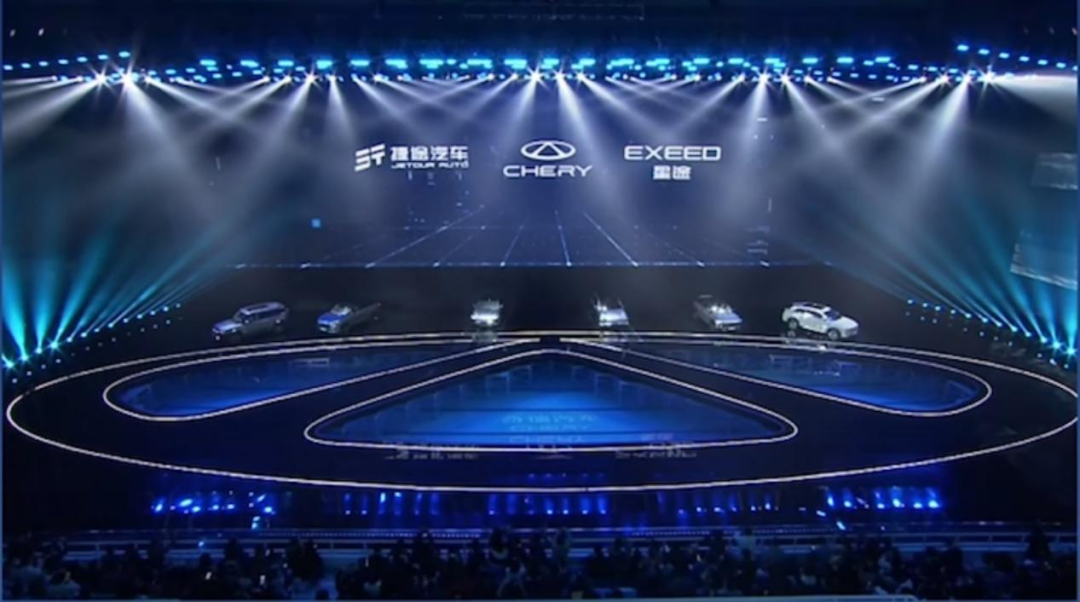 Star Era | STERRA is the brand-new pure electric series of the Xingtu brand, which will encompass multiple products including sedans, SUVs, and MPVs, with both pure electric and plug-in hybrid options. Similar to BYD's F series, it targets the high-end market with prices ranging from 200,000 to 500,000 RMB.
The naming convention of the Star Era | STERRA series will be STERRA + English letter combination. The first pure electric B-segment sedan, STERRA ES, and the first pure electric B-segment SUV, STERRA ET, have officially been unveiled, both built on the E0X platform.
The versatile E0X platform can accommodate compact cars, midsize sedans, large sedans, SUVs, and MPVs, and also supports plug-in hybrid models in addition to pure electric ones. It features 800V high-voltage fast charging, intelligent cabin, low air resistance, spacious interior, and air suspension system, with the first model expected to hit the market in April this year.
Interestingly, a representative responsible for energy at the event demonstrated the first charging trial of the new Xingtu brand product. According to my rough calculations, it took about 14 minutes to charge from 31% to 79%, in line with Chery's official introduction of charging for 5 minutes to drive over 150 km.
Whale Super Hybrid C-DM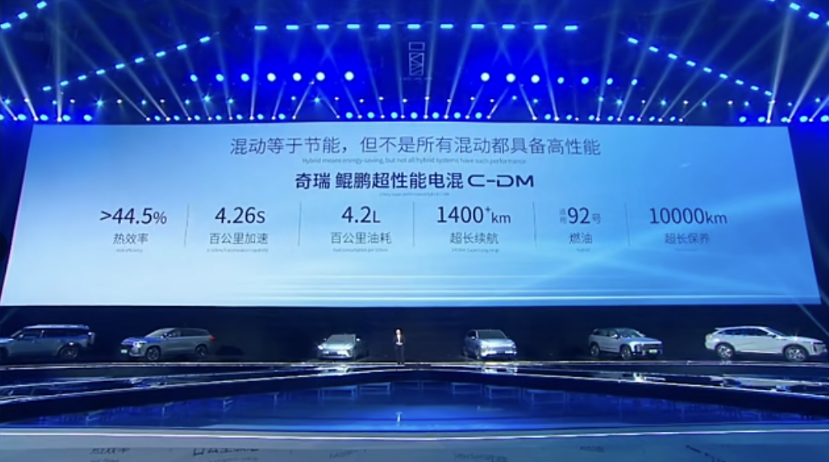 Li Xueyong, deputy general manager of Chery Automobile Co., Ltd., general manager of Chery Automobile Marketing Company, and general manager of Jetour Automobile, said at the conference: "Hybrid means energy-saving, but not all hybrids possess high performance."
Li emphasized that Chery's Whale Super Hybrid C-DM is a high-performance hybrid technology with over 44.5% thermal efficiency, capable of achieving a 4.26s 0-100 km/h sprint, 4.2L fuel consumption per 100 kilometers, ultra-long range of over 1400km, compatibility with 92 fuel, and an extended 10,000km maintenance cycle.
In addition, Chery showcased the CDC "magnetic levitation" suspension, Chery Pilot L2.9-level intelligent driving, new models Chery TJ-1 and Jetour Explorer, and more information at the conference. Chery will also host a brand night event in Shanghai, where more detailed content will be released.Please provide the Chinese Markdown text that needs to be translated into English.
This article is a translation by ChatGPT of a Chinese report from 42HOW. If you have any questions about it, please email bd@42how.com.