Looking at the global development of the automotive industry, it is clear that a new trend is emerging: the second wave of the automotive revolution, which has shifted its focus from electrification to intelligence.
But the question is, how should we approach the intelligence of automobiles?
After all, automotive intelligence is a complex system engineering project. Currently, the entire industry, from business strategy and technological path to product construction and user perception, is still actively exploring the specific operational methods for achieving automotive intelligence.
Against this background, Ecarx Technology, which has been deeply involved in automotive intelligence for many years, recently presented a reference answer to the entire automotive industry through a technology ecology day filled with valuable insights.
Ecarx's First Initiative – Three Major Computing Platforms appeared Together
Due to the inherent characteristics of the automotive industry, automotive intelligence is essentially a multi-domain, multi-dimensional, and multi-level industry requirement. For example, from a technological and product perspective, automotive intelligence covers multiple aspects such as intelligent cockpit, intelligent driving, and intelligent network connection- among which, the intelligent cockpit is currently a key focus of automotive intelligence.
However, considering the high demands of the intelligent cockpit on hardware, software algorithms, and interactive experience at multiple levels, how to create an intelligent solution with comprehensive competitiveness is the challenge that the entire industry faces.
However, Ecarx Technology was well prepared for these challenges.
On March 24th, at the first Ecarx Technology Technology Ecology Day held in Wuhan, Ecarx Technology's Chairman and CEO, Shen Ziyu, successively released three major computing platforms dedicated to automotive intelligence, totaling four products.
It is worth noting that at this release event, Shen Ziyu already played an important role in three companies, namely, Chairman and CEO of Ecarx Technology, Chairman and CEO of Star Journey Meizu Group and Chairman of XinQing Technology. In fact, the release event fully demonstrated the cooperation of the three companies from multiple perspectives.
Shen Ziyu first released the ECARX Antora series of computing platforms.
The core hardware foundation of the Ecarx Antora series of computing platforms is a self-developed high-performance car-level SoC chip "Dragon Eagle No.1" that uses 7nm advanced process technology. This chip comes from Xia Qing Technology, a joint venture between Ecarx Technology and Ant Financial China, and can provide 100K DMIPS of computing power and 900G FLOPS of graphics rendering power, and integrated with high-performance programmable NPU and multiple acceleration engines. In addition, the Ecarx Antora series of computing platforms also support efficient LPDDR5 memory, supporting 6400 MHz and a maximum specification of 16 GB.#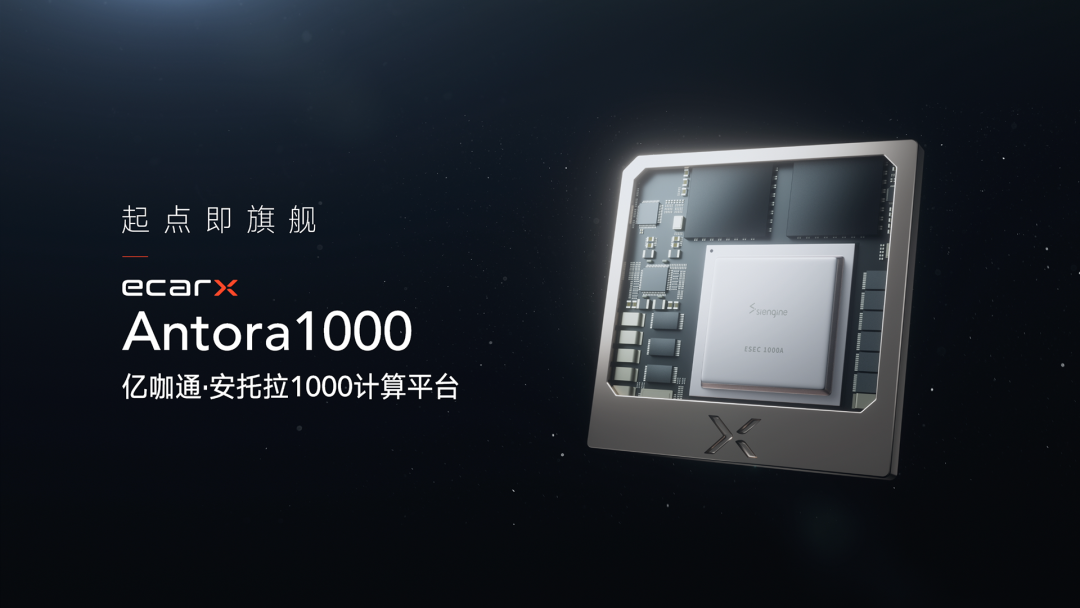 It's worth noting that "Long Ying No.1" is a native vehicle-level SoC, and thus the actual demands of automotive use were fully considered in its design. Without the need for virtualization-induced computing power loss, the ECARX Antora computing platform is able to deliver superior performance and better overall cost-effectiveness than competing mainstream mass-produced products.
At this launch event, ECARX unveiled two products based on the ECARX Antora computing platform: ECARX Antora1000 and ECARX Antora1000 Pro.

Specifically:
The ECARX Antora1000 computing platform is based on the "Long Ying No.1" chip, and it boasts vehicle-level functional safety and information security solutions and certifications. With a strong hardware foundation and ECARX Cloudpeak's cross-domain system capability base, it can support a wide range of smart cabin hardware configurations. Additionally, with integrated dual Hi-Fi 5 independent DSPs, it can support immersive acoustic experiences and voice sound effects, and deliver up to 23K DMIPS of computing power, ultimately empowering customers to develop flagship-level cabin experiences.
Compared to the ECARX Antora1000, the ECARX Antora1000 Pro computing platform can be seen as an upgrade; it has two high-performance modules based on the "Long Ying No.1" chip, and through ECARX's customized high-speed interconnect bus SE-Link, they can fully collaborate at ultra-high transmission rates to better support system experiences and multi-screen switching. It also supports customers to further create integrated "cabin-docking" fusion experiences based on existing technology foundations.
In addition to the ECARX Antora series computing platforms, considering that the automotive cabin is integrating increasingly immersive entertainment demands in the dimension of intelligence, ECARX has launched the ECARX Makalu computing platform for the global market, based on AMD's Ryzen Embedded V2000 processor and Radeon RX 6000 series GPU.
It is reported that the Ecarx Macarthur computing platform has a performance of 394K DMIPS and graphics rendering capability of 10.1T FLOPS, supporting up to 32GB of independent memory and providing 8GB of independent video memory. It has a unique Cloudpeak Virtualization ability base and supports the latest graphics processing interface for desktop computing platforms and the popular Unreal Engine in the gaming industry. From the perspective of the entire automotive industry, this configuration can be regarded as the "smart cockpit performance ceiling."
In addition, it's worth mentioning that, based on the Smart Cockpit, Ecarx has also launched the ECARX Super Brain central computing platform, focusing on the central fusion trend of automotive technology development.
It is reported that the automotive brain central computing platform released by Ecarx this time integrates the "Dragon One" and advanced intelligent driving chips, integrates the vehicle control MCU, reduces the complexity of the entire vehicle, and brings competitive cockpit and driving abilities through ultra-high-speed inter-core communication, while improving development efficiency and product performance. It prepares for the intelligent fusion of "cockpit and driving" in the future.
Regarding the future development of "cockpit and driving" fusion, Shen Ziyu told Garage 42:
"The current difficulty in "cockpit and driving" fusion is that it is difficult to have an SoC that meets the needs of smart cockpits and intelligent driving. NVIDIA's Thor is a correct direction, but it has not been implemented yet. The future trend of the industry is to design an SoC from the system level to integrate different capabilities together, using the same set of I/O and virtualization, thus reducing costs. This is also the direction that Ecarx Technology and Wisen Technology are jointly promoting."
It should be noted that on the basis of these hardware computing platforms, Ecarx also addresses the pain points of efficient development and global delivery for its target customers. Through a joint venture with Volvo, called HaleyTek, Ecarx collects global R&D strengths to build corresponding services including software and algorithms. This is the ECARX Cloudpeak cross-domain system capability base, which constitutes a complete product with different computing platforms. According to Shen Ziyu, "What Ecarx actually delivers to customers is a solution."
Overall, facing the various demands brought by the development of intelligent cars, Ecarx has made corresponding arrangements with a focus on "smart cockpit" and "central domain fusion". Through the launch of diversified and multi-level solutions, Ecarx has constructed a controllable and flexible system of solutions for intelligent cars.
It is worth mentioning that regarding this release of intelligent car products, Shen Ziyu pointed out that "this is actually the first time that Ecarx has proactively released products since the company was established six years ago. The core is to create differentiated configurations and experiences to meet the needs of the market and customers."
Open cooperation to build the foundation and hub for intelligent cars worldwide
In addition to showcasing its own differentiated achievements and strengths in intelligent cars, another important image that Ecarx intentionally displayed at this technology ecology day is openness.
In fact, several products showcased at the event are all results of Ecarx embracing global partners. For example:
Ecarx jointly established a company called Xinqing Technology with ARM China and other companies. Its "Dragonhawk 1" chip became an important component of Ecarx's two computing platforms, Antora and Super Brain.
Ecarx and Volvo jointly established a joint venture called HaleyTek. Ecarx's Cloudpeak cross-domain system capability foundation is a work created by its collection of global R&D resources. It not only supports multiple operating systems and high-performance computing platforms but also provides ecological support for different markets worldwide.
As AMD's first strategic ecosystem partner in China's digital cockpit, Ecarx Technology has developed and launched a "smart cockpit performance ceiling" computing platform for global markets based on AMD products.
Based on the Ecarx Macarthur computing platform, Ecarx has also reached an ecological strategic partnership with the Unreal Engine, providing immersive user experience through desktop-level 3D visualization and supporting large 3A games and a rich Epic Games Store game ecology.- It is worth mentioning that ecarx Technology also announced an exclusive strategic cooperation with Stellar Meizu Group, jointly creating Flyme Auto smart cockpit solution.
It can be seen that ecarx did not "work behind closed doors" to create truly differentiated automotive intelligent solutions. Instead, it opened up fully and laid out in many directions. Whether it was at the chip level, software or application ecology, it chose to truly embrace global partners.
However, this is not the entire connotation of ecarx's "openness."
42 Garage noted that at the event, Shen Ziyu emphasized that all of the solutions launched by ecarx will be equally open to global customers, with no distinction between domestic and international markets.
It is worth noting that the ecarx Antara calculation platform, based on the chipeng technology "Dragonhawk No. 1" chip, is named after the landmark peaks of the Rocky Mountains in North America. According to Shen Ziyu, this is to show that the two products based on the ecarx Antara calculation platform not only lead in China, but also conquer the peaks of North America and go global.
From the current situation, ecarx technology's products have already gained a number of global customers. For example:
ecarx Antara 1000 has been selected by FAW Hongqi and will be used in its mass-produced vehicle models;
ecarx Antara 1000 Pro will be first applied to the Lynk & Co 08 model;
The ecarx Marcaru calculation platform will also be installed in smart's pure electric mass-produced models next year.
As we can see, although ecarx Technology grew up in the Geely ecosystem, it has already acquired recognition from many global brands as an international automotive intelligent solution provider dedicated to accelerating the global automotive intelligent process. It is necessary for ecarx to achieve such results as an independent listed company to tell the outside world its plans and ability to empower globally, which will create a better future for its business.
It is worth mentioning that Flyme Auto, created by ecarx Technology and the Stellar Meizu Group, not only provides support for the Lynk & Co 08 model, but will also gradually empower other car companies in various ways. According to information obtained by 42 Garage at the scene, Flyme Auto Core, which integrates core capabilities, has been confirmed to be fully installed on Polestar models in the Chinese market, and will be open to other brands and models around the world, supporting OEMs with better differentiated experiences based on its core capabilities.
In addition, in the view of 42nd Garage, the openness of EVCloud has a third dimension: based on customizable flexibility.
In fact, by forming a joint force through high cooperation with eco-enterprises such as Chip Engine Technology, JiKe Intelligent, and StarPal Meizu Group, EVCloud can currently form a whole set of systematic solutions ranging from chips, underlying software, middleware, operating systems, applications, and human-computer interaction interfaces. Its technical strength and enabling capability are unquestionably strong.
However, in communication with 42nd Garage, EVCloud expressed that in the face of the diversified needs of global auto enterprises, whether it is at the underlying hardware level or software development level, or whether it is overall solution delivery or selective development, EVCloud will flexibly participate according to the actual situation and play the role of the base and hub of automobile intelligence according to the definitions, understandings, and needs of the automobile enterprise customers for intelligence.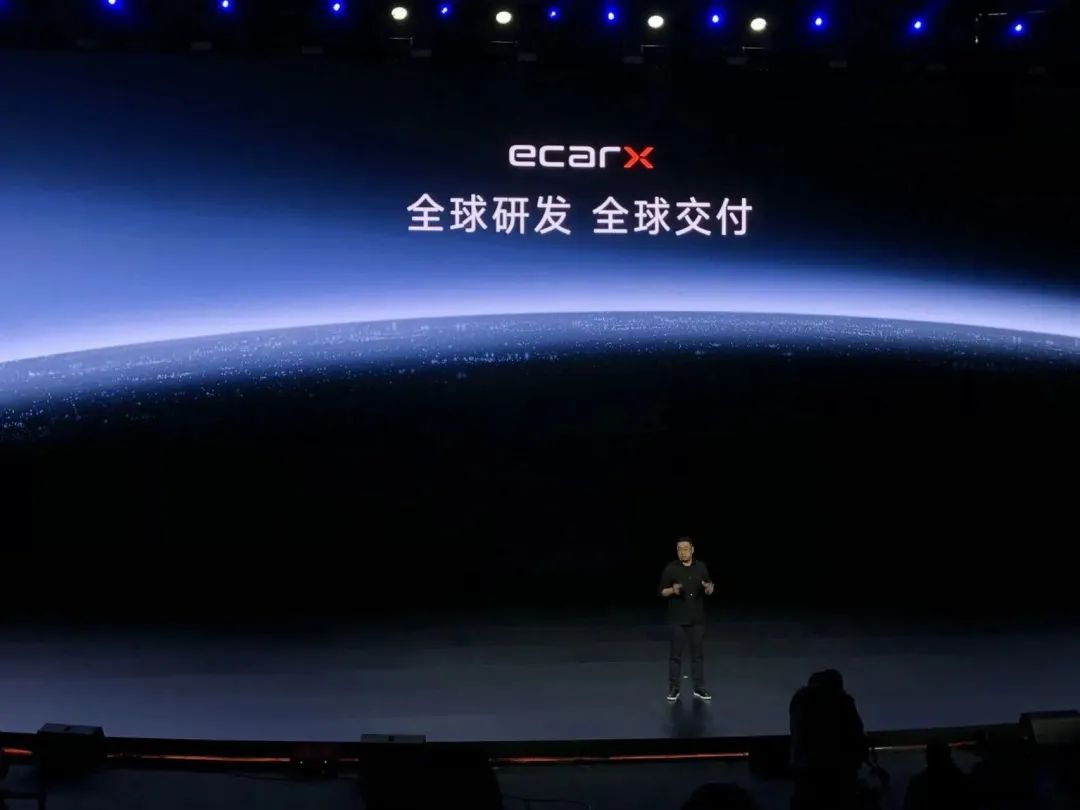 Obviously, EVCloud's mentality is open and its posture is humble, which will bring it closer to its goal.
After all, although automobile intelligence has a very high technical content, it also comprises parts with relatively low creativity and high repetitiveness, such as chip testing, software debugging, system adaptation, and performance optimization. This requires EVCloud to have a strong service awareness and capacity to respond to customers' diversified needs, which is also an important means to win more global customers' favor.
In conclusion
For a long time, there has not been a very clear definition of what role EVCloud Technology plays in the field of automobile intelligence. However, with an event, EVCloud's own positioning has become more and more clear, that is, to become the "base and hub of global automobile intelligence".
So, how to achieve this goal?
This actually involves another key word repeatedly mentioned by EVCloud in the event: innovation. As Shen Ziyu said: EVCloud Technology has an unwavering obsession with innovation.In an era of rapid development and fast iteration of intelligent products in the current technology industry, there is still great uncertainty in the technological path, development mode, and business model of automobile intelligence. Faced with this uncertainty, both automakers and suppliers need to make a choice based on the consideration of technological investment and business returns.
However, in the face of uncertainty, Yikatong's answer is firm.
That is, in the face of continuous change, rapidly developing industry trends and needs, adhering to deep innovation, constantly exploring new technological possibilities, while maintaining openness, actively embracing global partners, and flexible layout, to provide reliable intelligent empowerment for the global automobile industry.
This also corresponds exactly to the statement made by Yikatong Technology Chairman and CEO Shen Ziyu:
By launching automotive intelligence solutions that integrate most of the world's advanced technologies, have differentiation and uniqueness, and fully innovate, Yikatong Technology will join hands with more global OEMs and industry first-tier suppliers to continuously contribute new strength to the global automotive intelligence development.
This is clearly a very confident and ambitious answer.
In the view of Garage 42, in the unprecedented transformation of the automotive industry and the overall trend of intelligence sweeping the global automotive industry, only rational confidence based on its own technological innovation strength and industry empowerment ability, combined with open cooperation and embracing the world's layout and posture, can enable an enterprise focused on automotive intelligence to truly coexist with the trend of the times and become an important force in promoting global automotive transformation.
This article is a translation by ChatGPT of a Chinese report from 42HOW. If you have any questions about it, please email bd@42how.com.