On March 30th, 2023, Chongqing Ceres Blue Electric Vehicle Co., Ltd., a subsidiary of Ceres Group, officially launched a new energy vehicle brand named Blue Electric. Meanwhile, the first model of the Blue Electric brand, the Blue Electric E5, was officially launched, positioning itself as an electric hybrid mid-size SUV, equipped with both the HUAWEI Hicar 3.0 system and the Fudi electric hybrid system. A total of 2 configurations and 4 models are available with a starting price of 139,900 yuan. For an additional 2,000 yuan, you can upgrade to the 5+2 seat version.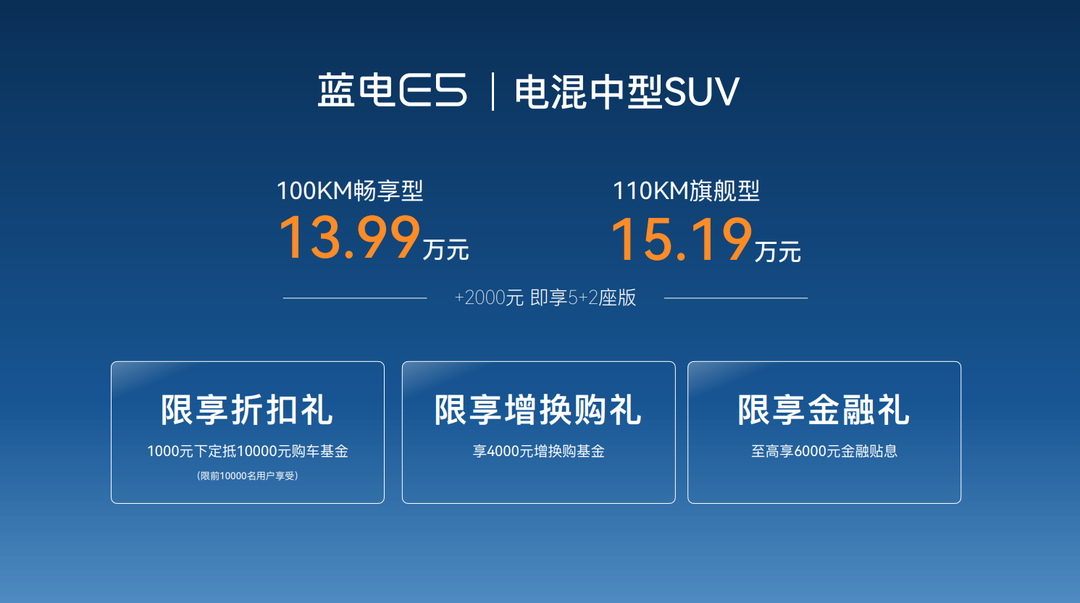 The Blue Electric E5 provides users with three purchasing benefits. From today, the first 10,000 customers who purchase the Blue Electric E5 can enjoy a discount of 10,000 yuan for every 1,000 yuan paid. Purchasers can also enjoy other benefits such as a 4,000 yuan exchange fund and up to 6,000 yuan in financial interest rates.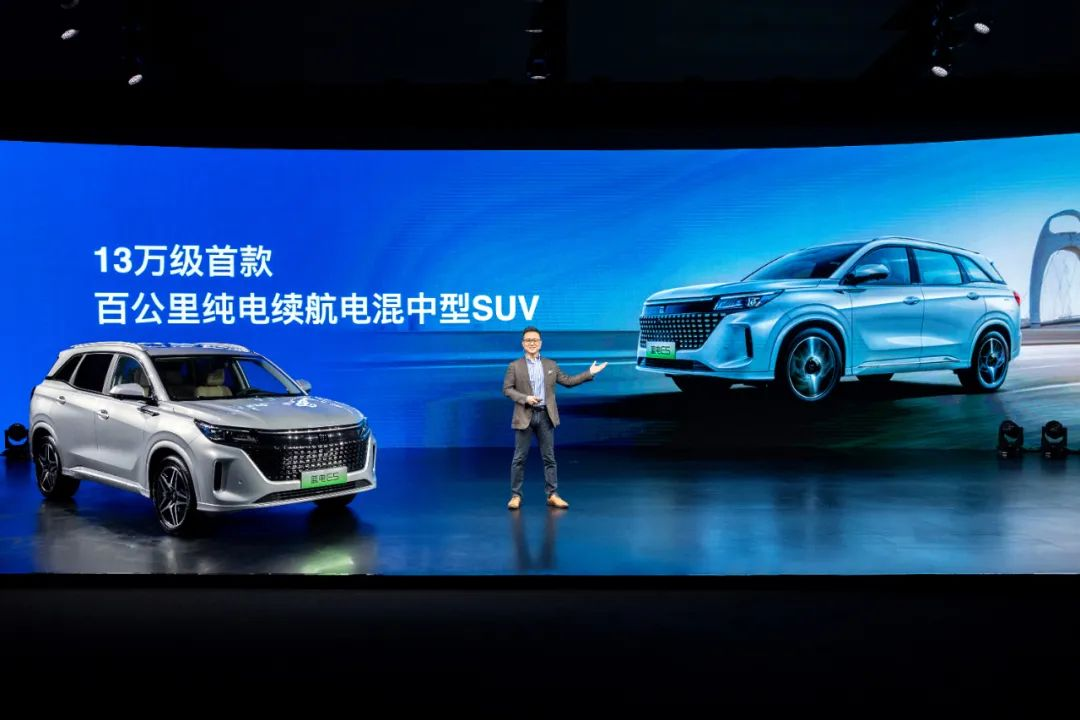 In terms of appearance, the new car adopts a relatively flat and simple line design, accompanied by a large-sized mesh grille. A floating roof design is added to the side of the vehicle, with decorative strips added to the front fenders and lower door sills. The new car offers four different colors to choose from: Obsidian Black, Milky Way Silver, Fir Green, and Sunburst Gold. In addition, the logo design of the Blue Electric brand is derived from the "E" in "Electric," with the concept of everything connected, to create a unique blue grid shape.
In terms of size, the dimensions of the new car are 4,760 mm × 1,865 mm × 1,710 mm, with a wheelbase of 2,785 mm and a cabin space conversion rate of 90.63%.
As a mid-size electric hybrid SUV, the Blue Electric E5 is equipped with the Fudi Dynamic Hybrid System, which includes a 1.5 L high-efficiency plug-in hybrid engine and a DHT 300 electric hybrid system. The engine and generator can intelligently cooperate in different driving modes to achieve balanced energy consumption, power protection, NVH, and acceleration.In terms of power performance, the new car's engine has a maximum power of 81 kW and a maximum torque of 135 N·m, while the electric motor has a maximum power of 130 kW and a maximum torque of 300 N·m. With regards to endurance, its NEDC pure electric range can reach up to 110 km, accelerating from 0 to 50 km/h in just 2.9 seconds. It has a WLTC comprehensive endurance of 1,150 km and consumes only 5.5 L of electricity per 100 km, with a comprehensive operating fuel consumption of 1.23 L, much lower than that of a fuel car.
Blue Electric E5 can directly get a green license plate, allowing access in many restricted cities in the country, and enjoy a "0" purchase tax when it is licensed.
The Blue Electric brand will build a channel model that is fully close to users, and plans to establish 160 delivery centers and 340 experience stores this year.
This article is a translation by ChatGPT of a Chinese report from 42HOW. If you have any questions about it, please email bd@42how.com.