Author: Bai Zhiming
How much does it cost to buy a medium- to large-sized pure electric sedan with comfortable and luxurious interior design?
Until March 27, 2023, "over 300,000 RMB" may be the most common answer to this question. But from this day on, FEV Motors has refreshed the answer to 229,900 RMB to 301,900 RMB.
Friends who have watched the previous episodes of our Supercharging Station should already know that this car offers comprehensive driving configurations, and all of the main features are standard. The only differences between different configurations are the battery and the advanced driver assistance system.
What's more important is that compared to the pre-sale price of 280,000 RMB to 350,000 RMB a few days ago, the official price of F7 has been reduced by a full 50,000 RMB. This has suddenly changed many people's outlook on this car and the carmaker. "Teacher Chang Yan expressed his feelings on Weibo: "The price of FEV F7 seems to have made a big decision."
Comfortable driving on the left, "Bach cockpit" on the right
It is necessary to review FEV F7. This is the second model of the FEV Motors brand after independent operation.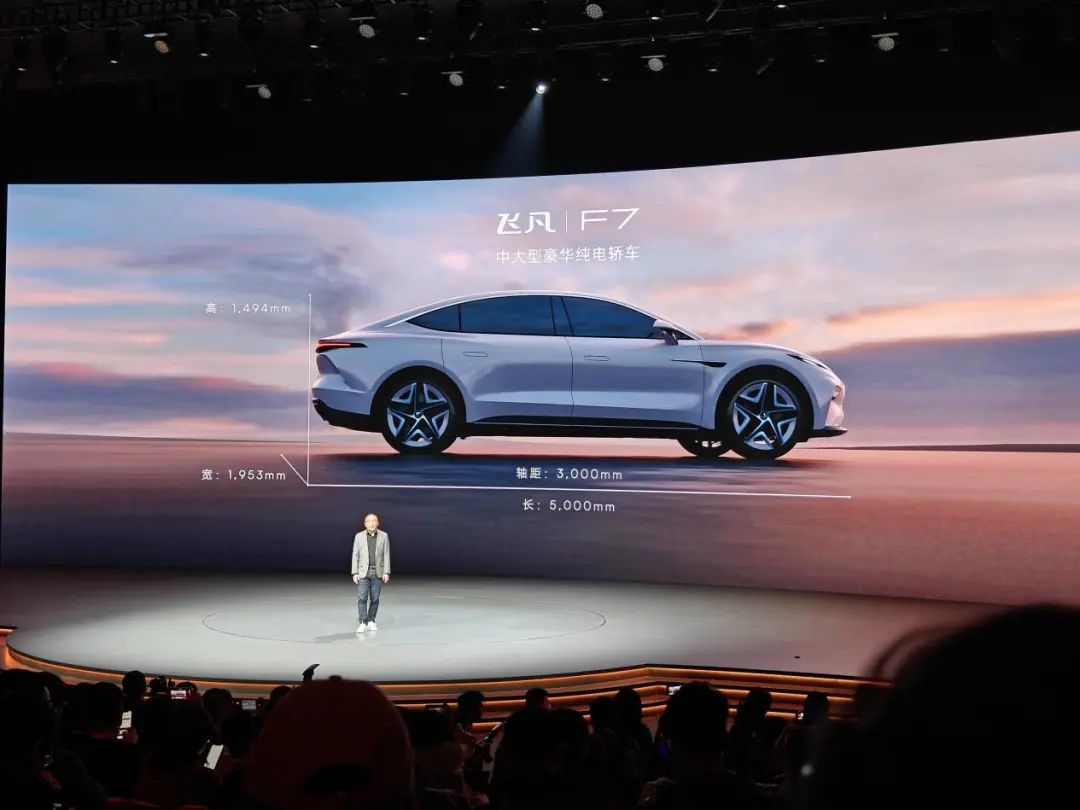 With a length of 5 meters and a wheelbase of 3 meters, this is a medium- to large-sized pure electric sedan. However, the slender headlights at the front and the athletic overall styling make FEV F7 look sporty and easy to handle. In addition to the pure white leather interior, there is also a creamy white car paint to choose from, which FEV calls "Coconut Latte," perfectly balancing the luxury and temperament of the car.
The hatchback design brings considerable loading capacity. The official claim is that it can accommodate three 24-inch and one 20-inch suitcases at the same time. The chassis configuration, including the front double wishbone and rear five-link suspension, Brembo four-piston front calipers, and Michelin PS EV tires, tells us that FEV F7's mechanical quality is completely worth appreciating, in addition to it being a good-looking and well-equipped pure electric sedan."`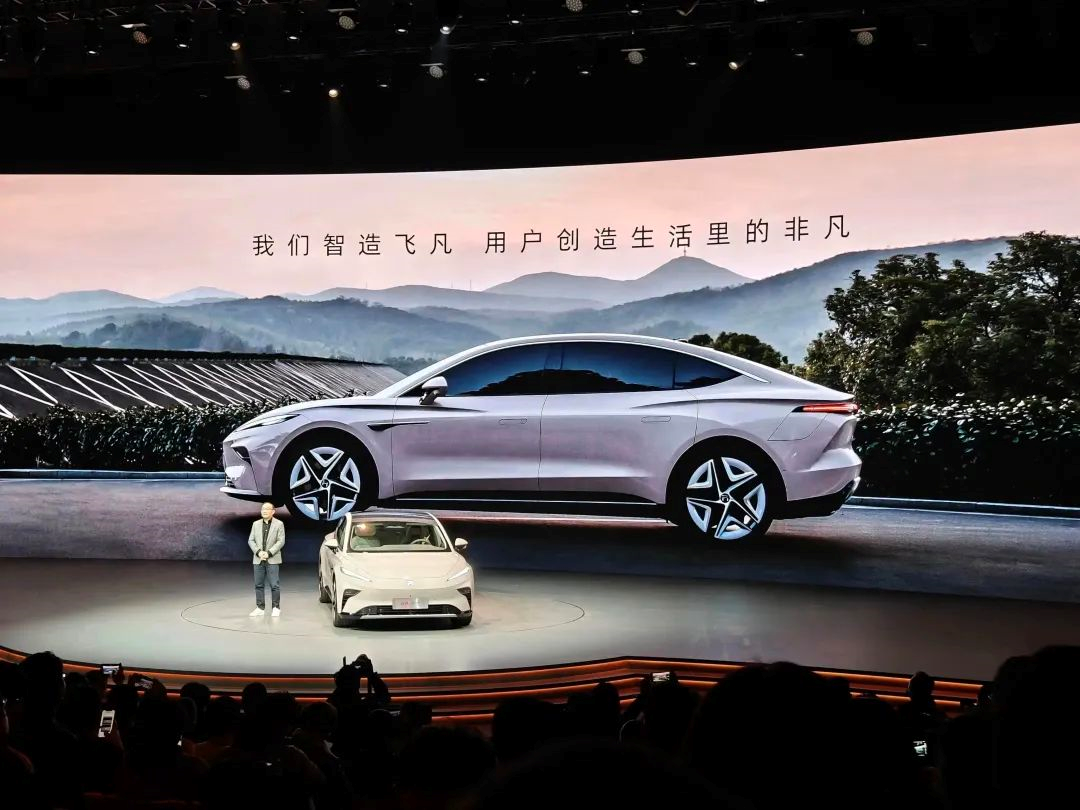 Good handling is certainly not a common quality among today's new energy vehicles, but it is even rarer to be able to simultaneously balance driving and cabin experiences. At its most basic level, combining a total of 10 double-layer laminated glass panels (including frameless doors) and achieving a comprehensive isolation rate of 95%, Feiteng F7 boasts industry-leading noise reduction at medium and high speeds, meeting the core requirements for luxury cars.
Upon entering the cabin, the most eye-catching feature has to be the triple screen that consists of a single 43-inch glass cover, integrating the instrument panel, infotainment screen, and passenger display into a single unit. The rear passengers also have their own 8-inch screen, which can be used to control air conditioning and entertainment systems. However, what really impresses people with Feiteng F7 is its exceptional audio experience, earning it the name "Feiteng Bach Cabin".
The standard equipment of 16 speakers, dual DSP solutions, combined with Dirac algorithm and Feiteng Bach 3D vector sound effect technology, provides an immersive and high-quality audio experience, and the spatial audio is further enhanced with headrest speakers: when the vehicle needs to turn left, the navigation voice will come from the left side, similarly, the warning sound will come from the right side when a car approaches from that direction.
Feiteng F7 also pays great attention to comfort, using a human body database to build seats that have a full range of abilities, including hot stone therapy for the driver, leg support for the front passenger, and electric adjustment of the rear seat backrest. The "nap mode" function can adjust the seat to a more comfortable angle with one click, and simultaneously turn on white noise and other audio effects to create a cozy and relaxing atmosphere inside the car.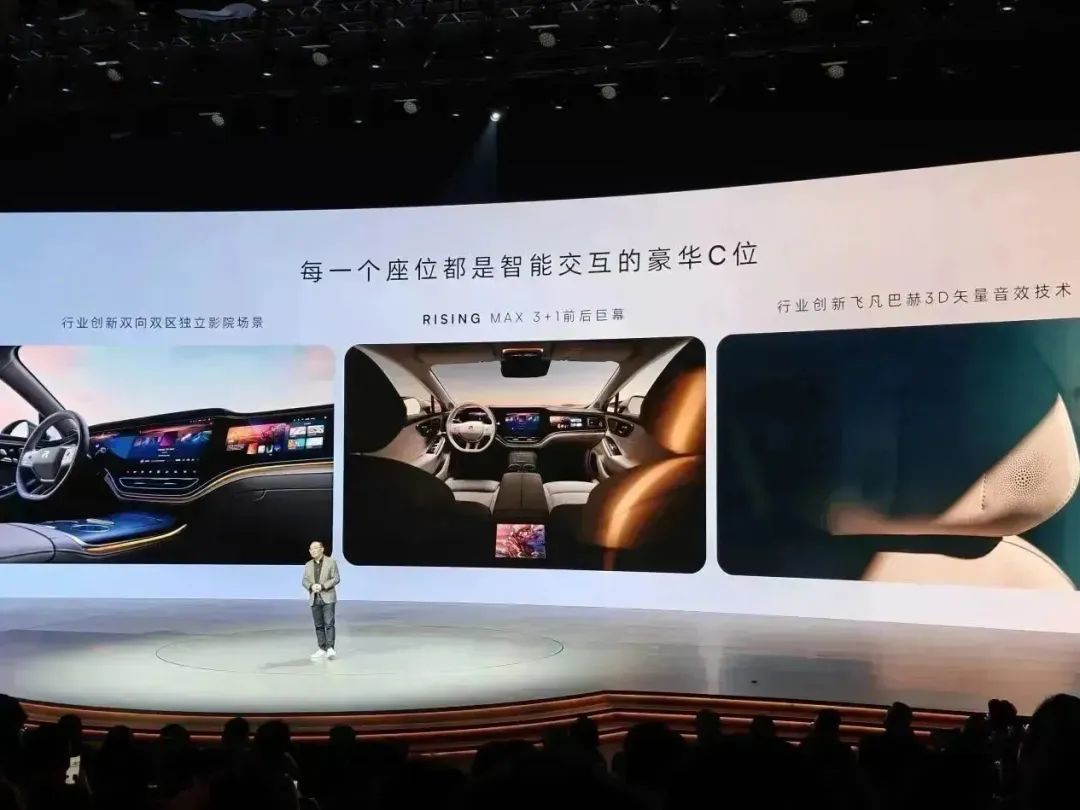 From a product perspective, Feiteng F7 is an intelligent and well-engineered electric sedan. However, the pricing strategy adopted by Feiteng Automotive shows their determination and commitment towards the market:
The advanced version with a 77-degree ternary lithium battery, CLTC endurance of 576km, and 0-100km/h acceleration in 5.7 seconds is priced at only 229,900 RMB.
Is It Worth It If the Price Is Unpredictably Low?
- Equipped with 77-degree ternary lithium batteries, CLTC range of 576km, and zero to 100km/h acceleration in 5.7 seconds for the advanced Pro version priced at 249,900 yuan;
- Equipped with 90-degree ternary lithium batteries, CLTC range of 666km, and zero to 100km/h acceleration in 5.7 seconds for the long-range version also priced at 249,900 yuan;
- Equipped with 90-degree ternary lithium batteries, CLTC range of 666km, and zero to 100km/h acceleration in 5.7 seconds for the long-range Pro version priced at 269,900 yuan;
- Equipped with 90-degree ternary lithium batteries, CLTC range of 600km, and zero to 100km/h acceleration in 3.7 seconds for the performance Pro version (four-wheel drive) priced at 301,900 yuan.

![image](https://42how-com.oss-cn-beijing.aliyuncs.com/article/image_20230328230216.png)


For just an additional 20,000 yuan, customers can purchase the full fusion Pro smart driving package (advanced driver assistance system) including high-speed navigation, or upgrade the battery capacity from 77 to 90 degrees. The optional prices are also reasonable, with the Bach cockpit upgrade package priced at 7,000 yuan, atmosphere upgrade package at 12,000 yuan, 20-inch wheels at 5,000 yuan, and exterior colors selectable between 4,000 and 5,000 yuan.

With the release of the official prices, the product that originally seemed comprehensive but somewhat lacking in passion suddenly became one that exudes a great amount of emotion. This is perhaps the magic of product positioning. If customers were to purchase the RisingAuto F7 through battery leasing, the starting price (excluding battery usage costs) would further drop to 145,900 yuan, which will surprise everyone and display RisingAuto's sincerity in opening up market awareness.

![image](https://42how-com.oss-cn-beijing.aliyuncs.com/article/image_20230328230222.png)


Lastly, RisingAuto CEO Wu Bing announced the RisingAuto F7 basic version priced at only 209,900 yuan, equipped with 64-degree iron phosphate lithium batteries. More details about this car have yet to be announced, but it will officially debut in the second half of 2023. There are increasingly exciting days ahead.## User Attention Needed, but Not Urgent Bloodshed

The speed of change in the Chinese automobile market is too fast. Things that happen within a quarter or a month are as fast as a whole year or a cycle. Therefore, we are happy to communicate with everyone involved so that we know what is happening, what is currently happening, and what will happen in the future.

![](https://42how-com.oss-cn-beijing.aliyuncs.com/article/image_20230328230245.png)

Jiang Yi, the public relations director of RisingAuto Automobile, and Wang Yongqiang, the general manager of the product technical center, shared with the Super Charging Station the story behind the RisingAuto F7, the reasons for such pricing, and the various clues that connect them.

The battery is the most important cost component of pure electric vehicle models and even affects the pricing of most new products in the industry. In fact, the adjustment of the three-element lithium battery material that occurred in the first half of 2023 is part of the factor that affects the price of the RisingAuto F7. **RisingAuto Automobile hopes to meet the needs of its users and thereby enhance brand awareness. They believe that they have priced in good faith and will not incur losses.**

![](https://42how-com.oss-cn-beijing.aliyuncs.com/article/image_20230328230254.png)

From RisingAuto's perspective, the pricing of RisingAuto F7 can attract users to drive and use it, but it has not yet reached the point of bloodshed. Jiang Yi jokingly said, "Otherwise, the CFO would have beaten us to death." Currently, RisingAuto Automobile has nearly 180 sales and service outlets throughout the country. Next, it will also release after-sales brands to ensure that the corresponding user services are done well.

The current sales price adjustment of automobile products has produced a special time point. However, price wars are not conducive to the long-term development of the industry. RisingAuto is more concerned about how to accumulate brand value in this process. **The 64-degree lithium iron phosphate RisingAuto F7 Base version is based on user demand observation. This capacity is sufficient to cope with urban pure electric travel, and users will not have obvious range anxiety as at the beginning.**

Swappable batteries are one of the characteristics of the RisingAuto F7, and services are provided jointly with strategic partner Jieneng Smart Energy. The latter is jointly invested by China Petrochemical, China Petroleum, SAIC Group, CATL, and Shanghai International Automobile City Group. Currently, there are three swap stations in Shanghai and 50 swap stations have been selected in 10 cities across the country. As it involves approval and other work, the overall cycle will be relatively long.```markdown
![](https://42how-com.oss-cn-beijing.aliyuncs.com/article/image_20230328230306.png)


Some details show the "personality" of Fleva cars: the battery pack has achieved a thickness of 110mm, but there is a small bump in the middle. The R&D team is willing to make less flashy changes to improve the strength and NVH of the body. There are also many traces of personal participation in the development of the smart cockpit. They realize that relying solely on suppliers will take a long time, and self-research can greatly improve the pace.


## Fleva Cars Reap the Rewards


As early as the "R brand" era, I began to pay attention to what actions SAIC would take to create their own new brand. Fleva F7 has solidly told me that all the expectations before this are worthwhile. They have the ability, attitude, and courage to find a new world for themselves. After the launch event, user orders skyrocketed, and the app was so overwhelmed that it crashed. These are the rewards that Fleva cars should have on F7.


![](https://42how-com.oss-cn-beijing.aliyuncs.com/article/image_20230328230317.png)


Perhaps they have waited too long for such a moment, waiting for a "right timing" that is more suitable for material costs and market environment, waiting for a product as remarkable as Fleva F7, waiting for the price to be smoothly revealed to everyone. The convergence of the right timing, right place, and right people brings the highlight moment for Fleva cars.


**However, we all know that this is just the beginning, not the end. It only means that a car company has really stepped onto the new round of the new energy vehicle table. The road is long and the key is to know who you are and where to go in the end.**

This article is a translation by ChatGPT of a Chinese report from 42HOW. If you have any questions about it, please email bd@42how.com.