Currently, Nissan's cumulative global sales of electric vehicles are around 640,000 units, with a driving distance of 21 billion kilometers. More importantly, there have been zero major safety accidents involving Nissan's electric batteries.
On March 20th, at the ARIYA Battery Technology Experience Tour (Shanghai stop), Dongfeng Nissan proudly showcased Nissan's safety records for pure electric cars.
What do these numbers mean? Experts in the new energy industry understand and appreciate their significance. So, how did Nissan achieve "zero spontaneous combustion batteries"?
Through the ARIYA electric vehicle battery technology developed by Dongfeng Nissan, we may gain some insight.
Safety as the Design Principle, Full-Chain Self-Development
What makes Nissan's batteries particularly safe? There are two core elements:
Firstly, the battery pack design is safety-oriented rather than performance-oriented.
Why does Nissan attach such importance to battery safety?
In the traditional fuel-powered car era, there was a saying that "Dongfeng Nissan's cars are good because the engine is good." Now, in the new energy vehicle era, under the mission of "technology for Nissan, people, cars, and life," Dongfeng Nissan has established an industry benchmark for electric battery safety with ultra-safe batteries. It is deeply ingrained in people's minds that "Dongfeng Nissan's new energy cars are good because the battery is sound."
Dongfeng Nissan's General Manager, Xin Yu, explains, "For users, demand for design, performance, and technology varies from person to person. However, safety, especially the safety of the 'heart' of the battery, is the primary factor influencing their car purchasing decision. This is also one of the common factors for choosing the ARIYA electric vehicle."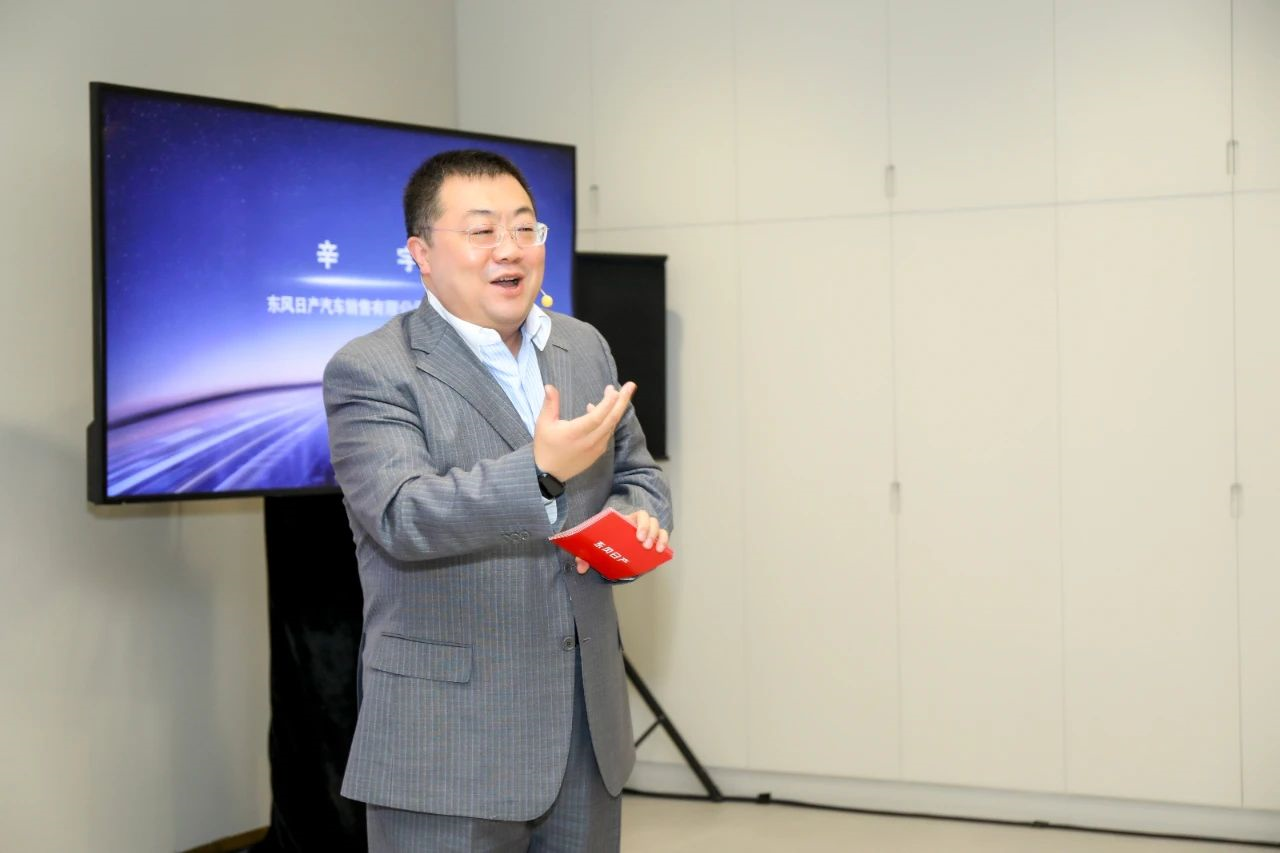 Secondly, Nissan's batteries are self-developed throughout the entire supply chain.
The so-called self-development throughout the entire supply chain means that Nissan is involved in the design of the battery cells, the battery pack, and even the matching of the battery pack with the entire car.
Currently, many new energy vehicle companies do not even make their own batteries, let alone self-develop throughout the entire supply chain.
However, Nissan has practiced self-development throughout the entire supply chain for 76 years of pure electric battery experience, ensuring the absolute safety of Nissan's batteries. Of course, Nissan also states that "self-developing throughout the entire supply chain for battery technology is a tougher challenge compared to outsourcing."
Currently, Dongfeng Nissan is one of the few manufacturers that can assemble battery packs and has a production line for battery pack assembly.
Battery Cell
On September 27, 2022, the Dongfeng Nissan ARIYA officially launched in the Chinese market. ARIYA has four configurations, one battery pack, 90 degrees of electricity, and the battery cells are ternary lithium from CATL.
Although the battery cells are produced by CATL, they are subject to Nissan's global high standards.
According to Huang Zhaokun, deputy director of the New Energy Development Department of the New Technology Branch of the Dongfeng Nissan Passenger Vehicle Company Technology Center, the ternary lithium battery cells provided by CATL to ARIYA come from an independent production line, which is a customized battery cell, rather than a general-purpose one.
In addition, Huang Zhaokun also revealed that the chemical formula for producing the battery cells was provided by Dongfeng Nissan (this part may be ambiguous).
Regarding the selection of battery cell safety, Dongfeng Nissan insists on 100% strict screening and will not let any defective battery cell slip through.
Overall, in terms of the safety of the most basic unit in a battery pack—the battery cell, Nissan has achieved near-perfection, including global standards, production by CATL, and strict screening.
Battery Pack
If you have a good battery cell, does it mean your car is safe? Not necessarily, it also depends on the level of the battery pack.
Looking at the quality of "210 billion kilometers without any major safety incidents", Nissan's battery pack technology level is naturally high.
Take the ARIYA battery pack as an example. It adopts a nine-layer physical protection architecture to build an ultra-safe battery safety domain:
First, Nissan's high-standard customized battery cells: produced in Nissan's specialized line with global standards, passed 100% strict screening, and installed with silica gel between battery cells to prevent fire and explosion;
Second, the double-layer and stacked modules with anti-collision protection bars: high space utilization, can accommodate more batteries, and unique double anti-collision protection bars can reduce pressure and cushion collisions.
Third, Integrated Aluminum Battery Compartment
The integrated aluminum battery compartment is equipped with six reinforced aluminum pillar beams, which can enhance the compression and collision resistance of the battery pack, protecting the internal battery cells and modules.
Fourth, Precise and Standardized Wire Harness Layout
The ultra-safe wire harness covers the entire vehicle, preventing short circuits during collisions. The high-voltage wire is integrated and placed behind the powertrain with protective devices to prevent damage to high-voltage wires and short circuit in the event of a collision.
Fifth, Accurate Management of the Battery Under All Conditions
Nissan's latest self-developed battery management system real-time monitors over 200 items in the battery, with a minimum of 10 milliseconds, intelligently adjusting the battery operating condition ensures optimal charging and discharging power under extreme temperatures / multiple fast-charging scenarios, effectively improving the vehicle's driving range and prolonging the battery life, achieving a 30-minute charging time for 30% to 80% SOC at a charge rate of 92kw (the highest national standard).
Sixth, Integrated wet and dry Separation Liquid Thermal Management System
The liquid cooling system is integrated to the battery's lower housing to support the structure and improve internal space utilization, while the battery module is kept separate. The smart thermal management system includes a PTC heater and a cooler to intelligently control the battery temperature and keep it in optimal conditions.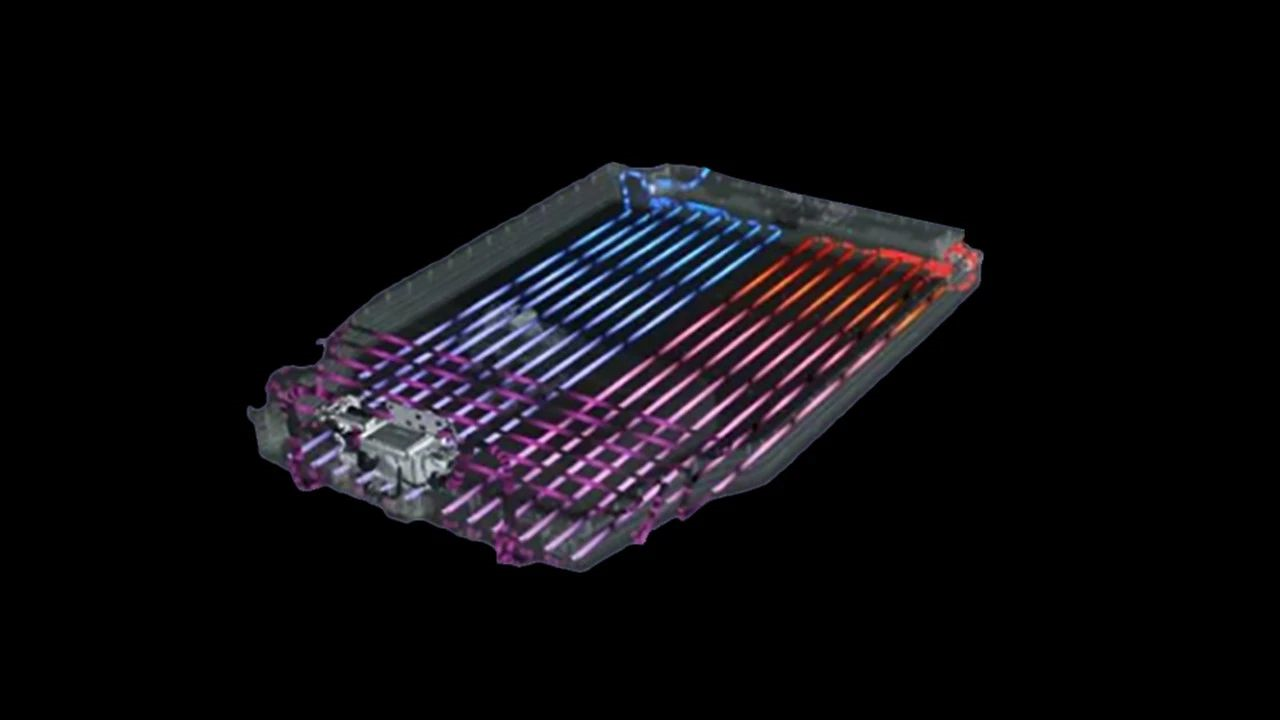 Seventh, Chassis Armor Protection
The battery's underside is fully covered with enhanced resin, providing added protection against road debris, making daily use more secure and reliable.
Eighth, Crashworthy Design
The battery compartment is placed reasonably below the passenger compartment with enough space reserved for front, rear, left, right, and bottom collapse, preventing distortion from pressure, and reducing the impact energy to the side, equivalent to twice that of C-NCAP.## Ninth, 1500MPa Diamond Shield Protection
ARIYA uses a battery shell with six aluminum beam columns and an additional three 1500MPa ultra-high-strength steel crossbeams on the car body, providing a 6+3 structure that is stronger and can effectively resist collision pressures from the front and sides.
At the event, Nissan specifically placed two battery packs side by side: the Nissan ARIYA battery pack and a battery pack from another brand. Compared to the latter, the former can be said to be armed to the teeth. (For details, you can watch Nissan's battery pack series videos on its Diamond Electric YouTube channel).
Xin Yu even said that the ARIYA battery pack is no different from a work of art.
Safety Testing
After the battery pack is produced, how can we determine if it is safe enough?
The battery pack needs to undergo various tests. There are national standard safety tests, and some powerful car companies also have their independent safety tests. The core goal is the same: to ensure that the battery is safe enough.
When it comes to battery safety, many car companies will say that passing the national standards provides safety assurance. However, in Huang Zhaokun's view, the national standard is the minimum standard for Nissan.
Taking the ARIYA battery pack as an example, it has passed a total of 111 safety tests, including 23 national standard tests, 13 global standard tests, and 75 Nissan standard battery tests, of which Nissan standard tests account for 67.6%.
It is these 111 battery safety tests that ensure the safety of the ARIYA under various usage conditions.
These safety tests are mainly divided into three categories: mechanical safety tests, environmental safety tests, and electrical safety tests. Specifically:
Mechanical safety tests: Accumulate more than 36 hours of multi-axis random vibration and 3 hours of sine frequency vibration tests to ensure the stability of the battery under long-lasting continuous bumps; simulate side impact, mechanical impact in positive and negative directions, and bidirectional squeezing tests to ensure the safety of the battery protection structure.Environment Safety Test: The battery that underwent the vibration test is subjected to a long-term and submersion test of IPX7 standards to ensure the sealing and safety of the battery structure; subjected to a temperature shock test with four times the cycle requirement of the national standard; subjected to a humidity-heat cycle test with 9.6 times the required duration of the national standard; subjected to a salt spray test with three times the required duration of the national standard; subjected to a high-altitude pressure test with 1.35 times the required standard of the national standard to ensure the safety of the battery under extreme environmental conditions; and subjected to direct and indirect external fire and thermal diffusion tests to ensure the safety of the battery system in case of encountering flames and battery short circuits and withstanding large amounts of heat in a short period of time.
Electric Safety Test: The battery pack is subjected to five targeted tests for "overheat protection, overcurrent protection, external short circuit protection, overcharge protection, and over-discharge protection" to ensure the active and passive safety of the battery system.
Despite having over 111 safety test standards, actual minor detections exceed 500+.
A Challenge of Rigorous Testing
Whether it's a mule or a horse, it still needs to be taken out for a walk.
On February 13, 2023, IAA Automotive Research & Testing Center conducted three rigorous tests on the ARIYA battery pack, including high-pressure water flushing, four times the required cycle of the national standard temperature shock test, and durable vibration test. ARIYA passed the tests with excellent performance.
Firstly, High-Pressure Water Flushing Test:
The ARIYA battery pack was subjected to continuous spraying from multiple directions from a high-pressure water gun, and all battery pack functions were normal. After dismantling and analyzing the battery pack, there was no water leak into the battery pack.
Secondly, Four Times the Required Cycle of the National Standard Temperature Shock Test:
ARIYA was able to withstand temperature ranges and cold and heat cycles that were more stringent than the national standard. The testing temperature range in the national standard is -40°C ~ 60°C. ARIYA passed the temperature range test and also successfully challenged the high-temperature test that exceeded 60℃, which is beyond the temperature range requirement of the national standard, equivalent to the temperature difference between the "extremely cold" Mohe in the northernmost part of China and the "extremely hot" Flaming Mountain of Turpan. Moreover, compared to the five cycles of cold and heat alternation specified in the national standard, ARIYA increased its cycling time to 20 cycles. After the test, all battery pack functions were normal, and the gas-tightness of the battery pack was normal. After testing, the battery had no leaks, fires or explosions, and no structural damage or cracking inside.
Third, Durable Vibration Test
The ARIYA battery pack has undergone three-dimensional random vibration and sine frequency vibration with testing requirements beyond the national standard for air tightness, undamaged internal and external structure, and bolt torque attenuation. No abnormal termination occurred during the experiment, and the battery pack remained intact with good air tightness, without any shell cracking, fire, or explosion. After disassembling and analyzing the battery pack, there was no obvious bolt torque attenuation, and no damage or leakage was found in the internal and external structure.
The Power of Electric
It can be said that it is through extreme attention to battery safety and the aforementioned comprehensive safety testing that the myth of zero spontaneous combustion of Nissan's electric vehicles is constructed.
A senior battery testing engineer once told "The Power of Electric" that the more testing a battery pack undergoes, the safer it becomes, making the corresponding car more worthwhile to purchase.
With the reputation of zero spontaneous combustion, theoretically, Nissan's ARIYA should be a big seller. However, the fact is not as such. According to the China Association of Automobile Manufacturers (CAAM) data, ARIYA's total sales from October last year to February this year were only 1,336 units.
Why can't Nissan's ARIYA sell well?
In the view of "The Power of Electric", Dongfeng Nissan has committed many similar mistakes as traditional car companies, being trapped in the traditional car marketing siege, from the overall pricing to the integration of the entire communication, which needs to be discussed. This has caused the "good car" to not sell well.
Fortunately, Dongfeng Nissan is also actively changing.
To stimulate sales, Dongfeng Nissan launched the "Limited-Time Sales Action", which reduced the ARIYA's selling price by 60,000 yuan, with a starting price of only 224,800 yuan, which can be said to be very attractive.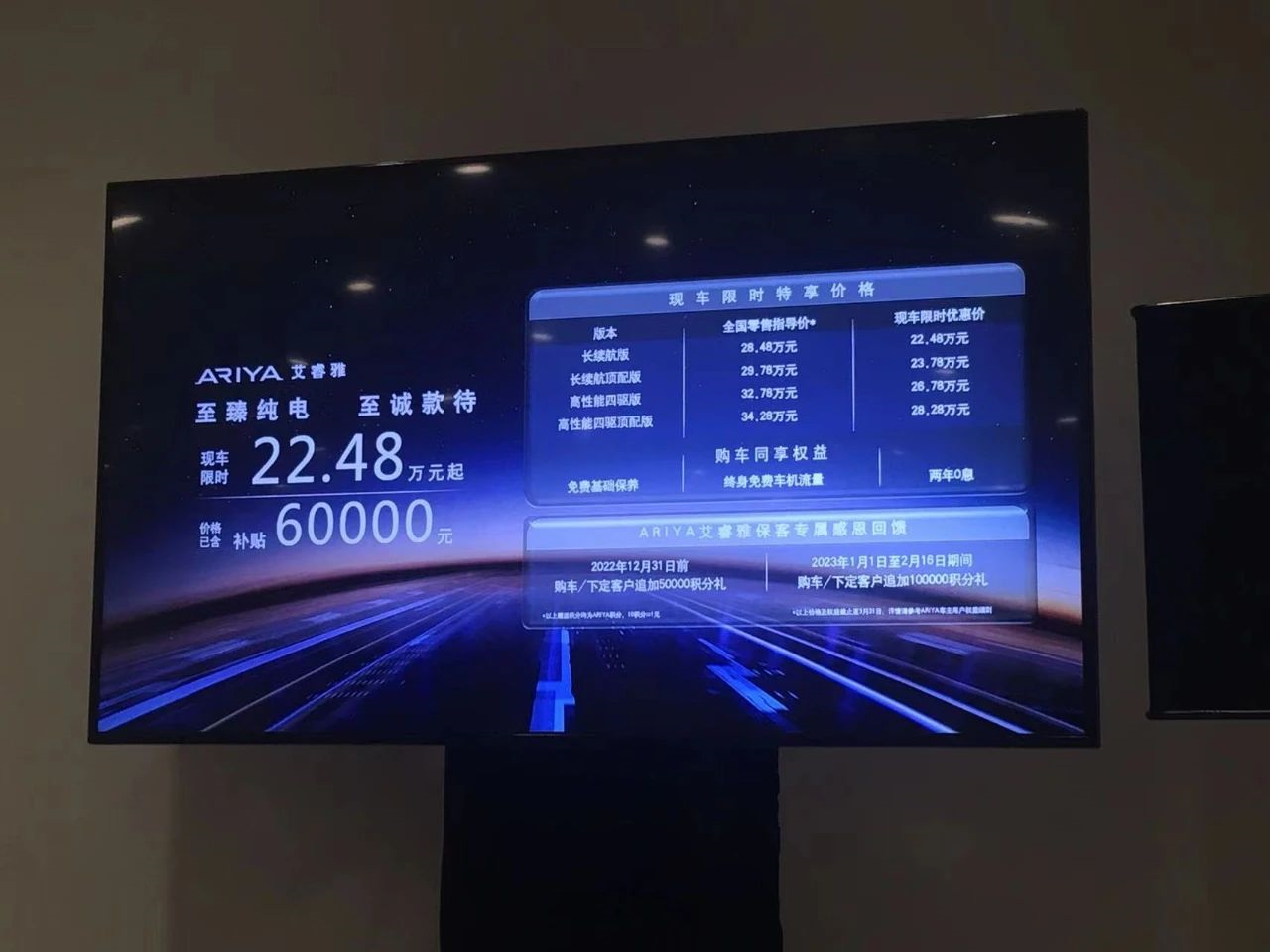 Objectively, this phased business policy may give Dongfeng Nissan some market signals and inspiration, but it cannot completely open the sustained sales password of ARIYA. Dongfeng Nissan still needs to re-examine its new energy strategy in China and come up with more grounded new energy marketing plans.## 这是一篇 Markdown 文章
欢迎来到我的博客。这是一个使用 Markdown 写成的文章,其中包含了一些 HTML 标签。
我喜欢这篇文章的原因
它用简单的语言描述了 Markdown 的基本语法。
它演示了如何在 Markdown 中使用 HTML 标签。
它展示了 Markdown 文本的可读性和可维护性。
我喜欢的 Markdown 语法
我喜欢使用 Markdown 的以下语法:
标题:#、##、###、…、######
列表:-、+、*
强调:*、_
链接:[link text](link url)
图片:![alt text](image url)
代码块:code block
引用:> quote
表格:|column1|column2|…|
总结
这是一篇简单的 Markdown 文章,但它展示了 Markdown 的基本语法和 HTML 标签的使用。我希望这篇文章可以帮助您更好地理解和使用 Markdown。
This article is a translation by ChatGPT of a Chinese report from 42HOW. If you have any questions about it, please email bd@42how.com.