Zero Run 2022 Financial Report
Written by: Wei Xing
Edited by: Pan Tan
On the evening of March 21st, Zero Run Automotive released its 2022 financial report. In summary, revenue grew nearly threefold, while losses widened by nearly 80% year-on-year.
Quick Financial Data Overview
Full-year revenue for 2022: CNY 12.385 billion, a year-on-year growth of 295%;
Full-year gross margin: -15.4%;
Full-year net loss: CNY 5.109 billion, a year-on-year expansion of 79.52%;
R&D expenses: CNY 1.41 billion, a year-on-year growth of 90.6%;
Full-year delivery: 111,168 vehicles, a year-on-year growth of 154%; including 61,919 T03, 44,371 C11, and 4,815 C01 deliveries;
As of the end of 2022, there were 582 stores nationwide, doubling year-on-year, covering more than 180 cities;
2023 sales are expected to double that of 2022.
The revenue growth is mainly due to the increase in vehicle deliveries, but the negative gross margin means that the selling price was lower than the cost price last year. Therefore, the more cars sold, the more losses were incurred. Naturally, the operational losses also expanded year-on-year. Selling expenses increased from CNY 420 million to CNY 1.1 billion. R&D expenses increased from CNY 740 million to CNY 1.4 billion.
Loss of CNY 46,000 for each Car Sold
Looking at the financial data disclosed in the report, Zero Run Automotive's gross margin increased from 44.3% in 2021 to 15.4% in 2022. Yes, you read it right- this data has a minus sign in front of the percentage, indicating a negative gross margin of -15.4% in 2022. However, there is a qualifier that "as Zero Run adopted a dealer model, dealer rebates were deducted from sales revenue. Excluding the impact of these rebates, Zero Run achieved a positive gross margin in the second half of 2022."
In other words, Zero Run Automotive basically lost money last year. The full-year net loss was CNY 5.109 billion with a total delivery of 111,200 vehicles. Roughly calculated, if this loss is distributed evenly among the annual sales volume, it means that Zero Run lost approximately CNY 46,000 for each car sold in 2022."`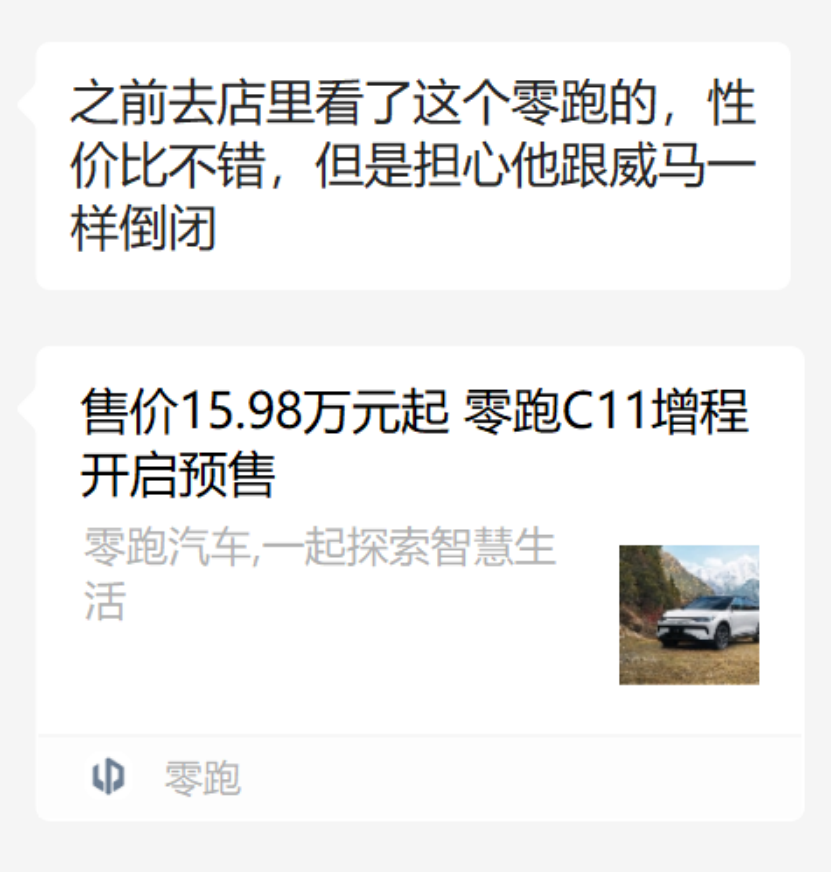 "Before I went to the store to see this LINGPAI, the cost-effective ratio is good, but I worry that it will go bankrupt like NIO."
"I really like that LINGPAI, the appearance is beautiful, and there are many functions."
"What frameless door is there."
"But it makes me feel flashy."
At the end of February, a classmate asked me which new energy SUV is suitable for a price of 150-200,000 yuan? After he went to the store to test drive various models, he gave feedback on the LINGPAI C11 extended range version.
He is the only person I have met so far who will consider the subsequent situation of buying a car for this brand, but his concerns are not unfounded.
As mentioned above, selling cars at a loss, who knows if you will run away halfway. In addition, financial data shows that as of December 31, 2022, LINGPAI's cash and cash equivalents were RMB 6.95 billion, which is not a bit worse than WEY's RMB 45.5 billion, RMB 38.2 billion, and RMB 58.45 billion.
In addition, although LINGPAI claims to be "all-domain self-developed" in research and development, the cost gap of research and development input is also obvious. Financial reports show that LINGPAI's automotive R&D investment cost in 2022 was 1.411 billion yuan, while NIO's R&D investment last year has reached 10.84 billion yuan, and the R&D investment of ideal cars has also doubled to 6.78 billion yuan from the same period last year.
To survive, it is important to ensure that the capital chain will not break and that the follow-up can continue. Therefore, I seem to understand why my classmates would have the idea of ​​"worried that they will go bankrupt like NIO". How NIO fell down, I believe everyone has heard of it.
At the financial report conference call, Jin Hua, senior vice president of LINGPAI Automobile and secretary of the board of directors, said: "The company expects to achieve a positive gross profit margin in 2023, but due to the overall automotive market is undergoing drastic changes, the specific time point for the gross profit turnaround cannot be determined yet."
If the specific time points are fluctuating, how can people trust you?
Currently, LINGPAI Automobile is the only car company among several listed new forces in car-making that has not yet achieved a positive gross profit margin. "WEY SMALLRIA" had gross profit margins of 10.4%, 11.5%, and 19.4% in 2022, and the three car companies have achieved gross profit margin turnaround in 2020.
"""

The main reason for the current situation is that the new car maker, Seres, relies too much on the low-priced T03 model to maintain its sales volume. In 2022, Seres delivered 111,168 cars, a year-on-year increase of 154%. T03 accounted for 55.7% of the total sales, with a cumulative sales volume of 61,900 cars last year, while C11 and C01 delivered 44,400 and 4,815 cars respectively. Although the sales figures look impressive, T03 is still the main sales leader, mainly because of its cost-effectiveness and hence, resulting in a 'dead loop.'
The Strategy of Price Reduction and Configuration Reduction for Increased Sales
Seres' Chairman Zhu Jiangming stated at the financial report conference that Seres' positioning is to offer "cars that cost 150,000 to 200,000 yuan but have a configuration of 300,000 to 400,000 yuan."
Undoubtedly, adopting a price-performance route is correct and the price-performance strategy has not only enabled Seres to get rid of its survival crisis but has also led to its growth, but now the price-performance ratio of Seres is no longer as good as it was in the past.
On March 1st, Seres released the 2023 models of C11 electric version, extended range version, C01, and T03 cars. However, the high-end C11's new models have been priced down to 149,800 yuan to 219,800 yuan, and C01's new models have been reduced from 193,800 yuan to 286,800 yuan to 149,800 yuan to 228,800 yuan. The T03's price was also reduced from the original 82,500 to 99,500 yuan to 59,900 to 89,900 yuan, with a maximum reduction of nearly 60,000 yuan.
Although the price has been reduced, the car also comes with a reduction in configuration. For example, the pure electric car model has reduced unnecessary configurations such as luggage racks, trunks, and electric door handles. According to incomplete statistics, using the new 2023 C11 electric entry-level model as an example, although the starting price has been reduced by 4,000 yuan compared to the entry-level model released in December 2020, users have lost more than 30 previously emphasized luxury, intelligence, and comfort configurations.
"`## Translation
朱江明 introduced during the financial report conference call that, in the more than 20 days since the new cars were released on March 1st, the orders for the C11 extended range model and C01 model have exceeded the low-priced T03 model, and C-series products now account for more than 80%. He also stated that the new car models released on March 1st have "positive gross profits".
As for the credibility of this statement, we can only wait for next month's sales announcement to find out.
Leapmotor, which hopes to exchange its products' prices for sales volume, faces great challenges in its goal of doubling its annual sales.
This article is a translation by ChatGPT of a Chinese report from 42HOW. If you have any questions about it, please email bd@42how.com.