"He XPeng has completed his own affirmation of denial, give him a score of 80."
This was the evaluation made by an investor who has been following the automotive industry when talking with Garage 42 about the current situation of He XPeng.
According to the investor, when XPeng's stock price was still over 90 Hong Kong dollars in 2022, he pointed out some problems with XPeng in front of He XPeng and made suggestions, but they were not adopted. After that, XPeng encountered a crisis and the stock price continued to fall, and now it has fallen to over 30 Hong Kong dollars in the Hong Kong stock market.
Now, the situation seems to have shown a sign of improvement.
On March 17, 2023, after XPeng's financial report for the fourth quarter and full year of 2022 was released, He XPeng talked about the latest situation and future development focus of XPeng in a conference call.
"Capital markets gave positive feedback quickly," XPeng's stock price in the US stock market rose by 5.88% on that day, and then the stock price in the Hong Kong stock market also rose to a certain extent.
However, the rise of the stock price is just superficial. What is more worth paying attention to is He XPeng's self-evolution.
Forced to become a qualified CEO
For nearly half a year, He XPeng has been forcing himself to become a qualified CEO of an automotive company.
"Unqualified CEO"
In fact, He XPeng was very resistant to the role of XPeng CEO.
In August 2017, when He XPeng left Alibaba and joined XPeng, he only took over the position of chairman, and did not serve as CEO. He once talked publicly about this, saying that he originally intended to find a dedicated CEO, but later could not find one, so he took the position himself.
However, even after he became the CEO of XPeng, He XPeng did not really take on the role of a CEO. For a long time, in major decision-making, he did not like to be a "dictator," but chose to consult with the two co-founders Xia Heng, He Tao, and vice chairman Gu Hong. They made decisions by voting, which seemed quite "democratic."From a specific business perspective, although He XPeng needs to oversee the overall situation, he is more concerned about technological research and development and intelligent-related businesses, "disliking dealing with a bunch of operational management things", and remains responsible for his familiar fields, such as autonomous driving, intelligent network connection and other business sectors.
As the core area of XPeng Motors' business, product planning and sales departments report to the co-founders with an automotive industry background, Xia Heng and He Tao.
It is worth mentioning that as the CEO of XPeng Motors, He XPeng has also spent a lot of energy on the company's ecological enterprises, such as having weekly meetings with the XPeng Intelligence team at a certain period of time, being obsessed with "free flying".
It can be said that at that time, He XPeng was not willing to step out of his "comfort zone" and fully assume the role of a CEO of a car company – even He XPeng himself admitted in an interview in November 2022 that he was an "unqualified CEO".
However, the serious crisis exposed by the G9 launch accident forced He XPeng to move forward in the continuous organizational adjustment of XPeng Motors and get closer to the role of CEO.
A difficult "letting go"
Firstly, it was a difficult "letting go".
In October 2022, XPeng Motors carried out a comprehensive organizational structure adjustment. Through the establishment of five large committees and three product matrices, He XPeng fully grasped XPeng Motors' strategy, product planning, and technical planning, while Xia Heng, who previously led product planning, withdrew behind the scenes.
At the end of November, while XPeng Motors released its Q3 financial report, it announced that Xia Heng would resign as an executive director of the board of directors. Therefore, He XPeng became the only executive director of the entire board of directors of XPeng Motors.
Moreover, at the Q3 financial report conference call, He XPeng announced that he would significantly reduce his direct involvement in ecological enterprises and invest more in XPeng Motors. This means that He XPeng has started to take full control of XPeng Motors' development, not only in overall leadership, but also in full concentration of focus and effort.
It should be emphasized that for He XPeng, bidding farewell to Xia Heng in the board of directors was not an easy task.According to insiders familiar with He XPeng's character, He is a very generous person with a kind and tolerant personality, which is a precious personal quality. However, in his work, this generosity can lead to a lack of decisive and efficient management. Based on this character, he expressed in an interview that he did not approve of Musk's approach of "removing the founding team one after another."
But, in order to save struggling XPeng Auto, He XPeng eventually broke through himself, took a step forward, and implemented "断舍离" on the old management structure that harbored great crises.
At this point, He XPeng was more like a CEO.
Finding New Collaborators
Of course, after "断舍离", He XPeng, who lacked experience in the auto industry, did not sit back and relax. Instead, on the basis of evaluating his own strengths and weaknesses, he completed another critical action in organizational transformation: finding new collaborators.
On January 30, 2023, XPeng Auto announced the appointment of Wang Fengying as the company's president, responsible for product planning, product portfolio management, and sales business, reporting directly to He XPeng. As a leader with more than 30 years of experience in the auto industry, Wang Fengying's joining was regarded as an important move by He XPeng to make up for his own shortcoming.
More than a month later, on the financial report conference call on March 17th, He XPeng discussed the latest division of labor in XPeng Auto. He will fully manage XPeng Auto's design team, R&D team, production team, supply chain team, organizational management team, and process system team, while Wang Fengying will be fully responsible for XPeng Auto's product planning, sales, brand marketing, and the entire large product matrix system.
He XPeng revealed that Wang Fengying has a deep understanding of channels. They had several discussions on channel strategies in the roughly one month since she joined, and came to clear conclusions: First, XPeng Auto will continue to firmly promote its direct sales and authorized sales channels, with an increase in the proportion of authorized sales channels in the future. Second, flattening the management of channels will improve the overall profitability and operating efficiency of channels. Third, the transformation of channels that only have sales functions into more 4S functional channels.It is worth mentioning that Wang Fengying worked very hard after joining, "working seven days a week", which put a lot of pressure on He XPeng, who also began to work seven days a week.
In a sense, for He XPeng, Wang Fengying's joining is not only to make up for his industry knowledge gap, but also to spur and toughen him as a CEO.
Learning from Tesla on Cost Control
From the latest developments, He XPeng's understanding of the automotive industry has undergone tremendous changes.
A typical example is that He XPeng repeatedly emphasized two key words, cost and scale, in the earnings conference call on March 17. As a comparison, in previous earnings conference calls, He XPeng preferred to emphasize words such as technology research and development, electrification, autonomous driving, and product experience.
This is unprecedented.
First Time Emphasizing Cost Control Ability
The phrase "cost control capability" had never appeared in He XPeng's conference call speech before this time, and this was the first time it appeared.
In the earnings conference call, He XPeng said:
In the face of the current fierce industry competition and homogenization, in addition to continuing to achieve leading autonomous driving and aesthetic design and significantly improving product planning, marketing efficiency, and organizational capabilities, a very, very important key point is: a company must have super strong cost control capabilities, which will be the core competency that XPeng Auto believes it should win in the competition in the future.
Indeed, based on the performance of the full-year 2022 financial report, among the "Big Three" EV manufacturers, XPeng Auto's cost control performance was relatively poor, and the gross profit margin per vehicle for the full year was also the lowest among the three, only 9.4\% (ideal is 19.1\%, NIO is 13.7\%).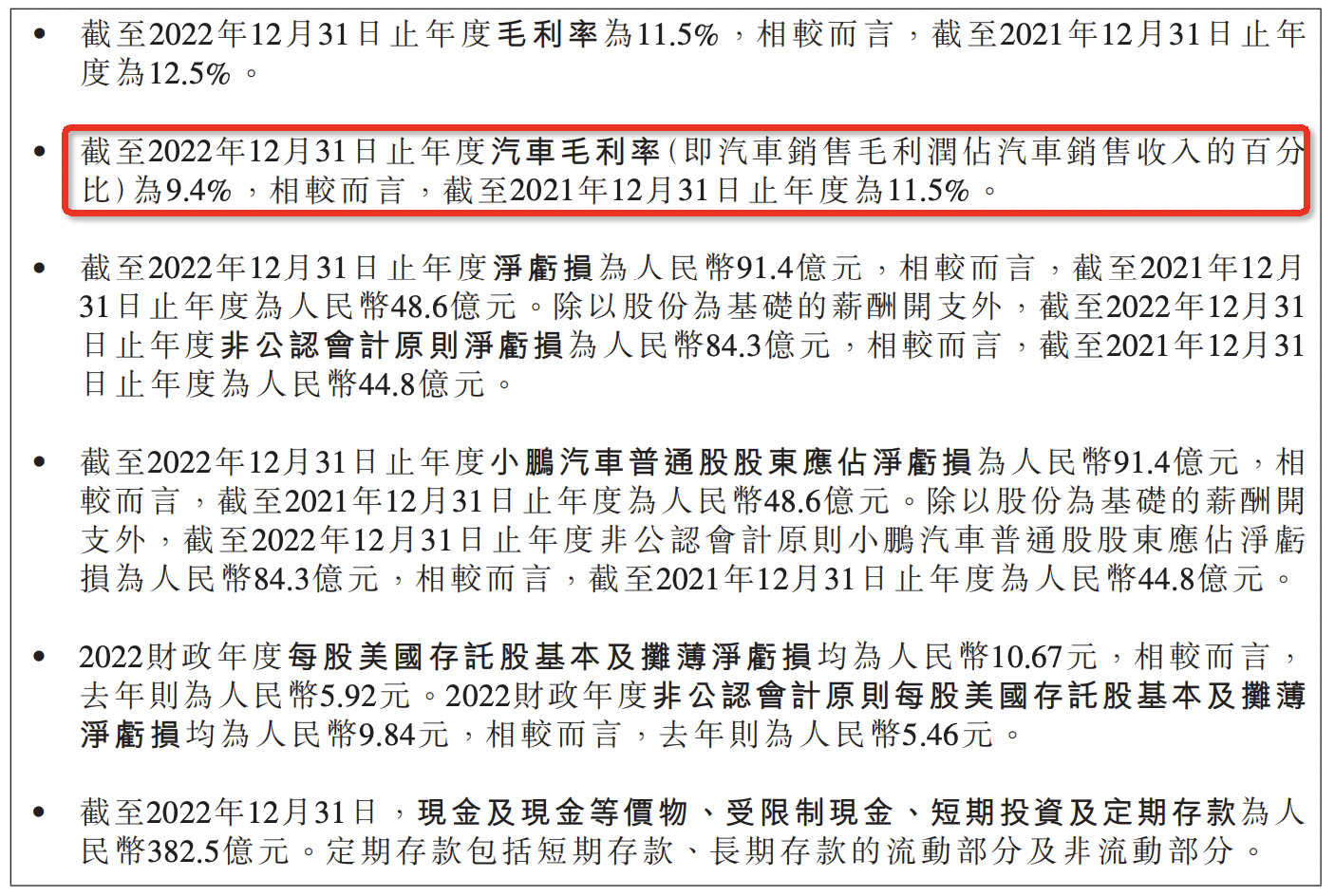 As a solution to this problem, He XPeng stated that XPeng Auto will promote cost reduction in two aspects: first, XPeng's pure electric vehicle platform, electronic and electrical architecture, power system, and intelligent auxiliary driving software and hardware will enter the platformization stage, so as to launch new vehicles at a faster speed and lower cost; second, in terms of technology research and development, shift from "prioritizing performance and functionality" to "reducing costs while maintaining performance".Based on these methods, XPeng He plans to achieve a cost reduction of more than 50% for the BOM of autonomous driving from this year to next year, and to make the cost of the vehicle's hardware, including the power system, decrease by about 25%.
However, XPeng He also stated that a 25% cost reduction does not mean that XPeng Motors is very powerful, but only represents inadequate cost control in the past.
He also candidly admitted that there are many opportunities to reduce costs internally, such as marketing costs, unnecessary research and development costs that do not create customer value, and software and hardware BOM costs.
XPeng He also revealed that XPeng Motors has many cost-cutting measures at the product level, such as the use of an integrated stamping solution for G6 and the adoption of new methods for the entire vehicle PACK, which can reduce costs by 40% to 50%.
Learning from Tesla
XPeng He's emphasis on cost reduction easily reminds people of Tesla, who talked a lot about cost reduction in the past.
In fact, in early March, Tesla held an investor conference to preach about "cost reduction" to the entire global automotive industry, involving the full chain of vehicle costs from scratch, including vehicle basic costs, battery + electric drive costs, and production costs—making Tesla's single-car gross margin as high as 28.5% in 2022, even higher than Porsche.
At that meeting, based on the cost reduction culture, Tesla summarized the "seven major cost reduction points", including economies of scale, productivity enhancement, high efficiency, product optimization, engineering improvements, localization, and supply chain scale. At the scene, Tesla even announced that the cost reduction target for its next-generation models is 50%.
In comparison, the cost control measures mentioned by XPeng He are indeed easy to see the shadow of learning from Tesla. In this regard, an industry insider who has been following the development of XPeng Motors for a long time said that considering the timing relationship between the Tesla investor conference and the XPeng Motors earnings call, XPeng He's talk about "cost control" in the earnings call is a tribute to Tesla, but it is different from before. This time XPeng He targeted the really powerful points of Tesla and was seriously learning.
The industry insider remarked that there is another possibility that when Wang Fengying joined XiaoPeng Motors, she brought with her more extensive experience in the automotive industry, a more mature long-term perspective, and a mindset that is more closely related to the essence of the automotive industry, all of which have helped He XPeng fill many of the gaps that needed to be filled.
In the view of this industry insider, He XPeng had a long and rich experience in the software and Internet industries, which are characterized by high profit margins due to the low marginal costs incurred in the later stages of development after the initial development costs have been incurred. However, the cost structure of the automotive industry is completely different from that of the Internet industry. When He XPeng entered the automotive industry, he faced serious path-dependence issues and did not have sufficient awareness of the importance of cost control.
Now, He XPeng fully understands the extreme importance of cost control, which is a good thing.
Responding to Survival Crises with Scale
One reason why He XPeng talks a lot about cost control is to achieve a larger scale.
"After all, cost control is the first priority in achieving scale," he added.
In fact, during the financial earnings conference call, He XPeng made it clear that he did not want XiaoPeng Motors to be a small and beautiful company. He emphasized that in the long run, the first strategic goal of XiaoPeng Motors was to pursue technology, change production, expand scale, and market share, and there should be sufficient scale advantages in both software and hardware.
The reason for emphasizing scale is based on He XPeng's judgment of the fierce competition in the Chinese automobile market.
On the one hand, the extremely aggressive price war of the gasoline car camp will be unavoidable in the next one or two years in the face of huge challenges. After all, gasoline car companies will wage a pricing war against new energy vehicles, including electric vehicles. In addition, with the capacity expansion of power batteries and the downward trend of upstream raw material prices for power batteries, electric vehicles will also fight back.
Based on this, many car companies will pursue market scale more aggressively – as XiaoPeng Motors does.
On the other hand, from a long-term perspective, only car companies that reach a certain scale can survive in China. He XPeng stated that in 2017, there were nearly 300 new car makers in China, but this year only about 50 passenger car brands had sales in China, and in five years, there may only be 25, and in ten years, there may only be between several and ten.This means that whether a car company produces 100,000 or 500,000 to 700,000 cars per year, they cannot survive between five to fifteen years. In China, the minimum scale for survival may be 3 million cars per year.
Therefore, in his opinion, strict cost control and achieving a certain level of market scale will be the key to survival in the next 5 to 10 years.
It can be seen that through the emphasis on scale and cost control, He XPeng has truly realized the potential survival crisis of XPeng Motors in the future.
Conclusion
In this financial report conference call, He XPeng tried to convey a clear message to the outside world: XPeng Motors is about to enter a turning point.
He stated that, at the organizational level, XPeng Motors has completed a new round of structural adjustments, forming a new management team with himself and Wang Fengying in full cooperation; at the product planning level, XPeng Motors will innovate around user-perceived value and differentiation; and in intelligence, marketing, and other aspects, XPeng Motors also has corresponding new attitudes and measures.
However, for the outside world, the most convincing factor is actually order volume.
According to He XPeng, after the launch of the new XPeng P7i, XPeng Motors had a significant increase in new orders from March compared to February. The soon-to-be-launched G6 is expected to become a popular model among 200,000 to 300,000 market sales leaders, and after mass production it will achieve two to three times the monthly sales target compared to the P7 series.
It's worth mentioning that, based on his understanding of the long cycle of the automotive industry, He XPeng is no longer eager to see significant performance improvements in the second quarter.
He stated that although the product and management adjustment cycle of the automotive industry is more difficult and requires a longer time period compared to other industries such as the Internet, XPeng Motors is still willing to sacrifice short-term sales to prepare for success with more patience in the medium and long-term.
So, when will XPeng Motors see the results of this transformation?
He XPeng's answer is: the third quarter of 2023- by then, XPeng Motors' sales will see a significant increase in both month-to-month and year-over-year comparison.
However, it is more certain at this time that He XPeng, who left Alibaba to join XPeng Motors, is working hard to complete the enormous leap from an Internet giant executive to a car company CEO, according to #42 Garage.The transformation is difficult, expensive, and even late.
But fortunately, it has come.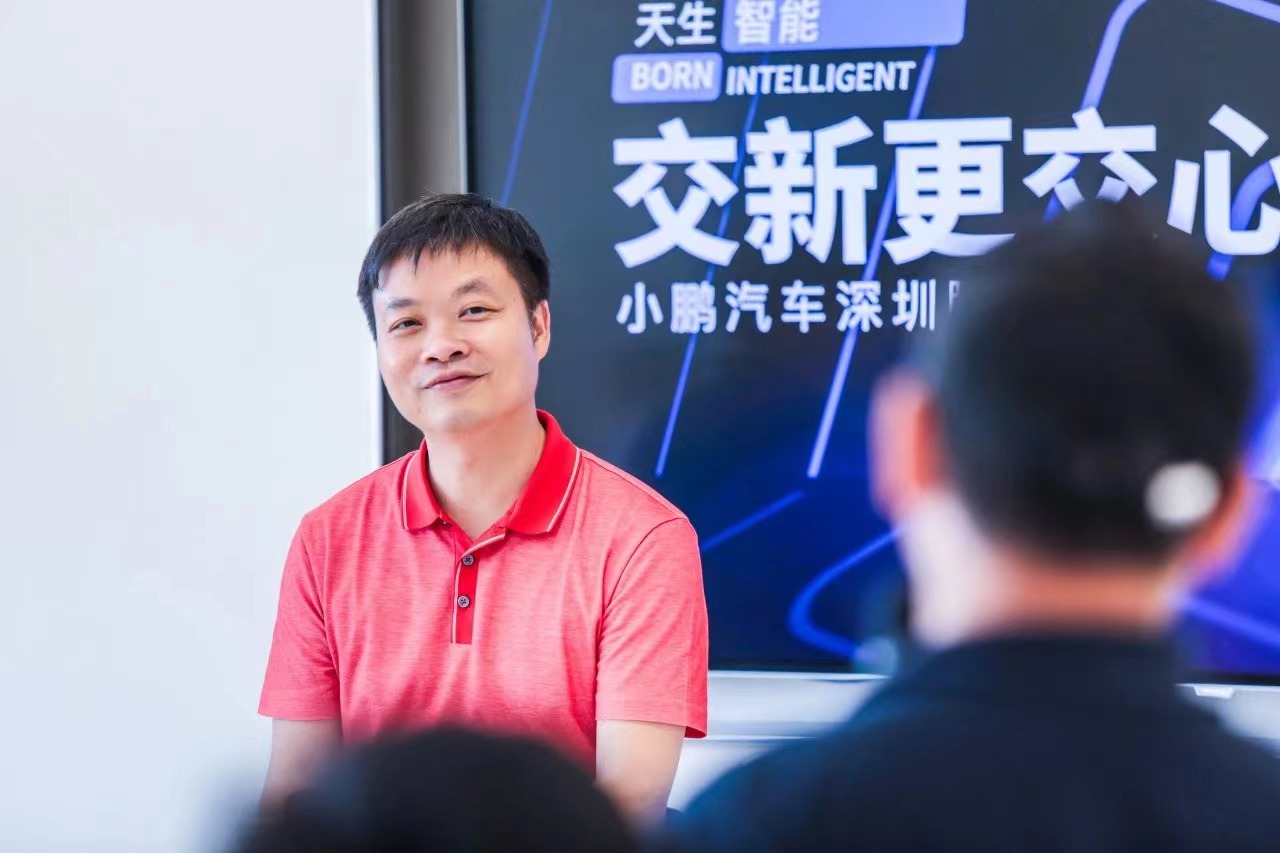 The transformation of He XPeng himself is also an internal proof of XPeng Motors' active self-rescue in the cruel market environment. In the long term, it is also laying the foundation for XPeng Motors to achieve its survival goal of 3 million in the future.
However, XPeng Motors' sales in 2022 were just over 120,000. To achieve the scale of 3 million vehicles, it means that XPeng Motors needs to achieve nearly 25 times growth in sales over the next decade or so.
This goal is a huge challenge for both XPeng Motors' organizational structure, cost control, sales channels and other aspects, and for He XPeng himself as a leader of a car company, who must continue to grow.
So, can XPeng Motors successfully meet such a challenge?
It remains to be seen. However, for 46-year-old He XPeng and XPeng Motors named after him, there is no chance to catch their breath. They can only continue to break through their own limitations through constant self-revolution and evolution, and march on a difficult and cruel road to a sales counterattack.
This article is a translation by ChatGPT of a Chinese report from 42HOW. If you have any questions about it, please email bd@42how.com.