Author: Zheng Senhong
In 2022, XPeng Motors handed over a not-so-encouraging financial report.
On March 17, XPeng Motors released its fourth-quarter and full-year financial report data for 2022:
In the fourth quarter, XPeng delivered a total of 22,204 new cars, a 46.8% decline from the same period last year, which saw 41,751 new cars delivered.
In 2022, XPeng delivered a total of 120,757 new cars, only half of the expected target, and its losses increased by 87.92% compared to the previous year.
Total revenue in the fourth quarter was 5.14 billion yuan, with a gross profit margin of 8.7%; for the full year, it was 26.86 billion yuan, with a gross profit margin of 11.5%.
In the fourth quarter, XPeng suffered a net loss of 2.36 billion yuan, which is slightly lower than the net loss of 2.38 billion yuan in the previous quarter; but for the full year, the net loss was 9.138 billion yuan, nearly doubling from 4.86 billion yuan in 2021.
As of the end of the fourth quarter, XPeng's cash reserves were RMB 38.25 billion, down RMB 5.3 billion from the end of the previous year.
Considering NIO and Li Auto's financial report data for 2022, the top three domestic new forces are at different stages of development:
NIO sells the most expensive cars, but suffers the most significant losses, and is a typical situation of losing money to make a name.
Li Auto's financial situation is relatively healthy, and it has the strongest profitability.
XPeng sells the cheapest cars, but earns the least.
How should XPeng Motors fight back in this turnaround battle, halfway through the new energy vehicle war?
Faced with this year's report card, He XPeng emphasized in the conference call that there will be a round of "new policy"-like adjustment centered on products, channels, and technology.
XPeng's 2022: A decline in unit gross profit and an expansion of losses
At the beginning of the financial report conference call, He XPeng put the crisis on the table:
"The macro environment and competition in the new energy vehicle industry have brought many challenges, and our performance has been under pressure."
From the financial report data, XPeng's originally high growth rate came to an abrupt halt in the second half of 2022, and its long-term position as the top monthly sales of new forces continued to decline.
In the fourth quarter of last year, XPeng only sold 22,000 cars, while NIO and Li Auto delivered more than 40,000 units."`markdown
The "waist-cut" decline in delivery volume is not surprising, as the new model XPeng G9's market performance fell below expectations, bringing only 6,373 units of sales in the entire fourth quarter.
At the same time, the three old models, G3, P5 and P7, are also difficult to make breakthroughs in sales volume.
Based on the sales trend of XPeng G9, XPeng has lowered its delivery expectations for the first quarter of 2023, giving a delivery guideline of 18,000 to 19,000 units.
This also means that XPeng's quarterly delivery volume will fall below 20,000 units for the first time since the second half of 2021.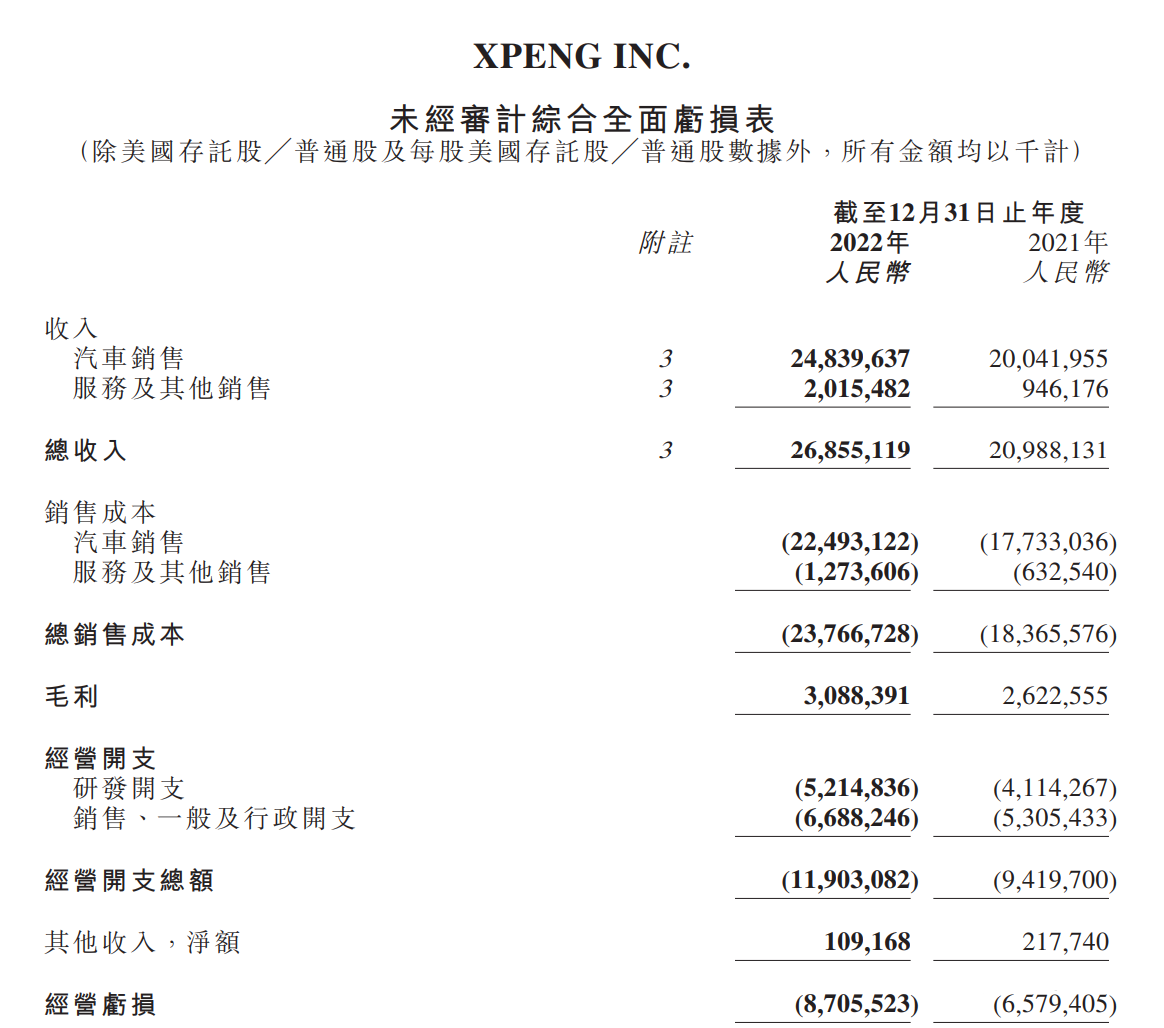 The continuous decline in delivery volume directly lowers XPeng's revenue level.
According to the financial report, XPeng's total revenue in 2022 was RMB 26.9 billion, a 28% increase over the previous year. Among them, the revenue from car sales was RMB 24.84 billion, a 23.9% increase over last year's RMB 20.04 billion.
In comparison, NIO and Ideal had total revenues of RMB 49.2686 billion and RMB 45.29 billion respectively last year, and car sales revenues of RMB 45.5066 billion and RMB 44.11 billion respectively, almost twice that of XPeng.
In terms of gross profit margin, XPeng's overall gross profit margin for the year was 11.5%, and the gross profit margin for the auto business was 9.4%. The gross profit margin for a single car in the fourth quarter hit a new low in nearly two years (5.7%).
In comparison, Tesla's gross profit margin per car in 2022 was 28.5%, compared to 13.7% and 19.1% for NIO and Ideal respectively.
This means that, on average, NIO, Ideal and XPeng can earn 42,000 yuan, 63,000 yuan, and 19,000 yuan, respectively, for every car sold.
"XPeng Automotive's gross profit margin is mainly affected by the price of raw materials such as lithium carbonate, as well as the impact of upstream and downstream price reductions and promotions," explained XPeng Automotive.
From the data, ideal cost control is better than XPeng, with an ideal sales cost rate of 80.59% compared to XPeng's 88.5%, meaning that for every 100 yuan of revenue, XPeng spends 8 yuan more in cost than the ideal, while NIO is at 89.56%.

In other words, NIO is the most generous spender, Ideanomics is the most frugal, while XPeng is the least efficient.

In terms of R&D investment, XPeng's R&D expenditure in 2022 was 5.21 billion yuan, an increase of 26.8% from the previous year, mainly due to the increase in expenditure on the development of new models.

During the conference call, He XPeng revealed that two new models will be launched this year:

- XPeng G6 will debut at the Shanghai Auto Show in April this year and be delivered at the end of the second quarter. He XPeng said that the G6 will have the most advanced intelligent and electric technologies in the 200,000-300,000 yuan price range. After mass production, the G6 is expected to sell 2-3 times as much as XPeng P7;
- A 7-seater MPV model will also be released in the second half of this year.

"At the end of 2022, XPeng Automobile began to conduct strategic review and adjustment, promote the optimization of organizational structure, and strengthen the short board of comprehensive ability, and carry out secondary entrepreneurship."

During the financial results conference call, He XPeng said that from the third quarter of this year, XPeng Automobile's sales are expected to see substantial growth on a quarter-on-quarter and year-on-year basis, and a large proportion of this growth will be higher than the industry growth rate.

Before witnessing XPeng Automobile's rebound, an urgent internal change is facing He XPeng.

## Product Planning and Marketing System, Wang Fengying to Do Both

Starting in the third quarter of 2022, XPeng Automobile began to adjust its internal structure around human resources, organizational structure, product planning, and marketing system.

First is XPeng's product, platform, and positioning issues.

XPeng currently has five models on sale, but due to a lack of product strategic planning, XPeng has repeatedly increased the complexity and cost of the supply chain for the first four models.

The biggest advantage of platform-based production is to shorten the new car development cycle and save costs, but XPeng has been switching between two platforms (G3, P5 based on David platform, P7, G9 based on Edward platform) and planning 2-3 battery pack capacities for each model, which is delivered by two suppliers, resulting in 6 battery specifications for each model. 


![Xpeng Motors E-Platform](https://42how-com.oss-cn-beijing.aliyuncs.com/article/result%20(6)_20230319133702.png)




Information revealed in a previous internal Xpeng meeting confirms that the development, testing, validation, and announcement costs for a new vehicle SKU can reach up to 50 million yuan.



To avoid redundant design and retesting, Xpeng has clearly divided into three platforms, E, F, and H, since this year. After learning from the lesson where the configurations of the P7 and G9 were overly complicated, Xpeng has gradually streamlined its SKU.



For example, the P7i has four configurations that are relatively clear, with the intelligent cabin being brought to full configuration, ensuring Xpeng's intelligence attributes no matter which configuration is chosen. At least one Orin-X chip is also included to provide intelligent driving.



He XPeng revealed that Xpeng's automotive design and development, production, supply chain, organizational management and process systems teams all report directly to him, and that he will also directly manage the styling teams, building competition between the three styling design teams internally.



Secondly, there are sales system problems.



As a new force in the automobile industry, Xpeng has always maintained two types of "retail models" – hybrid direct sales and authorized dealers. Although it did help Xpeng to quickly expand the number of stores in the early stages, with the continuous growth of the brand's market volume, the shortcomings of this sales system have also become apparent. It was unable to reduce the cost of building stores while being unable to provide unified services as with the direct sales model.



In addition, due to the fact that the two channels of direct sales and dealerships are managed by different leaders, there have even been incidents of "user snatching" and "undermining each other" between them.



New energy vehicles are an industry that pursues extreme efficiency. The confusion between channels is undoubtedly the "arch villain" that prevents Xpeng from further seizing the market.



Based on this, the head of sales, Wang Fengying, abolished the original regional system and redefined it into more than 20 sales zones, placing all direct retail stores and authorized dealers in each zone under the jurisdiction of the respective zone leader, which can be regarded as transforming the competition between the original two factions into competition between different regions.



Although, as the CEO, Wang Fengying has the management authority over Xpeng's product planning and product matrix, as an executive who has suddenly transferred in, in order for her to make rapid adjustments to these departments, she needs to have a sufficient understanding of Xpeng's competency boundaries and organizational structure and sufficient authorization.Through the earnings conference call, we can feel that He XPeng has given Wang Fengying enough power, and perhaps the market performance of P7i will be the ultimate test.

"XPeng P7i's sales performance will represent the first victory for XPeng Auto after its comprehensive transformation," says He XPeng.

In terms of product strength and pricing, P7i has the potential to become a popular model, but in sales and marketing, it needs to maximize its selling points to continuously boost sales.

Vehicle costs will decrease by 25%, and 2024 assisted driving hardware will be standard across the range 

For a new carmaker, how many models can it afford to fail on?

XPeng is currently verifying this issue.

Different from NIO and Li Auto, XPeng is trying to squeeze into the fiercely competitive mid-range market of 150,000 to 400,000 yuan.

XPeng hopes to quickly expand its market volume during the critical period of brand growth.

As the user base of new energy vehicles grows, the market situation will become more obvious, and the middle price zone will be the main battlefield.

However, faced with sluggish sales of high-end products and continuous decline in sales of volume models, XPeng, stuck in the "mediocre trap," failed to successfully expand its price range.

From the starting price of 150,000 yuan for G3 to the highest price of 470,000 yuan for G9, XPeng faces strong competitors in every price range, including Tesla, BYD, and various new car forces.

Taking the newly-launched P7i (starting from 249,900 yuan) as an example, in the past B-class pure electric sedan market, there were only two strongest opponents, Tesla Model 3 and BYD Han. Now there are also BYD Dolphin, 2023 Zero Run C01, NETA GT and Ji Kr 001, and the sales of some models have exceeded the most brilliant achievements of the old P7.

If the market is a static competition, the product strength of P7i is not inferior to each of the above models.


Front there is Tesla's Model 3 at the lowest price in history (starting at 229,900 yuan), and back there are zero-run C01 sold at a "cabbage price" (starting at 149,800 yuan), and BYD's Han Champion Version, which has lowered its sale price again (starting at 209,800 yuan).

For this popular market, consumers who are sensitive to price are the majority, so the competitiveness of the sale price is the most intuitive.

"In the 250,000-350,000 yuan range, there will be a substantial reduction in component costs, and the pricing of subsequent restyling models and new models will be more aggressive." He XPeng revealed XPeng's next plan during a conference call.

However, the problem is that XPeng's latest single-vehicle gross profit margin is only 11.5%, so how can they achieve "substantial cost reduction"?

He XPeng's answer is to achieve cost reduction through two directions: platform modularization and a large amount of technological innovation.

For example, in terms of battery design, battery integration, one-piece die casting, and optimization configuration, they will adopt various methods to achieve a 50% reduction in BOM cost of automatic driving from this year to next year, and a 25% reduction in vehicle hardware (including power systems) costs.

He XPeng also set a flag: "Starting from 2023, XPeng's pure electric vehicle platform, electronic and electrical architecture, power system, and intelligent driving software and hardware will all enter platformization and enter the real systematic car-making stage, with faster speed and lower cost."

Although it is not currently clear what kind of price competition XPeng's cost reduction of 25% can bring, it is certain that with the decline in the BOM cost of intelligent driving, XPeng will achieve a transformation from the bundling sales of software and hardware to hardware standard equipment by 2024.

For example, in the case of XPeng's P7i, there is a difference of 20,000 yuan between the 702 Max version (26.99 yuan) equipped with dual Lidars and dual Orin-X chips, and the 702 Pro version (24.99 yuan) without Lidar and with a single Orin-X chip.

This also means that XPeng's future new models do not need to be entangled in whether to retain or cut some intelligent configurations to reduce the product's sale price; furthermore, it can also ensure the integrity and leadership of intelligent driving and intelligent cockpit experience.

In the eyes of He XPeng, cost control and intelligent driving will be the long-term core competitiveness of XPeng Motors, as well as the confidence for XPeng Motors to survive.
As of 2023, the competition in the pure electric vehicle market will become even more intense. Tesla, BYD, Great Wall, Geely and other automakers will further intensify their model offensive and price wars. At the same time, Ideal Automotive is also looking for the right time to enter the pure electric market, while NIO is sparing no effort in research and development.
Self-reflection, daring to break and establish, is particularly important for XPeng Motors, which is in the stage of rapid growth.
"`
This article is a translation by ChatGPT of a Chinese report from 42HOW. If you have any questions about it, please email bd@42how.com.