Author: Michelin
"Deliver a total of 10 million pure electric vehicles by 2030." If I hadn't watched the press conference all the way through, I probably wouldn't have believed that such a bold goal came from BMW.
In 2022, BMW's pure electric vehicle sales were 215,000 units, accounting for 8.96% of the total. The other two German giants, Mercedes and Audi, had pure electric vehicle ratios of 5.76% and 7.2%, respectively. Compared to many other traditional luxury brands, BMW's electrification layout was earlier and more invested, but the action doesn't seem to be as fast as expected by the outside world. Therefore, in the next six-plus years, BMW has to deliver more than 9 million pure electric vehicles, trying to catch up while riding a rocket.
Thus, at the 2022 financial report conference, BMW summed up three issues: electrification, electrification, and still electrification. The real game for electric vehicles had begun.
Nearly 50% increase in profit, confident in R&D
For the car industry, the past year was regarded as a "difficult mode."
In 2022, the BMW Group sold a cumulative total of 2.3996 million new cars globally, a year-on-year decrease of 4.8% and a reduction of about 100,000 cars compared to the previous year. The sales of pure electric vehicle models doubled, increasing to 215,800 units, which once again made BMW the sales champion of luxury cars, outstripping Mercedes's 2.04 million units.
Although sales declined slightly, it had no effect on revenue and profit growth. In 2022, BMW Group's full-year revenue was €142.6 billion, a year-on-year increase of 28.2%; Automotive revenue was €123.6 billion, a year-on-year increase of 29.5%; net profit was approximately €18.582 billion, a year-on-year increase of 49.1%. This was due to the improved pricing capability of BMW's new models over the past year, rapid development of the used car business, full consolidation of BMW Brilliance Automotive, and exchange rate fluctuations, all of which promoted BMW's profit growth.
In the current price war in the domestic auto market, excellent profitability gives us the confidence to see the bottom line of traditional luxury brands' price wars. It also ensures that BMW has sufficient cash flow to push R&D of electric vehicle models and innovative technologies.
BMW Group Invests 6.624 Billion Euros in New Vehicle Models and Digital Research Development in 2022, Up 5.2% YoY
Expenditures of 7.8 billion euros, up 55.4% YoY, were made for upgrading the BMW iFACTORY production, expanding the power battery project, and fixed assets, etc.
These R&D and production costs are used for researching and developing new vehicle models and the 6th-generation BMW eDrive powertrain technology for the future; the digital fields of AI, autonomous driving, human-computer interaction, etc.; and the newly established factories last year, such as the Lieder plant in China, the new power battery project with BMW Brilliance Automotive, and production upgrading and expansion in Hungary, etc.
This investment of 14.4 billion euros could be said to be BMW's arsenal for technology and production reserves for electrification and digitization.
Pure Electric Vehicles: The Growth Point of Future Sales
In 2022, BMW delivered a total of 792,000 vehicles in the Chinese market, accounting for 33% of global sales, and China remains the main market supporting BMW's performance. Among them, pure electric vehicles delivered 41,900 units in the Chinese market, accounting for 5.3%. In the context of the booming new energy market in China, this proportion seems to be less optimistic. Therefore, BMW is exerting greater efforts in the pure electric vehicle sector in 2023.
This year, BMW will release three pure electric car models: BMW i5, BMW iX2, and BMW i5 Touring. Coupled with the already-launched i3, iX3, i4, iX, i7, as well as innovative models such as BMW iX1, Rolls-Royce SPECTRE, BMW Motorrad CE04, the BMW Group's pure electric products will expand to 11, covering major segmentation markets.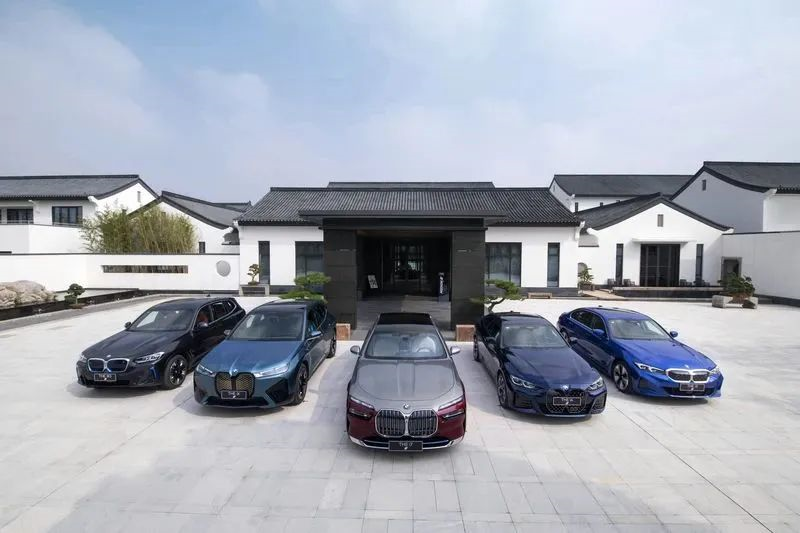 To this end, BMW has set a goal for 2023 that 15% of its deliveries will be pure electric vehicles. By 2025, this figure will reach 25%; by 2030, pure electric vehicles will account for half of its sales, with a cumulative delivery of more than 10 million vehicles.
To achieve this ambitious goal, BMW not only needs to launch a few pure electric vehicle models but also needs to launch its 2025 new generation plan for pure electric vehicles.
The 2025 new generation plan marks the entry into the "real game". If the first few years were a era of fierce competition and immature technology and products for electric vehicles, then the competition for electric vehicles has now entered the second phase of the "real game," with improved product strength, innovation technology, and gradually increasing market acceptance. For BMW, the early layout is to wait for its new generation of pure electric architecture products to appear, exchanging stability for time.
In the second half of 2025, the new generation of models will begin production. Within the following 24 months, i.e., the end of 2025 to 2026, BMW will launch at least six new generations of electric vehicle models based on pure electric platforms, including the real "BMW i3".
So, what are these new generation models?
1) A brand new electronic and electrical architecture and user interface and human-machine interaction concepts.
2) A brand new, high-performance, and significantly more efficient electric drive and battery system.
3) The product's full life cycle will reach a new height of circular and sustainable levels.
Earlier this year, BMW released the BMW i Vision Dee concept car, which is a bold design with external body color changing and no physical screens in the cabin, giving the car a quite abstract and distant look.
The new generation of models will adopt the design language and human-machine interaction concept of the BMW i Vision Dee, creating an immersive interaction experience through even more invisible Shy-Tech technology and AR-HUD."`
In terms of the three-electric system, the new generation of vehicles will adopt an 800V high-voltage pure electric platform, equipped with the sixth-generation eDrive power drive system and a new generation of lithium-ion batteries. Similar to the non-rare earth electric drive announced at the recent Tesla Developer Conference, BMW's current fifth-generation eDrive electric drive technology uses non-rare earth motors, and the sixth-generation will also use non-rare earth motors, with higher integration and efficiency. while reducing overall costs by 50%, energy density is increased by more than 20%, the range is increased by 30%, and the charging speed is increased by up to 30%.
Last year, BMW signed battery cell contracts worth over tens of billions of euros with enterprises such as Contemporary Amperex Technology Co., Limited (CATL), Samsung SDI and EVE Energy.
In terms of sustainable development, BMW Group currently uses recycled and reused materials for about 30% of vehicle manufacturing. Through the "priority use of reusable materials" principle, this proportion will be increased to 50%. The BMW i Recycle concept car is designed with 100% reusable materials and 100% recyclable materials for all vehicle components. It is unclear whether these concepts will be applied to the new generation of vehicles.
Of course, regarding more information about the new generation of vehicles, BMW did not reveal it at this year's financial report meeting, keeping this suspense until the Frankfurt Motor Show in the second half of the year.
Last Words
In the past few years, voices criticizing traditional luxury brands for not transforming into electrification quickly enough were frequently heard. In this turbulent spring, we have a deeper understanding of the truth that "slow is fast."
"`# 电动汽车的竞赛是一场漫长的马拉松,前期在设计、研发、生产中巨额的投入就是这场马拉松过程中源源不断的能量补给。对于宝马来说,新世代计划就是能量补给站。
对于宝马来说,
新世代计划

就是能量补给站。
新时代车型亮相,才是宝马电动化的正赛开始。
This article is a translation by ChatGPT of a Chinese report from 42HOW. If you have any questions about it, please email bd@42how.com.