Author: Michelin
Which is the Most Profitable Car Company on Earth?
A few years ago, some may have named Toyota, but in recent years more people would say Tesla. They have both achieved extreme levels of per-bike gross profit through their scale and cost control abilities. However, they are still not the "most profitable" in front of some luxury brands, such as Ferrari and Porsche.
In 2022, Tesla, which once had a per-bike gross profit rate exceeding 30%, achieved an annual sales return rate of 16.8%. While Porsche achieved a sales return rate of 18% in the past year. "Making money" can be said to be the forte of Porsche, the "most powerful fund company in the automotive industry".
On March 13th, Porsche released its annual report for the 2022 fiscal year. This was the first performance report since its IPO in September last year. In the past year, Porsche delivered 309,900 vehicles, obtained revenue of 36.7 billion Euros, a year-on-year increase of 13.6%, and operating profit of 6.8 billion Euros, a year-on-year increase of 27.4%. China contributed 30% of the sales volume, with 93,000 new cars delivered, making it the largest single market for Porsche in the world for eight consecutive years.
This means that in the past year, Porsche made an average net profit of 22,500 Euros, or about RMB 165,000, for every car sold. Last year, Porsche leveraged 3.5% of its sales volume to leverage 30% of the profits of its parent company, Volkswagen Group. After the independent IPO, Porsche achieved a net profit of 30.9% of Volkswagen Group with its 3.7% sales volume.
This has made Porsche's net cash flow very abundant, reaching 3.9 billion Euros, a year-on-year increase of 5.4% from last year. No wonder Porsche boldly proposed the "Road to 20" plan, with a goal of achieving an annual return rate of 20%.
## Betting on the "Dual E Strategy" for the Future
When it comes to the electrification transformation of traditional automotive companies, Porsche is undoubtedly the fastest mover. As early as 2019, Porsche launched the pure electric vehicle Taycan, which is also the first 800V technology mass-produced vehicle. In the future, Porsche plans to have 80% of new cars sold in 2030 be pure electric vehicles.
In the past year, 34,800 Taycans were delivered, a 16% decrease from the previous year. According to official statements, the shortage of the supply chain last year affected the delivery volume of Taycan to some extent.
In the electrification transformation, Porsche is not just pushing Taycan as the only solution. On one hand, Cayenne will be fully upgraded this year, and three new plug-in hybrid derivatives will be launched. In addition to having more reliable range, the new vehicles will adopt a new chassis system to adapt to various driving scenarios, balancing Porsche's expertise in highway performance, long-distance comfort, and off-road capability.
On the other hand, in terms of pure electric products, Porsche unveiled the brand new PPE platform architecture and the first pure electric Macan based on the PPE platform jointly developed with Audi in November last year. The flexibility in space and layout of the PPE pure electric platform allows Porsche to quickly incorporate various innovative technologies and products into future pure electric vehicle models.
Therefore, after delivering the Macan electric version in 2024, Porsche will also introduce the 718 electric version around 2025, followed by the Cayenne electric version.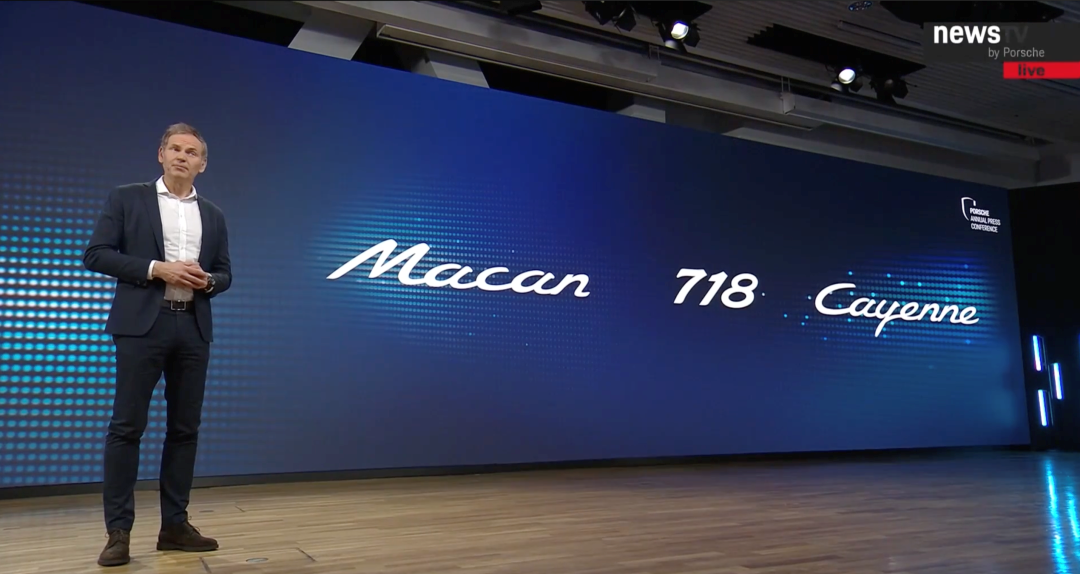 In the future, Porsche will also launch a pure electric SUV positioned above the Cayenne. It has been reported that the internal codename for this model is K1, which is a 7-seater SUV that will be launched around 2027. This SUV is built on the SSP Sport platform and will use a 920V high-voltage architecture and a 100kWh battery pack. The power will definitely be higher than the current Taycan's 1050N·m and will have powerful performance and autonomous driving functions.
On one hand, Porsche is rapidly progressing along the electrification path, on the other hand, it has not given up the allure of traditional internal combustion engines. After all, the driving experience provided by traditional dynamic sports cars like the 911 cannot be replaced by pure electric models. Therefore, in addition to the "e-mobility" strategy for electrification transformation, Porsche has also proposed an e-Fuels strategy. e-Fuels are liquid hydrocarbon fuels synthesized by electrolyzing water, which can be used in traditional internal combustion engine vehicles to provide the driving experience of fuel vehicles and are easier to store and transport than hydrogen.
Porsche began investing in e-Fuels in 2020, and the Chilean Haru Oni eFuels pilot plant, which participated in the investment, was put into operation in December 2022. Compared to electric vehicles, e-Fuels are still in their infancy, and whether they can become a clean, gasoline-replacing internal combustion engine fuel as Porsche imagines in the future is still unknown.
The "Road to 20" of the Money-Making Monster
Porsche went from a revenue return rate of 16% to 18% in just one year. As Oliver Blume, Deputy Chairman of Porsche AG's Executive Board, said, "In the long term, our goal is to achieve a group sales return rate of over 20%."Different from the conventional method of reducing cost and increasing efficiency to improve profit margins in the auto industry, Porsche, as a luxury brand, does not intend to blindly reduce costs. Instead, Porsche chooses to improve the quality and attractiveness of its products by optimizing the product structure, pricing, and cost.
In terms of product structure, Cayenne can be said to be an important turning point in Porsche's history. Although Cayenne has been controversial since its debut in 2002, and even Porsche enthusiasts have spontaneously established a website called "Anti Cayenne". It must be admitted that with the launch of Cayenne and Macan SUV models, Porsche has entered the fastest 20 years of development, and even led the trend of sports car brands making SUVs.
If 911 is the eternal soul of Porsche sports cars, then the best-selling SUV model is the cash cow that continuously supplies the soul. Last year, Cayenne delivered 96,000 units, and Macan delivered 86,700 units. These two models together contributed to half of Porsche's deliveries last year. Therefore, in Porsche's future plans, the introduction of hybrid Cayenne, pure electric Macan, and a brand new pure electric SUV model is a reasonable expectation.
Based on the properties of the PPE platform module, it can also meet the needs of different models. Sedans, SUVs, and wagons can all be flexibly adjusted to adapt to different wheelbases, track widths, and ground clearances. Multiple forms of power and performance can also be provided, which directly reduces the marginal cost of Porsche's new model development and manufacturing."`
Under a series of optimizations, Porsche predicts that the return on sales for the 2023 fiscal year will reach 17% to 19%, with a revenue target of 40-42 billion euros.
Lastly
As the luxury car company with the fastest electrification transformation, Porsche Taycan has achieved annual deliveries of more than 40,000 units, making it the best-selling high-end electric vehicle in the world. With the intensified competition in the pure electric vehicle market, Porsche must also face the same problem as other luxury brands: how to bring the brand value of the fuel era into the field of electric vehicles and gain market recognition.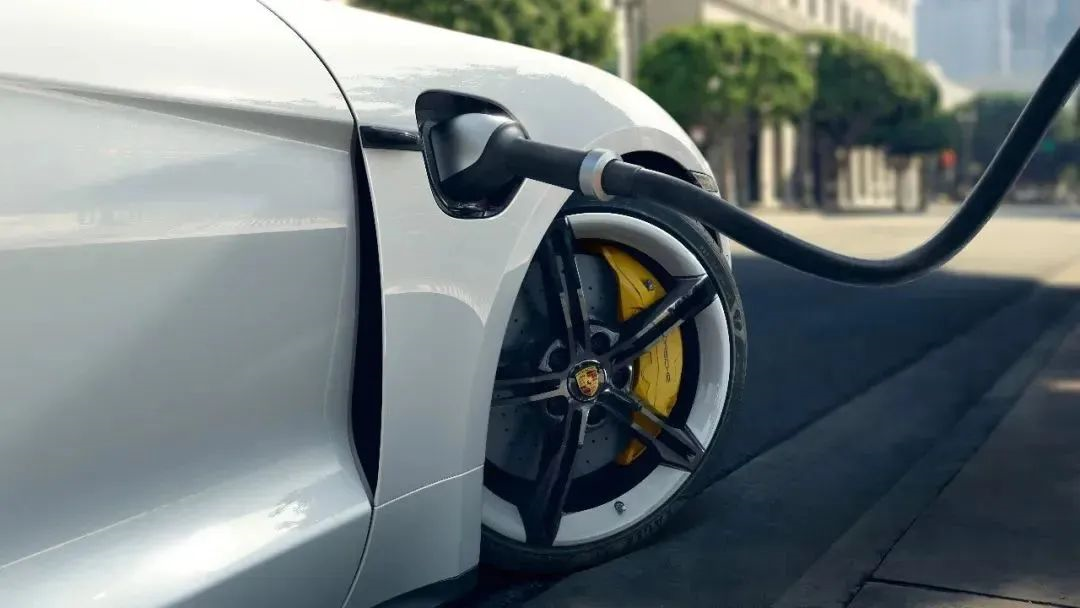 Fortunately, Porsche has always been fast in electrification and digital transformation. From the earliest 800V high-voltage platform, to the development of high-performance power battery systems, and to the recent appointment of former Mercedes-Benz CTO Sajjad Khan, who took over Porsche's vehicle IT department, Porsche's forward-looking technology allows it to stay calm and maintain profitability throughout.
"`
This article is a translation by ChatGPT of a Chinese report from 42HOW. If you have any questions about it, please email bd@42how.com.