Can the strength of Skyworth's new car support Huang Hongsheng's ambition?
Author: Nie Yiyao
In the era of electrification, making cars is no longer as difficult as before, but making a selling point is a different story.
However, this doesn't stop Huang Hongsheng, the founder of Skyworth's new car. When asked by the media why Skyworth's new face from the home appliance industry wants to penetrate the new energy vehicle market, he answers with: "Create a healthy car for 80 million entrepreneurs," says Huang.
In the highly competitive new energy vehicle market, this selling point is unique and unconventional, and while you may not understand it, you will be impressed.
Don't underestimate Skyworth's new car- the TV giant can also make electric cars. In terms of sales, Skyworth's new car officially reported sales of 21,900 vehicles in 2022, including 3,321 overseas sales.
This number is not comparable to the top brands of new energy vehicles, but it crushes the sales of many new peripheral brands and some joint venture new energy vehicle brands.
Don't think that Huang Hongsheng's "healthy car" is just a slogan. During Skyworth's new car's 2023 Spring Technology Ecological Conference, Huang Hongsheng emphasized the importance of health as the top priority: "For all of you present, health is 1, everything else is just 0."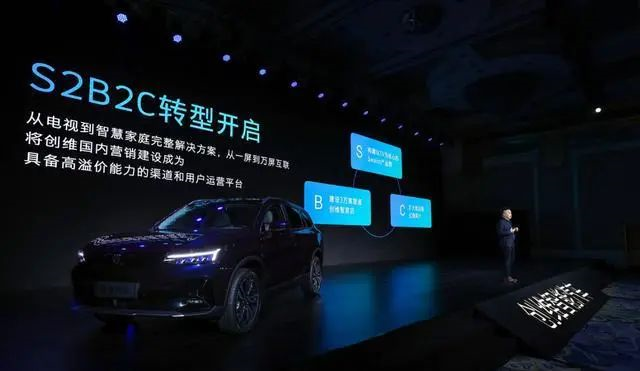 Huang Hongsheng passionately advocates the benefits of a "healthy car": "If you have long-term insomnia, you can try napping in a Skyworth car. After sticking with it for a while, all your sub-health problems can be cured."
"Especially for entrepreneurs, their life expectancy is reduced by 10 years due to work pressure, but after using Skyworth's new car, they will not only not reduce their life expectancy by 10 years, but they will also extend their life by 30 years!"
Health + TV, Skyworth's two major features
Huang Hongsheng drew a huge "Life Purpose" for Skyworth's new car, divided into three parts: First, upgrade Chinese manufacturing from home appliances to automotive manufacturing and cover the globe. Second, provide mobile space that has 10 times work efficiency for humanity. Third, provide car owners with deep sleep and deep health, allowing each car owner to live to be 100 years old.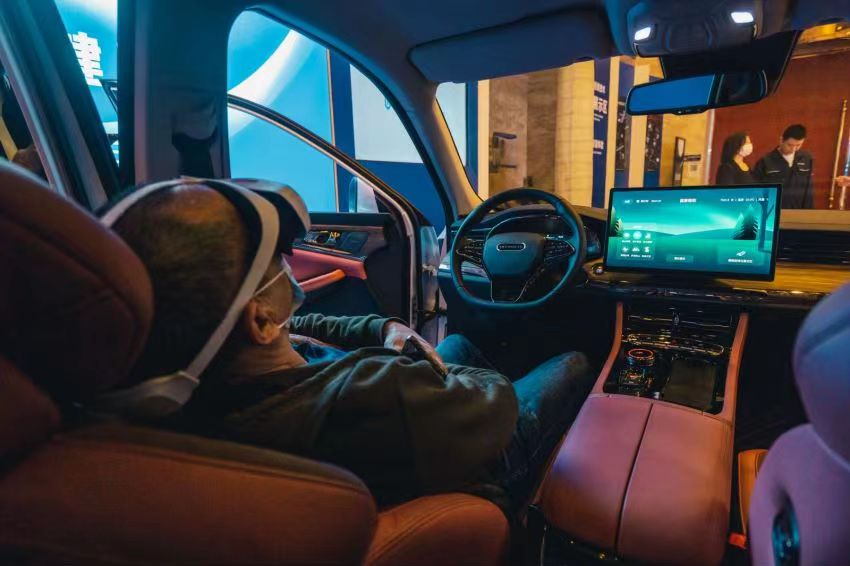 For such a grand plan for car manufacturing, the specific strategies for the first two parts are not yet visible. However, in regards to the third part, Skyworth Auto has come up with a detailed strategic roadmap.
For example, they first proposed the concept of a "Healthy Cabin". For this innovative move, Skyworth Auto's internal staff are very proud: "We are the first domestic car brand to promote health. No brand in the field of intelligent cars has thought of a Health Cabin, but we have already started to do it -We were the first to add a one-click sleep function to the car."
Having a concept may not be enough, Skyworth Auto has also developed the SkyHealth health management system and designed version upgrade plans from SkyHealth 1.0 to 4.0.
During the SkyHealth 1.0 phase, they launched the 'One-click sleep' and N95 air purification health single point functions to car owners.
During the 2.0 phase, they launched the 'One-click sleep' and body sensing sleep music, N95 air purification, and VAT body sensation music therapy system for car owners.
In the 3.0 phase, in addition to the aforementioned functions, they will also connect commonly used camera iris analysis systems, palm ECG monitors and other human health monitoring devices in the cabin. The collected health data of the car owner is sent back to the background for analysis through sensors, and health check reports are pushed to the car owner, and health guidance suggestions are made for common chronic diseases and sub-health.
As for the 4.0 phase, using non-contact sensors, the AI spectrum can scan the owner's health data, such as heartbeat, blood pressure and blood glucose, 360° without any dead zones within a few seconds of the car owner getting in the car, and push health reports to the car owner in a few seconds through big data comparison, even connecting to online doctors for consultation.
Skyworth Auto currently has two models: electric vehicle EV6 and hybrid HT-i. Wang Junyu, the marketing vice president, disclosed that future new cars will gradually be equipped with SkyHealth 3.0 and 4.0.
In addition, if Huawei brings smartphones into the car, Huang Hongsheng brings Skyworth TVs into the car.
"`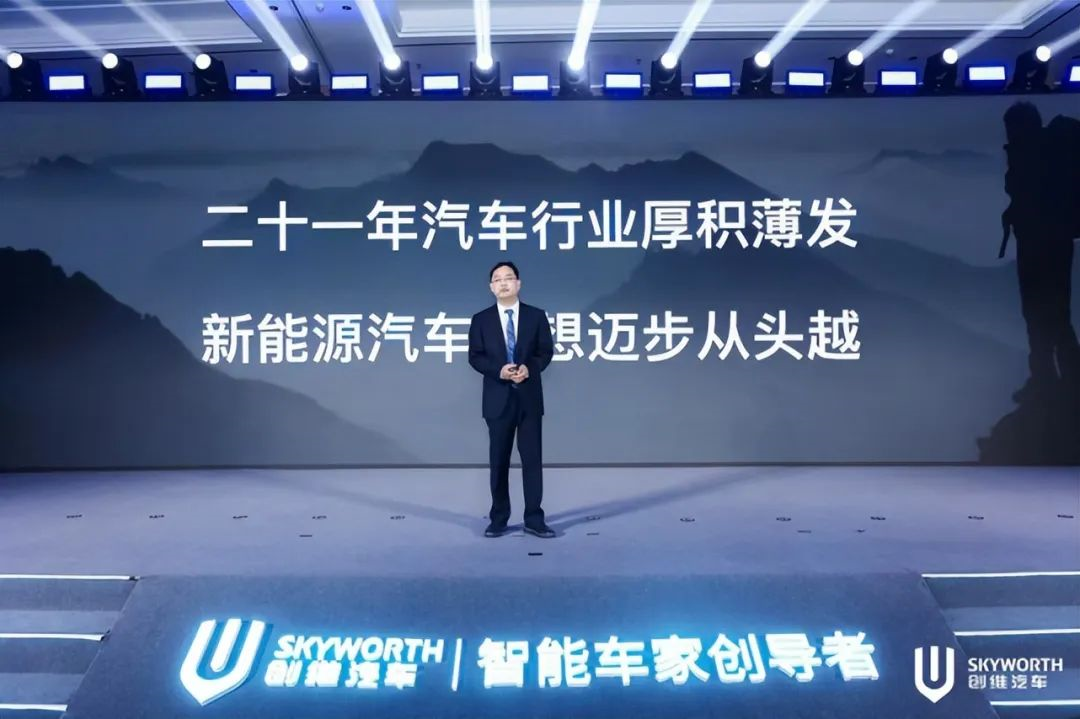 Actually, Huang Hongsheng is relatively low-key about this matter, and has not elaborated too much on it. He only mentioned that Skyworth TV has over 300 million users and that the Skyworth TV's Koov system has a huge advantage in terms of content and ecology. "Skyworth Automobile is compatible with Skyworth Koov-system ecosystem content. So, while other car players are only car players, Skyworth Automobile's car player is a smart TV in the living room," he said.
Selling cars without worry, target customers of 80 million
The outside world has always been curious about who Skyworth Automobile is selling to.
Over the past year, like other new car makers, Skyworth Automobile has announced its monthly sales at the beginning of each month. In November last year, Skyworth Automobile's sales even ranked 7th on the new car maker sales ranks, but the outside world did not know their user portrait.
When questioned by the author, Huang Hongsheng said that Skyworth Automobile's target customers are "entrepreneurs": "We sold 21,900 cars last year, with 30\% sold overseas and 70\% bought by domestic entrepreneurs."
Entrepreneurs are a vague concept, with a wide age range and industry span. As far as Huang Hongsheng himself is concerned, he is also an entrepreneur in his own words. Therefore, we cannot determine the user attributes of Skyworth Automobile from the three words "entrepreneurs". But this does not seem to affect Huang Hongsheng's beautiful vision.
"Although the competition for the race track is fierce, we are facing 80 million entrepreneurs," Huang Hongsheng said. "Lock in the target customer group first, and then take one step at a time. There is no need to rush."
The reason for not rushing is because of several points. First, make good cars and distribute profits well. Huang Hongsheng's secret to running Skyworth Group for 35 years has been to make good products and distribute profits well. Running Skyworth Automobile is also about making good cars and distributing profits well, so that the agent dealer team is willing to participate in car sales.
Second, do not burn money to operate flagship stores, and do not introduce capital in a way that is led by the nose. Skyworth has a huge C-terminal sales network, "Skyworth's car sales is like Mao Zedong's tactics of war, gathering the power of the existing sales network to sell cars, which is better than the bottomless burning of direct sales models." Huang Hongsheng said.
"`
Third, establish the Skywell Automotive Business School. In order to connect with 80 million entrepreneurs, Skyworth Group has specially established the "Skywell Automotive Business School".
This kind of player in the manufacturing industry, when televisions were on the rise, jumped into the field of TV manufacturing; when new energy vehicles became popular, he started to produce new energy vehicles. Moreover, he uses a completely different way of doing things, not following the routines of the traditional automobile industry, adopting an unconventional approach to capture the market. Seemingly harmless and lawless, but actually shrewd and sharp, creating his own style.
However, for Huang Hongsheng's grand plan of Skywell Automotive, he is just getting started now, and it will take more time to observe what is coming in the future.
This article is a translation by ChatGPT of a Chinese report from 42HOW. If you have any questions about it, please email bd@42how.com.