Author: Tao Yanyan
Editor's Note: We have selected ten power battery companies based on data from the year 2022 and looked ahead to their development. Starting with a few foreign companies that have less ranking controversy: LG, SK on, Samsung SDI, and today's fourth and final article on Panasonic's foreign battery companies. Next, we will start with Ningde Times, a domestic company, to take stock of the situation.
When it comes to Panasonic's battery business, it is considered regretful. Here, we have sorted out Panasonic's energy business:
Q4 of 2022
Revenue of 247.4 billion yen (12.5 billion yuan), a year-on-year increase of +26% and a quarter-on-quarter increase of +2.2%, of which the revenue from power batteries was 8.61 billion yuan and the revenue from energy storage and other was 3.69 billion yuan.

Operating profit of 10 million yuan, which we won't go into much detail about.
2022 Energy Sector
Revenue of approximately 915.5 billion yen (46.6 billion yuan), an increase of 34% year-on-year.

Operating profit of 2.16 billion yuan, a year-on-year decrease of 41%.
At a time when global battery companies are developing rapidly, Panasonic has stagnated, with its customers limited to a few automobile companies like Tesla and Toyota.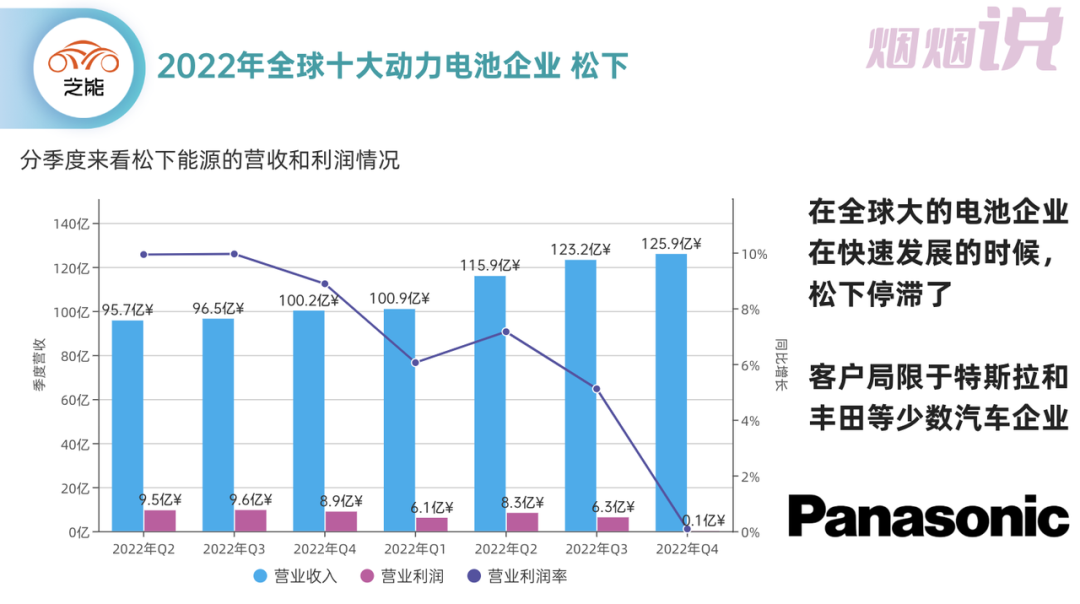 The Development of Panasonic's Battery Business
The operating profit margin of Panasonic's battery business is 1%, mainly due to the increase in raw material costs and the decline in the proportion of consumer batteries. Currently, Panasonic's main focus is on increasing profits through automotive battery supply agreements, especially for the 4680 and 2170 batteries used in electric vehicles.
The 2170 battery is mainly used in Tesla Model 3 and Model Y vehicles in the United States.

The 18650 battery is used in Tesla Model S Plaid and Model X vehicles.Panasonic announced that it will focus on the North American market to achieve profit growth by expanding the sales of 2170 batteries and the commercialization of 4680 batteries. The renovation of the Wakayama factory in western Japan will be promoted to facilitate the commercialization of 4680 batteries. Panasonic will begin trial production of 4680 batteries in the second quarter of 2022, making it possible to start mass production of prototypes in May 2023.
Last December, Panasonic signed a supply agreement with Lucid to provide EV batteries for its Air product line, but the demand for the product is currently mediocre.
Panasonic is building a battery factory in the United States mainly driven by the ITC Act, and the factory is expected to enjoy a tax credit of $35/kWh.
The Nevada factory can enjoy tax credits from January 2023 and is expected to produce 39GWh annually with tax credits of approximately $1.3 billion each year.
The Kansas factory will be eligible for tax credits after production and sales, and is expected to produce 30GWh annually by the 2025 fiscal year with tax credits of approximately $1 billion per year.
From the current point of view, Panasonic's biggest hope lies in the 4680 large cylindrical factory in Japan, which is expected to supply North America by 2023. The 21700 production line in Kansas is expected to be put into mass production by 2025.
In terms of current production capacity layout, Panasonic's battery production capacity is mainly concentrated in North America.
Japan (15GWh): The Wakayama factory is undergoing renovation and will begin production of 4680 batteries for supply to North America, mainly for Tesla.

United States (55GWh): The 39GWh production line of the Nevada factory is expected to expand to 55GWh.

Europe: There are plans to establish the first battery factory in Norway, but the customer for this project is unknown.◎China: The Dalian company has an existing 10GWh square battery production line.
The Panasonic-Tesla joint venture in Japan's Tokushima factory will also reach a production capacity of 500,000 hybrid vehicles. In terms of overall production capacity layout, there seems to be no major focus except in the United States.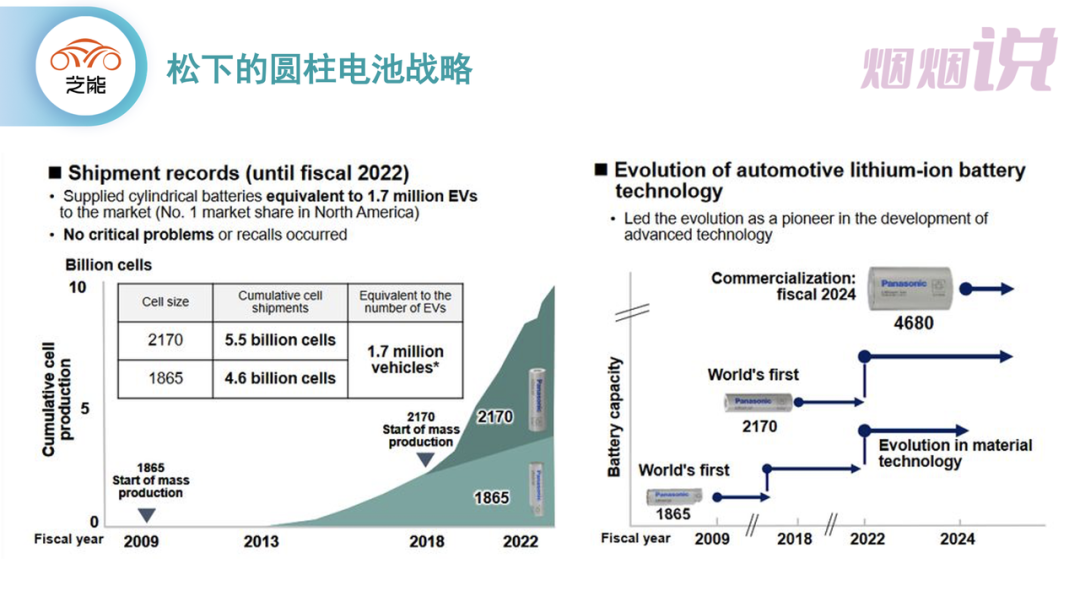 The Pros and Cons of Panasonic Battery
The Problem of Strategic Choice
In 2009, Panasonic provided Tesla with 18650 batteries, which was a fateful connection; in 2010, Panasonic's market value was $30 million during Tesla's IPO. In 2011, to ensure the production of Model S, Panasonic signed a supply agreement for 640 million 18650 cores. In 2013, Tesla and Panasonic renewed the agreement, expanding the supply of cores to 1.8 billion, making Panasonic Tesla's exclusive strategic supplier.
Tesla raised $5 billion to build the Gigafactory, and Panasonic invested $1.6 billion in the first Gigafactory in the state of Nevada. Tesla may not have existed without Panasonic.
In 2018, Panasonic's investment exceeded expectations, and its overall profitability was average.Tesla began advancing its Tesla Shanghai factory, but Panasonic did not continue to invest, which is the biggest problem. Of course, there are also issues such as battery white list and subsidies, but the first time Panasonic was passive revolved around the North American market.
Joint Venture with Toyota
In 2017, Panasonic's cooperation with Toyota established a new power battery company-Prime Planet Energy & Solutions (PPES), with Toyota holding 51% and Panasonic holding 49%. All of Panasonic's square battery technology, factories, and personnel have been fully transferred to PPES. Of course, this has not made any remarkable achievements. Toyota's electric vehicle business is now lackluster.
"`
In Panasonic's own power battery business, only cylindrical batteries are left. Fortunately, with the global trend towards large cylindrical batteries, Panasonic's accumulation in this field still has its unique value.
Summary: Overall, Panasonic is a typical loser running in the front, and being too stubborn in this process will really be at a disadvantage. We will continue to pay attention to the progress of Panasonic's large cylindrical batteries. Seeing some changes in Panasonic will have a great driving effect on the entire market for large cylindrical batteries.
"`
This article is a translation by ChatGPT of a Chinese report from 42HOW. If you have any questions about it, please email bd@42how.com.