Writing | Roomy
Editor | Zhou Changxian
"When facing competitors, there are generally four problems: firstly, you cannot see them; secondly, you look down on them and believe they are not your opponents at all; thirdly, you cannot understand them, you have tried everything, but it still doesn't work; fourthly, you just can't keep up."
In 2005, Jack Ma's words at a forum are still widely quoted today. Now, in the eyes of many car companies, ideal is the competitor that has gone from being "invisible" to "lagging behind."
"Ideal is about to reach the shore."
Through the whole of 2022, this consensus is forming in the industry. Among all the new car makers, Ideal may be the first to achieve profitability. With a net profit of 265 million yuan in the fourth quarter of last year and an average gross profit margin of 20% for the whole year, Ideal, which has a healthy financial status, seems to be in a different league from NIO and Xpeng.
It sounds like this is how Li Xiang thinks, too. On March 2, at Ideal's 2023 Spring Media Communications Meeting, he used Tesla and BYD as examples for comparison.
"In the past few months, Ideal has always been one of the top three in revenue among all new energy vehicle brands in China, and we are above BYD and Tesla." It is necessary to share the profit situation of Tesla and BYD to analyze why Ideal, ranking third, has such an idea.
In 2022, Tesla's profit reached $12.583 billion, equivalent to RMB 855 billion, with a gross profit margin of 25.6%. BYD expects a net profit of more than RMB 16 billion in 2022.
What about the other two companies known as "NIO Xiaopeng" alongside Ideal?
In 2022, NIO had a net loss of RMB 14.437 billion for the whole year, which translates to a loss of RMB 117,800 for each car sold. Xpeng, which will only release its fourth-quarter financial report on March 17, lost RMB 6.778 billion in the first three quarters of last year, and it is expected that the full-year loss will be even greater.
Indeed, with the extent of NIO and Xpeng's losses, their financial situation is really not in the same league as Ideal, so some people say that Li Xiang, who has a free cash flow of RMB 3.26 billion, is no longer interested in "NIO Xiaopeng," but in "Tesla BYD."# Li Xiang's Realism
Li Xiang's personality determines that his ideal must be a realistic enterprise, rather than those so-called 'visionary' dreams.
Compared to He Xiaopeng, who was obsessed with 'technology and hard work', Li Xiang has a stronger sense of reality.
Compared to Li Bin, who forces himself to be the boss, Li Xiang has higher ambitions. After all, Li Xiang has always wanted to be the general manager since he was young because 'being the general manager does not have to look at others' faces and can control his own destiny'.
Not long ago, I asked a friend a question, 'Do you think ideals can stay on top forever?' His answer was, "It's not a problem to stay on top until 2023", and the reason given was, "Li Xiang thinks more clearly than He Xiaopeng and Li Bin".
It's not to say that He Xiaopeng and Li Bin haven't thought it through, but what he wanted to express was that personality determines fate, at least a phase of fate.
Looking at different strategies in the past few years, the place where Li Xiang thinks more clearly is that 'survival comes first, then ideals'. This is where Li Xiang is more realistic than He Xiaopeng and Li Bin.
For example, take the spending habits; people who know Li Bin know that he is generous and has a large scale. When he started doing NIO, he spent a lot of money to recruit people, set up expensive exhibition halls, and invested heavily in research and development.
Li Xiang was heartbroken about the money spent by Li Bin. As we all know, Ideal's product operations have always been a 'good wine doesn't need a bush' strategy, and operating expenses have always been very cost-effective. He has also been heartbroken about the travel expenses of Ideal's executives, which are enough to cover Ideal's operating expenses for a year.
When evaluating He Xiaopeng, many people also often use the word 'pragmatic'. He Xiaopeng has always focused on the mass market from the beginning, different from the high-end path of NIO and Ideal. He is also idealistic in showing his 'popular science and technology that changes life.' There is a hint of romance on this technical guy, but also a weakness behind the 'obliging good guy' which makes him less decisive.Li Xiang, who is not romantic, likes to do things that he can control and does not allow any "weaknesses" in his personality. He has repeatedly stated that "only when you become the leader, do you have the qualification to speak and set rules."
When Ideal was founded, Li Xiang expressed his attitude, saying "either become a hot-selling product or a martyr." From Autohome to Ideal, he has always been a practical person who approaches everything based on reality.
The chivalry of Li Bin, the romance beyond pragmatism of He Xiaopeng, and the realism of Li Xiang have created different styles for these three new car-making forces. There is no one superior to the other, but the best presentation of the diversity of Chinese car brands.
At the Ideal Spring Communication Conference, Li Xiang showed how to build a new enterprise with his realistic perspective when talking about "how to build a brand new car company from 0 to 1." He frequently mentioned the story of founding Autohome during this one-and-a-half-hour speech. After listening, I had a deeper understanding of a sentence he had previously said.
"We don't need a dream team, we need a team that can win. Whoever can help us win, I will find them." He used this in the founding of Autohome and also in the operation of Ideal Motors.
The ability to win is a cornerstone of Li Xiang's decision to make cars starting from extended-range hybrid technology. Of course, this is an important reason, but not the only one. The decision to make extended-range hybrids also stems from changes in energy trends.
This trend involves the core energy technology route, government thinking and planning, and challenging issues. The question is whether to make pure electric or hybrid cars. Range and charging difficulties are problems that need to be solved for pure electric cars. Hybrid cars are divided into weak hybrids, strong hybrids, plug-in hybrids, and extended-range hybrids. How to choose?
Li Xiang, who wants to be the best, has been thinking, "What does this problem behind the car company look like?" He said that when he was making the judgment for Ideal ONE in 2016, the two challenges remained the same.
At that time, the two difficulties users had with electric cars were difficult charging (referring to imperfect charging layout since it replaced fuel cars) and high battery costs (who would bear this cost?).At the beginning, Li Xiang chose the same path as Li Bin, "which was the battery swap I did when I was a board member of NIO". Because battery swap could solve many problems that users worried about, and even cost lower than a fuel vehicle. So why didn't they continue?
Li Xiang admitted, "We didn't have much money then, and had to control costs more tightly given more batteries, including the risk of large fluctuations in battery price". If there was no money, they needed more "stingy" cost control.
At that time, he was thinking whether he could spend the money on the product first, and look at the charging challenge from the perspective of fully replacing fuel vehicles. "Can we put it directly on the product side, without relying on the service side, so we made an extended-range electric vehicle."
Looking back, the reason for choosing the extended-range route was related to Li Xiang's personality. He didn't like to follow the rules and trends, but preferred to explore new paths and open up new territories.
The key to the problem is that the extended-range technology is less likely to go wrong, and can also solve the problems of long-distance travel charging and endurance. Li Xiang claimed that the NIO ONE can achieve a range of 800 kilometers and a slogan of "an intelligent electric vehicle without range anxiety".
This is a technical route that Li Xiang was confident in and a less expensive route.
Is it boasting?
Who was the first user of NIO?
Undoubtedly, it was Li Xiang.
The product positioning of NIO comes from several core members of the founding team, including Li Xiang himself, who have three children in their families, which is "Li Xiang built a car for himself". On the other hand, it also benefits from the data that Li Xiang was familiar with during his years at Automotive Home. He was very familiar with a data that home users accounted for more than 80% of the car purchase group over 200,000 yuan.
Over the years, Li Xiang has developed a habit of caring about data and conclusions. His experience in the past seven and a half years has also been verifying that he is a product manager who is busy with data.
Previously, some media shared a data that the average time NIO ONE car owners spent in the car each week without driving was 4.4 hours in 2021. Since then, the second-generation models such as NIO L9, L8, L7 have been developed around this data, doing various functions that Li Xiang has always emphasized, "starting from user experience.""`

李想认为,探索用户需求的本质,并不是以用户为中心,一切围着用户转,必须超越并直达用户言语都表达不出来的更深层的本质,这才是根本。
有人说,这是一种「形而上」的空话,但李想不在意外界的想法,而是秉着自己的思路去做。事实上,80\%以上的家庭用户,也支撑着李想的产品价值观。在一辆没有续航里程焦虑的车里,强调全家长途出行的场景,的确打动了很多人。
不意外,增程式的技术路线,一直让理想被诟病是蔚小理中最没有技术的。
众所周知,增程不是一个新技术,雪佛兰Volt就已经使用了很多年。不过,技术的成熟,让李想有了更多时间去思考和探索,如何能够把用户的体验和出行效率结合在一起。
也可以理解为,李想更在乎的是技术的体验性,而不是先不先进。
在新势力积极探索新科技的衬托下,也有人批评理想「投机取巧」,这是李想最生气的。有时候,他也会发表一些激烈的言辞,回应对技术路线的质疑。
在新能源技术和自动驾驶技术都还在探索的阶段,拥有一个主打技术,需要大额的资金投入,这对于寻求生存的新企业来说,压力太大了,生和死的界限,也是一线之隔。
而且,不同的技术,体验有本质区别吗?
比亚迪的刀片电池,和宁德时代电池,动力表现上有质的区别吗?其实,没有。同样,小鹏的智能驾驶技术,和华为的相比,用户在体验上也不感知到质的差别。
说到底,满足用户需求,从用户体验出发,是企业0-1阶段非常实际的路线。
理想ONE的产品介绍,是这样写的,「能源补给形式:快充、慢充、加油」,包含了除换电以外所有的补能方式。用任正非喜欢的一个术语来说,就是「饱和攻击」。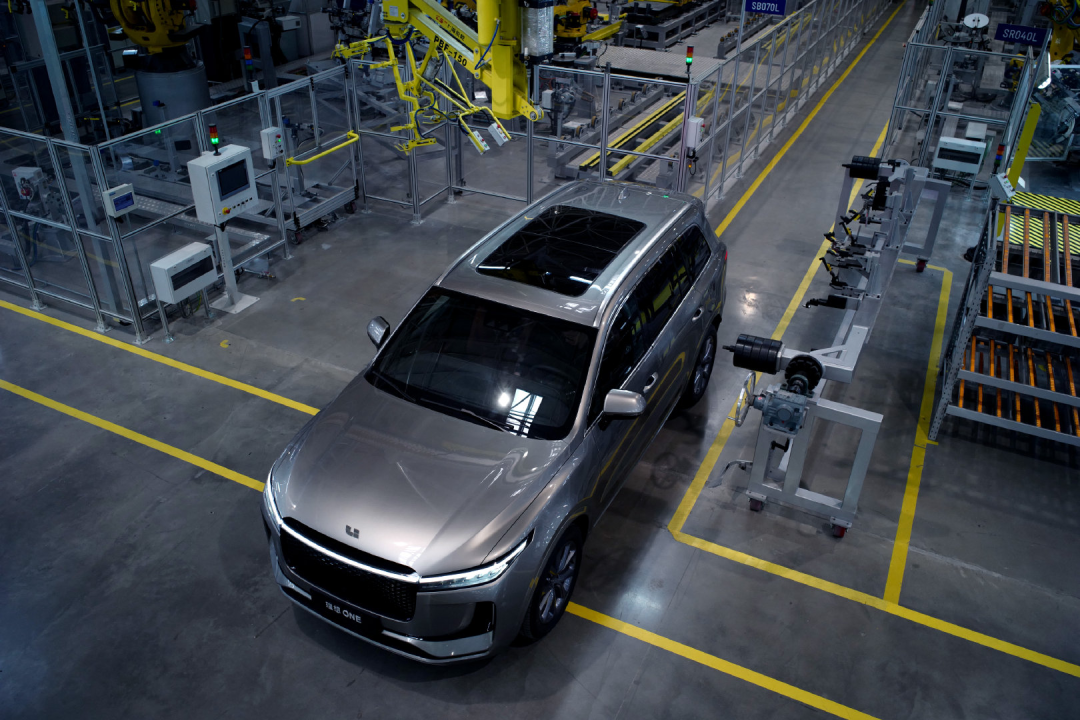 "`The public opinion is in turmoil, and while some dissent, Li Xiang remains firm in his determination of product positioning. As he always said, "Survive first, then talk about ideals."
Between cost, technology, and users, ideal found a good balance point, which is still being explored by Li Bin and He Xiaopeng. Li Xiang believes, "We understand consumers better than others, and this is not a small advantage. So far, there is no new car company that truly understands consumers, and is on the same level as us."
Despite confidence and self-righteousness, the market has given Ideal a good feedback. In 2022, Ideal delivered 133,000 vehicles annually, and the Ideal L9 continued to lead the Chinese large SUV monthly sales chart, while the Ideal L8 took over from the Ideal ONE and secured the top spot in the mid-to-large SUV sales chart.
"In the initial stage from 0 to 1, range extender helped us stand firm and earn considerable revenue."
At the Q4 earnings call, Li Xiang shared the company's revenue situation in 2022. Total revenue reached RMB 45.29 billion, an increase of 67.7% year-on-year. Thanks to cost control and business quality, the gross profit margin for the fourth quarter was 20.2%, and the free cash flow reached RMB 3.26 billion.
With decent achievements and reputation, Li Xiang's ambition has expanded again. "Considering the strong performance of Ideal L8 and Ideal L9, as well as the launch of Ideal L7, this year we will challenge the luxury SUV market priced from RMB 300,000 to RMB 500,000 and strive for a market share of 20%."
Some people say he's bragging.
Why does Ideal insist on not lowering the price?
As Tesla lowered its prices and BYD followed suit, the entire new energy vehicle market was in turmoil, and Xiaopeng and NIO were forced to respond. But Ideal still stands firm.
Why does Ideal insist on not lowering the price?
Li Xiang was not stumped by the question and used his consistent logical reasoning.> "If Tesla lowers its price range to between 200,000 and 300,000, the overlap with the ideal price range will become smaller. Once Tesla lowers the price of its core model to 250,000-260,000, everyone will think that the Model Y is just a car that costs more than 200,000, and in the past, the Model Y used to cost more than 300,000. This actually leaves us more room to attract those customers who want to buy a car that costs more than 300,000, and they will likely buy the ideal car instead."
>
Li Xiang thinks that lowering the price may actually lower sales. "Lowering prices may not necessarily help companies increase sales, but it can hurt other companies." He said that Tesla and BYD are both very smart in pricing, finding the right price range. He thinks that this is also where the ideal market is lucky, but it won't always be lucky, and we still need to be prepared for all kinds of situations.

"Why can't a mid-size SUV with a good brand be sold for more than 200,000?" As for not lowering the price, he simulated consumers' psychology and said, "Because everyone will think that there is something wrong with your car if it is sold for more than 200,000, and you will probably cut corners."

Whether consumers buy it or not is another matter. However, for the time being, everything is still under Li Xiang's control.

From the Ideal ONE to the Ideal 987 family, the layout on the L series is reasonable, and from the first-quarter orders, the Ideal L series is enough to support the Ideal in achieving its goal of doubling sales to 300,000 by 2023.

In January, Ideal topped the sales chart with 15,000 sales. In the second quarter, Ideal strives to achieve monthly deliveries of 25,000 and 30,000. This is because April is the first complete delivery month for Ideal L7 Pro and L7 Max, and May is the first complete delivery month for Ideal L7 Air.

Looking at sales and gross margin, the Ideal is close to making a profit, and this year it will enter a phase of "market share focus".

The reason why it is said to be "close" rather than "already there" is because the Ideal has not yet achieved annual profitability and still faces many new challenges after the arrival of electric vehicles.

In Li Xiang's plan, he believes that the core competitiveness of a car company lies in balancing gross profit margin, products and brands. However, whether the three can be kept in balance in the long term is not easy.

"If you want to become a car company that stays on the table, you basically need to have a revenue of several trillion. If you want to become a world-class company, you must have a revenue of tens of trillions. How do you manage such a revenue scale? You can't rely on financing forever. When you are small, you can rely on financing with revenues of tens of billions or hundreds of billions, but how can you rely on financing when you are bigger? You can only rely on your own gross profit margin."Li Xiang believes that a gross profit margin of 20\% is the passing line for a company's confidence. At present, the gross profit margin of Tesla is about 25\%, while that of NIO and Xiaopeng Motors are both around 13.3\%, far from the lowest healthy standard.
"With this scale of revenue and revenue growth rate, we are able to fully commit ourselves to the pure electric market," Li Xiang hopes to replicate the success of the extended range ONE to the L series in the pure electric market.
When the ideal ONE sold over 10,000 units in a month, he made a request that every model should become a hot item. "Selling 15,000 units a month is the benchmark for a hot item. Ideal ONE needs to reach this starting point, and the sales of any car model in the future will not be lower."
Currently, Ideal expects to deliver more than 30,000 units in March, and L9 will continue to bear the responsibility of hot item without completing the full delivery of L7. However, how long will the uptrend of L9 last?
Industry experts predict it will last until the end of the year, which is also related to the pace of Ideal.
Li Xiang revealed that "the specific time of release and delivery of our flagship product is tied to some of the most critical technologies. The high-end Qualcomm 8295 chip will undergo an important upgrade at the end of this year."
The high-end Qualcomm 8295 chip primarily affects the product rhythm of Ideal's pure electric vehicle models. In other words, this year, Ideal will not launch any pure electric vehicle models, and the doubling of market share and sales volume still depend on the L series.
"We cannot release a flagship product that is equipped with the previous generation flagship chip that enters the end of the product life cycle. It is very uncomfortable for us." It is reasonable to use the most advanced, flagship-level chip products and chip technology as the product release time, in Li Xiang's opinion.
Compared with the two Qualcomm 8155 cabin chips installed on the current Ideal L9, the 3D rendering performance of the GPU of the Qualcomm 8295 chip has been increased by three times, and the computing power has been increased by nearly eight times. Existing car owners can also upgrade to the 8295 chip, but they may need to make up the difference. Currently, there is concern that "what if the hardware cannot keep up with the upgrade?"
If the next-generation models use a new hardware platform and differ from the current generation, how to deal with the difference in capabilities between the two generations of models? This is a question that Li Xiang needs to carefully consider.
One and a half years to go
Li Xiang has his own ideas about the layout of pure electric models.
He said that Ideal will still ask himself the two questions, "Who are our target consumers? What value do we provide?" The answer is still "the luxury electric vehicle preferred by families."
"We will also launch product series for pure electric models like the L series, which can effectively meet the needs of a wide range of household users in the price range of 200,000 to 500,000 yuan." Currently, Ideal is developing two high-voltage pure electric vehicle platforms – Whale and Shark, and the products on the platforms will also share the self-developed high-voltage charging core technology.
For intelligent cabins, Ideal has two platforms, SS Max and SS Pro. For intelligent driving, Ideal has two intelligent platforms, Pro and Max. Therefore, Ideal has four platform combinations: range extender platform, high-voltage pure electric platform, intelligent space and intelligent driving.
Li Xiang also has plans for the cooperation between the platforms. "All cars are cross-combined with these platforms."
It seems that the route layout is clear. The product positioning also covers the market interval laid out by Ideal's range extenders. So, how to achieve similar gross profit margin levels as range extenders while maintaining product competitiveness?
Many people want to know how Li Xiang will answer this question. He believes that the logic is almost the same, and the problems to be solved are essentially the same.
"Let's take a look at what problems range extenders solve. The two core problems are: first, difficult charging and slow charging speed; second, high battery costs. Therefore, we use the extended range strategy of large batteries to achieve "city electricity and long-distance electricity generation.""
For pure electric models, the same two problems need to be solved. Li Xiang plans to do more on the product side to reduce investment on the service side, just like range extenders.
"Can we offer a charging experience almost the same as fuel vehicles by providing 400 kilometers of charging in 10 minutes? Why do we use 800 volts? Why do we need to build a silicon carbide module factory ourselves? Because only by improving efficiency in the entire power drive system and coordinating with the development of vehicle models."Li Xiang has once again declared his goal: "By 2023, we will continue to adhere to both the range extender and pure electric technology solutions, and improve the efficiency and performance of the range extender. In addition, we will do better in high-voltage pure electric technology."
At the same time, Li Xiang is confident that the price of pure electric vehicles will be basically the same as that of the range extender, mainly achieved through an 800V high-voltage platform and SiC components, which will reduce the cost of each vehicle by 30,000 to 40,000 yuan.
"Doing the right thing, not just the easy thing" has always been Li Xiang's motto, even though many people are skeptical about his company's ability to establish its own core pure electric technologies. Some have pointed out that their batteries are from CATL, their intelligent driving chips are from Qualcomm, and their pure electric vehicles were launched relatively late. How can they establish a dominant position in the market?
In response to this question, Li Xiang stated that Ideal's self-developed and self-manufactured components account for a reasonable proportion of 25% to 30%. Not everything can be done in-house to save money, and the lack of disruptive technological innovation does not lead to significant differences.
However, judging from online reactions, many believe that Ideal's pure electric vehicles fall short of the technological standards set by Tesla, NIO, XPeng, and other companies that prioritize full-stack self-developed technology.
Ideal's financial health can be attributed not only to the success of their car models but also to the fact that NIO and XPeng have spent too much money on research and development. In contrast, extensive reuse of design, research and development, and manufacturing processes for the Ideal L-Series has lowered costs.
On the day the Ideal L7 was launched, consumers had reservations about its close resemblance to the Ideal 987. Can Ideal replicate this approach to create new products in the pure electric car market, by upgrading and changing configurations and sizes?
Some have even criticized Li Xiang, who said he wanted to build another Toyota within his lifetime but repeatedly copied Apple's "lack of surprises" design strategy.
With the advent of pure electric vehicles, these doubts will continue to challenge the company. Some predict that Ideal will face true difficulties by the first half of 2024, when the general shapes of competitors' car models will be established, and the success or failure of new models will depend on small differences."`

Just thought of Li Xiang's words, "To give an analogy, smart electric vehicles are like a marathon race, but every 4 kilometers, there will be a round of elimination." To maintain a longer-lasting competitiveness, we still need to look at the speed of the ideal pure electric vehicle model's progress and its product strength.
By the way, Ideal promised to complete 400 retail experience stores last year, but currently, there are less than 300. This year's speed must be accelerated, which also tests how Ideal will spend money and how to double its market share.
Li Xiang still has about a year and a half.
"`
This article is a translation by ChatGPT of a Chinese report from 42HOW. If you have any questions about it, please email bd@42how.com.