Author: Xu Jinkai
"Pressure is high this year, it's tough for the first quarter."
Recently, Li Xiang and Li Bin expressed similar opinions at the Ideal Car media communication meeting and the NIO financial report conference call, but the situations they face are completely different.
Li Xiang's "difficulty in the first quarter" is the result of the combination of the new energy subsidy rollback and Shanghai's suspension of hybrid vehicles for green license plates.
Li Bin's "high pressure" is due to the transition from the NT1.0 model to the NT2.0 model and the rollback of new energy subsidies.
Ideal is more affected by external factors, while NIO's development pace is Li Bin's focus.
Although both NIO and Ideal are members of the first tier of new car brands, they are in a leading position in terms of market performance and brand influence. However, their financial positions are quite different.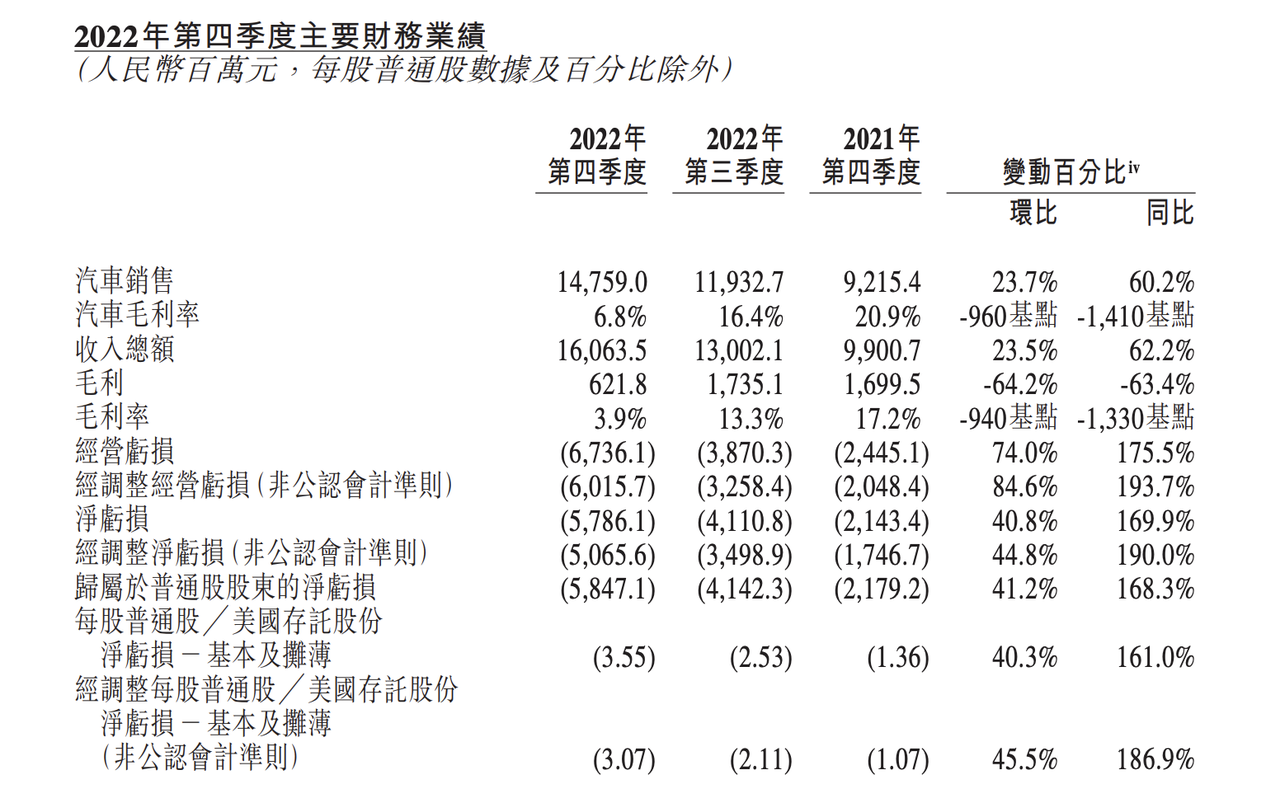 Financial data shows that for the full year of 2022:
NIO's revenue was 49.269 billion yuan, an increase of 36.3% year-on-year.
Ideal's revenue was 45.29 billion yuan, an increase of 67.7% year-on-year.
Looking solely at total revenue, NIO is slightly ahead. However, in terms of the important indicator of net loss, NIO is comparatively embarrassing. NIO's net loss for the full year of 2022 was 14.437 billion yuan, an increase of 259.4% year-on-year, while Ideal's full-year net loss of 2.032 billion yuan seems negligible in comparison.
From the worst Li Bin to the worst NIO
"I knew NIO was going to make a loss, but I didn't know the loss would be so great." When the financial report came out, industry insiders expressed concern about NIO.
In the past few years, NIO has been in a state of losses. In 2018, 2019, 2020, 2021, NIO's net losses were 9.639 billion yuan, 11.296 billion yuan, 5.304 billion yuan, and 4.017 billion yuan, respectively. In addition to the loss of 14.437 billion yuan in 2022, NIO's accumulated losses in the past five years were 44.693 billion yuan, an average annual loss of 8.9386 billion yuan."`
In the past five years, the annual losses exceeding RMB 10 billion were 2019 and 2022 respectively, and in 2019, Li Bin was reported as the most miserable person of the year by the media.
Judging from the perspective of the amount of losses, NIO in 2022 is worse than 2019, and the larger loss is mainly due to the increase in sales costs.
According to the financial report, NIO's sales cost for the whole year of 2022 was RMB 44.1 billion, a year-on-year increase of 50.5%, and this growth rate has exceeded the revenue growth rate of 36.3%.
The state of spending more than earning caused a significant decrease in NIO's gross profit in 2022.
NIO's gross profit for the full year of 2022 was RMB 5.144 billion, a year-on-year decrease of 24.6%.
The corresponding gross profit margin also decreased from 18.9% in 2021 to 10.4% in 2022. In the fourth quarter of 2022, NIO's gross profit margin was further reduced to 6.8%, which was significantly lower than the ideal gross profit margin of 20.2% in the fourth quarter of last year.
NIO stated that due to the inventory provision and accelerated depreciation of production facilities and purchase commitment losses related to the existing ES8, ES6, and EC6 models, the automobile gross profit margin for the fourth quarter of 2022 was affected by 6.7 percentage points. In addition, the increase in unit cost of batteries led to a significant year-on-year decline in automobile gross profit margin in the fourth quarter of last year.
The below-expectation performance has also caused a change in the attitude of the capital market towards NIO.
After NIO announced the latest quarterly performance, Morgan Stanley said it was time to hold a neutral attitude towards the stock.
Nick Lai, an analyst at the bank, downgraded NIO's rating from buy to neutral, saying that the electric vehicle manufacturer's challenge to achieve high expectations will become increasingly difficult.
Sell One Car and Lose Over 100,000 RMB? Can NIO Achieve a Balanced Profit and Loss in the Fourth Quarter?
Last year, NIO delivered a total of 122,486 new cars, a year-on-year increase of 34%, and the annual delivery volume exceeded 100,000 vehicles for the first time.
If calculated according to this delivery volume, NIO would lose more than RMB 100,000 for every car sold.
**Why NIO sells more but loses more?**



Apart from the impact of last year's epidemic, unstable supply chain, and the promotion of the old 866 model at the end of the year, which greatly increased the company's operating costs, the development mode of swappable battery, which is a heavy asset, has also posed new challenges for NIO.



The more it sells, the wider the layout of its battery-swapping stations, and the more investment it requires. Whether NIO Energy, which operates independently, can make a profit will also affect NIO's performance to a certain extent.



Although lower-than-expected performance has led to increased questioning of NIO from the outside world, optimistic Li Bin has set a goal for NIO to achieve breakeven in the fourth quarter of this year.



"If the price of raw materials reaches the expected downward trend at the current rate, NIO's goal of achieving breakeven in the fourth quarter of this year will not change," Li Bin said in a conference call.



"If the price of lithium carbonate falls by 100,000 yuan per ton, NIO's gross profit margin from car sales can increase by 2%." NIO's CFO Feng Wei said.



In November of last year, the price of lithium carbonate rose to a high point of 570,000 yuan/ton, making many new energy companies become workers for battery factories.



At the beginning of this year, the price of lithium carbonate has dropped to 400,000 yuan/ton. Some institutions even predict that the price of lithium carbonate is expected to fall back to 200,000 yuan per ton this year.



In addition to the increase in gross profit margin brought by the decrease in raw material prices, NIO will also continue to promote the delivery of NT2.0 models: NIO will also launch new ES6, new EC6, and ET5 hunting version this year. Among them:



- ET5, ET5 hunting and ES6 are aimed at the mainstream high-end market, responsible for mass production, and achieve monthly sales of 20,000 vehicles;



- ET7, ES7, ES8 mainly compete with BMW 5 Series, X5 and other models, targeting the medium and large high-end car market, with monthly deliveries of about 8,000 to 10,000 vehicles;



- EC7 and EC6 two coupe models can meet the needs of personalized consumers.



Li Bin said that after these three types of products are delivered, monthly sales are expected to exceed 30,000 vehicles. NIO's ultimate sales target in 2023 is to double on the basis of 2022 sales, reaching 240,000 vehicles.




![](https://42how-com.oss-cn-beijing.aliyuncs.com/article/result%20(3)_20230305034401.png)

In the view of Li Bin, with the arrival of five new models, NIO will form the most powerful product lineup to date. This powerful product system combined with a decrease in battery raw material prices will greatly improve NIO's financial situation and achieve its goal of breaking even in the fourth quarter of this year.

## "Battery Swap to the Countryside" Empowers the Alps

Regarding when NIO can achieve profitability, NIO co-founder and president Qin Lihong responded that financial situation should not be the only criterion for judging a company's competitiveness for car companies.

In his view, the new energy vehicle industry is still in the development stage and has not reached the final stage. Therefore, maximizing profits now is not necessarily the best judgment.

"When a company does a series of things right, profits will come naturally." Increasing the research and development efforts is what Qin Lihong means.

The financial report shows that NIO's R&D investment last year reached 10.84 billion yuan, a year-on-year increase of 136.0%, and R&D covers the entire industry chain of smart cars, including power systems, intelligent cabins, autonomous driving, batteries, and chips.

Compared with traditional cars, R&D investment in smart electric cars is greater. Generally speaking, the break-even point for profitability is to sell 300,000 units per year in the traditional car industry. However, this rule does not apply to the smart electric vehicle industry.

Taking Tesla, which achieved full-year profitability in 2020, as an example, Tesla's annual sales volume in 2020 was about 500,000 units, but selling credits also greatly enhanced Tesla's profitability.

If NIO's sales volume, which has a higher selling price, is used as a reference, it would need to sell nearly 500,000 units per year to achieve full-year profitability, and its sales target for 2022 is to surpass Lexus.

According to the sales data released by Lexus, Lexus' sales in China in 2022 were 227,000 units.

Therefore, even if NIO successfully achieves its goal of surpassing Lexus, it will not be able to realize the company's overall profitability, and the lower-positioned "Alps" is the key to NIO's profitability.

markdown
Prior to this, Qin Lihong had revealed in a media communication meeting that the physical interface of the Alps Battery Swap System is compatible with that of NIO's, and recent leaked information confirms this:
The third-generation battery swap stations of NIO will share a common interface with the Alps brand.
All models of the Alps brand will adopt the 800V scheme.
The battery pack of the Alps brand will be thinner than that of NIO.
On the one hand, the introduction of the Alps Battery Swap System is approaching, and on the other hand, NIO is speeding up the construction of battery swap stations.
At the beginning of the year, Li Bin announced on the NIO APP that the target of adding 400 new battery swap stations this year had been increased to 1000:
About 400 stations will be built in highway service areas or toll stations to accelerate the layout of the high-speed battery swap network.
About 600 will be deployed in urban areas, with a focus on third-tier and fourth-tier cities where there is a certain user base but no battery swap system, even down to county towns.
News of NIO's expansion into county markets has exploded.
However, in my opinion, NIO's penetration of the low-end market is a false proposition, determined by the income of county residents and NIO's sales prices. In economically developed areas along the eastern coast, there are not many consumers who live in county towns and can afford to buy NIO cars, but in the less developed central and western regions, it is difficult for NIO to sell.
This creates enormous development space for the lower-priced Alps Battery Swap System. Its lower sales price and compatibility with NIO's system can rapidly expand the range of activities for Alps car owners, and also provide guarantees for NIO car owners in rural areas.
NIO's deployment of battery swap stations to county towns on the surface facilitates the daily lives of NIO car owners, but in reality, it helps the rapid rise of the Alps brand.
The NIO main brand is responsible for the high-end markets in first- and second-tier cities, while the Alps brand focuses on the third- and fourth-tier places and gradually penetrates to even lower levels, rapidly boosting NIO's overall market share. As a result, the economies of scale will be evident in NIO, and the full-year profit target will gradually become a reality.
"`
This article is a translation by ChatGPT of a Chinese report from 42HOW. If you have any questions about it, please email bd@42how.com.