Development of China's New Energy Vehicle Industry: Intelligent and Efficient
Author: Chen Nianhang
In 2022, China's production and sales of new energy vehicles exceeded 6.8 million units, with a penetration rate of 27.6%, of which 80% came from Chinese new energy vehicle brands.
Behind these figures reflects:
The development of China's new energy vehicle industry is speeding up and accelerating the strategic transformation from fuel vehicles to new energy vehicles;

Under the wave of new energy vehicles, domestic automobile brands are rising and taking market share from joint venture and foreign brands.
Although joint venture brands still dominate the domestic automobile market in the field of fuel vehicles, domestic new and old forces have joined hands and pulled ahead of their opponents in the field of new energy vehicles by building strong product capabilities in the core three-electric system industry chain of batteries, motors, and electronic control, and in terms of intelligentization.
This is a "smart + new energy" overtaking in the bend.
Chinese Brands: Strong Rise in the "Smart New Energy" era
What the automotive industry shows is the gradual replacement of traditional fuel vehicles by new energy vehicles, and from a more macro perspective, it is a revolution from fossil fuels to clean energy forms that is taking place globally.
In fact, energy-form revolutions are often intertwined with industrial revolutions, with the two driving each other, promoting continuous evolution and change in the industry.
The use of coal made steam locomotives possible and wrote the history of the first industrial revolution; the application of oil gave birth to the engine, allowing it power automobiles, ships, trains, and airplanes, and modern industrial systems were established; and clean energy is now an accelerator for new energy vehicles, with electric power, hydrogen power, wind power, and more becoming increasingly important energy supplies, which a more low-carbon world is yearning for.
At the recent Tesla Investor Day, technology madman Elon Musk described a sustainable, clean energy world for everyone.
The electrification of the automotive industry has also led to changes in the upstream and downstream and the entire supply chain. It is not just about launching new energy vehicle products but also about the new energy talents, the core intelligent technologies, and the three-electric system parts industry chain based on the product. This solid foundation will support China's new energy vehicle development for at least 30 to 50 years in the future.In fact, China has been supporting the development of pure electric vehicles, hybrid vehicles and other new energy vehicles for a long time. The most well-known policy is the subsidy policy for new energy vehicles, including various tax reduction policies, which has enabled the development of new energy vehicles to flourish. After years of disorderly development and "cheating subsidies" scandals, China's new energy vehicle industry has gradually entered the right track and is in a period of rapid development, leading the world's largest automobile market in terms of product diversity, technological advancement and market share.
As we stand at the time node of 2023, when our country's automobile industry has achieved phased victory in the "new energy" battle, where will the battlefield turn to next?
The answer is "intelligence".
Today's car consumers are not mainly attracted to new power forms such as electric and hybrid power. Their demand for a new car experience comes more from the "intelligence" brought by a smart car terminal that can support travel.
Therefore, for domestic automakers, while adhering to the "new energy" direction, the focus of the next effort will be on "intelligence", which is also the field that Tesla, the most watched automaker in the world, is deeply cultivating.
To conquer the "smart new energy" market, new energy is the foundation and intelligence is the core. Car intelligence includes intelligent driving, intelligent cockpit, intelligent chassis, intelligent electronic and electrical architecture, and even intelligent manufacturing, etc.
Why is "intelligence" so important, and can be called the core of the future development of new energy vehicles?
There are three reasons:
Firstly, a large number of enterprises are focusing on the development of automotive intelligence products and technology, which is a well-deserved "trend."New forces in the automotive industry and traditional car companies' new car brands have entered the market one after another, competing mainly in intelligence. They are beginning to "fight" for differentiation in user experience through intelligent driving and intelligent cabins.
Represented by "Nio", the leaders of these companies have internet or high-tech backgrounds. Inspired by the big brother Tesla, they launched intelligent car startups in China, bringing internet play into the automotive industry, and putting user experience and product experience as their core focus, among which intelligence is one of the main reasons these companies currently receive the favor of many consumers.
As for traditional car companies, including SAIC's EV brand R, Dongfeng's Aeolus, Great Wall's ORA, Changan's Oshan, Geely's Geometry, BAIC's ARCFOX, they have also risen to the challenge, aiming for electrification and intelligence. In fact, these car companies entered the new energy vehicle market a long time ago, but why do they still need to establish new brands? The fundamental reason is to create the next generation of cars that are different from the previous generation, and the core of the next generation of cars is "intelligence."
Meanwhile, more and more technology companies such as Apple, Huawei, Xiaomi, Baidu, and DJI are entering the automotive industry, hoping to overturn the previous traditional concept of cars only as means of transportation. They invest a lot of capital, resources, and talents, not just to make a pure electric or hybrid traditional car, but rather to make cars into "mobile intelligent terminals."
Apart from entering the automotive market, many companies are also deeply involved in the intelligentization of the industry chain, becoming emerging suppliers and helping the entire Chinese automotive industry transform towards intelligence.
The "intelligence" of automobiles is already the direction of the tide, and it is irreversible. The imagination space regarding intelligence is infinite.
With such prosperity on the supply side, what about the demand side? In fact, it is also equally promising.
This also brings out the second important reason why "intelligence" is so important: the degree of acceptance of smart cars by Chinese consumers has far exceeded that of consumers in other countries. With Chinese smart cars going abroad, overseas consumers are also more eager for the experience of intelligence.
Many of the functions of intelligent cars currently available have made consumers "reluctant to go back." A set of useful driving assistance features can greatly reduce driving fatigue and improve safety; a set of useful intelligent cabin systems can make driving less boring; a set of useful vehicle control functions can make using the car more worry-free and less troublesome…
Intelligence has brought real enhancement to the experience of cars, and consumers are paying more and more attention to the intelligence configuration and software functions of car models when purchasing cars.
One survey about autonomous driving technology shows that 16% of American and German consumers consider autonomy to be very important, while in China, it reaches 49%. Regarding the willingness to pay more for autonomous driving cars, Chinese consumers are willing to pay an extra 4600 US dollars, German consumers are willing to pay an extra 2900 US dollars, and American consumers are willing to pay an extra 3900 US dollars. These few simple numbers actually reflect the high demand for automotive intelligence from consumers.If we analyze from the perspective of consumer attributes, it also supports this survey result: currently, young people in China have become the main force of consumption. This group grew up in a period of rapid technological development and iteration, including the Internet, big data, cloud computing, the Internet of Things, 5G, artificial intelligence, and so on. These "internet natives" naturally have a high acceptance of technology, and also have a high acceptance of smart cars. When Xiaomi announced that it was making cars, many netizens said it was "the first smart car for young people," and the keywords included "young people" and "smart".
Good implementation of intelligent technology in cars leads to good consumer experiences, while a poorly executed implementation is very apparent to buyers. For example, the smart cockpit and intelligent driving experiences on the Xiaopeng car are well done, and many users will praise them. In contrast, early users of the Jike001's car were critical of its car machine interface. Despite BYD's high sales, its intelligent driving and smart cockpit capabilities are criticized by most of its users. Tesla's high market value and global car sales can be attributed to its disruptive technology and intelligent features. Its fully self-driving functionality (FSD) has a rapidly increasing rate of selection as an add-on in overseas markets. However, many Chinese consumers are disappointed that Tesla's in-car navigation system has failed to meet their expectations.
In reality, "intelligence" has slowly become a user's reliance and an important reference factor in whether they choose a certain car. "Intelligence" has also brought new life to this ancient mode of transportation, and many innovative ideas can be imagined. The software capabilities related to intelligent driving and smart cockpits have great potential for the future. Just like how innovations such as ChatGPT can change the application of the internet, there will be exciting changes in the automobile industry. The new forms of play, services, experience, and commercial models born from the combination of artificial intelligence technology and automobiles will undoubtedly change our daily lives.
Thirdly, the Chinese government has shown strong policy support for the "intelligence" of automobiles. In addition to the subsidy policies for new energy vehicles, the government has issued a clear strategy for the development of intelligent automobiles. On the one hand, the country is leading in a lot of infrastructure construction, including smart traffic facilities involving communications, high-precision maps and positioning, big data, cloud platforms, and more. On the other hand, the government is also opening up more areas to facilitate smart car testing and operation, building up core data reserves for the development and iteration of smart cars.
The intelligentization of the automotive industry has encountered "the right time, the right place, and the right people". The future development depends on how these related companies show their unique strengths.
Although intelligentization is the core of the future, the foundation of new energy cannot be shaken.
Many people say that intelligentization on fuel-powered vehicles is also a feasible path. However, it is not the optimal approach, but only adding some intelligent functions on fuel-powered vehicles during the transitional period to educate consumers. It is not a complete revolution, and it will expend more development time and energy. The most crucial point is that it may not create a good product experience.
Therefore, the optimal solution is still to implement "intelligentization" on new energy vehicles.
From a technical perspective, the intelligentization of automobiles:
Requires a higher degree of electrification, including the electrification of the electric drive system, brake system, and steering system.

Requires stronger power supply capabilities to provide stronger electrical support for systems such as autonomous driving and intelligent cabins.

Requires more extensive space in the car to accommodate more sensors, autonomous driving control units, and debugging devices, which is a nightmare for fuel-powered vehicles.

Needs a more comprehensive interconnection system, including interconnection systems equipped with good cloud service interfaces.

Requires a new electronic and electrical architecture, including the division of various different vehicle domains.

…
From this perspective, new energy vehicles are more suitable for intelligentization and will be the biggest winner of intelligentization.
If new energy transformation is the first half of the transformation of traditional cars, then intelligentization will be the second half, and both new energy and intelligentization must be advanced simultaneously.
Based on this, how should car makers act?
Recently, Geely Automobile released its high-end new energy product series "Geely Galaxy", which focuses on hybrid and pure electric models and increases investment in intelligentization, including new intelligent driving and intelligent cabin operation systems.
Similarly, as the representative of Chinese self-owned brand automakers, Great Wall Motors will also complete its upgrade to an "intelligent new energy" ecological enterprise. In a recent interview, Wei Jianjun, the head of Great Wall Motors, said: "The new energy transformation is irreversible, and intelligentization is also irreversible. This also brings us huge imagination space, because Great Wall has already reserved technology and supply chain capabilities."## "Smart New Energy" Practitioner: How Great Wall Motors Accumulates Strength and Launches an Offensive?
(1) Laying a Solid Foundation for New Energy
To become a "smart new energy" automaker, it is necessary to first lay a solid foundation for new energy.
When it comes to Great Wall Motors, most consumers associate it with the Haval SUV, as this brand and category have had few competitors in the past many years, making it the sales king.
However, in the field of new energy vehicles, the Ora brand models owned by Great Wall Motors and the hybrid models of other brands were launched relatively late, and they have not yet gained mainstream recognition like the Haval SUV.
In fact, as early as 2009, Great Wall Motors began to lay out new energy, but instead of taking the lead in product development, it started with the supply chain, including incubating a batch of related supply chain companies in power batteries, hydrogen energy, three-electric technology and so on, with the goal of establishing a self-researched, self-controlled industrial chain as a moat.
Today, this moat is being continuously widened.
Great Wall Motors is one of the few independent brand automakers with reserves of three new energy technology routes: pure electric, hybrid, and hydrogen energy.
In 2016, Great Wall Motors entered the hydrogen energy industry and established Unison Energy. So far, more than 2.5 billion yuan investment has been accumulated, and a plan to build a hydrogen energy society by 2050 has been formulated. The company has already taken the lead in laying out the entire hydrogen energy "production, storage, transportation, filling, and application" industry chain.
In 2018, Great Wall Motors spun-off Honeycomb Energy as a specialized power battery company, which has now grown to a team of over 2600 people with an astonishing speed. In 2021, the number of patents owned by Honeycomb Energy reached 878, ranking first in the 2021 China Power Battery Patent Publicity Volume Innovation Main Body TOP20 Rankings. In the year 2021 and the first half of 2022, Honeycomb Energy's power battery installation capacity ranked tenth in the world.
Also in 2018, Great Wall Motors established Honeycomb E-Drive, which focuses on R&D of automotive power systems, new energy transmission systems, and intelligent steering systems. Now, the latest Lemon Plug-In Hybrid DHT transmission assembly of Great Wall Motors is produced by Honeycomb E-Drive. Great Wall Motors also has invested 220 million yuan for an internationally leading 2100 square-meter transmission laboratory. This is the cradle of Great Wall Motors' self-developed hybrid technology.
Basically, Great Wall Motors has already built a strong technological base in the three new energy paths, and now it's time to come up with more results and explosive products."`

According to the latest product plan of Great Wall Motors:
Haval brand will launch a new energy product series, including plug-in hybrid and pure electric models;

WEY brand will continue to adhere to the plug-in hybrid route, and will also launch pure electric models in the future;

Tank brand will launch more plug-in hybrid models in addition to fuel vehicles;

ORA brand and Salon brand will focus on pure electric models.
In this way, the new energy path of Great Wall Motors' various brands has become very clear.
If the self-developed ability of the new energy supply chain accumulated in the past years is the ammunition depot, then the new energy automobile products of each brand are handy weapons. Compared with many new car-making forces that are still working hard to build so-called full-stack self-developed capabilities, Great Wall Motors has its own first-mover advantage.
With the foundation of new energy laid, the next step is to respond to the more core competition of automotive intelligence.
Many people say that as a traditional automaker, Great Wall Motors does not have the gene of intelligence and is not as strong in technology as new car-making forces.
In fact, in the past few years, Great Wall Motors has filled the short board of intelligence through various channels, and has now taken the lead in some aspects in the industry.
Similar to the previous practice in the field of new energy, Great Wall Motors has also cultivated a group of ecological enterprises focusing on intelligence. These ecological enterprises cover multiple areas related to intelligence, such as intelligent driving, intelligent cockpit, electronic and electrical architecture, and wire-controlled chassis.
(2) Conquering the intelligent driving unmanned zone
In the field of intelligent driving, Haomo Zhixing is currently the core weapon of Great Wall Motors. Wei Jianjun also pays close attention to the progress of intelligent driving and often personally experiences the test version of the intelligent driving system.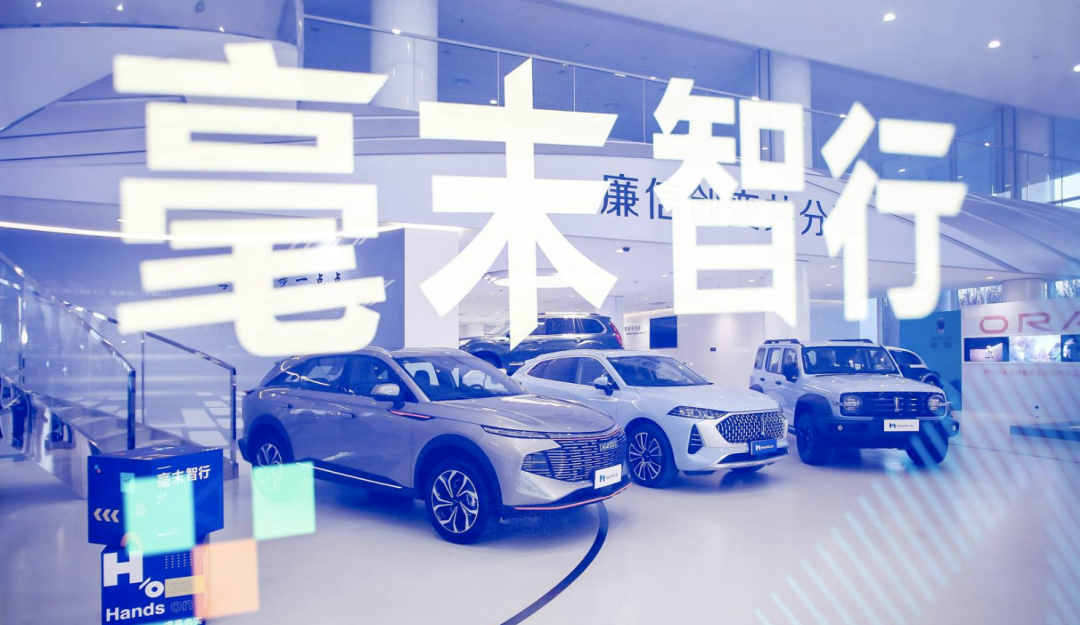 At present, domestic car companies are competing with each other in the field of navigation-assisted driving. After completing high-speed and urban area navigation, Haomo Zhixing has announced that it will become one of the first companies in China to implement city-level navigation-assisted driving functions, and the landing model will be the Mocha model of Great Wall Motors' subsidiary brand, Wei.In fact, Great Wall Motors had started to get involved in the research and development of intelligent driving as early as in 2009. However, the establishment of its subsidiary, Haomo Zhixing, which focuses on this field and can attract external financing, has accelerated its growth and the implementation of its technologies.
Haomo Zhixing's main development system includes HWA high-speed assisted driving system, NOH navigation assisted driving system, and self-developed controller in the field of intelligent driving. In addition, it has also built up capabilities in algorithm systems, data-driven systems, artificial intelligence models, and other fields.
Great Wall Motors relies on Haomo Zhixing to conduct bottom-level hardware, middleware, and intelligent driving software research and development in the layout of its self-developed intelligent driving technology. Moreover, it designs a series of different sensing and computing hardware solutions to match intelligent driving systems with multiple models of different brands and price ranges.
In 2022, a total of 6 new car models with intelligent driving functions were launched by Great Wall Motors. The user-assisted driving mileage has exceeded 25 million kilometers, and the sales volume of relevant car models has exceeded 200,000 vehicles. Moreover, as the first city navigation assisted driving system to be mass-produced in China, the City NOH system will be first equipped on the WEY Mocha DHT-PHEV model.
As intelligent driving technology develops further, it is no longer a question of whether a system has a certain feature, but a question of the technology strength and the flexible adaptation to various driving scenarios. This requires a more efficient and faster iterative cycle, which includes core components such as big data, AI models, and computing centers.
And this is also the "no man's land" of technology that Great Wall Motors is currently conquering. With Haomo Zhixing as its foundation, Great Wall Motors has already had one of the top intelligent centers in China's automatic driving industry – MANA OASIS. By continuing to train and iterate with the massive amount of data, the intelligent driving algorithm system will continuously improve, the experience will be constantly enhanced, and the application scenarios will be continuously expanded to eventually achieve full autonomous driving. The creation of an intelligent center is also something that car companies such as Tesla, Geely, and Xiaopeng are doing.
Recently, ChatGPT has become popular, and Haomo Zhixing has also officially upgraded its autonomous driving cognitive model (human driving-self-supervised cognitive model) to "DriveGPT" to drive continuous progress in intelligent driving algorithms with AI models.Translate the Chinese text below into English Markdown text. Keep the HTML tags and output only the result in a professional way.
In addition to developing its own ecosystem enterprises, Great Wall Motors has also invested in the intelligent driving industry chain, such as its stake in the automatic driving chip star company, Horizon Robotics, whose chips will be installed in Great Wall Motors' models in the future.
(3) Evolvable Intelligent Cockpit
Great Wall Motors has self-developed the "Coffee Intelligence" intelligent cockpit system, as well as two ecological enterprises, including Xiandou Intelligence and Jiayu Intelligence, which have relevant technical capabilities in intelligent in-car navigation, intelligent voice, intelligent perception, intelligent multi-end vehicle-to-vehicle connectivity, and OTA across the entire vehicle.
At the hardware level, Great Wall Motors uses the Qualcomm 8155 chip to create an exclusive intelligent cockpit platform, which increases the processing power of CPU and GPU image processing by more than 2.5 and 3.5 times respectively compared to the previous generation mainstream vehicle system. It is equipped with an exclusive high-computing AI accelerator available for machine vision and voice processing, providing foundational computing power support for multiple screen fusion, multimodal interaction, AI perception, personalized automatic configuration and other functions. Later, it is also expected to use the Qualcomm 8295 chip.
At the software level, Great Wall Motors' self-developed cockpit operating system, GC-OS technology, has multiple open capabilities and advantages. Firstly, there's an APP unified interface+HAL (Hardware Abstraction Layer) unified interface, which also supports UI/UE platformization+brand differentiation, and down-compatible with multiple high-computing platforms. Upward compatibility can be adapted to major brands under Great Wall Motors, with features such as rapid delivery, growth, plug-and-play, ecological exchange, software and hardware compatibility, etc.
Based on high-performance chips and GC-OS, Great Wall Motors has opened up part of its intelligent cockpit API, including vehicle, driving, body, and chassis-related systems. In the second phase, voice, navigation, and visual interface capabilities will be designed iteratively. Through the two-phase iterative development, Great Wall Motors' intelligent cockpit API pool will cover over 25 types of functional sets.
Great Wall Motors' intelligent cockpit will become an active service "Intelligent Changeable Space," which is consistent with the concept of "mobile intelligent terminal."
(4) Electrical and Electronic Architecture for Intelligence
In 2021, Great Wall Motors launched a new vehicle electronic and electrical architecture, GEEP 4.0, for intelligent development, which includes the central computing platform, autonomous driving domain, and intelligent cockpit domain.
This architecture adopts the Service-Oriented Architecture (SOA) concept, opens standard APIs, supports scalable functionalities and vehicle-cloud integration. GEEP 4.0 combines innovative functions and experiences, software platform development, and creates a scalable intelligent architecture that is easy to develop, maintain, flexible to expand, enhance the experience, and generate innovative revenue.
At the same time, based on the SOA, Great Wall Motors builds a unified and standardized vehicle software platform at the software level.
Smart Car Control API Platform: based on SOA technology, it provides unified and standardized interface services for vehicle and domain functional services.

Vehicle Service Platform: It provides vehicle service function based on SOA for various functional domains, such as vehicle control, intelligent assisted driving, digital cockpit, etc.

Domain Service Platform: It provides application services based on SOA for the body, power, chassis, intelligent assisted driving, and digital cockpit respectively to ensure the scalability and compatibility of the architecture. In the latest architecture platform of Great Wall Motors, dozens of standardized service interfaces have been implemented for the body domain, power and chassis domain, intelligent cockpit domain, and intelligent driving domain.
Supported by such an architecture, the development of intelligent driving and smart cockpit, the expansion and upgrade of related systems will be more convenient and efficient.
Moreover, based on the new electronic and electrical architecture, Great Wall Motors is also developing a smart wire-controlled chassis.
Line-controlled chassis is the intersection of the two new energy and intelligent racetracks of automobiles, composed of five major systems of braking, steering, throttle, shifting, and suspension. The line-controlled technology of redundant steering will provide important support for the landing of higher-order intelligent driving.
Great Wall Motors' smart wire-controlled chassis has built a technology platform with a target of L4 level and above autonomous driving. It integrates five core chassis systems of wire-controlled steering, wire-controlled braking, wire-controlled shifting, wire-controlled throttle, and wire-controlled suspension, covering six degrees of freedom of vehicle movement, front and rear, left and right, and up and down. The core purpose is to achieve high-level autonomous driving.
Great Wall Motors is going to mass-produce this set of line-controlled chassis soon.
Regarding independent research and development of line-controlled chassis, Wei Jianjun's view is: "Foreign companies cannot give you the most advanced, and their service fees are also astronomical. If Great Wall Motors develops this thing, domestic independent brand automakers will benefit quickly."## Great Wall Motors' Determination for "Intelligent New Energy"
Manufacturing cars, intelligent cars, and intelligent new energy cars is a difficult challenge worth billions of dollars, and Great Wall Motors has taken on this challenge.
Great Wall Motors refers to its extensive layout in the fields of new energy and intelligent cars as "Forest Ecology."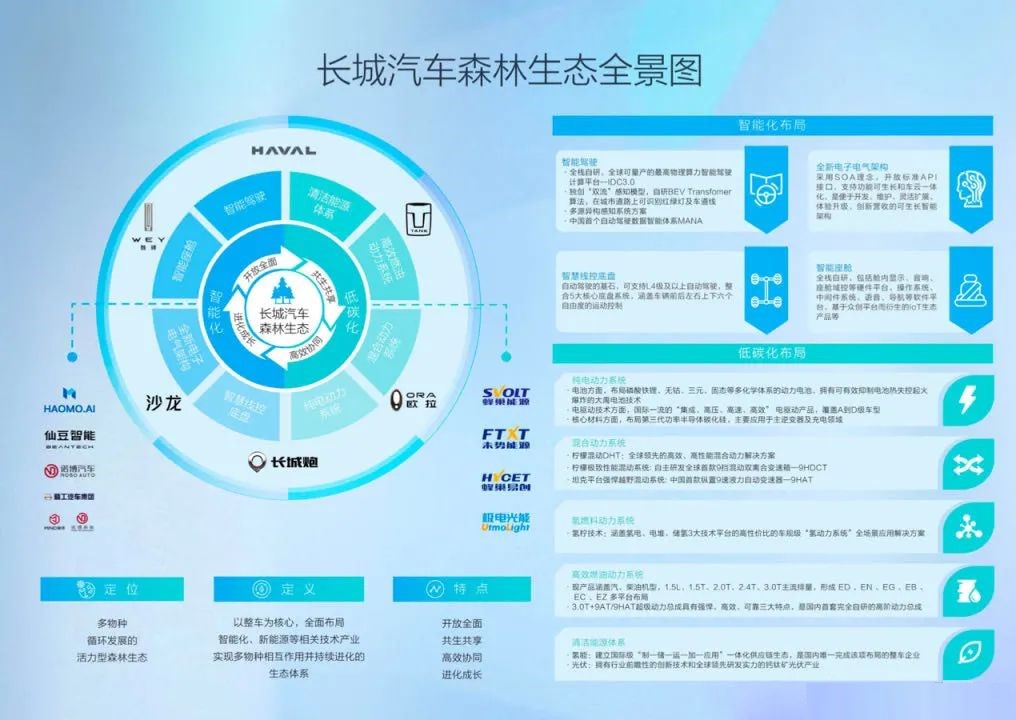 It takes enormous funding, resources, and talent to cultivate such a "forest ecology," and Great Wall Motors is not at all stingy in this regard.
Great Wall Motors is continuously increasing its investment in research and innovation. In the first three quarters of 2022 alone, its total R&D investment reached 8.544 billion yuan (capitalized R&D investment + expensed R&D investment), a year-on-year increase of 64.74%. By 2025, Great Wall Motors' accumulated R&D investment will reach 100 billion yuan, mainly used for research and development in high-tech fields such as new energy and intelligence.
Such investment intensity puts Great Wall Motors at the forefront of domestic car companies.
Great Wall Motors has an unwritten slogan for its R&D investment in core technologies: "Excessive investment in R&D" is not a waste, but an investment for longer-term R&D.
From R&D investment in tens of billions of yuan to R&D investment in hundreds of billions of yuan, it will bring about a qualitative change in technology and product experience, and this is something to look forward to.
In terms of talent, by 2023, the global R&D personnel of Great Wall Motors will double from the existing 15,000 to 30,000, including 10,000 software personnel.
Why such a huge investment in R&D? Wei Jianjun mentioned in a recent interview:
"Great Wall Motors has always had a thirst for technology, and technology is always the foundation of the automotive industry. We do this for the generations to come or even further into the future."When it comes to talents, Wei Jianjun said, "Many technical experts pursue their own value. An enterprise that can quickly turn their ideas or things they have participated in into products and be recognized by consumers is also their value. Great Wall Motors has many such experts."
The urgency for Great Wall Motors' major brands now is to transform financial and talent investment into technological achievements, better product strength, and product experience, and to be used and recognized by more consumers.
The competition in the field of intelligent new energy is a marathon.
"To see farther, it's not about momentary things. In order to gain a foothold in the competition, we must take a more pragmatic look at the future." Wei Jianjun is confident about the future of Great Wall Motors' intelligent new energy.
Next, let's see how Great Wall Motors plays its game in terms of products.
Of course, other domestic independent brand automakers are also worth paying attention to for their moves in the field of intelligent new energy.
This article is a translation by ChatGPT of a Chinese report from 42HOW. If you have any questions about it, please email bd@42how.com.