| Author | Zhang Lianyi |
| --- | --- |
| Editor | Qiu Kaijun |
Ideal Auto, the most powerful newcomer in the automotive industry, has released a beautiful Q4 financial report and confidently set off to 2023.
On February 27, 2023, Ideal Auto announced its unaudited financial performance for Q4 2022 and the full year 2022. Ideal Auto achieved a quarterly profit again: the Q4 net profit was RMB 265.3 million.
However, the annual profit still needs to wait until 2023. The net loss for 2022 is RMB 2.03 billion, which further widened from RMB 0.3215 billion in 2021.
In the eyes of Ideal Auto's CEO Li Xiang, the financial data is positive and the products are rich and highly competitive. He proposed at the earnings conference that in 2023 the company will challenge and win a 20% market share of the domestic luxury SUV market priced between RMB 300,000 – 500,000.
Li Xiang estimates that the sales volume for this sub-market will be 1.4 – 1.5 million units, which means Ideal Auto will challenge the sales target of 280,000 – 300,000 units this year.
Building a Product Network
In July 2021, in its prospectus, Ideal Auto, whose sales were still good, admitted: "Currently, revenue is dependent on a single vehicle model. In the foreseeable future, there will be a limited number of revenue-generating car models."
Soon, Ideal Auto began its transformation.
In June 2022, Ideal L9 was released and deliveries began at the end of August. In September, the upgraded version of Ideal ONE, Ideal L8, was launched…
After giving up the single-vehicle strategy it persisted for four years, Ideal Auto also saw continuous sales growth. In December 2022, its delivery volume exceeded 20,000 units, setting another historical record for the company and China's new force in automobile industry.
During this period, Ideal Auto's Q4 2022 delivery volume reached 46,319 units, up 31.5% year-on-year. The total annual delivery volume for 2022 was 133,246 units, up 47.2% from 90,491 units in 2021.
At the earnings conference, Ideal Auto also gave a forecast for Q1 2023, estimating that the vehicle delivery volume for Q1 2023 will reach 52,000 to 55,000 units, an increase of 64.0% to 73.4% from Q1 2022.
In the second quarter, Li Xiang expects to continue to expand the above figures. "We expect to achieve a monthly sales target of 25,000 to 30,000 vehicles in the second quarter of this year, as the stable delivery of the IDEAL L7 series is about to begin," Li Xiang said.
On February 8th of this year, IDEAL L7 was officially released, with three models: Air, Pro, and Max. At the same time, IDEAL L8 also launched the Air model.
With three models L7, L8, and L9, and various configurations, the IDEAL automotive product line has completed the layout of the SUV market priced between 300,000 to 500,000 RMB.
When talking about the overlapping price ranges of the three models, Li Xiang said that the cross-demand users of IDEAL L7 and L8 are not as many as imagined. The former is trending towards families with three or two members, while the latter is more for families with two or three generations living together.
He hopes that through the effective price coverage of L7, L8, and L9, a product line is built, which not only satisfies the needs of all families with a demand for SUVs priced between 300,000 to 500,000 RMB but also ensures that they are not hesitant in choosing between L7 or L8, or L9 or L8. He does not wish for users to choose other brands after seeing the IDEAL products.
According to Li Xiang, in April of this year, IDEAL L7 Pro and IDEAL L7 Max will have the first complete delivery month, and May will be the first complete delivery month for IDEAL L7 Air.
Considering the sales performance of IDEAL L8 and IDEAL L9, as well as the launch of IDEAL L7, Li Xiang pointed out that the company will challenge to win 20% of the domestic 300,000 to 500,000 RMB luxury SUV market in 2023.
"In 2022, IDEAL Automotive's market share in this segment is 9.5%, which means that our market share will double. " Li Xiang said that the 20% figure was calculated. When the market size in the sub-segments is around 1.4 million vehicles, having a market share of 20% will ensure that it maintains a stable leading position in the luxury SUV market's sales.
Regarding one of the key factors affecting delivery volume, namely the supply chain, Li Xiang believes that the confidence in the company's supply of parts in 2023 is maintained as industrial maturity gradually improves and upstream and downstream supply situations gradually improve. At the same time, the company will further strengthen its perception and planning of supply strategy, risk management, and cost management to actively respond to potential supply challenges and risks.
Ideal Automotive implements modular management in the supply chain, actively strengthening the self-research and vertical integration of core categories related to intelligent electric vehicle products while maintaining close cooperation with suppliers, thus achieving a good balance between upstream costs and risk control.
Regarding the recent "CATL's lithium mining rebate plan offered to car companies," Ma Donghui, President and Chief Engineer of Ideal Automotive, stated that negotiations are ongoing with partners.
As for new product plans, Li Xiang recently revealed in a live broadcast that the Ideal L6 won't be released this year. At the financial report meeting, he also provided specific reasons: "The release and delivery time of Ideal's flagship products are tied to some of the most critical technologies. For example, the Qualcomm 8295 chip will undergo significant upgrades at the end of this year, we cannot release a flagship product with the previous generation flagship chip that is entering the end-of-life stage. This would be very uncomfortable for us."
As far as electric vehicles are concerned, there is currently no delay in the release of news, which means that the W01 is likely to be released this year. At the financial report meeting, Li Xiang further stated that electric vehicle models similar to the L series product line will also be launched, effectively meeting the needs of a wide range of family users in the 200,000-500,000 RMB price range.
As for the timing of penetration into the 200,000-300,000 RMB market, Li Xiang stated that this market is relatively difficult and requires stronger economies of scale before entering.
More products and sales require more channel support.
Data shows that as of December 31, 2022, Ideal has 288 retail stores covering 121 cities, as well as 318 service centers and authorized auto body and paint shops operating in 223 cities.
At the financial report meeting, Li Xiang updated the data again: as of January 31, 2023, Ideal Automotive has 296 retail centers covering 123 cities, and operating 320 aftersales and repair centers and authorized Ideal Automotive body and paint centers in 222 cities.## Doubled R&D with focus on Artificial Intelligence
As the model matrix continues to improve, it obviously increases the R&D, marketing and other costs along with the constant increase in sales.
For the entire year of 2022, the R&D expenses of Ideal Automobile will double.
According to the financial statement, the R&D expenses for the fourth quarter of 2022 were 2.07 billion CNY, accounting for 11.7% of the total expenses. The full-year R&D expenses were 6.78 billion CNY, accounting for 15% of the total expenses, increasing by 106.3% compared to the R&D investment in 2021.
Li Xiang explained that Ideal Automobile's performance depends on the continuous investment in R&D and business capabilities. In 2022, Ideal Automobile has made significant progress in electric driving, intelligent space, voice and visual interaction, and intelligent driving.
Among them, in terms of intelligent driving, Ideal Automobile has partnered with Tsinghua University and MIT to propose a hybrid BEV algorithm framework that can be flexibly deployed on two sets of sensor hardware combinations, AD Max and AD Pro.
Li Xiang said that there are currently more than 220,000 households using the high-speed NOA function, and the high-speed NOA navigation-assisted driving mileage is close to 100 million kilometers. Only during the Spring Festival period in 2023, the high-speed NOA driving mileage of all models has reached nearly 8 million kilometers.
It is reported that in 2023, Ideal Automobile will further expand the navigation-assisted driving capability to urban scenarios. The plan is to open the "early bird" user trial of city NOA on Ideal AD Max in the fourth quarter.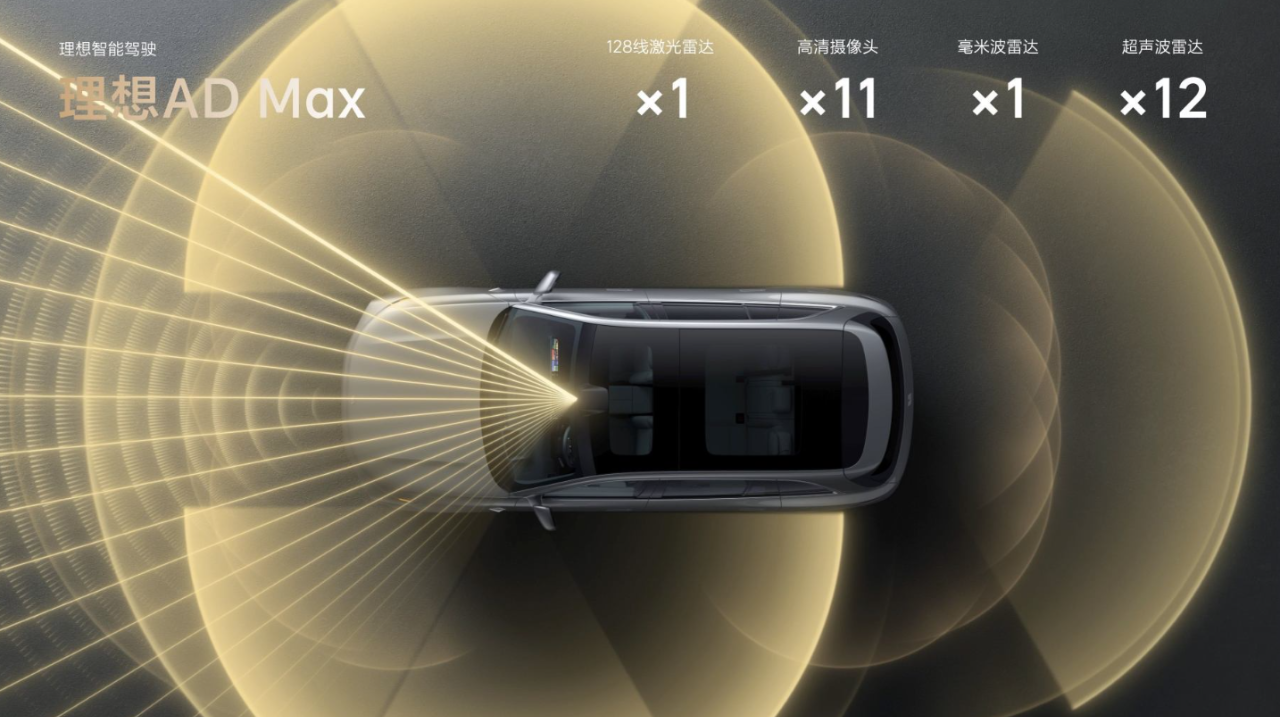 In addition, Ideal Automobile's self-developed AEB algorithm has added the application of lidar on AD Max, making it the industry's first AEB function integrating lidar. This function expands the safety scenarios of lidar algorithm from major traffic participants such as vehicles, cyclists, and pedestrians, to irregular obstacles including vehicles with unusual shapes and night scenes.Li Xiang revealed that in the future, Ideal Automobile will continue to independently develop both range-extended electric and high-voltage pure electric core technologies, and continuously improve the intelligence level of its products. Ideal Automobile will continue to invest resources in product development, platform development, and system development to promote its long-term growth.
Ideal Automobile CTO Xie Yan added that for a long time, Ideal has been investing in research and development of AI-based cognitive technologies, especially cognitive AI and gesture recognition. He believes that these technologies are important in the smart space and can provide customers with a good user experience.
"Recently, we have been closely following ChatGPT and believe that the technology behind it, including large-scale language models and pre-training models, has a great similarity to the work we are doing in the smart space," Xie Yan believes that the above-mentioned technology has great potential in visual tasks, such as autonomous driving, and related research and development are continuously making progress.
In fact, "artificial intelligence" is also a label that Ideal Automobile hopes to give itself.
In early 2023, Ideal Automobile mentioned in the "CEO's letter to all employees" that the company's vision is to become a world-leading artificial intelligence enterprise by 2030. Specifically, Ideal Automobile plans to build a complete systematic capability in the field of artificial intelligence (software 2.0) by 2030.
Ideal Automobile hopes to use continuous investment in research and development in the field of artificial intelligence, as well as product capabilities that continue to surpass user needs, to use AI robots to change the efficiency and experience of the physical world.
Overall gross margin under pressure
Under the influence of multiple factors, Ideal Automobile's revenue increased significantly in 2022, but its profit and gross margin were under pressure.
Financial report data shows that Ideal Automobile's revenue for the full year of 2022 was RMB 45.29 billion, a year-on-year increase of 67.7%; the net loss was RMB 2.03 billion, compared with RMB 320 million in 2021.
The fourth quarter of 2022 contributed 39% of the full-year revenue, with a total revenue of RMB 17.65 billion, an increase of 66.2% from RMB 10.62 billion in the fourth quarter of 2021, and an increase of 88.9% from RMB 9.34 billion in the third quarter of 2022.
The revenue from vehicle sales was RMB 17.27 billion, which increased by 66.4% from RMB 10.38 billion in Q4 2021 and by 90.9% from RMB 9.05 billion in Q3 2022.
Li Xiang, the CEO of Li Auto, said the increase in revenue was mainly due to the deliveries of the Li ONE in August 2022 and the Li Xiang ONE in November 2022, which increased the average selling price of vehicles and the delivery volume in Q4 2022. The increase of revenue by 90.9% from Q3 2022 was primarily due to the increase in the delivery volume.
In terms of net profit, the net loss in 2022 was RMB 2.03 billion, which further widened from RMB 321.5 million in 2021.
In terms of cash flow, the free cash flow in 2022 was RMB 2.25 billion, which decreased by 48.0% from RMB 4.33 billion in 2021.
In terms of gross profit, the gross profit of Li Auto in 2022 was RMB 8.79 billion, which increased by 52.6% from RMB 5.76 billion in 2021.
However, the overall gross margin and vehicle gross margin decreased year-on-year. The gross margin in 2022 was 19.4%, while in 2021 it was 21.3%. The vehicle gross margin in 2022 was 19.1%, while in 2021 it was 20.6%.
Regarding the issue of lower gross margin than the same period last year, Li Xiang, the co-founder and CFO of Li Auto, said that the company's gross margin is healthy and consistent with the guidance previously announced. This is mainly due to changes in the product structure, as the main selling products L9 and L8 are in the ramp-up phase.
"The overall gross margin we set for all L-series products is 35%. Due to the battery prices and macroeconomic conditions this year, we have lowered the gross margin to 20%," said Li Xiang.
Moving from a single hot-selling model to multiple product lines, the success of the Li ONE proves that Li Auto has strong product definition capabilities. In January 2023, Li Auto delivered a total of 15,141 new cars, a year-on-year increase of 23.4%. With the ramp-up production of L9, L8, and L7, Li Auto is confident that the gross margin will quickly recover to the previous level.As for whether Ideal Automotive can achieve a revenue scale of 100 billion yuan in 2023, the answer will be revealed in one year.
This article is a translation by ChatGPT of a Chinese report from 42HOW. If you have any questions about it, please email bd@42how.com.