Author | Zhu Shiyun
Editor | Qiu Kaijun
No longer waiting for suppliers, the second German car company has announced the specific plan of developing the in-house operating system for the whole vehicle.
On February 23, Mercedes-Benz (referred to as Mercedes) announced that its own in-house operating system, MB.OS, based on the domain centralized electronic and electrical architecture (E/E), will be launched in 2025 with the MMA platform.
Based on MB.OS, Mercedes will collaborate extensively with Google, NVIDIA, Amap, and Tencent Cloud to enhance the experience of its information and entertainment system, and is committed to increasing the application speed of L3-level autonomous driving systems from the current 60 km/h to 130 km/h.
When the Volkswagen Group announced the establishment of "Car.Software" to build "VW.OS" in 2019, the industry believed that VW.OS would be the beginning of "killing Tesla." But three years later, the ID series car system had a black screen, and the CEO Diess left, and the overall launch time of VW.OS has been pushed back to 2025, all indicating the huge challenges faced by traditional car companies in the software field.
Therefore, at the time when new car makers have been "playing" with domain control and operating systems for three years, Chinese mainstream car companies with vehicles equipped with domain E/E architecture and integrated operating systems will land in 2023 in large numbers. Regarding MB.OS, the frequent question asked of Mercedes executives is: How will Mercedes respond to competition from Chinese opponents?
OS, the cornerstone technology of intelligent vehicles
"An in-house operating system for the whole vehicle is the only way to maintain the digital sovereignty of future vehicle brains and central nervous systems," explained Ola Källenius, CEO of Mercedes, during a media interview in 2020, why they developed MB.OS in-house.
In 2021, SAIC chairman Chen Hong was pushed to the forefront of public opinion for similar "soul-searching" views, and then SAIC Software's Zero-Bundle Technology released the "Galaxy" intelligent vehicle full-stack solution 1.0, including an operating system.
At the end of the year, Wanjie M5 using the Huawei HarmonyOS system was quickly becoming a dark horse;
In 2023, almost every Chinese car company has plans for their own OS.
So what is an operating system (OS)? Why is it so important?
Android and iOS are the most familiar OS to people, but they both belong to the broad category of operating systems: strongly related to hardware computing platforms such as SOC, facing developers on top, achieving soft and hard decoupling (the mouse can click on position as well as being a paintbrush, and the flash can take pictures as well as being a flashlight), and supporting a collection of software for system service development.Most general-purpose operating systems are developed based on kernels. For example, Android is based on Linux and iOS is based on Unix. The kernel is the narrow definition of the operating system and provides basic functions such as memory, file, CPU scheduling, input and output management.
In the past, traditional cars did not "need" a general-purpose operating system.
Traditional cars use a distributed E/E architecture, with one ECU (on-board computer) corresponding to one function, running basic software programs or simple embedded real-time operating systems (OS) designed for specific applications. Therefore, each function has an independent set of hardware and software resources, ensuring high reliability of the function.
However, in the era of smart cars, it is necessary to control and manage the software and hardware resources of the entire vehicle, not just single-function, when performing intelligent driving, chat with voice assistants, and automating the closing of windows when the vehicle "sees" a front sprinkler truck.
It is also necessary to achieve the separation of software and hardware to release the multiple potential of hardware (e.g., cameras can be used for ADAS and can take, edit, and upload photos to social media), and support the development of upper-layer applications.
Centralized E/E architecture and general-purpose operating systems emerged to become the cornerstone technology for the intelligentization of cars.
Car OS, Domestic and Foreign Manufacturers on the Same Starting Line
In the field of car general-purpose operating systems (referred to as car OS), Chinese automakers have stood on the same starting line as multinational automakers such as Mercedes-Benz.
In the era of tightly coupled software and hardware ECU, OEMs can directly purchase ECUs with this function from suppliers and integrate them into the entire vehicle system for debugging and adaptation.
However, as the functions of car electrification continue to increase, it becomes extremely difficult to integrate ECUs with different "races, cultures, and languages" into one system, and the development cost and cycle increase exponentially.
In 2003, BMW, Bosch, Continental, Mercedes-Benz, and other nine automakers and first-tier suppliers formed an open alliance to build a standardized platform for communication interfaces, handshake protocols, data types, configuration functions, etc., between different ECU software – Automotive Open System Architecture (AUTOSAR)."`markdown
As core members of AUTOSAR, international car companies such as Mercedes-Benz have accumulated more application experience than Chinese car companies.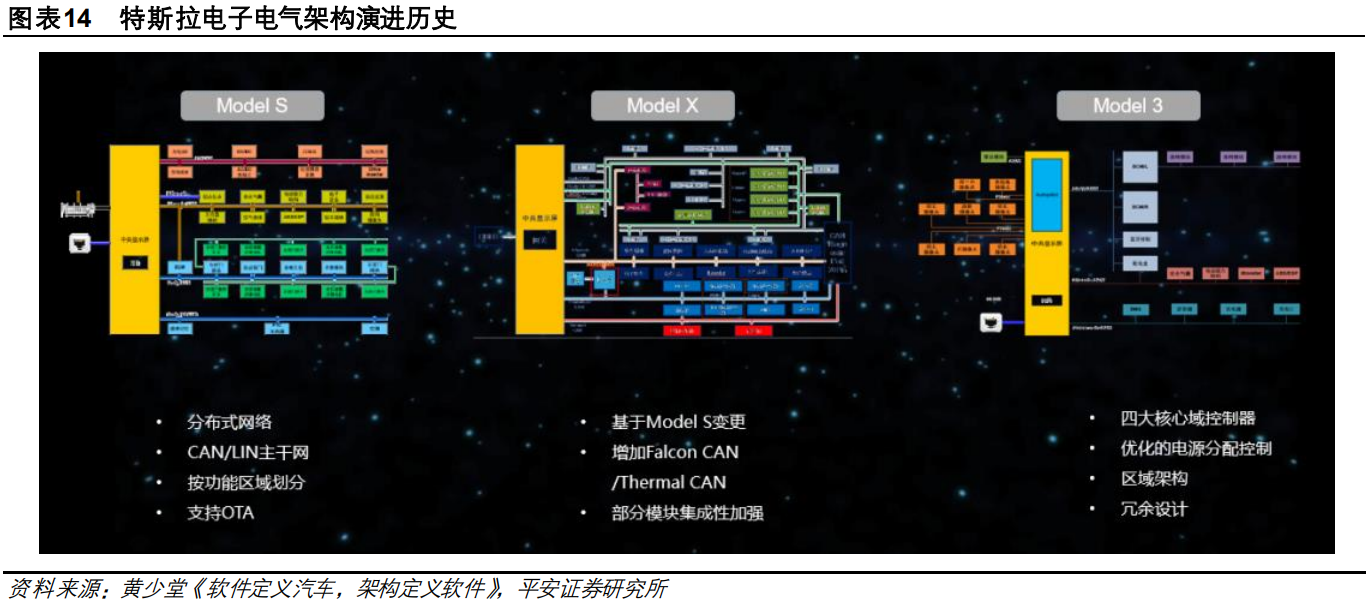 However, since AUTOSAR is essentially the middleware part of the automotive OS and defined and shaped for distributed architecture, it cannot support the core requirements of intelligent cars such as centralized E/E architecture, whole vehicle OTA, and intelligent driving.
More importantly, the system architecture of dividing and governing involves cross-system and even cross-domain calls to software and hardware resources to produce new functions,which is very difficult for developers, and it is difficult to form new applications and ecosystems, and realize the fundamental mode transformation from functional cars to intelligent cars.
With no existing products available, they have to do it themselves.
Based on the three narrow OS kernels of QNX, Linux, and Android, independently developed enterprise-owned automotive OS such as Tesla Version, Volkswagen VW.OS, Mercedes-Benz MB.OS, Huawei HarmonyOS, AliOS, NIO OS, and Xmart OS have emerged one after another.
These OS aim to achieve software and hardware decoupling and atomic function encapsulation on cars and provide easy-to-develop basic platforms for application developers.
It is worth noting that HarmonyOS is currently in the stage of coexistence of Linux, LiteOS, and microkernel HarmonyOS, and will return to the main kernel of HarmonyOS in the future, truly targeting the Android system from the bottom up.
Key Point 1: Starting from Different Depths
From a technical standpoint, although they are all customized development based on kernels, the depth of customization of each system is different.
Tesla, Volkswagen, and Mercedes-Benz follow the RAM-type route (Random Access Memory, can be read and written at any time), and carry out depth customization development such as modifying the kernel, hardware drivers, runtime environments, and application frameworks on the narrow OS.
Most domestic manufacturers such as NIO and Xpeng follow the ROM-type route (Read-Only Memory, can only read and cannot write information), which does not involve changing the kernel, and generally only modifies the built-in applications of the operating system.
![](https://42how-com.oss-cn-beijing.aliyuncs.com/article/image_20230228163631.png)



**Modifications to the narrow-sense OS in RAM mode can make the broad-sense OS more suitable for automotive scenarios, bringing more flexibility and covering a wider range of vehicles internally compatible.**



For example, VW.OS can run multiple underlying systems (such as Linux, QNX, Vxworks), and eventually support 12 brands of cars;



MB.OS is based on QNX in high-security areas and Linux is responsible for information entertainment systems.



"Deeply, MB.OS has infrastructure for hardware such as sensors and engines; the software basic layer has basic functions such as security diagnosis; the middleware layer has applications and improvements to AUTOSAR for middle-level and above; the application layer helps developers achieve software reuse through container technology; and the connection layer ensures that MB. The OS can quickly and conveniently connect with different external contents;", said Markus Schäfer, a member of the board of directors and chief technical officer of Mercedes-Benz.



![Markus Schäfer, member of the board of directors and chief technical officer of Mercedes-Benz, responsible for R&D and procurement.](https://42how-com.oss-cn-beijing.aliyuncs.com/article/image_20230228163639.png)




**In contrast, the ROM mode is a redevelopment above the underlying operating system, with limited suitability for boundaries and software/hardware decoupling.**



For example, Xmart OS covers the intelligent cabin and driving domains on the XPeng P7, but has not yet covered the whole-vehicle control domain and central gateway;



NIO OS cannot be iterated universally on the NIO two-generation platform. Aspen·Bai Yang runs on NT 1.0, and Banyan·Rong runs on NT 2.0. NIO will maintain the Aspen system for 15 years, bringing a software team cost of 500 people.```

**The automotive OS starting from RAM mode will have stronger compatibility and flexibility, providing a sustainable growth environment for vehicles.**

As Xu Seming said, in each domain based on MB.OS and Benz's MMA platform, "the most advanced chip technology will continue to be integrated to achieve supercomputing capabilities, support rapid calculation through ultra-high bandwidth and ultra-low latency, and ensure energy consumption remains at the lowest level, especially in the fields of information entertainment and autonomous driving."

## Point 2: Who produces first and iterates first

From a technical accumulation perspective, the automotive OS and the entire vehicle's stability, NVH, etc. have no difference. It is still a process that depends heavily on real-world mass scene verification and iterative improvements.

**However, this time, Chinese automakers entered the "battlefield" earlier.**

![](https://42how-com.oss-cn-beijing.aliyuncs.com/article/image_20230228163701.png)

"As of 2018, as long as we localised AUTOSAR well, that would be enough. Because Europe was leading us by a few years, what Europe developed would be sufficient for us to use after localisation," Li Bing, chief scientist at the first batch of Chinese AUTOSAR senior members, Dongfeng Soft-Ride, told "Electric Vehicle Observer".

From 2019 to 2020, with China's new car-making forces taking the lead in the new generation of centralized electronic and electrical architecture, AUTOSAR, as a standard, could no longer meet domestic demand.

China's automotive industry chain, including Dongfeng Soft-Ride, began to break through AUTOSAR in the "no man's land" and gradually built an automotive OS system strongly related to the centralized domain control.

For example, in 2020, the narrow-sense OS system of the intelligent driving domain controller equipped on the XPeng P7 was based on QNX, but the middleware was provided by the Chinese supplier Desay SV; Dongfeng Soft-Ride supported SOA comprehensively on the NeuSAR 3.0 version in the same year; and there have been many self-developed OS systems in the smart cockpit field.

At the same time, the only host factories using centralized E/E in foreign countries are Tesla and Volkswagen. The ID.3, which was launched in 2019, is still primarily based on distributed E/E architecture.

"`
In 2023, new products from major Chinese car companies such as FAW, SAIC, GAC, Changan, and Great Wall will begin to adopt E/E architecture with higher concentration, including centralized supercomputing and cross-domain integration, and apply multi-domain and even vehicle-level automotive OS on top of it.
In comparison, Volkswagen and Mercedes-Benz's automotive OS will not be available until 2025.
However, it should be noted that this year, Chinese car companies will only concentrate on a few flagship models that utilize centralized E/E architecture and automotive OS.
When Volkswagen and Mercedes-Benz's automotive OS are available in 2025, they will be able to support multiple brands and models within the group.
"First achieving mass production and availability means that there is a chance to complete the system iteration and achieve stability," says Li Bing.
"Ultimately, the stability and reliability of automotive software depend on continuous validation and improvement in the mass scenarios of daily use by actual users," he added.
In the traditional automotive era, because of the accumulated know-how, simulations, test beds, and testing sites, car manufacturers can already verify 80-90% of usage scenarios before delivery.
However, with the gradual mass production and availability of SOA architecture domain controllers, the industry will form a generalized automotive OS with distributed features centered around "central computing."
The extremely high complexity and huge scale of automotive software will be unprecedented and will inevitably lead to many unexpected scenarios and challenges during user operation.
"Software needs to undergo continuous iteration to become increasingly stable."
In the end, the ultimate winning point for automotive OS is the number of users and the ecosystem.
"Android was not the best mobile operating system at the time, but it ultimately won because it had the most users and the most diverse ecosystem," said an industry insider.
Mercedes-Benz has an advantage in deeper underlying technology while Chinese car companies have a two-year advantage in mass production, but this "race" has just begun.
Building a proprietary automotive OS, forming a universal industry standard product similar to Android and iOS, and completely transforming from hardware sales to software charging is the goal. Another important aspect is seizing the developers and users.Mercedes-Benz's measures around MB.OS are all aimed at attracting more developers and end-users.
Regarding expectations, although software investment will account for 25% of Mercedes-Benz's future R&D, or over 2.1 billion euros/year (based on the R&D expenditure of the 2020 fiscal year), expected revenue from software sales in 2025 is only 1 billion euros.
"From Mercedes-Benz's perspective, we still need to be cautious about the proportion of revenue generated from in-car digital services or subscription models, especially service revenue generated after customers purchase cars. We still need to observe," said Fu Ming Xue.
This means that Mercedes-Benz's positioning of MB.OS as a cost center in the near future, with patience and resources devoted to polishing the system.
At the partner level, international companies such as Google and NVIDIA, as well as domestic companies like Gaode and Tencent Cloud, have become MB.OS's core partners.
As Kang Linsong stated in an interview: "To build a 'software house,' you don't have to lay every brick yourself. You just need to be a good architect, oversee the whole process, let technical partners play their roles, and ensure that you work with the best people."
Considering that Google, NVIDIA, Gaode, Tencent, and others have already formed a wide-ranging development ecology on PCs and mobile devices, Mercedes-Benz's deep cooperation with these companies on underlying technology creates a shortcut for building relationships with "friends of friends."
Regarding core application development, the next-generation E-Class vehicle, which will be unveiled at the end of this year, will "preemptively" employ some of MB.OS's functionalities in the intelligent cockpit section, which Mercedes-Benz officially refers to as MB.OS version 08.
At the same time, Mercedes-Benz has obtained L3-level autonomous driving testing licenses in some cities in Germany and the United States, accumulating practical experience in advanced intelligent driving.
In addition, other models outside the MMA platform can also partially use MB.OS's functionality during their redesign and upgrade processes as they adjust E/E architecture and other hardware, further expanding the system's scope of application."`
Mercedes-Benz certainly does not underestimate China's position as its largest single market in the world.
In strengthening the R&D capabilities in China, Mercedes-Benz will also "delegate authority" to its Chinese R&D team. Magnus Joersberg, Chief Software Officer of Mercedes-Benz said: The configuration of Mercedes-Benz products' infotainment system related to the Chinese market has been completely left to local teams in China to decide.
Lü Hanchao, Director of MBUX Intelligent Cockpit & Telematics R&D at Mercedes-Benz China R&D Center, further stated that the other task for the Chinese R&D team, beyond profound insights into Chinese specific needs, is to explore new features that are applicable to both Chinese and global markets.
With its strong capital, resource advantages, and firm commitment, can Mercedes-Benz once again take a leading position in the era of intelligent vehicles? Can China's auto industry, with its first-mover advantage and market dominance, quickly accumulate experience, iterate and innovate, and become a standard-setter in new automobiles?
It remains to be seen who will come out on top.
"`
This article is a translation by ChatGPT of a Chinese report from 42HOW. If you have any questions about it, please email bd@42how.com.