Geely has placed its entire ambition for electrification on the Galaxy series.
On February 24th, with the global debut of the mid-to-high-end series of Galaxy, Geely not only covers the entire spectrum from low-end to mid-to-high-end, but also presents a stance against BYD.
The one and half hour-long launch event not only includes new methods of new power, but also retains the style of traditional car companies, seamlessly integrating two completely different forms of launch events.
The question this brings about is what did Geely's Galaxy really talk about?
From the process, form and style of the launch event, Geely's purpose is nothing more than to cut the new energy track from the "fuel car" label and establish a more focused and high-end brand image.
And the only thing that the Geely Galaxy accomplished in this launch event was to showcase its strength:
The very first electric-mixed SUV, the Galaxy L7, is now open for booking, and will be available in the second quarter of this year.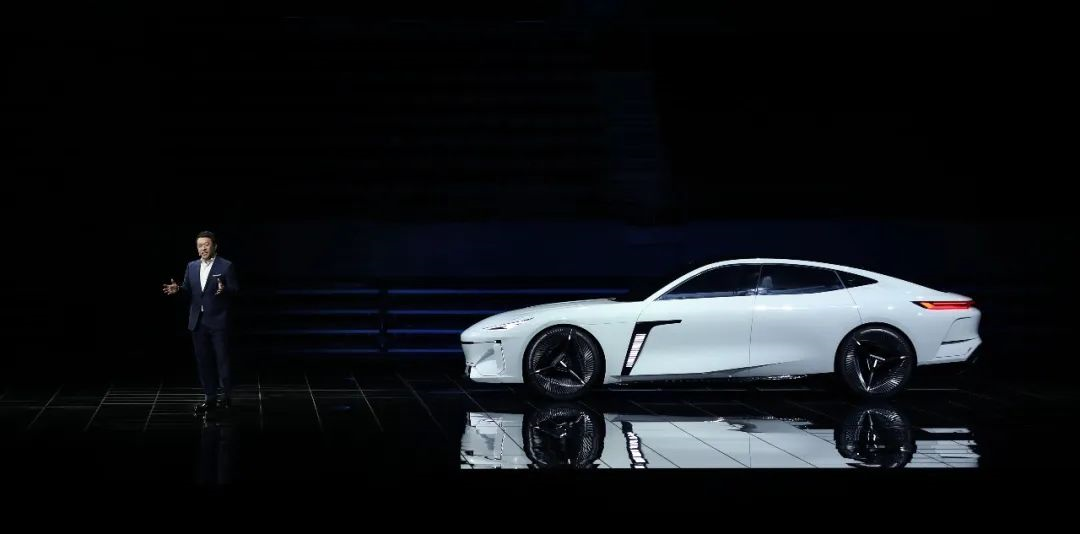 The intelligent electric prototype car, "Galaxy Light" (E8), made its debut, and will be put into the market and delivered by the end of the year. Additionally, the Galaxy series plans to launch 7 new models in the next 2 years, including the new energy electrification technology such as the Shield of God battery safety system, the Thunderbolt electric-mixed-8848, and the new car operating system "Galaxy NOS".
In summary, the Galaxy series is like Geely's comprehensive attempt and exploration:
it not only displays Geely's all-round thinking about future intelligent electric cars, but also manifests Geely's "inner essence" towards the transition to pure electric intelligence.
Why does Geely need Galaxy?
From Polestar, to Geometry, and now to Galaxy, just in terms of the new energy production line, Geely has already expanded multiple new brands, not to mention other brands such as Volvo and Lotus.
Continuously adding products undoubtedly tests Geely's ability to draw boundaries between brand and series.
For example, the Galaxy series will cover the 150,000 to 300,000 yuan new energy vehicle market, but Geely's other series also sell new energy products in this price range, such as the Emgrand L Thunderbolt hybrid, the Xingyue L Thunderbolt hybrid, etc.It is obvious that some of the models in the Galaxy series will overlap with the vehicles already sold by Geely.
According to Fan Junsong, CEO of Geely Auto Sales, Geely is divided into three product series:
(1) The Geometry brand returns to the Geely brand, focusing on the mass market of pure electric products under 150,000 yuan;
(2) Galaxy is a mid-to-high-end intelligent new energy product series, focusing on the new energy market in the 150,000-300,000 yuan range.
(3) Chinese Star, Bin series, Bo series, etc. form the Geely Star Series products.
Although each series has an explicitly defined boundary, the new energy market of less than 300,000 yuan is already covered by two series: Geely and Geometry, which include hybrid and pure electric in two major domains. So why does Geely need to launch the Galaxy series?
Perhaps the answer to this question can be found from Geely's achievements in the new energy market last year.
In 2022, Geely's cumulative sales of new energy vehicles reached 330,000, accounting for 23% of the group's annual sales:
Pure Electric: Geometry's annual sales were 149,000 vehicles, with 72,000 Jikr deliveries and 56,000 Blue series vehicles;

Hybrid: Geely Hi·P series sold 66,400 vehicles;
It can be seen that Geely's performance in the new energy market is dumbbell-shaped:
Jikr focuses on the market above 300,000 yuan, and Geometry has achieved some success in the new energy market below 100,000 yuan; however, in the mid-to-high-end and hybrid markets, Geely's performance fell short of expectations.
According to data from the China Association of Automobile Manufacturers, in 2022, the retail sales of new energy passenger cars in China reached 5.6743 million units, a year-on-year increase of 90%.
Among them, the retail sales of plug-in hybrid electric vehicles (including extended-range models) reached 1.4198 million units, a year-on-year increase of 160.5%, which outpaced the growth of pure electric products.
According to data from the China Association of Automobile Manufacturers, the sales volume and YoY growth rate of new energy vehicles in 2022 were mainly concentrated in the A-level models, with a cumulative sales volume of 2.386 million units, a year-on-year increase of 140%.
In terms of price, in 2022, the main sales price of new energy vehicles was concentrated in the range of 150,000-200,000 yuan, with a total sales volume of 1.855 million units, a year-on-year increase of 210%. Among them, the proportion of A-level SUVs in the 100,000-200,000 yuan range has reached 50% of all new energy vehicle categories.
In this respect, the explosion in sales of the BYD Song family in 2022 is the best example, with sales of 475,000 units accounting for 25.5% of BYD's total sales.At the Electric Vehicle Forum of Hundred People's Congress (2023), Ouyang Ming, academician of the Chinese Academy of Sciences and vice chairman of the Hundred People's Congress, believed that:
"Now we are in a stage where electric vehicle prices are high, battery costs are high, subsidies are decreasing or stopping, and plug-in hybrid is definitely a rising trend. There will be more mainstream models of plug-in hybrids in the 100,000-200,000 RMB range, especially plug-in hybrids."
"The combination of Geometry, Galaxy, and Lynk & Co makes Geely achieve a coverage of 75% in the new energy field," said Lin Jie, senior vice president of Geely Automobile Group.
According to the plan, the Geely Galaxy is planning to launch 7 new models within 2 years and form two product lines (odd-numbered models are SUVs, even-numbered models are sedans):
Hybrid L Series: covering A0 to B-level intelligent hybrid products, the first SUV Galaxy L7 (comparable to Song PLUS) and the first sedan Galaxy L6 (comparable to Qin PLUS) will be delivered in the second and third quarters of this year, respectively.
Pure Electric E Series: covering A to D-level intelligent pure electric products, the first pure electric sedan E8 (comparable to Han EV) will be delivered in the fourth quarter of this year.
It is not difficult to see that almost all the models after the Galaxy series will compete head-on with multiple BYD main-selling models such as Tang, Song, Yuan, and Qin.
This also shows that for Geely, the Galaxy series is like the Dynasty series for BYD, and Geely hopes to use the Galaxy series to transform its current "dumbbell-like" structure to a "balanced" structure.
But the real question is, why can Geely Galaxy fight against BYD?
Focusing on BYD, Galaxy uses Geely's "full range of products"
BYD's ability to kill fuel vehicles relies on the "same price of oil and electricity" strategy – every DM-i model suppresses same-level fuel vehicles in terms of vehicle operating costs and driving experience, and then carries out a "reduction strike" on prices.
In contrast, whether it is the L-Series hybrid products or the E-Series pure electric products, Galaxy must gather all of its technological capabilities and focus them on the new product line.
In addition to the traditional fuel-saving advantages, Galaxy must demonstrate clear features and strengths in comprehensive product capabilities.# Geely Group Senior Vice President Lin Jie said that the number of brands within the group is already considerable, with each targeting different markets. Therefore, it is not meaningful in the short term to launch a new brand. A more sensible approach is to gather resources and strongly bind the Galaxy brand with Geely's new energy vehicles.

In terms of products, Galaxy can be seen as the culmination of Geely's technology:
ECARX E04, E05 cockpit computing platform (subsidiaries of Geely Holdings)

Horizon Robotics 7nm cockpit SoC chip (ECARX joint venture)

Meizu Flyme Auto cockpit system (subsidiaries of Geely Holdings)

MapHigh technology's high-precision maps (subsidiaries of Geely Holdings)

Geely ECARX intelligent ADAS system (joint venture of Geely and ECARX)

Geely SEA Haohan architecture and e-CMA hybrid architecture
Since acquiring UK's Manganese Bronze in 2013, Geely's investment footprint has covered the entire auto industry supply chain, intelligent technology, and other fields. However, due to differences in technology compatibility and brand/series positioning, Geely has been unable to fully integrate its investment portfolio.
Galaxy can be said to be the first new energy brand that has fully embraced Geely's entire portfolio.
At the press conference, Gan Jiayue also revealed Galaxy's intelligent and electric strategies.
In terms of intelligent driving, the specific plan and capability boundaries of Galaxy L7 are not yet clear, but it emphasizes pre-embedded sensor schemes that support laser radar, among other functionalities. It differs in that it can cooperate with Geely's own satellites to achieve "integration of the universe" intelligent driving.
Gan Jiayue stated that the "integration of the universe" version of Geely's satellite-based Galaxy intelligent driving program will be launched soon, which can achieve precise positioning to the centimeter level.
Currently, when Galaxy's intelligent driving cruises at 90 km/h, it can stop in time when facing a stationary target. Geely's Star Rui Intelligent Computer Center can simulate 100,000 kilometers of intelligent driving behavior training in 1 day. Combined with intelligent network connection professional test tracks and actual road testing, it can meet global certification standards for L3 level intelligent driving.
According to the plan, Geely is expected to complete the construction of a network of 72 low-earth orbit satellites by 2025, enabling Geely's Galaxy intelligent driving to achieve global blind spot-free positioning capabilities, as well as mass production of cross-layer memory parking, high-speed emergency gazelle avoidance, and low-speed exploration crossing functions.Translate the following Chinese Markdown text into English Markdown text in a professional manner. Retain the HTML tags inside the Markdown, and only output the result.
![](https://42how-com.oss-cn-beijing.aliyuncs.com/article/image_20230227232526.png)


In terms of operating system, Geely has independently developed the **Galaxy N OS**. By connecting with the brand-new voice engine at the system level, its voice interaction system has more accurate recognition, is "visible and able to be said" in all scenarios, and has an interactive efficiency of milliseconds.

Internally, Geely has given this system the evaluation of being **"infinitely close to the Apple iOS experience"**.

However, the only known information currently is that the response speed of each link has been greatly improved, and the operating experience of the in-car screen is closer to that of mobile phones and tablets.

As for the extent to which Meizu was involved, it was not mentioned during the launch.

Another highlight of the Galaxy is that it is equipped with Geely's self-developed complete vehicle architecture.

Ganjiaye expressed that over the past 10 years, Geely has invested nearly 100 billion yuan to build a vast SPA, CMA, SEA and new generation e-CMA intelligent hybrid architecture. These intelligent hybrid architectures and intelligent architectures have been adopted by 11 global automobile brands.

Taking the e-CMA hybrid architecture as an example, its mass production thermal efficiency can reach the highest in the world at 44.26%, and it can also achieve a super low power consumption of 5.23L, with a comprehensive cruising range of 1370 kilometers.


![](https://42how-com.oss-cn-beijing.aliyuncs.com/article/image_20230227232510.png)


With the blessing of the Lei Shen hybrid system, the Galaxy L7 achieved acceleration of 6.9 seconds to 100 kilometers per hour, 5.23 liters of power consumption, and a comprehensive cruising range of 1370 kilometers.

For comparison, the Geely Galaxy L7 was faster than the BYD Song DM-i 110KM two-wheel-drive flagship PLUS, which takes 7.9 seconds, but slower than the BYD Song DM-i 100KM four-wheel-drive flagship PLUS, which takes 5.9 seconds.

From a technical point of view:

In theory, the three-speed hybrid system has better fuel economy compared to the single-speed of the BYD DM-i or the two-speed hybrid of the Great Wall Lemon hybrid, after all, 3 speeds can provide a wider "parallel, direct drive" working platform. The engine can maintain the highest efficiency speed in more speed intervals. This is also why the Lei Shen hybrid system can achieve pure electric, range extension, and hybrid electric. 

Although from the perspectives of economy, efficiency, and performance, the Thunderbolt hybrid system can compete with BYD DM technology, the equation "buying a hybrid car = buying BYD" has become the mainstream voice in China's automobile market thanks to BYD's four iterations of DM technology.
This is also the reason why independent car companies such as Chery Kunpeng DHT and Great Wall Lemon Hybrid DHT have not received much attention from consumers in their hybrid technology.
Geely Galaxy needs to find a label that will leave a deep impression on consumers.
On the other hand, in terms of comprehensive vehicle size, power, intelligence level, and configuration setting, the positioning of Geely Galaxy L7 is very accurate.
Geely Galaxy L7 is a product targeting BYD Song PLUS DM-i, but BYD's winning move is "oil-electricity same price", which caused problems for Geely Star of Tomorrow L before in "oil-electricity different price". "Oil-electricity same price" is difficult and "electricity cheaper than oil" is even more difficult.
This is the second challenge for Geely Galaxy. Compared with labels such as fuel economy and technology, "low price" can more directly stimulate consumer perception and achieve the original accumulation of market sales.
Undeniably, Geely has discovered more market opportunities for itself in the new energy market by engaging in intimate hand-to-hand combat with BYD in various sub-markets.
However, if the product cannot pose any threat or intimidation to BYD, perhaps in the end it will be nothing more than a Geely one-man show.
Every product must be in the top three in its sub-market
For Geely, it is more desirable to replicate BYD's approach and turn its Galaxy models into popular products.
Lin Jie stated that he hopes "every product of Galaxy can achieve the top three in its sub-market."
To achieve this goal, Geely Galaxy has innovated channels, including two modes direct to users and proxy dealers, to integrate online and offline services.
Lin Jie believes that selling new energy vehicles and fuel vehicles together will not work well. If a sales consultant can sell both fuel vehicles and plug-ins and pure electric vehicles, that is a huge challenge.
"Geely Galaxy plans to open brand centers in first- and second-tier cities, and adopt proxy dealer system in third- and fourth-tier cities, including user centers (4S stores), experience centers (city exhibition halls), and display spaces (department stores)," Fan Junyi added.
In addition, future Galaxy products will all be available for pre-order through an APP, with the orders completed online. The combination of sales and proxy systems will drive the entire Geely channel to change towards a focus on user satisfaction.To some extent, Geely Galaxy almost possesses an element of brand independence — independent logo, R&D team, and channel ecosystem.
In a mature automotive group, if you want to complete the transformation from top to bottom, you often need to open up new businesses and tracks to play a leading role. Last year's excellent performance of Geometry proves that it has fulfilled this task for Geely Group.
Cost-effectiveness and product strength are the paths that Geometry has partially verified. With a starting price of 299,000 yuan, Geometry 001, whose chassis was jointly adjusted by Lotus and Porsche teams, also upgraded the 8155 chip for all owners for free, and word of mouth skyrocketed.
On the other hand, there is almost no domestic automaker that can build a brand as well as Geely does and quickly find the right position for it.
Through the advantages of a multi-brand strategy and the adjustment of the brand strategy, Geely has forcibly pulled itself up to the same level as BYD and launched a sniper attack on it.
From 2017 to 2021, Geely Automobile has won the Chinese brand passenger car sales championship for five consecutive years, but behind it, Geely has actually failed to achieve its annual sales target for five consecutive years as well.
In 2022, although Geely boosted its sales in the new energy field, its sales of traditional fuel cars plummeted, dragging down the overall sales growth of the group. Geely sold only 1.08 million fuel cars in 2022, a year-on-year decrease of 13.4%.
This also means that the transformation to new energy has become Geely's top priority, and the current primary goal is to create a portfolio of new energy hit products, which Geely has already demonstrated in its response to BYD.
"There is no day that is profitable for a company, especially in such an environment. I think we just have to face it."
Regarding how to balance the sales and profits of new energy products, Gaby Yu expressed this view.
The implication of this sentence may be to give up profits appropriately in exchange for sales and market share, which is probably the way to survive in this fiercely competitive new energy market.
On the Galaxy series, we can see Geely's ambition for change, but whether the Galaxy series can establish Geely's new energy label and seize the largest incremental market of the middle and high-end mainstream market is the challenge that the Galaxy series must face in the future.
This article is a translation by ChatGPT of a Chinese report from 42HOW. If you have any questions about it, please email bd@42how.com.