Today, the Mercedes-Benz E-class has undergone a generational upgrade, and the world premiere of the new Mercedes-Benz E-class intelligent cabin has been announced.
The interior of the new E-class combines sportsmanship, high quality, and digital design. The center console screen and the front passenger screen integrate into a "MBUX Superscreen" with a seamless fusion, and the edge contour is designed with curves.
The front passenger screen allows passengers to watch videos and other entertainment content during their journey. When the driver looks at the screen, the "Privacy Mode" of the screen will avoid driver distraction. The display icons on the center console screen and the passenger display screen are designed to be similar to smartphone icons to help the driver quickly find the desired icons.
The HD instrument screen adopts a floating design and provides "Classic" and "Sport" display styles. The environment atmosphere light belt on the entire instrument panel above extends from the front to the rear, creating a comfortable front seat area. The new E-class is equipped with the "Feel the Beat" function, which combines Dolby Atmos® panoramic sound technology, Burmester® 4D surround sound system, and active ambient light to present a triple sensory experience of sight, sound, and touch.
The new E-class can now be equipped with various entertainment programs. The center console screen and the front passenger display screen can run "TikTok" and "Angry Birds", can realize collaborative work through "Webex", "Zoom", and can search for information on the "Vivaldi" browser. The ZYNC car entertainment platform can also provide online videos, interactive experiences, local video playback, sports, news, games, and other entertainment content.
There are a variety of materials used in the car interior, and the door handles, door handles, and power window adjustment buttons are covered with metal elements. The car door handles with a floating island design integrate functional buttons that can control the door opening and closing and enable various seat adjustment functions.
The new E-class will introduce the "Motion Sickness Comfort Mode" to help passengers relieve motion sickness symptoms. When this mode is enabled, following the system's instructions, passengers can adjust the backrest and posture of the seat, and the system will automatically adjust the seat cushion. The air conditioning system will provide fresh air regularly.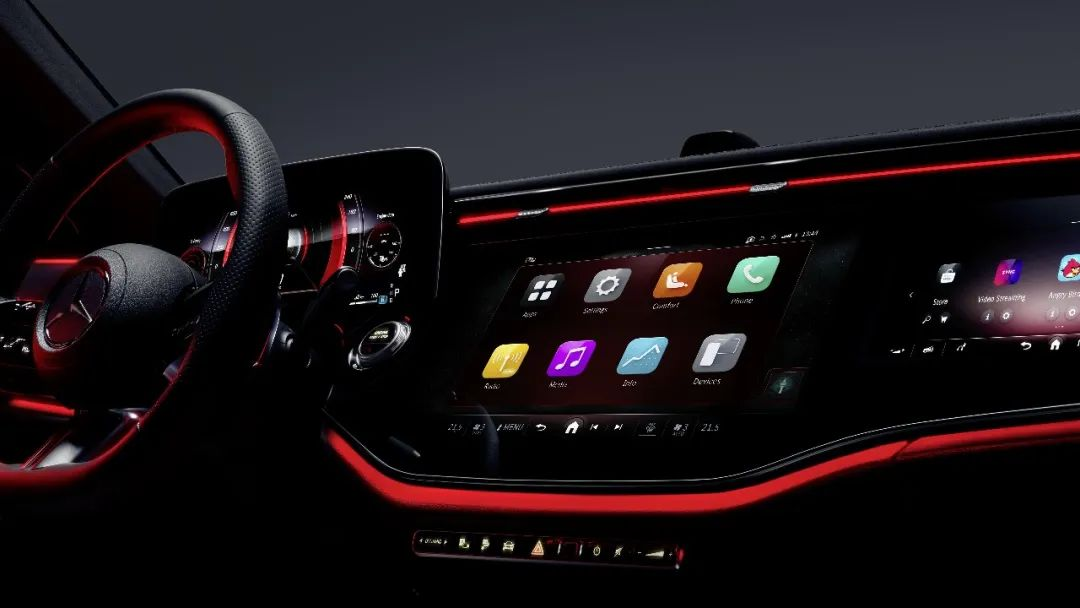 Equipped with THERMOTRONIC multi-zone intelligent air conditioning, the new car intelligently controls the air volume through the digital ventilation control system. The electrically controlled air outlet also supports manual adjustment, continuously providing the best personalized ventilation settings. With the assistance of artificial intelligence, the " Mind-reading Voice Assistant" function of the new E-Class has also evolved. The vehicle supports wake-free function, allowing voice control of various functions of the vehicle.
This article is a translation by ChatGPT of a Chinese report from 42HOW. If you have any questions about it, please email bd@42how.com.