According to reports, we have obtained spy photos of the test car of the MINI COUNTRYMAN pure electric version from foreign media recently. The new car may be based on the FAAR platform, the same platform as the BMW iX1, and is expected to share the power system with the BMW iX1.
It is reported that the new car will be unveiled in the second half of 2023 together with the fuel version of MINI COUNTRYMAN.
In terms of appearance, although the new car is covered with thick camouflage, careful observation reveals that the headlights on both sides of the front of the car are designed with rounded rectangular shapes, and the entire front is expected to adopt a closed grille shape to highlight the attributes of electric vehicles.
On the side of the car body, the overall styling of the new car adopts a more standard SUV body structure, and the new car is still positioned as a compact SUV. Due to the reason of the camouflage stickers, we cannot observe the design details of the car body well. However, there is a sticker "Electric Test Vehicle" on the front door of the vehicle, which can prove that this test car is the COUNTRYMAN pure electric version.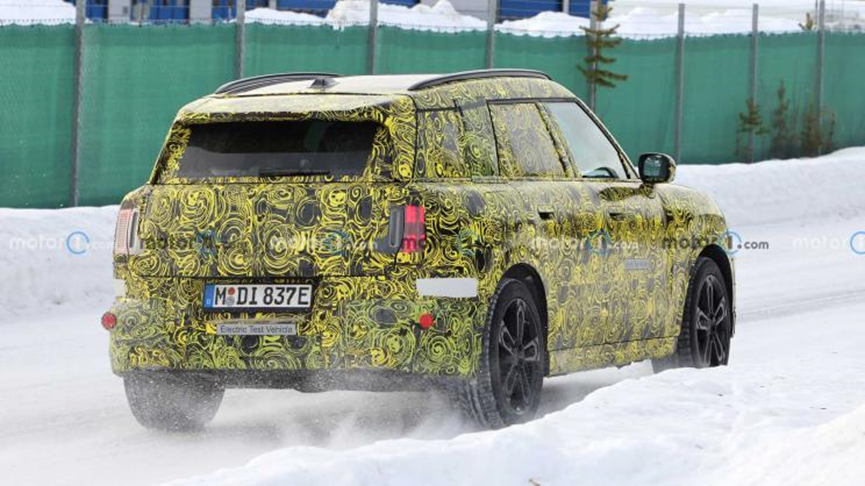 In the rear part of the car, the new car is equipped with a large-size roof spoiler and a rear window wiper. The taillights are expected to adopt a longitudinal design, and the rear bumper looks fuller because the exhaust layout has been cancelled.
As for the interior, the new car is also expected to adopt the MINI family's new design concept. The oval-shaped full LCD instrument panel is matched with a three-spoke multifunctional steering wheel. The center console may use a suspended large-size ultra-thin touch screen, and some physical buttons will also be retained underneath.
In terms of power, we currently know very little about the new car's electric power system. However, considering that the new car will use the same platform as the BMW iX1, the COUNTRYMAN pure electric version should also use its power system.As a reference, BMW iX1 will have a dual-motor configuration, with a combined power of up to 313 horsepower and a match with a 64.7 kWh battery pack, providing a range of 435 kilometers.
This article is a translation by ChatGPT of a Chinese report from 42HOW. If you have any questions about it, please email bd@42how.com.