Author: Tao Yanyan
Review of the Annual Performance of China's Top 10 Automakers
According to the official data released by Geely Auto, its sales volume reached 1,432,988 in 2022 with a YoY growth rate of around 8%. As for the new energy sector, including Geely, Geometry, Lynk & Co, Zeekr, and Blue Geely, it sold 328,727 vehicles in 2022, with a penetration rate of approximately 23%.
Geely Auto is a typical enterprise that has relied on capital to develop:
In 2018, it reached its peak domestic sales volume and its multi-brand strategy was formulated.
By 2022, there were 200,000 export sales on average, with various brands of pure electric vehicles needing to be considered in the domestic market.
Geely precisely aims to operate the company around investment with a focus on multi-brand operations, using methods that have been systematically developed from the lessons learned from Volvo.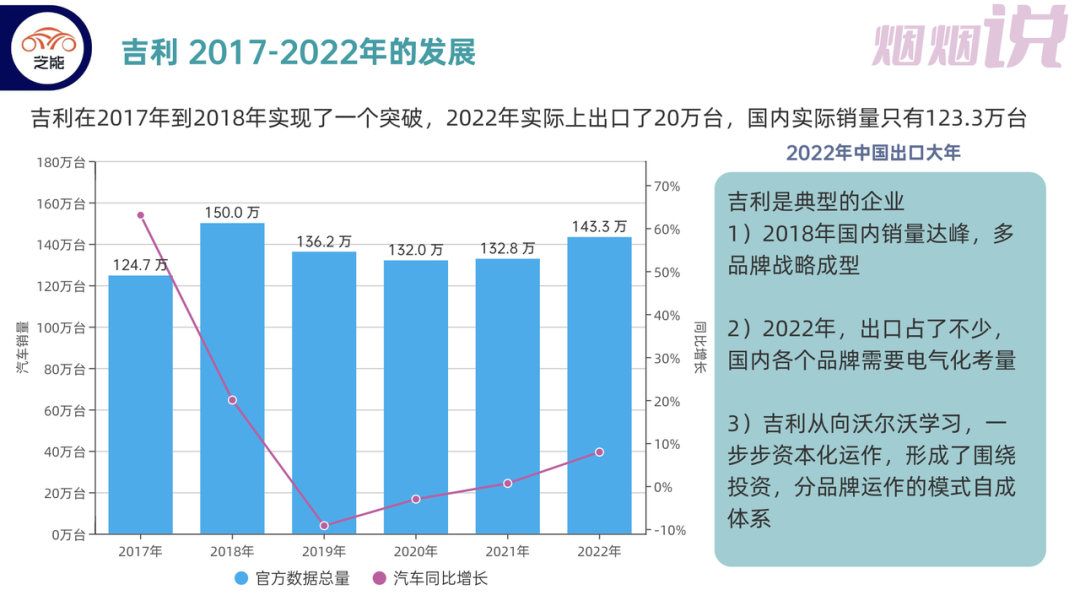 According to official data, a summary of Geely Auto's overall export sales in 2022 is shown as follows: cumulative export sales of 198,242 vehicles, YoY growth rate of 72.4%.- In the pure electric field, Geometry sold 149,389 units in 2022, a year-on-year increase of 170%.
Xpeng delivered 71,941 units in 2022.

In the battery swap field, Rui'An sold 56,140 units in 2022.

Geely brand's sales exceeded 1.12 million units in 2022.

◎The total sales of "China Star" in 2022 reached 259,087 units, accounting for over 23% of Geely brand.

◎As for Lynk & Co, sales reached 180,127 units in 2022.
After comparing the terminal data in China, Geely has indeed achieved its own extension in common platforms and modular technologies. Now, it is operating on multiple brands, multiple bases, and multiple independent entities.
Situation of major brands in 2022
Geely's old brands have not yet entered the pure electric vehicle market, and the model lineup of each brand is as follows:
Geometry: Low-cost conventional electric cars.
Maple Leaf: Battery swap models aimed at 2B market.
Geely's old system: Plug-in hybrid and low-cost electric vehicles.
Lynk & Co: From hybrid to plug-in hybrid.
Xpeng: Mid-to-high-end electric vehicles.
Lotus: High-end electric vehicles.
In fact, Geely has several generations of hybrid technology. The earliest was a dual-mode power split hybrid system, but industrialization was very difficult. In Europe, Geely adopted the P2 scheme. In China, based on the 7DCT, Geely integrated the P2.5 motor to launch the P2.5-7DCT parallel hybrid transmission. In 2021, Geely introduced the Thunderbolt hybrid system, a 3DHT series-parallel hybrid transmission with a three-speed engine drive.
From the current situation, the overall sales in 2022 are relatively low. The original hybrid system needs to be switched to the latest one, so 2023 will be a starting point.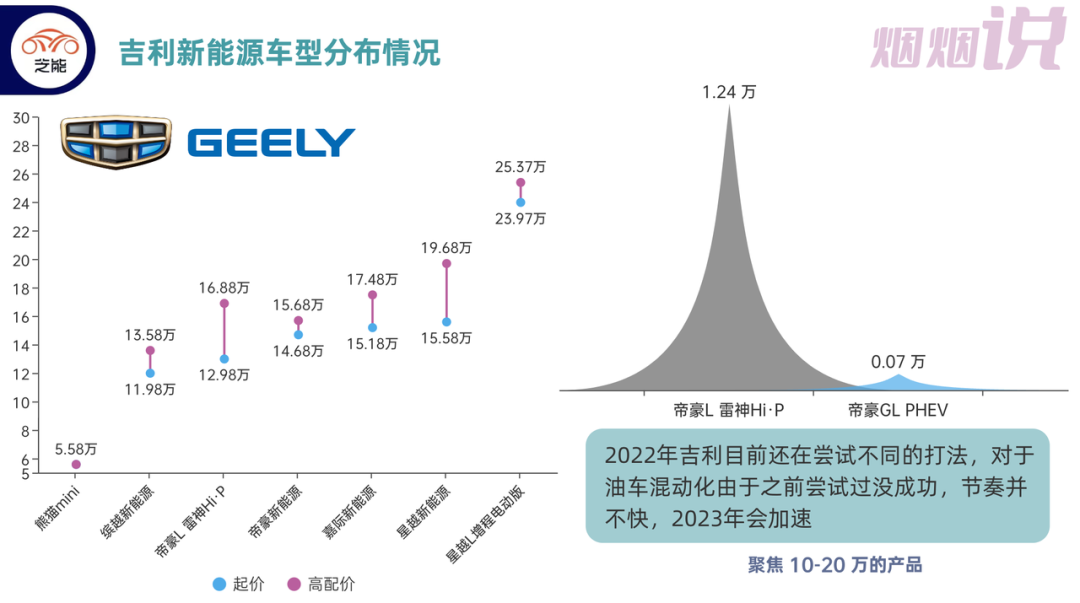 "`
From the terminal data, it seems that the transition from gasoline to hybrid for Lynk & Co's electric car models taken by Ji Ke is not particularly smooth. The effect may be improved after importing 3DHT.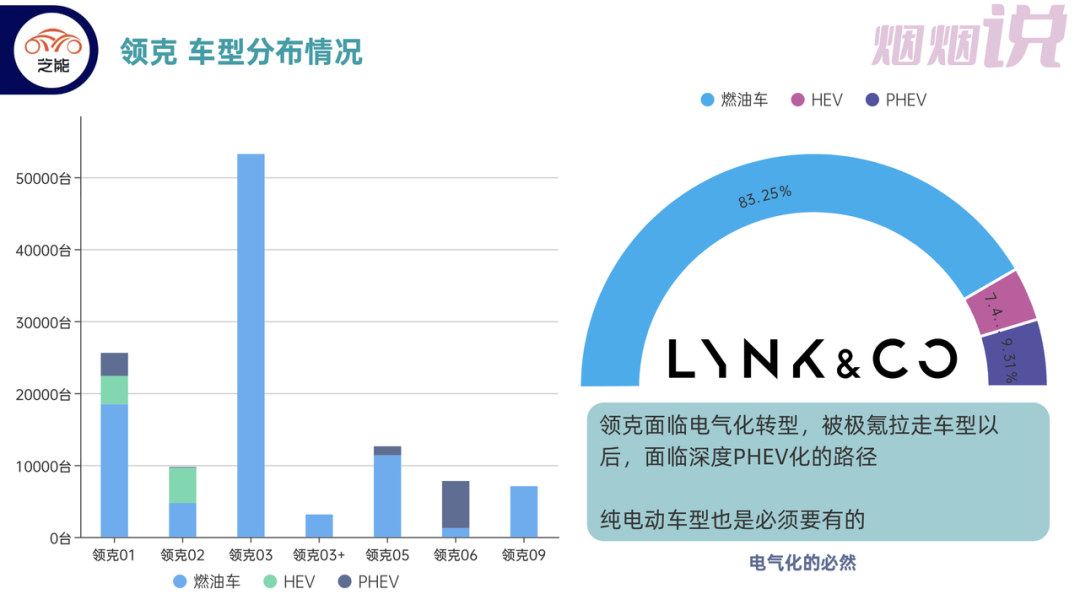 The geometry model is the most advanced car model in 2022, which is also related to the strong demand for B-end to switch from gasoline cars to electric cars. We can see that the price system of geometry model actually matches this market. The terminal sales volume reached 117,000 units in 2022, and the overall sales status is still good, with a positioning level of 100,000 to 150,000.
Due to the subsidy reduction, the terminal delivery volume of geometry has also caught up and gone ahead before the subsidy.
Platform and Upgrade
Ji Ke 001 made a very beautiful shape around the car core chip by replacing it with Qualcomm's products, which not only improved its product power but also solved the problem in the cabin. Currently, it is based on the SEA vast architecture, which supports Ji Ke, as well as follow-up products from Volvo and Polestar, and it will also support other products such as JiDu. The problem for Geely is that with more brands joining this architecture in the future, how to differentiate so many brands under the consistent basic three-electric characteristics?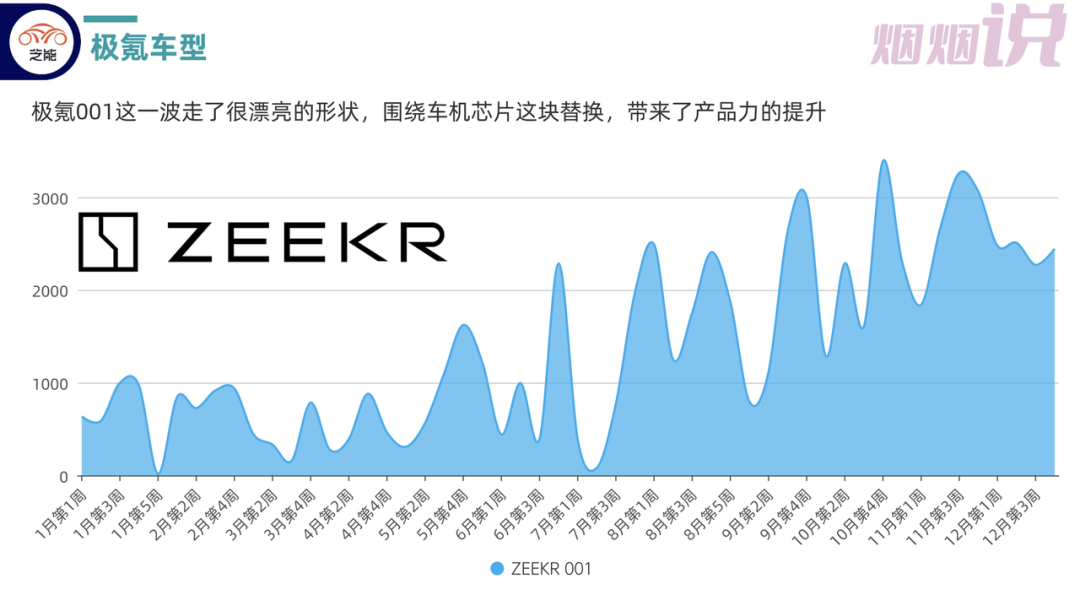 """
In the current product roadmap, we can do subdivision for each brand, but there is currently no particularly good pure electric platform. Hyundai Kia's EMP can still be overseas due to the differentiation of charging speed. In China, the overall development volume around the pure electric platform is approximately 200,000. The long-term value of pure electric platforms is still worth continuous observation.
Can Geely separate so many brands by 2025-2030? This issue involves the following:
Whether Geely's original fuel, hybrid, and Geometry platforms will be integrated.
How will Lynk & Co and Zeekr complement each other in the future.
How will Volvo and Polestar's pure electric future widen the gap.
How will products like Smart be separated from the above.
Of course, there is no answer at present. In the evolution of these two years, some brands may be eliminated or integrated, which is good for subsequent management and sales.
Conclusion: For Geely, there is a tendency to develop into a smaller Stellantis- how to differentiate different brands and teams on electric platforms with small differences requires a lot of effort. Of course, it may be a horse racing mechanism, whoever runs out is alive.
"`
This article is a translation by ChatGPT of a Chinese report from 42HOW. If you have any questions about it, please email bd@42how.com.