Author: Xu Jinkai
Zhi Ji began to fight back.
Three days ago, the official launch of the Ideal L7 caused a widespread concern in the industry. At the same time, the Zhi Ji L7, which had low market visibility, became the object of many industry insiders' sympathy.
"The Zhi Ji L7 is going to be obsolete. Ideal L7 has such great momentum, and the consumer's impression has gradually formed. It's difficult to change this impression and make consumers realize L7 is a good sedan."
Three days later, Zhi Ji started positive competition with Ideal L7 with the release of LS7.
Regardless of the size of the car or the price range, Zhi Ji LS7 and Ideal L7 are in direct competition. However, unlike the Ideal L7's emphasis on household use, Zhi Ji's emphasis on driving experience better satisfies the driver's needs.
If the Ideal L7's father is a model of a good husband and father, then the father of Zhi Ji LS7 is the kind of stubborn one who values family experience and self-exploration.
Valuing family experience is reflected in the large field of vision, large space, and zero-gravity aviation seats. Self-exploration is reflected in Zhi Ji's consistent driving performance. With the pursuit of individuality, the 90s gradually become the main force of the father group, and the "stubborn father" positioning of Zhi Ji LS7 will also have the opportunity to compete with Ideal L7 in the same arena, not to mention that Zhi Ji LS7 still has higher cost performance.
After the end of the press conference, according to the data disclosed by Zhi Ji, the blind orders for Zhi Ji LS7 had exceeded 10,000.
With the arrival of LS7, Zhi Ji's ambition to pursue higher market performance can no longer be hidden.
Escalating Tendency of Internal Onslaught; Even High-end Brands Have to Talk about "Cost-effectiveness"
In this market where everything goes viral rapidly, cost-effectiveness is no longer exclusive to affordable models. More and more high-end brands are also joining the ranks of pursuing cost-effectiveness and Zhiji Automobile is a typical example.
On February 10th, Zhiji LS7 was officially launched in Mile, Yunnan. The new car has a total of 6 models and is expected to be delivered starting from March, with the price of each model as follows:
100kWh ultra-long-range Pro Intelligent Luxury AWD version at RMB 459,800;

100kWh ultra-long-range Lux Deluxe Driving AWD version at RMB 399,800, RWD version at RMB 379,800;

90kWh long-range Elite Leading Comfort AWD version at RMB 349,800, RWD version at RMB 329,800;

77kWh standard-range Pure Pure Driving RWD version, priced at RMB 309,800 (pre-orders will start in the second half of this year, with deliveries beginning within the year).
Judging from the price alone, Zhiji LS7, with models in the same price range as Li Xiang One and Xiaopeng G9, has more advantages in terms of configuration.
Except for the model of 77kWh standard-range Pure Pure Driving RWD, Zhiji LS7 is the only mid-to-large-sized SUV model priced under 330,000 RMB that is equipped with dual-chamber CDC+Brembo. To achieve this configuration, Li Xiang One will need to start at RMB 339,880, Xiaopeng G9 starts at RMB 399,900, and NIO ES7 starts at RMB 468,000.
The air suspension system adopted by Zhiji LS7 is provided by Germany's Continental and belongs to the same product series as the air suspension of Maserati Levante. This air suspension system can adapt to different driving scenarios by adjusting the suspension height."`
When the vehicle is stationary or in motion, the active adjustment of the vehicle height can be achieved according to different speeds or load changes, which improves the comfort, safety, and economy of the vehicle during driving.
In addition, the Zhiji LS7 is the only model in its class equipped with frameless doors and 11 double-layer laminated glass throughout the vehicle, along with intelligent electric doors, four-door electric suction doors, pop-up hidden door handles, and the seldom-seen Far-Side remote central airbag. This not only increases the quietness and luxury of the vehicle, but also greatly improves safety. Such hardware strength further highlights the cost-effectiveness advantage of the Zhiji LS7.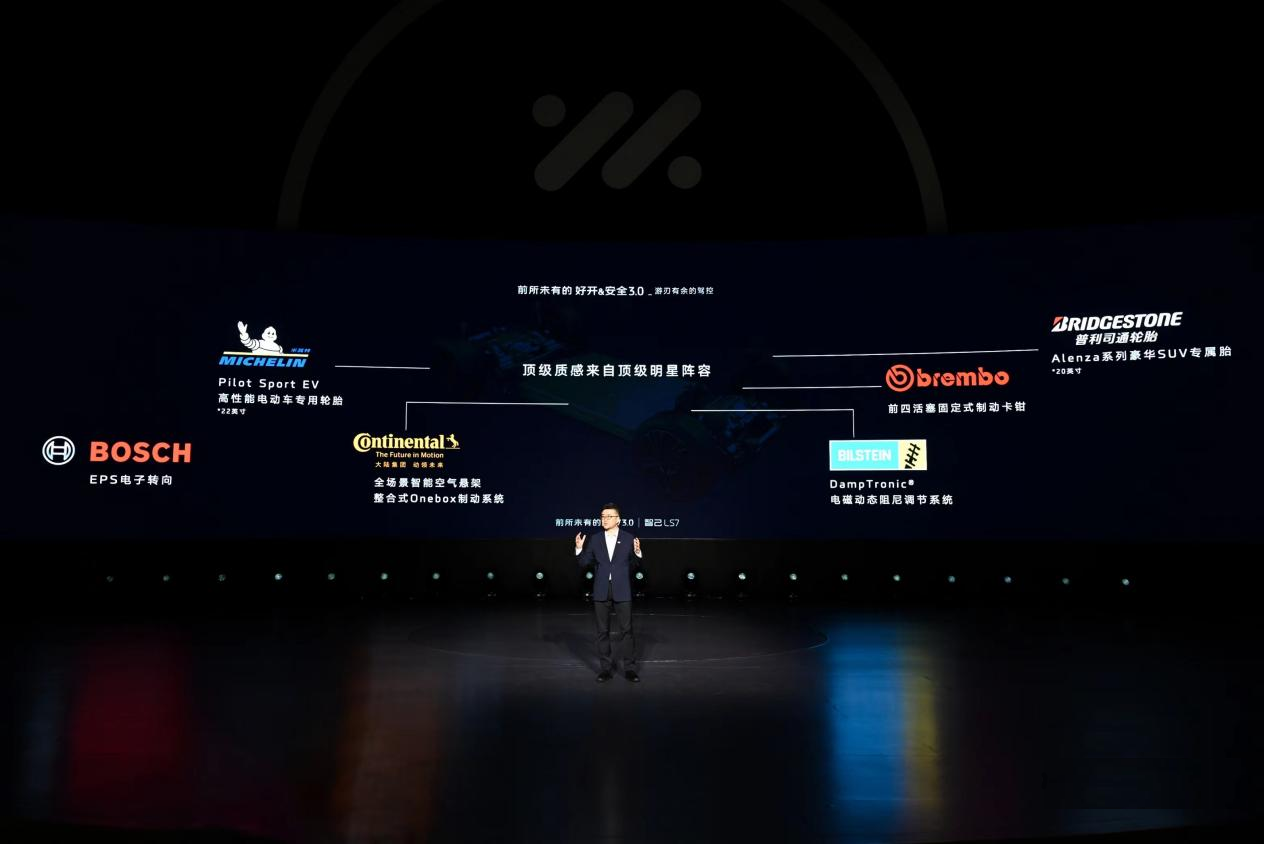 Compared with the head brands such as "Weilai" in 2020, the newly established Zhiji is in a relatively weak position in terms of brand influence and market response.
To break this situation, adopting the "low-priced and high-equipped" cost-effective route is the most direct way of market feedback. After all, it is the nature of consumers to want to spend less money to buy better things, which is also the fundamental reason for the Zhiji LS7 to achieve greater market influence at a lower price.
Focusing on driving experience is the persistence of Zhiji towards the "soul" of cars
"Weilai" provides high-quality services; Ideal targets the daddy groups; and Xiaopeng starts to work hard on technology.
In today's intelligent electric vehicle market, "Weilai" has gradually established a foothold with their unique posture.
For brands like Zhiji, Lantu, Avita, etc., they also need to form their own brand labels and leave their unique marks in the market.
Zhiji chose the difficult path of focusing on driving experience. After all, in today's society where technology and service are dominant, it takes a lot of courage to compete in the market with traditional driving experience.
Moreover, the expression of driving advantage requires a long accumulation of time, which is not friendly to new businesses like Zhiji that urgently need to pursue market scale and improve brand influence. However, Zhiji still chooses to persist.
"During the era of electric cars, investing in handling without hesitation is the persistence of wisdom for the "soul" of cars." This is how Zhiji talks and acts.


![](https://42how-com.oss-cn-beijing.aliyuncs.com/article/%E5%BE%AE%E4%BF%A1%E5%9B%BE%E7%89%87_20230213005349_result_20230213010135.png)



In addition to dual-chamber CDC and Brembo brake calipers, Zhiji LS7 is also equipped with the German Continental integrated Onebox braking system and the highest-level EPS electronic steering system from German Bosch.


Among them, the Continental Onebox brake system is currently one of the most advanced electronic wire control brake systems. The response time from stepping on the brake pedal to generating 100Bar of braking force is **150ms**, which is about **250ms** faster than the non-OneBox brake system, shortening the time by 40%, and can provide drivers with stronger driving confidence. 


What is most noteworthy is that Zhiji LS7 also uses WAE Williams master-level chassis tuning.


In order to allow the "famous brand" to achieve its full potential, Zhiji LS7 was jointly developed and tuned by Zhiji IM Motorsport and Williams Forward Engineering, a team with F1 technology background. Such a strong partnership guarantees Zhiji LS7's handling performance.


In addition to putting in a lot of effort in the suspension, braking, and steering systems, Zhiji LS7 also has its own unique features in the **power system**.


At the press conference, Zhiji officially released a 6-series 100kWh high-nickel single-crystal high-voltage battery. This 100kWh battery pack uses the Ni6 single-crystal high-voltage battery technology with better comprehensive performance, with an energy density of 195Wh/kg. It takes only 26 minutes to charge and can increase the cruising range by about **400 kilometers**, which is in a leading position in the current new energy market.



![](https://42how-com.oss-cn-beijing.aliyuncs.com/article/%E5%BE%AE%E4%BF%A1%E5%9B%BE%E7%89%87_20230213010519_result_20230213011000.png)

Combination of high-energy density battery and aluminum-magnesium alloy oil-cooled electric motor, with the help of EVD vector four-wheel drive technology, lays the foundation for the outstanding performance of Zhiji LS7, providing a better driving experience.
"Cost Performance" + "Eye-catching", Zhiji LS7 achieved market breakthrough like this
Building a driving control label is a long-term project of the Zhiji brand. The premise of long-term brand development is to have good market performance. At present, the burden of improving Zhiji's market share has fallen on Zhiji LS7.
It is difficult for driving control to penetrate the market and make consumers form purchasing impulses. Zhiji LS7 has taken a different approach to achieve market breakthroughs in the way of "cost performance" + "eye-catching".
The cost-performance advantage of Zhiji LS7 with low price and high configuration does not need to be mentioned too much. Based on such a highly cost-effective advantage, Zhiji LS7 attracts the attention of many consumers with a larger forward view, more fancy seat layout, and more interesting intelligent experience.
To create a better forward view, Zhiji LS7 integrates a super-wide front skylight glass of 1613 x 1620mm, a half steering wheel and a lift-up central control large screen, so that consumers can get a panoramic view as soon as they enter the car, and get a completely different driving experience from the past.
In terms of seat layout, Zhiji LS7 is equipped with an electric sliding rail that is up to 1955mm long in the cabin, and connects the front and rear seats on the passenger side, making the layout of the two seats on the right side flexible according to the actual needs of passengers in the car.
One of the most noteworthy features of the SmartJi LS7 is the **100% electric folding function** of the co-pilot's seat, which can slide and fold all the way down to under the dashboard.

This allows for greater space to experience the zero-gravity seat located in the right rear, giving passengers a true zero-gravity seating experience.

![](https://42how-com.oss-cn-beijing.aliyuncs.com/article/%E5%BE%AE%E4%BF%A1%E5%9B%BE%E7%89%87_20230213011622_20230213011705.png)

In terms of intelligence experience, the LS7 uses SmartJi's **global fusion intelligence** and **innovative interactive IM OS 2.0 system**, which can render multi-lane and ultra-long-distance navigation on a giant panoramic screen through the fusion of intelligent driving and high-precision maps.

More interestingly, when changing lanes, the ambient light on the panoramic screen changes color with the road conditions, allowing the driver to understand the road conditions based on the color of the ambient light.

Both the ultra-wide front view and the linkable zero-gravity seat, as well as the real-time changing ambient light, are in line with today's state of image and video propagation. With such novel features, SmartJi LS7 is sure to attract a large number of consumers and lay the foundation for a larger market share.

In addition to winning market share, SmartJi LS7 also needs to lay the foundation for future intelligence development, and intelligent driving is one of the core competencies of future intelligent electric vehicles.

In terms of hardware configuration, the SmartJi LS7 is equipped with:

- 1 NVIDIA OrinX intelligent driving chip

- 2 LIDARs from Hesai Technology

- 11 cameras

- 5 millimeter-wave radars

- and 12 ultrasonic radars

The SmartJi LS7 adopts the "**falcon-like**" **dual-lidar arrangement**, under which the two 126-line lidars carried by the SmartJi LS7 can achieve nearly 180 degrees of coverage, coupled with a maximum detection distance of **200 meters**, creating a far-sighted and wide state for the SmartJi LS7. 

markdown
With the help of various sensors, the Zhi-Ji LS7 can achieve high-speed NOA (Navigate On Autopilot) function.
Furthermore, Zhi-Ji Automobile revealed that its city NOA system based on high-precision maps will begin public beta testing before the end of this year. At the same time, the development of NOA for areas without high-precision maps will be completed by the end of 2023.
From the perspective of promoting the development of assisted driving, data volume is a key element that affects the experience of assisted driving. This development trend requires new intelligent electric vehicle companies like Zhi-Ji to have a higher market share. After all, the higher the market share, the wider the data source for assisted driving, and the more rapid and accurate the iteration of related functions will be.
In the second half of this year, Zhi-Ji will release a mid-sized SUV to compete with the Tesla Model Y. In addition, the Zhi-Ji L5 model is expected to be released in the first half of 2024 and will be positioned as a mid-sized sedan.
According to autos' hearts, Zhi-Ji has already planned its fifth car model. However, the position and form of this car are still shrouded in mystery. The company officially stated that this car can be viewed as a "future car."
Currently, Zhi-Ji has launched two models: L7 and LS7. Zhi-Ji CEO Liu Tao stated that the company's sales target for full-year 2023 is 45,000 units. Therefore, the burden on the Zhi-Ji LS7 is even greater.
"`
This article is a translation by ChatGPT of a Chinese report from 42HOW. If you have any questions about it, please email bd@42how.com.