A Scorecard of Top 10 Chinese Auto Companies in 2021
by Tao Yanyan
NIO, who embraces a long-term philosophy;
Xpeng, who advocates for superior technology;
Lixiang, who capitalizes on a segmented market;
Leap Motor, who develops proprietary technology;
Hozon, the best-selling new energy vehicle in 2022;
GAC Motor, who successfully splits the pure electric model.
Yesterday, BYD Qin PLUS DM-i, with a "fuel and electricity at the same price" feature, flooded all over social media. It is necessary to summarize BYD's development over the past three years, analyze its logical business strategy and financial data to get past the surface and dive in the essence. To objectively and rigorously analyze BYD is not easy, as there are both biased criticisms and compliments towards the company. In order to understand BYD from the perspective of new energy vehicles and the new parts system, it takes effort and time.
From 2017 to 2020, BYD went through a small decline cycle; meanwhile, 2021-2022 marks the beginning of an upsurge period. With the combination of blade batteries and DM-i technology, breakthroughs have been made. However, what happened during 2020-2021?
Subsidies extended. In early 2021, the subsidy decline period extended to the end of 2022, and so did the extension of the purchase tax.
Battery technology prioritized safety. The high cost of lithium iron phosphate batteries led to cost differences.
Fluctuations in oil prices drive popularity of plug-in hybrid vehicles, and the replacement cycle of fuel vehicles begins.
Favorable environment created by timing, location, and human factors.
BYD's 2022 performance forecast:
◎The operating income in 2022 is expected to exceed CNY 420 billion.
◎The net profit is expected to be between CNY 16 billion and CNY 17 billion, a year-on-year growth of 425.42% to 458.26%.
The rapid growth of new energy vehicles has driven the revenue and profits of the automotive business, which is a crucial factor.
BYD's growth in terminal data
BYD's car wholesale business is at the forefront of the terminal. The data for BYD in 2022 is as follows:
◎The official data is 1.8635 million vehicles, including 56,000 exported vehicles.
◎The number of insured vehicles on the terminal is approximately 1.584 million, and there are approximately 223,000 in the sales channel.
◎From the perspective of expansion, it is quite normal for turnover to take about one month. The sales network is expanding.
We can take a look at the following chart of BYD's overall price positioning. From the starting price of each model, the models covered are:
◎CNY 100,000 to 150,000 price range: Mainly small pure electric vehicles.
◎CNY 150,000 to 200,000 price range: Plug-in hybrid SUVs.
◎CNY 200,000 to 250,000 price range: Larger pure electric sedans and plug-in hybrid models.
From the product spectrum, BYD still occupies a significant first-mover advantage in several segmented markets. However, it is true that the Wang Chao and Ocean series are following the strategies of North and South Volkswagen and GM (Buick and Chevrolet), filling the product spectrum with segmented price ranges before repeating."`markdown

And from the price point of view, no matter the starting price or the price range distribution, BYD's best-selling models priced between 100,000-150,000 RMB, climbing models priced between 150,000-200,000 RMB, and hot-selling models priced between 200,000-250,000 RMB will face direct challenges from Tesla in 2023.
We have been thinking about a question. What does BYD rely on to achieve the goal of reaching 4 million sales? Previously, FAW-Volkswagen relied on a stacked product matrix to cover segmented markets and seized the market based on the advantages of powertrain. However, how long can this advantage last?
If we carefully compare BYD's sales secrets, the core key lies in the Yuan series of BEV and the Dolphin series of BEV. These two series, totaling 370,000 units, constitute the foundation of BYD's pure electric vehicles. The strong contrast between the sales of the Song series PHEV and BEV forms huge sales themselves, which are mainly formed by the replacement of fuel cars.
Currently, BYD has put great pressure on Geely and Great Wall Motors. The key issue is that plug-in SUV products are currently the major growth force, which is to replace the demand for SUVs that require both space and fuel consumption (demand that accompanies high oil prices). Therefore, I have repeatedly emphasized that the sales of plug-in hybrid sedans cannot make a big splash. The overall demand for Han series DM-i's innovation is still limited, and its explosive power is not strong enough.

"`
In the field of pure electric vehicles, BYD's overall strategy, apart from the Han EV+ and Dolphin models, is to move towards small cars. From the current trend of growth, there is no particularly good sales growth strategy.
In the final analysis, for a company like BYD with a sales market of 2 million in China, it is necessary to focus on mainstream demand. This includes two effective means: the SUV strategy of independent brands and the high cost-effective small car strategy.
Capital expenditure and supply chain issues
For BYD, a vertically integrated supply chain can have a significant role to play in the supply shortage of chips. As market sales enter a period of price reduction, how can supply chain costs be further reduced and efficiency improved? This is indeed a problem. How can elasticity be guaranteed? My thinking is that from cars priced at 500,000 RMB, to cars priced at 2 million RMB and then to 4 million RMB, it seems very reasonable from the total volume perspective. However, this also means that in the future:
◎The entire vehicle factory needs money and new production lines will need to be opened in various parts of the country.
◎Pure electric products require a lot of battery capacity support (in GWh).
◎Plug-in products: Engine production lines and DM-i gearbox production and sales need to be upgraded, and DM-i battery capacity is required during the upgrade process (in sets).
Under the cost advantage, model advantage, and broad-based scale advantage, demands for all aspects of automobiles are actually increasing. If we look back at the changes before and after the Toyota brake incident, it was because there were problems with quality, manufacturing process control, and refined management in all aspects. The problem faced by BYD is that it has expanded suddenly from one scale to a larger scale. How can we ensure product stability and reliable quality with existing human resources?
Now, for BYD, management has become a huge challenge, which requires continuously improving management to support expansion, not only for complete vehicles but also for key components.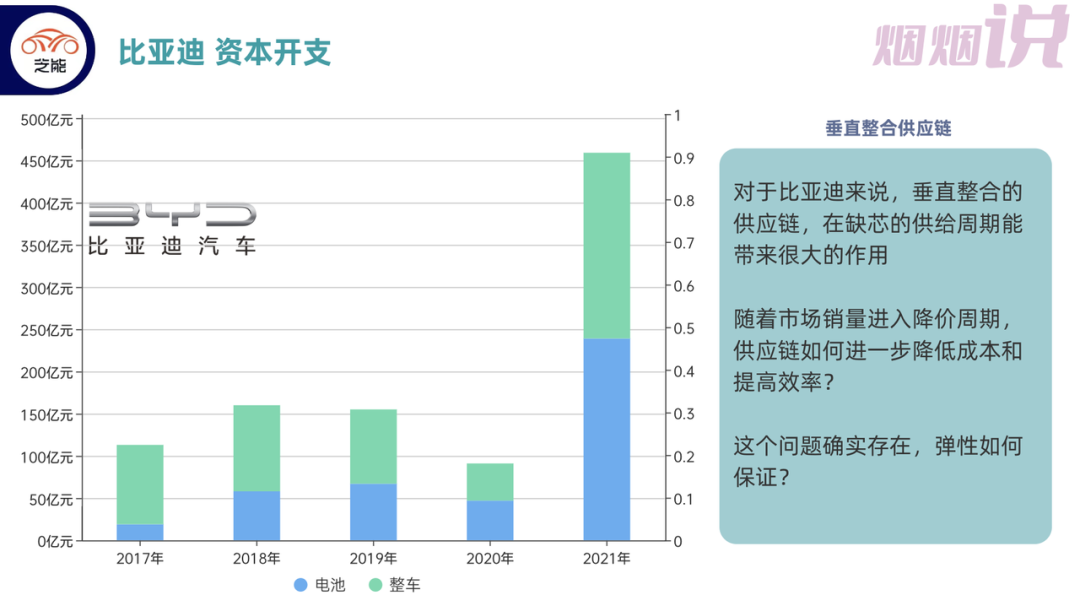 From the current perspective, plug-in hybrid has a broad selling feature and relatively concentrated sales, which makes it easy to inspire further internal competition among domestic independent brands. Under the competition model, what matters is precise management.
Summary:
BYD has achieved great success in the past two years, aiming to exceed its sales target of 4 million this year, even double it. As a "fuel car disruptor," BYD plans to occupy a large share of both joint venture brands and independent brands except for exports. Its target market share is 20%, which is very high. However, in terms of funding and management, higher requirements have been put forward to the management team. The key is maintaining exceptionally high cost performance across the entire product spectrum, even after Tesla's price reduction. We need to observe this issue more.
This article is a translation by ChatGPT of a Chinese report from 42HOW. If you have any questions about it, please email bd@42how.com.