2022, China's new energy vehicle exports 1.12 million units, a year-on-year increase of 90%, mainly exported to Europe and Asia. Among them, the sales volume in the ASEAN market continued to rise in the second half of the year.
Currently, the total population of ASEAN exceeds 660 million, accounting for 9% of the global population dividend. In 2021, the automobile sales volume reached 2.79 million units, accounting for less than 3.5% of the total sales volume, making it the world's seventh largest automobile consumer market. The entire ASEAN is the third largest economy in Asia and the sixth largest economy in the world.
For more than half a century, Japanese carmakers have long dominated 80% of the ASEAN market share. Perhaps it is time to select a new player in the automotive manufacturing industry.
Horizontal or vertical comparisons, for many Chinese brands, the pie may be small and not enough to eat, but as the saying goes, "the meat on the fly's leg is still meat". ASEAN is undoubtedly a perfect stepping stone or transition for China to enter the European and American markets.
Moreover, 34% of ASEAN's population is composed of young people aged 15 to 34. The proportion of young people in the population has reached the highest level in ASEAN history, highlighting the advantage of the population dividend. It can not only provide sufficient labor force for the outward-oriented economy but also continuously have more potential consumers.
In early 2020, at the beginning of the COVID-19 pandemic, handheld game consoles were sold out in Southeast Asia. Countless young people were crazy about playing video games at home, causing local related industries' orders to soar, and chip and other component shortages.
Nowadays, many young consumers have set their sights on new energy vehicles.
They consider these electric vehicles with brand new concepts, new technologies, and super large electronic screens as a big mobile phone or a huge game console. The buyers may not necessarily be the wealthiest, but they are the young people with an open mindset and willingness to embrace cutting-edge technology.
Today, let's talk about the current situation of electric vehicles in some ASEAN countries and how Chinese brands are doing there.
#
The first one to talk about must be Thailand.
As an old-fashioned car manufacturing powerhouse, Thailand has always taken certain protective measures against Chinese-produced new energy vehicles exported there, such as high tariffs and little subsidy to help local manufacturing gain more competitive possibilities.## China's new energy vehicles have made big strides in Thailand
According to the data released by the China Association of Automobile Manufacturers, China's new energy vehicle exports to Thailand reached 79,420 units, ranking third in the cumulative new energy vehicle outbound list last year, slightly behind the UK and Belgium, with a growth rate of 96% over 2021.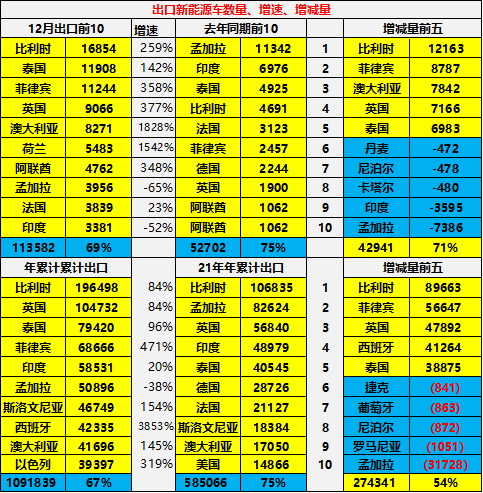 In January 2023, in the outlook for China's automobile industry released by UBS, Gong Min, head of research for China's automobile industry, specifically mentioned the current situation of Chinese new energy brands in Thailand, which is a win-win situation.
Especially for Chinese brands that have already been integrated into local manufacturing.
According to data from Thailand's Ministry of Energy and Kasikorn Research Center, domestic sales of electric vehicles in the first nine months of 2022 reached 13,298 units, of which Chinese manufacturers accounted for about 80% of the total sales.
Especially Great Wall Motors and BYD.
As of November 2022, Great Wall has sold 11,796 electric vehicles in Thailand. According to local relevant institutions, the sales of electric vehicles in Thailand last year were about 63,600 units, and their position in the local electric vehicle market is self-evident. Among them, the Haomao series has always ranked first in the sales of electric vehicles in Thailand, and it once accounted for 45% of the local electric vehicle sales in the first nine months of 2022.
It is reported that the audience of Chinese brand electric vehicles such as Haomao in Thailand is mostly urban young middle class.
Wimonsiri Boonyopakorn, a female teacher residing in Lopburi Province, Thailand, said that her husband recently went to work in Bangkok, and she decided to buy a car to facilitate her weekend visit to her husband who lives about 300 kilometers away. Eventually, she chose a Great Wall Haomao, and the reason was quite simple: the mileage is enough and the price is cheap.
In Thailand, the price of Haomao is still far higher than that in China, reaching 763,000 Thai baht (equivalent to 22,000 US dollars) after excluding the government subsidy of 4,000 US dollars. However, the price quoted is lower than most of the mainstream gasoline cars on the local market. And compared with American and Japanese electric cars such as the Toyota bZ4X (retail price of about 53,000 US dollars) and the Tesla Model 3 (retail price of about 51,000 US dollars), it is still much cheaper.And in order to continue to maintain its leading position in the Thai market, Great Wall has not only built the brand's first solar energy storage and charging all-in-one supercharger station overseas in Bangkok but also plans to double its investment in Thailand, turning the Rayong Province factory into the brand's electric vehicle production center in the ASEAN region, and launching four new electric vehicle models locally in 2023, increasing the number of fast-charging stations in Thailand to 12,000 by 2030.
The latter, although relatively late in entering Thailand, only announced its partnership with Thai industrial property developer WHA and began constructing its first electric vehicle factory in Southeast Asia last September. The factory is located in Rayong Province on the Bay of Thailand's east coast, covers an area of about 1 square kilometer, and plans to start producing electric vehicles in 2024 with an annual production capacity of 150,000 vehicles, which will mainly be sold in Southeast Asia and Europe.
The seller WHA said that this is the company's largest deal in 25 years and the largest investment project obtained by Thailand in 2022. This move even made JETRO Osaka (Japan External Trade Organization) tremble and said that BYD has replaced any Japanese automaker and become the largest direct foreign investment in Thailand.
In addition to Great Wall and BYD, SAIC Motor's MG, which entered Thailand in 2017, has also made significant progress. The Thai Chonburi Province plant invested and built by SAIC Motor Group in 2017 has a total investment of more than $1 billion and an annual production capacity of 100,000 vehicles. It has also become an important manufacturing base for the brand's global young market in recent years.
In 2021, MG's market share in Thailand once reached 8.2%, ranking fourth among local vehicle brands, surpassing some Japanese brands that have been operating in Thailand for more than half a century in one fell swoop. MG ZS even won the sales championship in Thailand's small SUV segment two years ago.In 2022, the sales of MG new energy vehicles also accounted for 24% of the total sales of new energy vehicles in Thailand.
As for the new car-making forces, the first brand to enter Thailand is NIO, which launched the NIO V electric vehicle right-hand drive version last year, with a local price of about 150,000 yuan. Also, Foxconn, which is eager to outsource everything, established a joint venture factory Horizon Plus with the Thai national oil company (PTT) to produce pure electric vehicles in June of last year. The planned investment is about 37 billion baht ($1 billion), and the construction has started. It is expected to be completed in 2024.
Overall, in recent years, Thailand has been very thirsty for the electric vehicle industry. On the one hand, they have enacted many preferential measures to encourage the consumption of electric vehicles, and on the other hand, they have attracted a large number of new energy car companies to invest in building factories through preferential policies such as tariff reductions and government incentives.
The reason why Chinese brands are treated so well is that the Thai government's goal is to become the "largest electric vehicle manufacturing and export center" in Southeast Asia. In the next few years, it aims to attract 400 billion baht of investment, and by 2030, the annual production of electric vehicles in the country should reach 750,000 vehicles, accounting for 30% of Thailand's total automobile production.
However, to achieve the set goal and complete the industrial upgrading and transformation quickly, it is impossible to rely on conservative Japanese brands.
#
Next is the Philippines.
Surprising, isn't it?
Last year, in the new energy cumulative exports ranking released by the China Association of Automobile Manufacturers, the Philippines ranked fourth with 68,666 vehicles, just behind Thailand. However, its year-on-year growth rate reached 471%, making it the second highest in ASEAN and even surpassing the leader Thailand.
The main reason for such an impressive performance is that the size of the Philippines' motor vehicle and electric vehicle market is originally small. The sales of motor vehicles from January to November last year were only 315,337. Thailand and Indonesia's annual sales last year were 1.88 million and 1.01 million, respectively. The Philippines accounted for only one-fifth and one-third of the latter two.
According to the data released by the government earlier, there are only more than 9,000 electric vehicles among the 5 million registered vehicles, accounting for less than 0.2%, and most of them are passenger cars owned by the super-rich in the country. Therefore, the new energy vehicle industry is obviously in its embryonic stage and can be described as a typical small ship is easy to turn around, while a large ship needs strong winds analogy.Since the end of November last year, a cross-departmental group led directly by the new Philippine President, Marcos, approved the cancellation of tariffs on electric vehicles. It has been ruled that the most-favoured-nation tariffs on electric vehicles and their parts, including passenger cars, buses, trucks, motorcycles, and bicycles, will be reduced to zero over the next five years.
Before this decision, the import tariffs on these vehicles in the Philippines ranged from 5% to 30%. However, the cost of purchasing an electric vehicle for consumers was between $21,000 and $49,000, which is much higher than that of traditional automobiles.
Marcos' move has made big strides for the new energy vehicle market in the Philippines and has led many Chinese new energy brands to flock in, such as BYD.
Chinese citizens have commented that at BYD's 4S dealership in the Philippines, new cars, especially new models such as Tang and Han, are basically not available and need to be pre-ordered as futures. Meanwhile, the S6, which is considered a past season's product in China, has plenty of buyers in the Philippines.
In addition, in January this year, the Philippine Investment Committee stated that BYD plans to find a factory site in the Philippines to assemble electric vehicles.
Great Wall Motors chose to collaborate with local SQ Group's Huihong Motors at the end of last year to jointly develop the Philippine market. They made it clear that their main product line in the future will be SUVs and pickups.
Moreover, as revealed by the Philippine Investment Committee, not long ago, a Chinese electric vehicle company registered three projects valued at 25 billion Philippine pesos (about 3.11 billion yuan) with the Philippine Financial Incentives Review Board, involving electric vehicle leasing, charging station construction, and the launch of a fully electric vehicle transportation network service.
The company plans to export 20,000 electric vehicles to the Philippines. Ten thousand vehicles would be for the leasing business, another ten thousand vehicles for ride-hailing services, and an additional 1,000 charging stations, all intended to "create an electric vehicle ecosystem".##
Currently, this company is eligible for the second-level fiscal incentives of the Philippines Strategic Investment Priority Plan, and there will also be corresponding tax benefits for future infrastructure and operations.
Another important car manufacturing country in ASEAN – Indonesia.
Currently, it's mainly promoting electric vehicle subsidies, aiming to triple the sales of local electric vehicles by 2030. It is also actively introducing electric vehicle manufacturers to invest locally in order to achieve a sufficient end-to-end localized electric vehicle supply chain.
As a giant ship, Indonesia currently has the same attitude towards new energy vehicles coming in from overseas as Thailand, and as long as overseas brands that are locally built are authentic enough, there is still considerable space in the Indonesian market.
Take SAIC-GM Wuling as an example.
It is understood that Wuling entered West Java, Indonesia in 2015, investing $700 million and building the Indonesian Wuling main factory and supplier park covering 6 million hectares and producing 150,000 vehicles per year after more than 20 months. In July 2017, the first Indonesian-made Wuling vehicle was produced.
Since then, the most familiar Chinese people's car brand has successfully brought the "Wuling Spirit" to Indonesia, becoming the "Wuling of the Indonesian people" – such as the discovery that Indonesian consumers prefer to buy cars through credit, in 2019 an automotive finance company was established under Wuling; and the silver badge's first SUV model in overseas markets, Almaz RS, is equipped with the Indonesian language voice interaction system "WIND", and so on.
Data shows that in 2021, due to the successful launch of Almaz RS, Wuling sold 25,564 vehicles and ranked sixth in the Indonesian car market with a market share of about 2.9%. Almaz RS also became the leader in the Indonesian sub-market that year. In August 2022, Wuling's first global electric vehicle, Air EV, was launched in Indonesia, and within one month, it received 2,500 orders, with a waiting time of more than two months to pick up the car.
Therefore, as one of the founding countries of ASEAN and the fourth most populous country in the world, the Indonesian new energy vehicle market has a great development space, especially for manufacturers producing electric vehicles locally in Indonesia. Currently, the Indonesian government plans to provide subsidies of up to 80 million Indonesian rupiahs (about 5,130 US dollars) for each locally produced electric vehicle and about 40 million Indonesian rupiahs for each hybrid electric vehicle.##
Let's talk about Malaysia, the understated yet remarkable country in ASEAN.
Not only is it the seventh largest exporter of semiconductor products globally and the "chip sealing and testing capital" in the minds of global industrial suppliers, occupying a leading position in the ASEAN chip sealing and testing business, but it is also the only country in Southeast Asia that has fully self-developed car brands, namely Proton and Perodua–until VinFast from Vietnam was established in 2017.
Moreover, Proton had already developed eight new energy vehicles, including three pure electric cars and five plug-in hybrid cars, by 2011, which were officially launched in the market in 2013. Perodua's production chain for new energy vehicles is very complete, and it has been able to achieve over 90% of local parts production early on.
For a long time, Proton and Perodua represented the higher level of new energy vehicles in the ASEAN region. Unfortunately, the facilities did not catch up with the production of cars during the ten years, such as the outdated power supply system, the scarcity of charging stations, and the high battery wear and tear rate, which made the local media talk about and report on the popularization of electric vehicles countless times, but electric vehicles were still seldom seen on the road.
It wasn't until 2017 when Geely, with a cash payment of 270 million yuan and a brand value of 463 million yuan for the right to use the Geely brand, acquired 49.9% of Proton's shares and teamed up with Proton's parent company, DRB, to create a production and research base for cars in Malaysia.
Geely's move was considered wise by everyone because it not only received preferential policies provided by the Malaysian government to local businesses, and a controlling stake of 51% in Lotus, but also ingeniously circumvented the biggest obstacle that blocked Chinese brands from entering Southeast Asia market — the import duty of up to 30%.
After the acquisition of Proton, Geely officially established its foothold in Malaysia and gradually opened the door of ASEAN with a population of 600 million. For example, in 2018, Proton launched its first electric vehicle, the Proton X70, which received an excellent market response: the order volume surpassed 10,000 units within the 49-day reservation period, and monthly sales exceeded 3,000 units. According to the WeChat official account of "Geely Holding Group," Proton's cumulative sales in 2022 reached 141,432 units, a year-on-year growth of 23.3%, creating the best market performance since 2013.However, most of the sales performance still belongs to traditional fuel-powered cars.
This has indeed caused a headache for the Malaysian government. Currently, their tax exemption measures for electric vehicles (EVs) within the ASEAN region, are arguably the most favorable – until December 31, 2023, electric vehicles are exempt from import and consumption taxes, and electric vehicle complete built-up units (CBUs) are exempt from road tax. Until December 31, 2025, 100% sales tax exemption is granted for completely knocked down units (CKDs) of assembled electric vehicles.
Nowadays, the most common electric vehicles seen on the streets of Malaysia are still commercial ones. For example, in 2017, BYD exported their pure electric buses, the K9, to Malaysia and put them to use in the capital Kuala Lumpur.
SAIC-GM-Wuling quietly set up their manufacturing base in Malaysia, producing the V80, G10 series, covering wide-bodied and narrow-bodied light passenger cars, light trucks, special modified vehicles, and other fields, which are quite popular with local residents.
As for electric passenger cars, BYD is once again the winner. In December last year, shortly after Thailand, they launched their model Atto 3. By 2023, BYD will also establish 20 car showrooms in Malaysia in partnership with local company Sinan Motor; and by 2024, they plan to establish 40 car showrooms – either way, no taxes will be levied.
Changan Automobiles, on the other hand, are implementing a two-pronged strategy.
Since 2019, they began to make contact with Fieldman EV, a subsidiary of Fieldman Sdn Bhd, and signed an automobile export agreement, bringing Changan assembled EVs into the Malaysian market. Two years later, they successfully exported the Eado EV460 electric vehicle to Malaysia and Southeast Asia. At the same time that the Eado EV460 entered Malaysia, Changan Automobiles decided to invest MYR 1 billion (approximately CNY 1.528 billion) and authorized Fieldman EV to establish the first electric vehicle assembly plant in Malacca, Malaysia.
Of course, the Chinese winner in Malaysia last year was Great Wall Euler. In early December, after being on the market in Malaysia for less than a month, Great Wall Euler won the "2022 Most Anticipated New Car" award at the 2022 Malaysian Automotive Awards ceremony.
##
Lastly, let's briefly talk about Vietnam and Laos.
Although it is undeniable that Vietnam has attracted a lot of attention, especially with the rise of VinFast, in fact, Vietnam's level of modernization and industrialization is not in the same league as its ASEAN peers, mentioned above.
What is currently known is that BYD seems to be preparing to expand there.
On January 13th, according to Reuters, BYD plans to invest $250 million in building a factory for automobile parts in northern Vietnam to facilitate exports to its assembly plant in Thailand and deepen its supply chain in Southeast Asia. The selection of the location is still under negotiation but it will take up approximately 80 hectares of industrial land. If all goes well, production could begin as early as mid-2023.
Some emerging car manufacturers are heading to Laos for growth opportunities.
Especially Aiways, a new car manufacturer with little domestic presence, launched a right-hand-drive electric vehicle in Laos, and also began to build a charging network there.
Additionally, Aiways found that the main concern of the Laotian market is the cooling capacity of the air-conditioning system. They found that many Laotian users frequently lower the air-conditioning temperature continuously and repeatedly during test drives. Therefore, Aiways designed an air-conditioning system specifically for the right-hand-drive electric cars entering the ASEAN market, enhancing the cooling effect.
NETA also introduced an electric vehicle product in Laos and entered the Burmese market.
#
Finally, some parts manufacturers are also constantly joining the "ASEAN family". For example, Guoxuan Hi-Tech, EVE Energy, CATL, and Bluecore have all announced the construction of factories in Southeast Asia.
It is understood that Guoxuan Hi-Tech has not only joint-ventured with Nuovo Plus, a subsidiary of Thailand's PTT Group, to establish a new company in Thailand called Xin Guoxuan Co., Ltd., planning to build a lithium-ion power battery pack production line in the Eastern Economic Corridor of Thailand. It is expected to be put into production in Q4 2023. Moreover, it cooperated with VinES in Vietnam to build a battery factory in Hoa Binh Province. The planned production capacity of the factory is 5GWh per year in the first phase, and it is expected to be put into operation at the end of 2023.
Ningde Times is also constantly taking action. In May last year, it signed a strategic cooperation memorandum with Arun Plus Co., Ltd. of Thailand to cooperate on battery-related businesses in the ASEAN region, and further enhance the competitive advantage of both sides in the battery industry. Its subsidiary Ponp Solar signed a tripartite agreement with PT AnekaTambang (ANTAM) and PT Industri Baterai Indonesia (IBI) of Indonesia to jointly create a power battery industry chain project, including nickel mining and smelting, battery materials, battery manufacturing, and battery recycling.The billion-wei lithium energy invested approximately 422 million US dollars in Malaysia, the "chip testing heavy town", to produce cylindrical lithium-ion electric tools, two-wheelers, and clean tool battery products.
Yes, regardless, the future is promising.
This article is a translation by ChatGPT of a Chinese report from 42HOW. If you have any questions about it, please email bd@42how.com.