Author: Tao Yanyan
During the Chinese New Year holiday, we have prepared a review of ten global traditional car makers' progress toward electrification. Tesla, as a fierce competitor in the industry, was supposed to be the last one analyzed. However, we decided to release it in advance as a farewell gift to the holiday. Who could resist a review of Tesla anyway?
Note: The following car makers have already been reviewed: Volkswagen, BMW, Mercedes-Benz, and Toyota. Tomorrow, we will release the review of Honda, followed by some less well-known Korean car makers.
According to financial reports, Tesla's achievements in 2022 are remarkable:
Over 1.31 million electric cars were delivered globally, a 40% YoY increase;

Revenue reached approximately $81.5 billion, a 51% YoY increase;

Net income was approximately $12.56 billion, doubled YoY, and achieved three consecutive years of profitability;

The gross margin of vehicle sales is particularly outstanding, reaching 28.5%.
However, behind these achievements, Tesla's problems are also prominent, including global price reductions and model competitiveness (except for FSD, which has limitations in many areas).
Currently, the situation is as follows:
◎ Shanghai factory
A production capacity of 750,000 cars is estimated to be conservative. The biggest problem in China is whether the production output from the Shanghai factory can be absorbed by the Chinese market as production capacity in Europe and the USA increases. This involves whether Tesla's current operational system in China can support its further growth. The challenges Tesla faces in China will be discussed by the Zhi Neng Yan Jiu group and summarized for everyone.
◎ US factory
Tesla's production capacity will gradually increase to 900,000 cars, matching the 100 GWh battery production capacity of 4680 cells. Tesla's battery strategy is clear, and it invests IRA's preferences. Being born locally means having to follow local trends.
◎ European factory
Tesla has a neutral feeling in Europe, and we will conduct a detailed analysis of this market in the future."`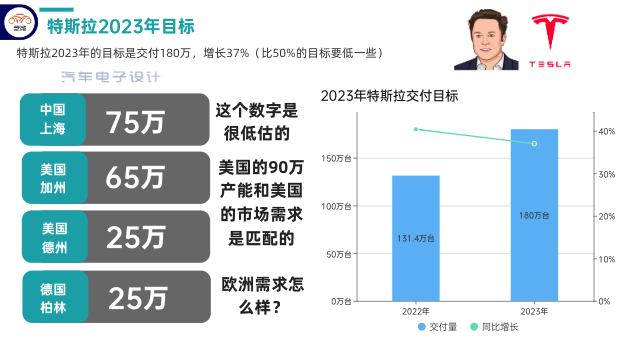 Review of Tesla's Global Market
There is not a particularly accurate number of Tesla's global sales delivery breakdown so far, I referred to Troy's data estimation, especially the growth expectation in 2023.
◎ US Market: 91.84 thousand PHEV and BEV new energy vehicles were sold in the United States, and Tesla is estimated to be approximately 513 thousand. According to Troy's estimate, with the importation of IRA, Tesla may increase to 694 thousand in the US market.
◎ European Market: It is expected to grow from about 234,000 in 2022 to more than 400,000, an increase of nearly 75% year-on-year. This expectation is relatively high.
◎ Chinese Market: There were some fluctuations in 2022, especially in the first half of the year due to production interruptions and the fourth quarter due to order reasons began to decline. The Chinese market faced significant challenges last year.
Shanghai factory sold 710,000 China-made cars globally, of which 440,000 were consumed domestically and 270,000 were exported to the global market. The relative increase from 2021 to 2022 was 67%, and there were still significant challenges in 2022.
Tesla's sales in China are currently at a quarterly sales level of about 120,000, which is about 10,000 units per week. The current data is good enough, but the challenge in the first quarter is that many consumers start to wait for Tesla to continue to reduce prices – two price reductions from October 2022 to January 2023 have made consumers have a wait-and-see attitude.

"`- European Market
The areas with relatively high growth in Europe are still Germany, the United Kingdom, and France, while the market capacity in countries like Norway and Sweden is limited. From the current demand perspective, Tesla has high expectations for Europe, and the final performance will depend on the economic situation in Europe in 2023.
In the US market, Tesla faces both opportunities and challenges due to the existence of IRA. More and more car companies are providing better products. If Tesla is a successful challenger to traditional car companies, then in the US market, Tesla's identity has transformed into a defender of its position.
Tesla's Development Pace Issue
We think the problem with Tesla now is that their development pace is relatively slow.
● About the 4680 Battery
A few days ago, Tesla announced a $3.6 billion investment in the construction of two factories in Nevada, one for the production of 4680 batteries and one for the production of electric heavy-duty Semi trucks. The superfactory has an area of about 4 million square feet, employs over 3,000 people, and increases the production capacity of 4680 batteries by 100GWh.
The first superfactory was put into production in Nevada in 2014, with a battery production capacity of 35 GWh. This time, an additional 100GWh of production capacity for 4680 batteries was added. Originally, the plan mentioned on Battery Day was to achieve 100GWh by 2022. This means that Tesla did not decide to spend a lot of money until after 2022, and the timetable for the entire production landing is still unclear.
● New Platforms and Vehicle Improvements
This is also a big issue. Tesla is developing new vehicle models, including the refresh of the original Model 3. The entire timeline shows us that Tesla's product iteration revolves around systems and core elements, but the progress isn't as fast as expected. In terms of creativity, American engineers have an advantage, but in terms of completion time, progress has been a bit slow.
Conclusion: For colleagues in the automotive industry, Tesla's 2022 is still impressive, but investors have higher expectations. To stand out, you need to have enough skills. Can Elon Musk, who is distracted in many areas, steer this behemoth to success?
This article is a translation by ChatGPT of a Chinese report from 42HOW. If you have any questions about it, please email bd@42how.com.