Author: Xu Jinkai
In the crowded SEV (Smart Electric Vehicle) track, how to make more consumers aware of their intelligent attributes has become an urgent issue for new car brands.
With the rapid development of the new energy industry, the proportion of intelligence in the field of electric vehicles is rapidly increasing. However, at present, this increase is more reflected in the intelligent cockpit field. More beautiful operation interface and smoother voice interaction experience are important means for new brands to highlight their intelligence level.
Compared with the breakthrough in the intelligent cockpit, the breakthrough in the field of intelligent driving is not obvious. Whether it is XPeng's NGP or NIO's upcoming NOP+, they have not touched the G spot of consumers.
In this market background, Avita enters the SEV market as "the incarnation of wisdom that understands you". According to Tan Benhong, Chairman and CEO of Avita Technology, only by launching a new category that can bring real value to consumers and meet the unsatisfied needs of consumers, can market breakthroughs be achieved.
SEV is a new category in Tan Benhong's eyes, but it is not an easy road:
First, the older the SEV track, the more crowded it becomes, and the internal competition intensifies;
Second, Avita's emotional intelligence positioning does not have penetration, and consumer awareness is unclear;
Third, there are fewer people who try new things, and it is becoming more and more difficult for the latecomers to start;
Fourth, at present, intelligent driving is not perceived as consumer value and cannot directly promote consumption.
These visible difficulties are hurdles on Avita's road ahead.
How to surpass Tesla, who does not play by the rules
When talking about smart electric vehicles, Tesla is always an unavoidable topic.
Whether from its market performance or brand influence, Tesla is like a king.
And new car forces have also targeted this king and set out from their own perspectives to undermine Tesla's dominance.
From the perspective of new energy market performance alone, certain achievements have been made.
Data shows that in 2022, the domestic production and sales of new energy vehicles reached 7,058,000 and 6,887,000 respectively, an increase of 96.9% and 93.4% compared to the previous year, respectively, and have maintained the world's number one position for eight consecutive years.
The sales of Tesla in China market is about 440,000 vehicles, with a year-on-year growth of 37.1%, which is slower than the market performance. This might be the main reason for Tesla to greatly reduce its price and improve its market performance.
It is worth mentioning that the upcoming redesigned Model 3 may be equipped with 4680 batteries to achieve the goal of performance improvement and cost reduction, which will also create conditions for Tesla to use its price reduction strategy.
If the price of Model 3 falls below CNY 200,000, the pattern of the domestic new energy market will shift towards Tesla again. The desire of a group of new forces to surpass Tesla's sales performance will be postponed again.
As far as brand influence is concerned, Tesla's image of technology is also difficult to be overturned:
On the one hand, Musk's supporters are constantly rendering Tesla's technology labels, on the other hand, Tesla's "autonomous driving" videos overseas have quickly occupied the minds of Chinese consumers, and the label of intelligent technology has become the biggest obstacle that new brands cannot break through Tesla's influence.
However, it should be noted that Tesla's "autonomous driving" status overseas cannot be realized in China's complex road environment. In terms of the development status of intelligent driving, Tesla and a group of new forces are at the same level in the Chinese market.
However, in cities such as Guangzhou, Shenzhen, and Shanghai that have successively opened up the auxiliary driving rights in urban areas, brands such as NIO, XPeng, and Evita have gradually trended towards surpassing Tesla in functionality.
"Tesla FSD can provide updates and iterations to consumers, and Evita 11 can also do it. I think Evita is now in the first echelon of Chinese brand intelligent electric vehicles. The only possible competitors for us are NIO's NT2.0 (ET7, ES7, ET5), XPeng's G9 and other products," said Tan Benhong.
In Tan Benhong's view, most of China's electric vehicle brands are producing traditional electric vehicles, which can only upgrade QQ music and video software in the cockpit, and cannot upgrade and update in the field of intelligent driving like Tesla FSD. This is the fundamental reason that a group of new energy vehicle companies cannot catch up with Tesla."`
Only by making efforts in both intelligent cockpit and intelligent driving fields, such as NIO NT2.0 series, XPeng G9, and Autovision 11, can they compete with Tesla.
In theory, this strategy is correct.
But closely following Tesla's intelligentization, Tesla has established a deep competitive barrier in the SEV field, and its frequent price cuts have made the road to surpassing it more difficult for new brands.
For Autovision, a high starting point and strong brand penetration are indispensable.
Although it is unrealistic to surpass Tesla in a short time from the perspective of market performance and public opinion feedback, in terms of technical strength, Autovision, which has the support of Changan, Huawei, and CATL, has the strength to compete positively.
As the first product of the Autovision brand, Autovision 11 largely showcases the advantages of the three-party cooperation:
The new car is equipped with the latest CTP ternary lithium battery pack from CATL, Huawei DriveONE dual motors, with a maximum output power of 425kW, a peak torque of 650 N·m, offering two choices of 555km and 680km, and the fastest 0-100km/h acceleration is only 3.98 seconds.
Autovision 11 is equipped with a 750V high-voltage charging system, which supports the option of charging 200km in 10 minutes.
In terms of intelligent performance, Autovision 11 adopts Huawei's full range of solutions, making it the model with the highest "Huawei content" currently.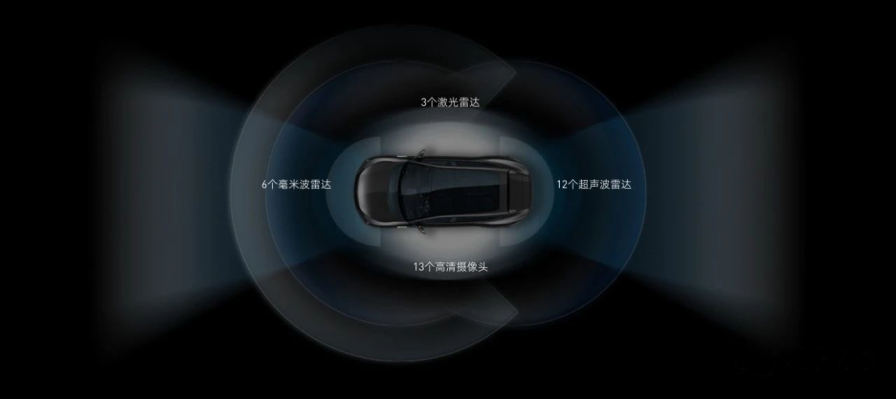 "`The AVATRUST Super-Sensing System, consisting of 34 high-precision sensors, and AVATRUTH Supercomputing System, with 400 TOPS computing power, endow AVITA 11 with an L3-like autonomous driving level.
In terms of product strength alone, AVITA 11's power is beyond doubt. Furthermore, the upcoming rear-wheel-drive single-motor version will further reduce the price, and AVITA 11's advantages will gradually emerge.
What's worth mentioning is that AVITA 11 has already entered the Huawei exhibition hall.
With the support of Huawei's influence, AVITA 11 is expected to attract more market attention, which may be the confidence for AVITA to set a goal of 100,000 orders in 2023.
The reason for calling it a goal is that it's not easy to achieve. AVITA's 100,000 orders show possible mass production difficulties on the one hand, and indicate that AVITA's market breakout is under significant pressure on the other hand.
In the new year, the significant slowdown of the new energy vehicle market has gradually become an industry consensus. In addition, the price reduction of Tesla has triggered a follow-up from other brands such as NIO and XPeng. Moreover, AVITA's brand labels on emotion and intelligence do not have strong penetrability. Such a situation determines that AVITA will face considerable pressure in the new year.
To achieve such development goals, Tan Benhong said that AVITA will focus on winning four "battles" in 2023.
In terms of branding: based on product strength, using innovative marketing as the leverage, and enhancing user experience.

In terms of product: releasing the rear-wheel-drive version of the AVITA 11 and a new mid-to-large-sized sedan.

In terms of team building: expanding the company from 3000 to 5000 employees.

Strengthen talent reserves in the fields of intelligence and digitalization, and enhance AVITA's systematic capabilities.
From a long-term perspective, the four "battles" are highly significant, but the actual effect of the landing directly affects the development status of Avita.

![](https://42how-com.oss-cn-beijing.aliyuncs.com/article/%E5%BE%AE%E4%BF%A1%E5%9B%BE%E7%89%87_20230125201745_result_20230125201830.png)

As far as brand building is concerned, although the three-party collaboration of Changan, Huawei, and CATL has brought Avita a lot of natural traffic, the positioning of "emotional intelligence" is difficult to resonate with consumers, and the word "emotion" is too emotional and the meaning expressed is also relatively vague. Intelligence has been overused by the industry. "Emotional intelligence" cannot highlight Avita's core advantages.

From the perspective of further increasing consumer attention, refining a more penetrating brand label has a more positive meaning for the development of the Avita brand.

## Market share is the eternal truth

"CHN's golden signboard never lacks traffic and attention, but products, services, and user experience must be sustainable. Forge a strong system and empower the brand to continue to flourish."

Tan Benhong knows clearly that Avita needs to condense its unique competitive advantage to stand firmly in the increasingly fierce market environment.

In terms of services, Avita pays more attention to consumers' experience, which is the best proof from the previous equity given to reserved users and the daily subsidy of 200 yuan provided for this delayed delivery.

In terms of products, intelligent driving has become an important breakthrough for Avita's sharpening.

Although at present, the vast majority of consumers purchase intelligent driving models with a novelty attitude. From a long-term perspective, intelligent driving is the most important breakthrough in the second half of SEV. From the perspective of intelligent driving alone, Avita has already led the industry.

This gives rise to a question that Avita must answer, whether to make a market breakthrough first with Huawei's powerful intelligent driving ability, or to highlight other competitive advantages to promote consumers to place orders, and then highlight intelligent driving ability.

## The Order of Smart Driving Will Greatly Affect the Market Performance of Avatar

![](https://42how-com.oss-cn-beijing.aliyuncs.com/article/%E5%BE%AE%E4%BF%A1%E5%9B%BE%E7%89%87_20230125201845_result_20230125201927.png)

As far as the current car consumer market is concerned, smart driving is still not a perceptible driving experience for users. It is difficult for it to become a perceptible value that users are willing to pay for. More consumers are trying it out with a mentality of novelty, and the difficulties experienced by Xpeng, which emphasizes on smart driving, is the best proof.

Looking at the entire market environment from another perspective, under the attack of many brands such as Tesla and We Xiaoli, the group of consumers who are trying out novelty has been worn down. The number of consumers is getting smaller and smaller, which means that the opportunity for Avatar and IM and other newcomers is getting smaller and smaller, and it is becoming increasingly difficult to break into the market.

In my opinion, Avatar should first pursue market scale. After all, in this impetuous era, whoever comes up with results first is the king. BYD is the best proof of this.

There has always been a view in the industry that BYD's performance in intelligence is not strong, but in 2022, when its market performance rose rapidly, the market's attitude towards BYD changed greatly:

Firstly, BYD's good performance in market coverage has covered the questioning of intelligence; Secondly, the huge market share has given BYD strong bargaining power.

According to Autohome's understanding, at present, many intelligent driving companies have cooperated with BYD. I believe that it will not be long before BYD's models with advanced auxiliary driving functions will meet consumers. The short board of BYD in intelligence will also be quickly made up for.

![](https://42how-com.oss-cn-beijing.aliyuncs.com/article/%E5%BE%AE%E4%BF%A1%E5%9B%BE%E7%89%87_20230125201936_result_20230125202017.png)

High market share can not only endow the brand with bargaining power, but also provide more starting momentum for start-ups like Avatar, allowing the brand to attract more attention and create more possibilities for its commercial operation.

"`
Without exaggeration, market share is a panacea to help brands develop.
How to seize this panacea is the issue that Avita needs to consider, whether to take the cost-effective line with the single motor version of Avita 11, or highlight the strong support provided by Changan. It is a good choice to first gain the recognition of consumers, and then highlight the power of smart driving technology.
"`
This article is a translation by ChatGPT of a Chinese report from 42HOW. If you have any questions about it, please email bd@42how.com.