Author: Tao Yanyan
Let's take stock of the global automotive industry's electrification transformation. Yesterday we talked about Volkswagen Group, the representative of radical transformation. Today, let's talk about BMW.
In 2022, BMW Group sold 433,795 new energy vehicles, a year-on-year increase of 32% with a penetration rate of 18.1%.
● BEV: 215,755 (an increase of 108%), accounting for 9.0% of BMW's total sales.
● PHEV: 218,040 vehicles (a decrease of 3%), accounting for 9.1% of BMW's total sales.
Overall, BMW has achieved nearly 20% conversion of new energy market share, and the growth rate of pure electric and the proportion of plug-in hybrids have reversed. BMW did put a lot of effort into it in 2022. Today, we will focus on the market situation of BMW's various models in 2022 and explore the combat effectiveness of the new dedicated platform.
Looking at new energy vehicles, BMW has basically achieved full coverage of plug-in hybrids across its entire product line, but overall sales in China and Europe are still facing major challenges. There are still differences between the current technical path and what everyone expects, so there is room for further improvement.
● BMW: 372,956 vehicles (an increase of 35.6%), of which BEV: 172,011 and PHEV: 200,945.
● Mini: 60,839 (an increase of 14.3%), with BEV (Mini BEV Cooper SE) 43,744 (an increase of 25.5%) and PHEV: 17,095.
## Sales Performance of BMW's Pure Electric Vehicles
Currently, it appears that BMW's global performance in pure electric vehicles largely depends on the Chinese market, which accounts for approximately one third of sales. Due to the lack of official model data, BMW's pure electric vehicle lineup is mainly composed of the iX3, i4, and iX, according to various data sources as shown in Figure 1: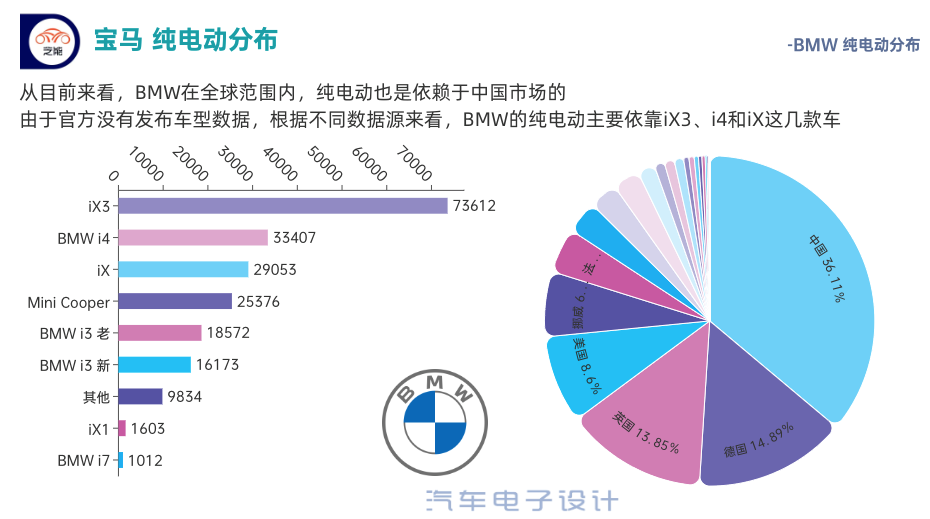 As data is more readily accessible for China, I have compiled and organized weekly data for several BMW models in Figure 4. Based on this chart, it is clear that BMW mainly relies on the BMW i3 (14,495 units), BMW ix3 (26,636 units), and BMW 5 Series Le (16,769 units) electric vehicles in the Chinese market.
However, this sales volume is largely achieved through pricing measures. When the BMW pure electric models first entered the Chinese market, they were positioned as popular electric vehicles. However, the i3 was modified based on the i4, and the i4's battery system design had a significant impact on the overall vehicle space – high rear floor and unreasonable front cabin layout, as well as similar exterior and interior designs. This model did not perform as well as expected until its price was reduced to around 240,000 RMB.
For consumers, the pricing of the BMW i3 is only a matter of whether or not it is worth it. However, for BMW, if they cannot bring out competitive pure electric vehicle brands in the next two years, they will have no hope of competing in the market.In the process of promoting electrification, BMW began to waver on the direction of electric vehicles after the failures of the i brand and the pure electric platform. From the early i3 and i8, to the pure electric models (iX3, i4, new i3) produced on the CLAR platform, which is compatible with pure electric, fuel, and hybrid, to the transitional version of the iX on the CLAR platform, these products are not bestsellers, strictly speaking, they are overdrafting the BMW brand.
Many consumers like the BMW brand because of its sportiness and handling, but in the era of pure electric vehicles, BMW's competitiveness based on the sense of sportiness is directly challenged. In terms of performance, endurance, and driving, BMW still has some potential, but what should it do in the future?
Looking forward to the new platform
Under the competitive pressure in Europe and China, BMW has also launched the pure electric platform Neue Klasse, which is expected to be officially launched in 2025 and will be mainly used for the research and development and mass production of luxury sport mid-size cars of the BMW brand.
At CES2023, BMW CEO Oliver Zipse also made some comments on the interaction of Neue Klasse, which also caused controversy over the screen and HUD. The new architecture will be put into operation in BMW's new factory in Hungary. It will specialize in the production of pure electric vehicles (no fuel vehicles will be produced). In the initial stage, it will focus on volume, and focus on the 3 Series market segment, in order to compete with Tesla. BMW hopes to increase the global sales of pure electric vehicles through this volume platform by 2025.
In BMW's view, the large cylindrical battery has the characteristics of integration, energy, safety, and sustainability. From the indicators:
◎ Reduce charging time by 30%
◎ Reduce carbon emissions by 60%
◎ Increase endurance mileage by 30%
◎ Reduce battery pack costs by 50%
"`
Under the support of cylindrical batteries, the BMW design suddenly becomes more ambitious from being cautious. This battery design approach immediately becomes vivid.
We look forward to the future development of BMW's technology. We will also keep track of BMW's technical trends and analyze the design situation in a timely manner.
---
Conclusion: When driving, the BMWs we encounter are often very agile, and we often see them overtaking and changing lanes on the road. This is not only the driver's skill, but also BMW's encouragement for drivers to have this driving habit. Can BMW smoothly transition from the era of fuel-powered cars to the era of electric cars? We will continue to focus on this issue in-depth in the "Automobile Industry" section, please stay tuned.
"`
This article is a translation by ChatGPT of a Chinese report from 42HOW. If you have any questions about it, please email bd@42how.com.