AITO Responds to Tesla's Price Reduction with Confidence
Just at the beginning of 2023, the new energy vehicle market sees fierce competition. Tesla's announcement of a sharp price reduction seems to have caught all competitors off guard.
Yet, not all of them are standing idly by. Leading Chinese domestic new energy vehicle brands are actively responding to the challenge and competing head-on. AITO, in particular, has taken the lead in joining the fray.
On January 13, AITO announced a gratitude campaign, adjusting the price of all car models and bringing in new year's discounts. Moreover, they also considered their existing customers and provided a series of gratitude gifts, whose total value even surpasses the magnitude of the price adjustment.
As the fastest-growing new energy vehicle brand of 2022, AITO's adjustment reflects the company's inner strength and confidence to be the first to step up and challenge its competitors. This decision also displays their ambitiousness to pioneer and their farsightedness in the overall strategic planning.
"Gratitude of 30,000 yuan" represents AITO's ambition, while "100 yuan lower" reflects their confidence.
The new starting price of AITO's pure electric vehicle model M5 EV is now 100 yuan lower than the starting price of the direct rival, Tesla Model Y, after this round of price adjustment.
AITO has rewarded their users a gift worth up to 30,000 yuan, yet the gift amount is kept lower than their competitors, only 0.01 yuan lower. Despite its nominal lower price, it still shows that AITO's actions are not out of necessity but rather, confident and poised.
When looking beyond Tesla, in the entire pure-electric SUV market within this level, AITO's M5 EV, which already had impressive competitiveness, has now further demonstrated its product value, cost-effectiveness, and market competitiveness.
Empowered by HUAWEI and with its support, AITO's M5 EV equips a self-developed HUAWEI DATS dynamic and adaptive torque system and an exclusive innovation of the "HONGMEI" cockpit-level HUAWEI HarmonyOS operating system. The HUAWEI DriveONE pure electric drive intelligent platform provides a 4-second level acceleration performance.
Compared with the competitors that have just lowered their prices, the AITO AITO M5 EV has better intelligent features, more luxurious and high-tech interior atmosphere, and more user-friendly functions. After the price adjustment, the AITO AITO M5 EV has excellent NVH comfort and intelligent technology, and is almost at the same price as its competitors.
AITO AITO's new year new prices come soon after Tesla's price cuts, but it is not just aimed at Tesla. The extended-range "large six-seater" AITO AITO M7 has also undergone a price adjustment of up to 30,000 yuan, and the difference between it and its main competitor, the Ideal L8, has been further widened.
Before the price adjustment, the AITO AITO M7 was already a dark horse in the 2022 extended-range market. Its 2+2+2 six-seat large space layout is considered to be the best for both family users and business travel. The AITO zero-gravity seat, which is used commercially for the first time by AITO AITO, provides the second-row passengers with a truly perfect relaxing experience with an optimal thigh-trunk angle of 113 degrees.
As an extended-range SUV, the AITO AITO M7 is built on the HUAWEI DriveONE pure electric drive platform and can achieve a range of 1,100-1,220 km when fully charged and fully fueled, with a CLTC working condition fuel consumption as low as 5.8-6.3L/100km. The four-wheel-drive version has a 330kW power dual motor that far exceeds its competitors, with acceleration from 0 to 100km/h in just 4.8 seconds, higher performance and lower energy consumption.
As a product empowered by Huawei, the AITO AITO M7 also has unique advantages such as HUAWEI SOUND luxury audio and Hongmeng Cabin. The Hongmeng Cabin not only breaks through the traditional car system's weak application, slow upgrade, and poor experience but also leverages Hongmeng's distributed technology to support seamless access to HarmonyOS terminals and achieve the super desktop function of mobile phone applications.
In the 300,000-yuan pure electric SUV market, the AITO AITO M5 EV faces the Model Y with almost the same starting price with its more powerful and rich performance configuration. In the 300,000-yuan extended-range three-row seat SUV market, the AITO AITO M7 already has a series of unique advantages, and this time it will further increase the price difference between it and the Ideal L8 to 70,000 yuan.After the adjustment of the new year prices, AITO's pricing in the automotive industry appears more sincere and cost-effective, highlighting its product competitiveness.
Others fear, AITO "greed"
After a difficult year in 2022, the new energy market in 2023 will face even more intense competition, with more blood flowing in the market. However, AITO has surprised its customers with a sincere attitude and gratitude that has changed the market situation for pure electric and range-extended vehicles at the beginning of this year.
AITO has launched three iconic vehicle models in less than a year since its establishment, with cumulative deliveries of up to 76,180 units, exceeding the first-year delivery volume of other new forces in the industry, creating a miracle of rapid growth of Chinese automotive brands.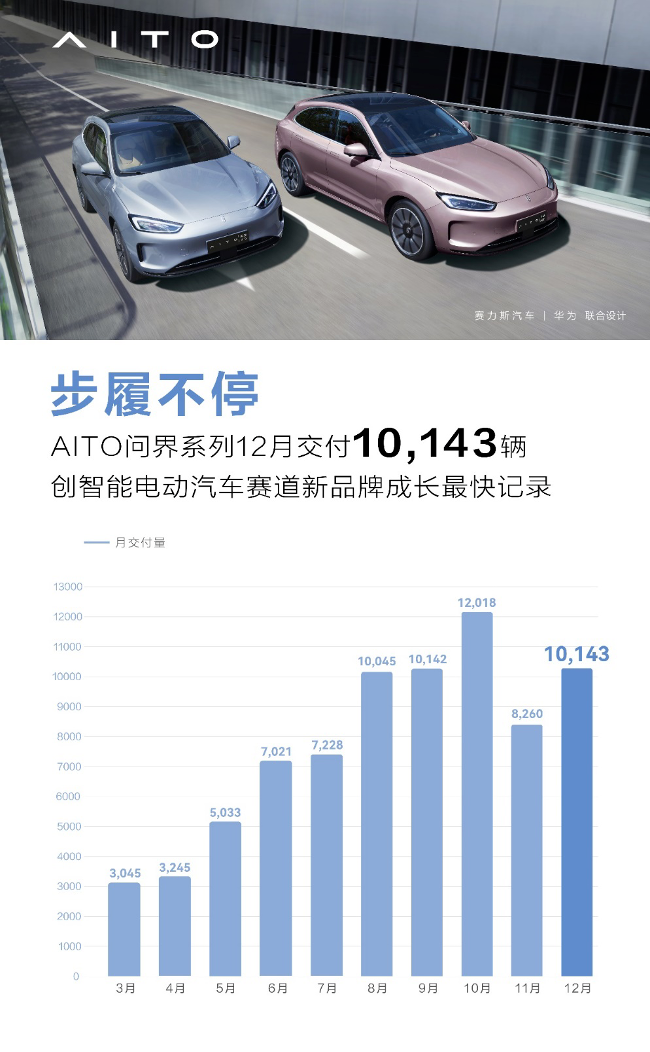 After this price adjustment, the competitiveness and cost-effectiveness of AITO's vehicles, such as the AITO M5 EV compared to the Model Y and the AITO M7 compared to the Ideal L8, have been further improved compared with last year.
AITO not only benefits its customers through price adjustments but also provides valuable gratitude for its loyal customers, reaching every user and potential user with practical action. While competitors are hindered by macroeconomic trends and rising raw material prices, AITO is actively competing and grabbing more market share.
Behind "greed" is AITO's ambition and strength. 2023 is only the second year of AITO's establishment, where in 2022, AITO delivered 10,143 units of vehicles in December alone, making remarkable progress. By introducing such impressive adjustments and feedback at this time, AITO intends to continue this momentum throughout 2023.
And AITO has the strength to achieve this. With support from Huawei, AITO is in a strong position in core areas such as car systems and electrical control, and has made technological innovations such as the AITO Zero-gravity Seat. Huawei's intelligent selection and 4.0 smart factory ensures the high-quality, reliable vehicles. A total of 872 experience centers and 207 user centers also established a sound service system.
Conclusion
Whether it is developing products or adjusting prices, as a Chinese independent car brand, AITO Quest's original intention has always been to create value and provide services for Chinese users. As an important supporter behind AITO Quest, Huawei has always adhered to the user-centric corporate concept since the beginning of the mobile phone market. Today, this concept is also inherited by AITO Quest in the field of automobiles.
With AITO Quest's new year and new prices, not only will the new energy market in 2023 look more promising, but the market competitiveness of AITO Quest models will also soar.
More importantly, the generous and thoughtful gratitude feedback to old car owners demonstrates that AITO Quest is definitely not "treating old car owners worse than dogs". This is the original intention of Chinese car brands to make every user, regardless of their age, able to buy and use cars at any time with peace of mind, and enjoy the convenience brought by smart travel.
This article is a translation by ChatGPT of a Chinese report from 42HOW. If you have any questions about it, please email bd@42how.com.