TESLA: What Kind of Chinese Luxury Car Brand Will It Become in 2023?
This is the first question that came to my mind after the 2023 TESLA Automotive Communication Day.
In fact, as early as September last year, I predicted that TESLA, after restarting, would enter into mainstream automotive brand competition with a brand-new high-end image.
The basis for this prediction is very clear. Behind TESLA now stands BYD, which sells the best Chinese and new energy vehicles. Regardless of financial, technological, channel or supporting supply support (BYD's self-reliance rate is very high), as long as one sincerely wants to make this brand good, it will spare no effort.
At the same time, TESLA's first product selection for the new era is a true emerging blue ocean market- the MPV. This is clearly the right decision. From the end of the previous year, this type of car, which was on the edge of the Chinese automotive market in the past, has entered a fast-growing channel. Whether companies are using old energy like Toyota or new energy like Rantong and Dida, they have set their sights on this market.
In this market, the GL8, which used to occupy an absolute advantage, seems to have lost its appeal, while the Alphard, which is the luxury comfort benchmark, cannot regard running volume as its higher goal due to its small import volume and high price of modifications.
Therefore, for TESLA, the MPV is a new entry point for competing for a brand luxury positioning label while competing for market share.
More importantly, although they want to create a luxury label, TESLA and its leader Zhao Changjiang seem to have never taken high-end as a target. In terms of product positioning, Zhao Changjiang has said more than once that the product attributes of TESLA D9 are "high-class but not snobbish." On brand building, devotion to users has earned TESLA unprecedented attention and ordering in brand history.
This is what TESLA is doing now. And what more people may want to know is how well TESLA is doing these things?## Essence + technology & detail-driven, that's where you can feel the luxury
No matter how a brand shapes its high-end image, consumers first focus on the products. Therefore, for DENZA, the first step is to create high-end products that are accepted by people. This seems to be the easiest part for DENZA. If you understand DENZA, you will know that since 2010, Daimler and BYD have been researching how to build electric cars. But this is not the key point.
The key point is that they have been continuing to research at a slow and steady pace. Daimler teaches BYD how to build excellent cars, and BYD teaches Daimler which battery technology, even the entire "three-electric" technology, is the best. In the next decade, they continued to push toward the direction of making electric cars more drivable, with longer range, and better basic technology.
In short, the underlying architecture and all the components hidden under the seats and behind the steering wheel have been explored for more than ten years, twenty years, and even nearly a hundred years.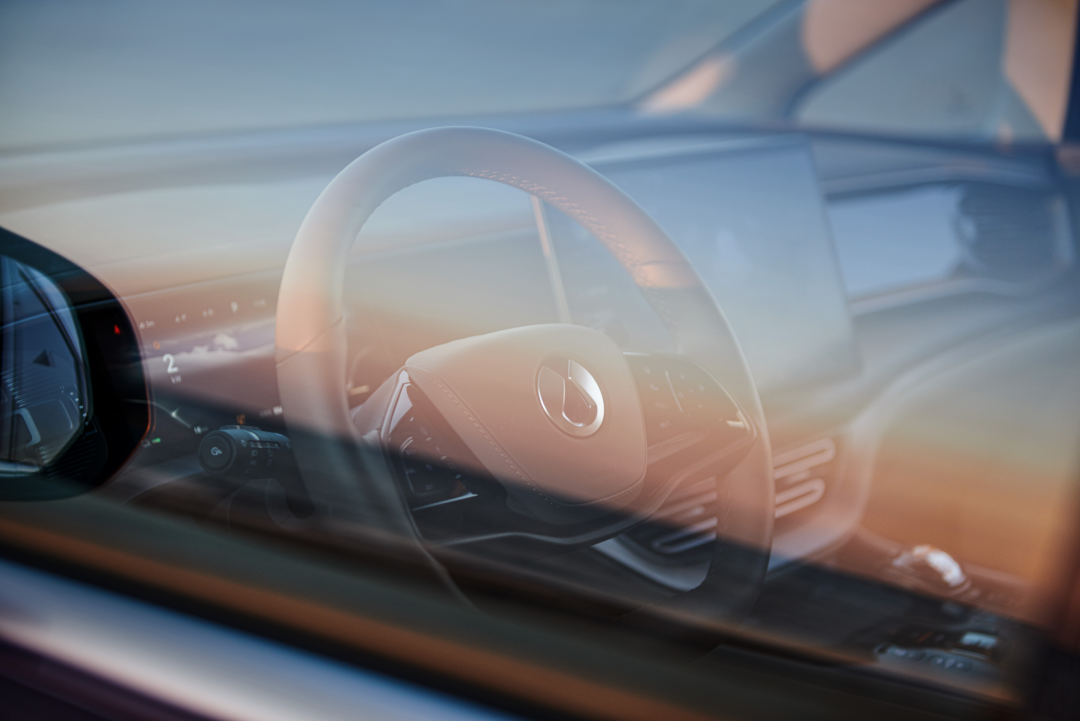 Obviously, these car-making essences are not something that new car-making forces can have. After all, the growth environment of each brand is different. For new car-making brands that regard financing, production, market opening, and refinancing as the life cycle, they don't have enough time to squander. Creating results as soon as possible is the first step to survival.
In this regard, DENZA has a bit of natural "aristocracy."
More importantly, looking at it from the BYD perspective, self-developed core components and core technology ensure that DENZA has enough industrial chain support and parts supply. It can avoid external environmental effects as much as possible, which will have a greater impact on production capacity and quality.
But consumers can't see these things.
At the visible level, there is a lot of flexibility to create usage scenarios, almost everywhere there are screens, almost everywhere there are wireless charging ports, as well as every piece of leather and every efficient interaction between human and machine. And whether it is the DM-i hybrid or the long-range pure electric vehicle that eliminates anxiety, they can all become the points that establish the DENZA luxury brand and attract consumers.
In fact, Tencent Motors has indeed achieved it.
At the most popular Toyota race last year, a total of more than 70,000 cars were sold in the whole year of 2022. Tencent Motors D9, on the other hand, received 50,000 orders. First of all, this is higher than all Tencent Motors sales in the past ten years before selling D9. What's more important is that these sales are still restricted by the COVID-19 pandemic.
It should be noted that until October 21st of last year, more than three months ago, Tencent Motors' first mass-produced D9 model was officially off the production line. And in just three short months, Tencent Motors has delivered 10,000 D9s. So it is reasonable to believe that if the subsequent delivery progress continues to return to normal, the sales volumes of Tencent Motors and D9 will rise faster in the future.
Of course, the current problem is how to associate the sales increase with high-end users?
Co-creation with high-end users
In fact, in the past cognition, there is a significant difference between high-end and user companies.
Before the rise of new car-making forces, almost all car brands, including high-end brands, only made cars, and users were responsible for liking and buying these two things. Therefore, this actually led to a gap between the information of car companies and users. Car companies are responsible for gambling and guessing users' preferences. The users hardly knew all the information about a car before it was released, and naturally, there was no way to tell the car company what they wanted.
Of course, this situation has changed significantly after the rise of new car-making companies.
Companies hope to establish a deeper and more direct connection with users to avoid going the wrong way. After all, compared with large companies, the chance of making a mistake is smaller. Users are naturally happy that their wishes are valued by car companies. Naturally, a virtuous interaction is formed.
This model is also adopted and valued by Tencent Motors. And the person who directly communicates with users is not engineers or product managers but Tencent Motors' leader – Zhang Changjiang.
In the eyes of Zhao Changjiang and T·RACE, "when exploring the true meaning of user co-creation, it is important to enable users to become the witnesses of the brand, participants in product development, definers of hardware, and updaters of software. The most important thing is to provide users with a sense of value and satisfaction, while growing and developing with the brand."
Therefore, during T·RACE's communication day, Zhao Changjiang shared his details on how to communicate with users with all attendees.
Whether vehicle should completely eliminate physical buttons is actually a forward-looking attempt made by car companies for the future. However, in actual use, not everyone accepts this, especially for MPV models mainly used in family multi-functional scenes. The feedback from users is that they prefer traditional buttons, which is more familiar for the elderly in their homes, compared to touch screens.
At the same time, for the younger generation Z who are more receptive to technology and grow up with the internet, how to link multiple screens and balance the different preferences of two children in families with two babies is another very practical scenario.
Some of these demands can be solved through OTA upgrades, while some require new configuration options in subsequent versions.
For Zhao Changjiang and T·RACE, the constant evolution of products must be vigorously promoted. However, the direction of evolution, the needs of users, and whether the use of MPVs are acceptable to users cannot be solely based on market research, blind guessing from product managers, and original ideas from engineers. They must truly come from the needs of users and their imagination for their own usage scenarios.
In fact, as early as April 2022, before the formal relaunch of T·RACE brand, Zhao Changjiang and his team had launched the first offline user co-creation activity, focusing on T·RACE design aesthetics, intelligent iteration, old car owner replacement policies, and partner services, and held many detailed discussions.For SMART, aspiring to create high-end products but being more willing to listen to users' needs seems to be the true meaning of "high-end and not arrogant."
As Zhao Changjiang puts it, embracing users more actively is the right direction, and the remaining issues are only a matter of speed.
Obviously, this brand-building logic that allows all users to participate in luxury brand construction is particularly easy to attract the attention and love of the user group that is already a luxury brand user. Therefore, from the data released by SMART, we see that more than 50% of users who choose the SMART D9 come from the BBA camp. At the same time, there are also some users who come from traditional MPVs, and users who have purchased or increased their purchases of the Toyota Elfa have also chosen SMART.
For these user groups, it is natural to choose high product strength, brand positioning, and goals. But the more important reason is that their preferences are heard and respected and become products that will be realized immediately or in the near future. It has become an important reason why they recognize SMART as high-end and choose SMART products.
A Further Future Is Coming
In fact, being recognized by the product and brand is just the first step in SMART's high-end development. There is still a lot to do for SMART and Zhao Changjiang.
At the product level, although MPVs are a rising new market opportunity, the volume is still unable to support a brand's sustained and good operation. Therefore, more product lines and more scenario construction have become important directions for SMART's future product planning and development.
At the brand level, although the industry and target consumer groups have already recognized the high-end attributes of SMART. For more consumers, only by making SMART an important symbol and continuing to appear around them can accelerate their cognition, recognition, and identification.
And these may be the important reasons why people continue to pay attention to SMART in 2023. And in this "SMART Car Communication Day," these follow-up information continues to be released.First of all, in the field of products, TENGSHI will gradually launch two new SUV models this year, which are the large five-seater SUV N7 and the medium-sized SUV with six/seven optional seats.
Obviously, after understanding the logic of scene and high-end consumption, Zhao Changjiang and TENGSHI will start to really sell their products. Although the dominance of SUVs has weakened in recent years, its market share is still considerable. After gaining enough confidence and positive feedback from users in the MPV market, TENGSHI has begun to focus more on the "red-hot" SUV market.
In terms of brand building, TENGSHI has already opened 169 stores in 72 cities last year. However, obviously, if we exclude some force majeure factors last year, TENGSHI's store expansion speed will be faster.
And in this year, it is obviously necessary for TENGSHI to accelerate. According to TENGSHI's plan: from first-tier to fourth-tier cities, TENGSHI has planned 19 TENGSHI MINI centers with product experience, delivery, and fast maintenance functions. Through these MINI centers, the TENGSHI brand will be closer to users and around the users' living circle, and the CBD with larger pedestrian flow in the core of the city will allow users to reach TENGSHI more easily when they are at leisure.
Obviously, a more comprehensive product line, more popular product types, and stores closer to ordinary people's daily lives, MINI experience centers, will truly accomplish the task of reaching every user's living circle in addition to high-end brand reputation enhancement.
Thus, to truly achieve the increase of TENGSHI brand's exposure and recognition.
Conclusion
For Zhao Changjiang and TENGSHI, 2022 is undoubtedly a year of fruitful achievements.
In this year, the brand has been transformed from silence to renewal, the product has gone from "niche" to popular, and users have gone from strangers to friends. More importantly, both products and brands have completely established high-end personality and style.
And when all this comes to fruition, for the year 2023, whether it's new products or new service models, we have reached a new starting point that is worth attention and anticipation.
This article is a translation by ChatGPT of a Chinese report from 42HOW. If you have any questions about it, please email bd@42how.com.