Special Columnist | Yan Yan
Editor | Qiu Kaijun
Data in the second week of 2023 is better than we expected overall.
As China's epidemic has passed its peak, friends from all over the country are preparing to return home, which has also accelerated the delivery of cars to customers. The overall sales volume of passenger cars in the second week was 437,700 units, a year-on-year decrease of -14.10%, and a week-on-week increase of +50.47%. This also reversed the previously pessimistic expectation. From this trend, the performance of this week is very important.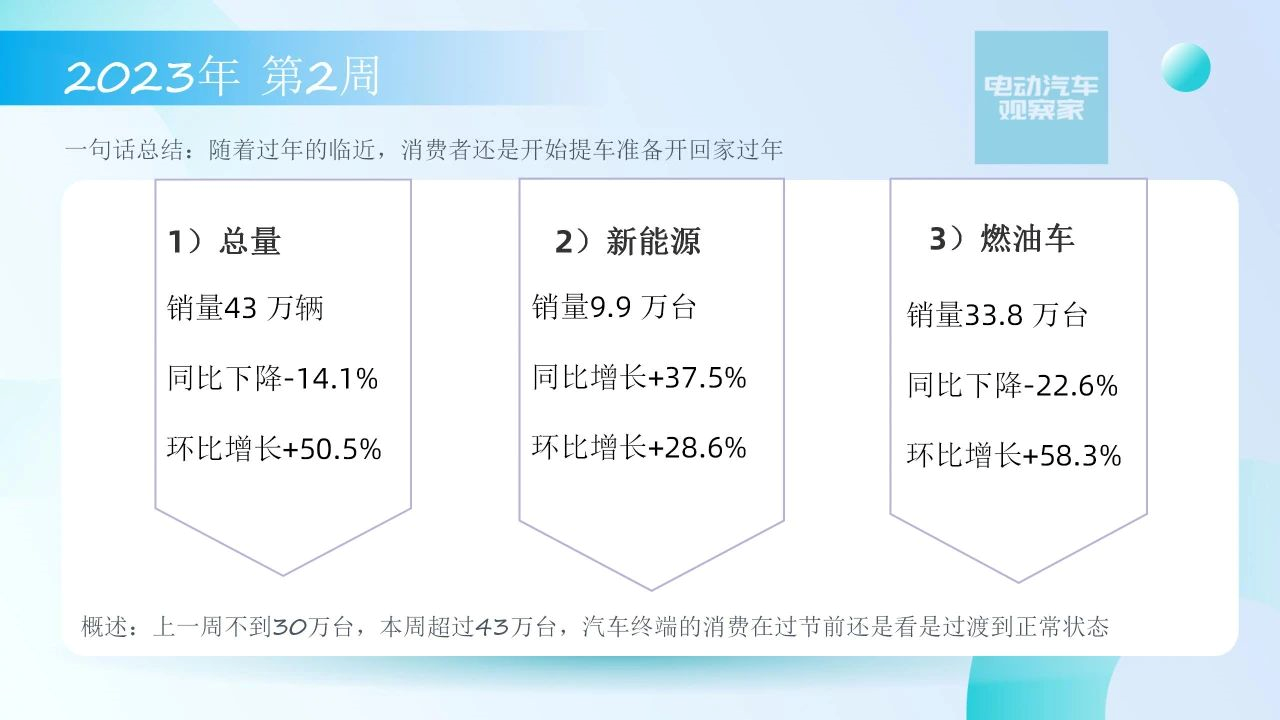 Looking at new energy passenger cars, the sales volume this week was 99,000 units, a year-on-year increase of +37.51% and a week-on-week increase of +28.61%. After the subsidy reduction, the data of new energy vehicles is still relatively solid. With car companies reducing their prices one after another, overall sales are supported.
The sales volume of fuel cars was 338,600 units, a year-on-year decrease of -22.6%, and a week-on-week increase of 58.35%, from which we can see the positive power. Looking at the overall situation, the second week increased nearly 140,000 vehicles from the initial less than 300,000 vehicles.
Looking at the overall data, the top five in passenger car sales are:
NO1: BYD Auto, 40,436 units, continues to dominate the top of China's weekly sales charts. We need to seriously consider the future direction of BYD.
NO2: SAIC Volkswagen, 37,967 units. Volkswagen facing many challenges this year, especially on the competitiveness of the new energy vehicle ID series.
NO3: Changan Automobile, 33,374 units. Changan has been powering up in the past few years and indeed has a chance to challenge the top three.
NO4: SAIC Volkswagen, 26,684 units. SAIC Volkswagen has more problems with its products than FAW-Volkswagen. Keeping the top five this year is a realistic goal.
NO5: Geely Auto, 25,870 units. Geely entered the top five, which is also the result of the efforts of domestic brands.
Now let's take a look at the TOP5 of new energy vehicles.
NO1: BYD Auto: 40,420 units, with a market share of 40.8%, firmly ranked first. With the price cuts of Tesla, WM Motor and Xpeng, the impact on large-scale companies was also significant, and the main concern was the shrinking order book.
NO2: Tesla China: 12,654 units. Tesla led the price increase in 2022 and led the price reduction in 2023. Sales of Model 3 and Model Y were very successful.
NO3: Changan Automobile: 4,748 units. Changan surpassed Wuling and became the dark horse to enter the top three.
NO4: Wuling: 4,734 units. With Geely joining the A00 battlefield through Panda, BYD's Seagull will also come in. It's difficult to hold onto this market.
NO5: Ideal Automobile: 4,527 units, particularly strong among new forces.
It should be noted that Nezha, WM Motor and Leapmotor have encountered some difficulties in the beginning of the new year. With various measures, these three need to find new growth drivers.
This week, the focus is on BYD. Currently, among the more than 40,000 vehicles, there are 22,000 plug-in hybrid electric vehicles and 18,500 pure electric vehicles, a difference of 3,500 units.
From the specific data, BYD's PHEV Song DM-i has more than 9,000 units. If we add Song Pro's 4,000 units, it will be over 13,000 units, the largest part. Why is Song hybrid popular? It combines the logic of SUV and fuel economy, which will change the direction of competition among independent brands in the future. Customers are willing to pay for space, as well as charging and fuel economy.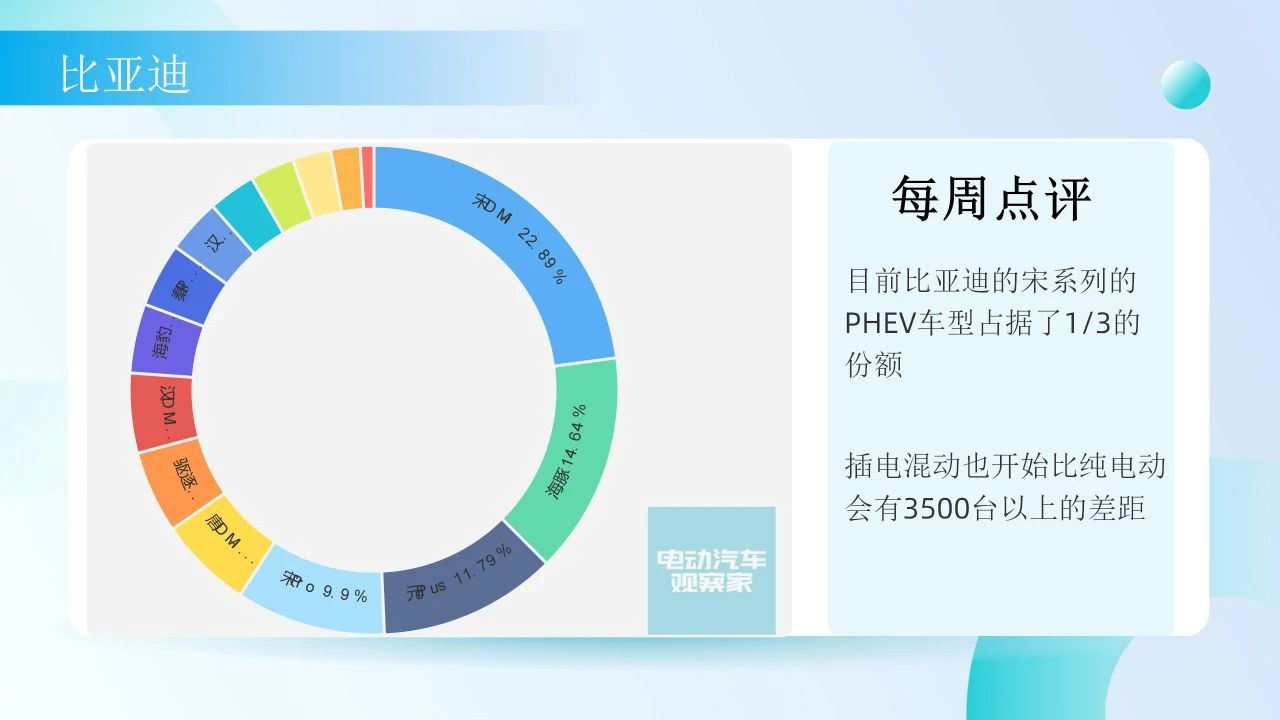 The Dolphin EV sells nearly 6,000 units, while the Yuan Plus sells almost 5,000 units, resulting in a total weekly demand of 11,000 units. The prices of these two cars are still quite far from Tesla's range. With Tesla's price reduction, neither the Dolphin EV nor the Han EV has exceeded 2,000 units, and I estimate that this price segment will be greatly affected.
I boldly predict that BYD will also have a round of price cuts in mid-February. In the current situation, those who have ordered a car want to wait for a price cut before taking delivery. Whoever takes delivery now is definitely not making a wise judgement. The overall order pool will quickly be consumed by disturbances from other automakers. This will further accelerate the shuffling of China's new energy vehicle industry.
— END–
This article is a translation by ChatGPT of a Chinese report from 42HOW. If you have any questions about it, please email bd@42how.com.